Americans creating a stir in Crashed Ice
Published
Feb. 23, 2014 1:28 a.m. ET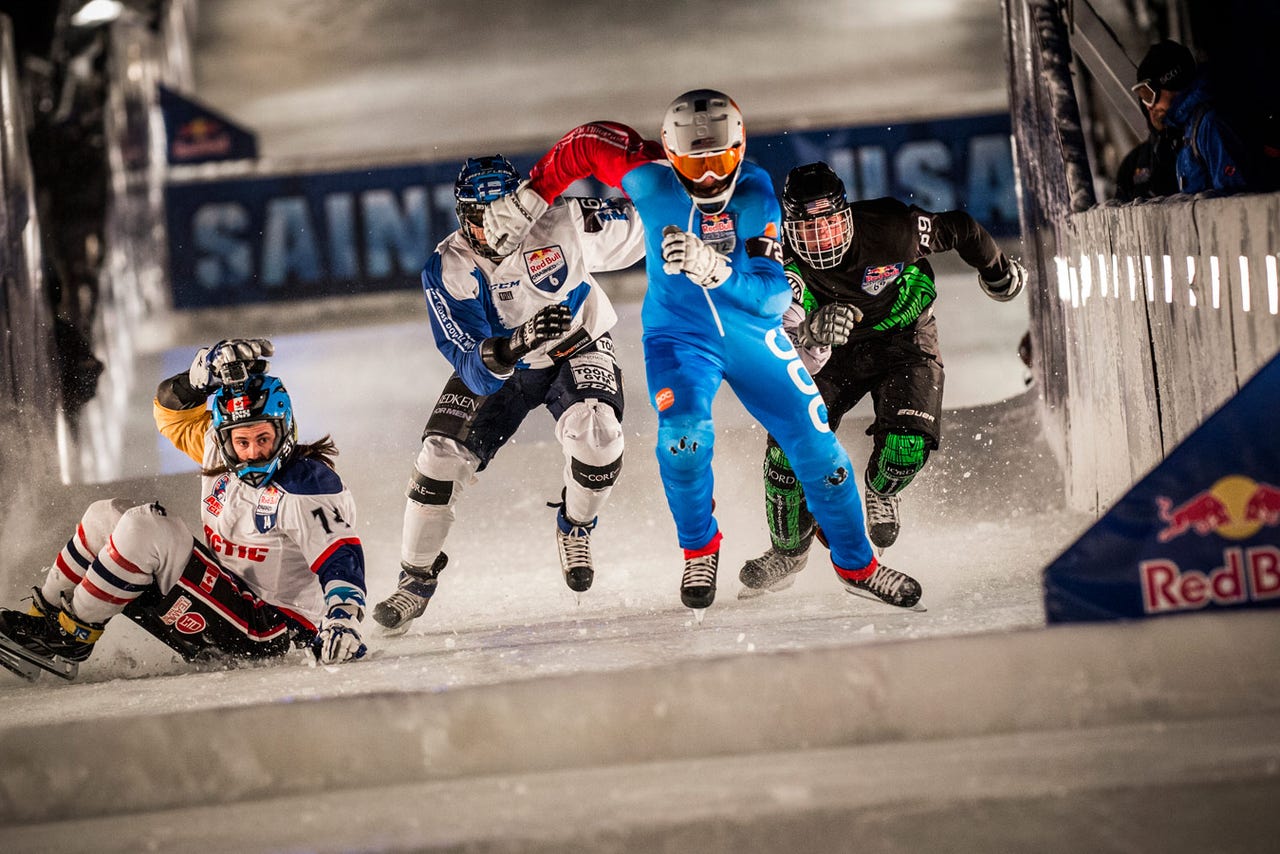 ST. PAUL, Minn. -- It began Saturday night with the angelic tolling of bells from inside the Cathedral of St. Paul's highest tower. Then Metallica's "For Whom the Bell Tolls" began blasting over the Red Bull Crashed Ice course's loudspeakers.
It ended with Olympics-type chants of "U-S-A" moments before an Austrian, then a Canadian, crossed the finish line.
But Cameron Naasz and Andrew Bergeson weren't far behind.
For the first time since Red Bull's wacky, off-the-wall downhill skating hoopla went to a world-championship format in 2010, two Americans -- both Minnesotans -- qualified for the individual finals.
"That's a big step for the sport here," said Bergeson, who hails from Red Wing, Minn., and finished fourth, one spot behind Naasz. A Lakeville native, Naasz led until Austria's Marco Dallago overtook him on the 1,410-foot course's final straightaway. Canada's Scott Croxall passed him shortly after.
But Naasz did nothing but beam as he received a bronze, cathedral dome-shaped trophy for the second straight year.
Three years ago, Bergeson, Naasz, St. Paul semifinalist Reed Whiting and much of America didn't regard ice cross downhill, the sport's technical title, as much more than that zany, once-a-year television filler on NBC Sports Network. Once the Yanks jumped on the circuit, the sport's international veterans didn't think much of them, either.
"We were kind of a joke," Bergeson said. "Everyone was kind of laughing at us. We were the new guys on tour, and we had all these media guys following us saying 'Oh, America, you're such a big deal.'
"Now, it's like, 'America. Bring it.'"
Today, Bergeson and friends can call themselves pioneers of the sport's rapid growth in America, particularly the Land of 10,000 Lakes.
"It was interesting to see," said Dallago, who won his second straight Crashed Ice event Saturday, "because I watched the races in '12 and the Americans weren't that good at all.
"Suddenly, out of nowhere, they came."
Hockey children of the 1980s will remember an early scene in the movie "Youngblood" featuring a group of children on a frozen pond. The one impersonating a young Rob Lowe is none other than Charlie Wasley, now the head coach of the United States' Crashed Ice team.
It wasn't the Edina, Minn., native's first brush with ice-embedded popularity.
Wasley, now 39, starred at Edina High School before spending his senior year with the junior-A level St. Paul Vulcans. The Quebec Nordiques selected him 100th overall in the 1992 NHL Draft, but he opted to spend the next four years of his ice hockey career at the University of Minnesota.
They'd be the last.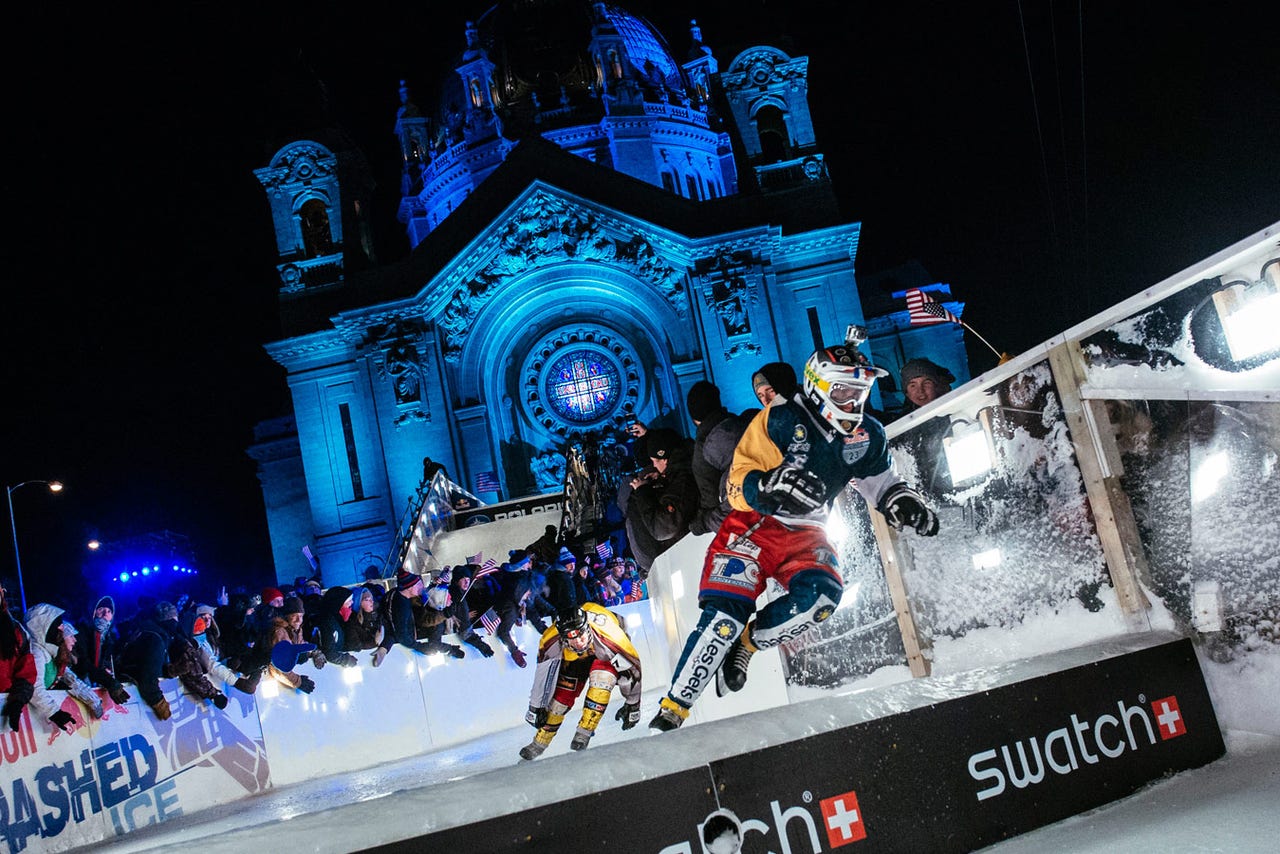 Pacome Schmitt of France competes in the Finals of the Red Bull Crashed Ice, the second stop of the Ice Cross Downhill World Championship in Saint Paul on Saturday.  
"I didn't have it to make it in the NHL," Wasley explained simply, "so I hung it up."
Sort of.
Wasley played roller hockey for the Minnesota Blue Ox in 1999. Three years later, he heard about something called Red Bull Crashed Ice coming through Duluth, Minn., and decided to check out the course there as it was being constructed.
What he saw was a winter wonderland of downhill ice meant to challenge skaters' speed, balance and agility all at once.
"I got up there, and I couldn't believe it," Wasley said. "It was amazing."
So Wasley signed himself up for the event and wound up finishing fourth. He remained on the Crashed Ice circuit for the next several years, devising ways to train for a Canada and European-dominated endeavor that combines elements of hockey and downhill skiing and attracts athletes from an even wider array of extreme sports disciplines.
After retiring from ice cross downhill and becoming a full-time running race organizer, Wasley decided in 2010 he hadn't had enough of the sport. Crashed Ice had just announced it was moving to a championship format and planned to hold a race in St. Paul.
So Wasley gathered as many interested Americans as he could and began prepping them a year in advance to navigate the ramps, jumps, hairpin turns and obstacles ice cross throws at its athletes. Today, he meets with athletes periodically, compares notes with them and offers whatever pointers he can.
He's as close to a Team USA coach as there is in the sport at present.
In addition to Wasley's desire to see the competition -- first held in 2001 -- and its popularity grow, there's some friendly nationalism driving his venture.
"I was sick of the Canadians and the Europeans kicking our butt," Wasley grinned.
Before Naasz's victory in Lausanne, Switzerland last winter, no American had ever won a Crashed Ice single-event championship. Switzerland's Derek Wedge claimed last year's overall standings title, and the previous three world champs hailed from Canada, Finland and Germany.
But with Wasley's help, the U.S. has begun staking its claim as a reputable ice cross country. Naasz finished third in last year's world standings, and he and Whiting entered the weekend ranked seventh and ninth.
The game has grown in American in terms of participation, not just overall achievement. More than 100 entrants -- 81 from Minnesota -- from eight different regional qualifiers participated in Thursday's "national shootout run," which determined which 32 Americans would compete in Saturday's finals.
Heavy backing from Red Bull and TV exposure has helped grow the sport here. So has Wasley's input.
But having a race in St. Paul that draws athletes -- both me and women -- and attracts a crowd has been the biggest boost, Naasz said.
"The U.S. has grown in regards to the sport simply because we have a race here now," Naasz said, citing the races' spectatorship numbers from the past two years. "Just look at the first year; we had a bunch of guys like myself just walking out here to give it a shot and had 80,000 fans there and (115,000) last year, and you can only imagine how many are gonna show this year."
Naasz spoke before an announced attendance of 120,000 on Saturday night.
A public relations intern may have changed the face of ice cross downhill forever.
Shortly before last year's race in St. Paul, Red Bull student brand manager Nick Simmons had a decision to make. He could hand anyone he knew a "prospect pass" for automatic entry -- no regional qualification or previous training required.
It took some convincing, but he eventually persuaded friend and St. Cloud State classmate Naasz to give Crashed Ice a go. The former Junior Gold hockey player wasn't at first sold on flying 40 mph down an ice-covered track with three other participants alongside him, but eventually relented.
"The rest is history, I guess," grinned Naasz, who's 24 and still studying at St. Cloud State.
Naasz made it through time trials that frigid January 2013 day and wound up finishing third. A little more than a month later, he raced past the entire field at Lausanne, firmly entrenching his name in what he and the rest of the Crashed Ice contingent hope is someday a storied sports history.
Perhaps the unlikeliest of American faces for the game, Naasz finished third in last season's world standings.
"It's nice to be one of the elite guys now," said Naasz, whose parents and a bevy of friends awaited him at the finish of every heat Friday and Saturday. "I feel like I'm just trying to pave the way for the rest of the country, get better and better out here and add more boys to our team."
And he's not alone.
One winter day in the backyard rink his father built in Rochester, a young Reed Whiting took a spill and chipped his tooth. While training for this year's Crashed Ice circuit, he broke the same chomper.
The surfaces he skates upon may have changed, but that's about it.
"Oh God, there's just nothing better," said Whiting, who reached Saturday's semifinals. "This is like, one of the highlights of my whole life, just being in front of a hometown crowd, getting to skate with this level of athletes, there's really nothing better."
Like Naasz, Whiting grew up playing the most popular sport in his home state. Unlike Naasz, Whiting was a wringer and went on to play for four seasons at Ohio State University.
In 2012, eight years after his final college hockey game, Whiting received a Facebook message from a friend. It was shortly before ice cross downhill's first St. Paul running, and Whiting's buddy wanted to know why he wasn't participating.
Whiting didn't know much about it. Until he spent the next few minutes engrossed in online research.
"That moment, I Googled everything I could about the sport and fell in love," said Whiting, who trains almost full-time and raises and exports turtles in southern Iowa as his day job. "I set my sights on the following season with a goal of competing in the finals in St. Paul."
Andrew Bergeson and his brother Danny Bergeson -- a former Minnesota Gopher like Wasley -- came from a similar background. Both grew up in Red Wing slapping pucks around. The pair attended Division III Augsburg College, where Andrew played hockey for a year before focusing on football alongside his brother.
But their love for the ice never left them. Both contend they "came out of the womb skating."
When it was announced Crashed Ice was coming to Minnesota, Andrew saw an ad in the paper and shot the idea past Danny. "I looked it up YouTube and thought he was crazy," Danny Bergeson said. "Needless to say, we drove up to Duluth a couple days later, and I won the qualifier."
But until Andrew's fourth-place showing Saturday, the Bergeson name wasn't as well-known on the ice cross downhill circuit. Now, the pair hope to insert themselves in the brother-combination conversation with the Croxalls and Dallagos of the world. Kyle Croxall has won six of the past 14 Crashed Ice events, and Marco Dallago's brother Luca skated for the winning squad in Friday's team competition.
Taking a page from the Dallagos, Andrew and Danny Bergeson constructed their own practice course near Cottage Grove, Minn.
Before taking fourth Saturday, Andrew Bergeson had advanced past Crashed Ice's round of 32 just once.
Known for his long, blonde dreadlocks and friendly demeanor, Wedge -- a Swiss competitor and the defending world Crashed ice champion -- did a lot more watching than skating Saturday in St. Paul.
In one of the day's most surprising turns of events, Wedge finished third in the evening's fourth heat, eliminating him in the round of 64.
The athlete that edged him: American Christopher Clancy. While it's a serious blow to his back-to-back title hopes -- especially with Dallago already finishing first at two of four competitions -- Wedge welcomes the emergence of the United States' success and interest in the sport.
After all, if ice cross downhill is to continue growing, having the stars and stripes on board is a major plus.
"I think now, all the athletes from every country, the newcomers, there are good athletes in every country," Wedge said. "You take American and European countries, it's the same. I think we gonna see a lot of development and a lot of difference for the next season.
"I'm really happy to see a new challenger arriving now."
Follow Phil Ervin on Twitter
---