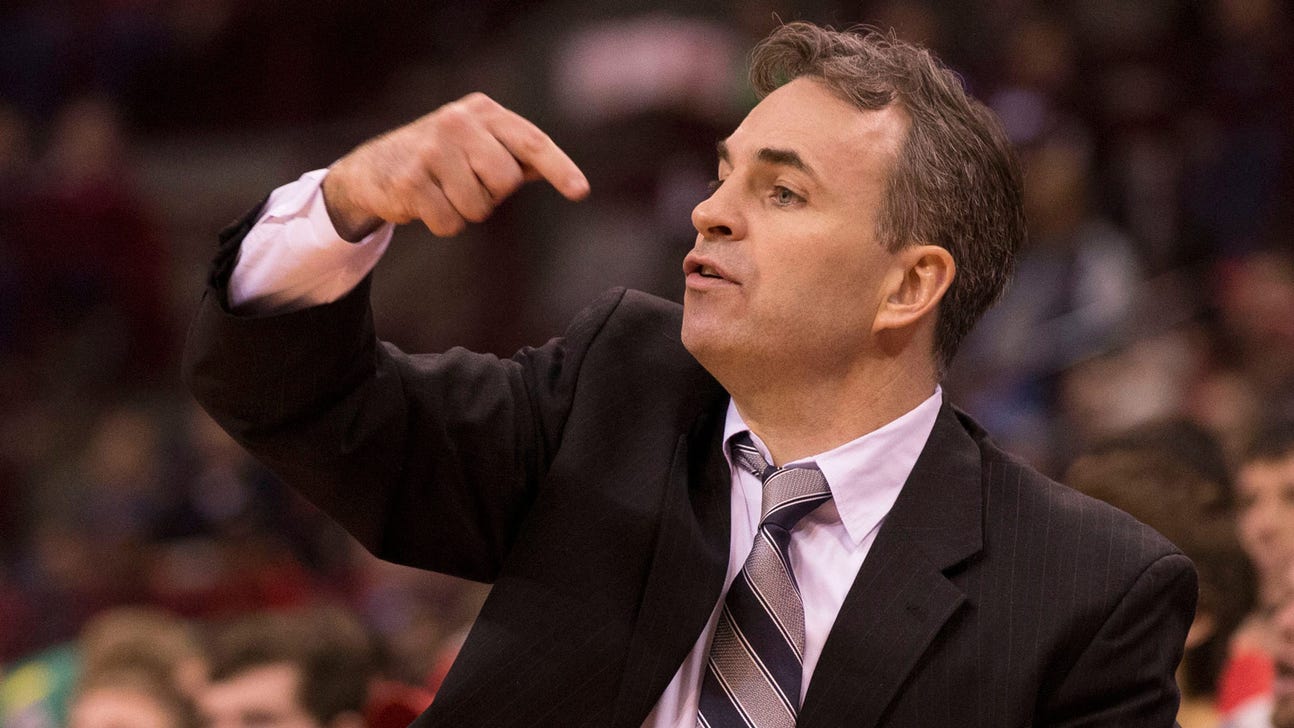 American aiming to keep things simple against Wisconsin
Published
Mar. 17, 2014 4:50 p.m. ET

Mike Brennan is a realist when it comes to his team's NCAA tournament fortunes this week. Brennan, the first-year American men's basketball coach, knows he has confident players who will fight like crazy to prolong a season and make history.
But Brennan also recognizes it will require a performance unlike any his team has put together all season to stick around for the weekend. No. 15 seed American (20-12) travels to Milwaukee to face No. 2 seed Wisconsin (26-7) for an NCAA tournament West Region opener at 11:40 a.m. CT Thursday.
"We know it's going to be a brutal test playing Wisconsin, especially in Milwaukee," Brennan told FOXSportsWisconsin.com by phone Monday. "It's a game where we have to be almost near perfect offensively and defensively. We're going to prepare the best we can."
Not surprisingly, all the metrics suggest American will be hard-pressed to spring the upset. For starters, the Eagles are a 13-point underdog against the Badgers, according to Las Vegas oddsmakers. And the prediction website FiveThirtyEight.com gives American a 7 percent chance for victory.
American also ranks No. 122 in the Ratings Percentage Index and played just one opponent this season that ranked in the RPI top-50. American lost that game, 63-52, against Ohio State. American's two best wins have come against Boston University (No. 88 RPI), including a 55-36 victory to win the Patriot League conference tournament. Wisconsin, meanwhile, ranks sixth in the RPI and has seven victories against the RPI top-50.
The Eagles have qualified for two NCAA tournaments in program history and are 0-2. American was a 15 seed in 2008 and lost to second-seeded Tennessee. In 2009, 14th-seeded American lost to third-seeded Villanova. 
Of course, all the numbers, talk of seeding and the RPI tend to quickly vanish during the opening weekend of the NCAA tournament, when upsets wreak havoc on bracket projections and create new stars in the spotlight. Three 15 seeds have defeated 2 seeds in the past two NCAA tournaments alone, for example, though Brennan said he wouldn't employ past results as a rallying cry for his own team.
"I haven't used a ton of the whole bulletin board type stuff," Brennan said. "We didn't talk about where we were ranked in the beginning of the year or anything like that. I'm keeping it simple. I'm just going to keep yelling at them. We've kept it pretty simple. I think that's worked for this group."
What has also worked for the Eagles is a willingness by players to embrace Brennan's Princeton-style offense, which he first learned as a player at Princeton under head coach Pete Carril in the early 1990s. While there, Brennan played in two NCAA tournaments in 1991 and 1992.
The Princeton offense focuses on constant motion, patience and backdoor cuts to keep opposing defenses off balance. Princeton famously used the scheme to defeat defending national champion UCLA, 43-41, in the 1996 NCAA tournament.
"It's what I know," Brennan said. "I coach what I know. I believe in it. It was fun playing as a player, and basically it's just sharing the ball, getting five guys to be as skilled as possible and then getting them to share the ball. I liked all the pieces that we have. I'm impressed with their work ethic and how quickly they've embraced and picked up everything that we've asked of them."
Brennan's first season as a head coach did not begin particularly well this season. American opened the campaign 3-7, which included losses to Brown, Columbia and Mount St. Mary's. That seemed to validate preseason polls, which listed American to finish ninth in the Patriot League, ahead of only Navy.
But American closed the season 17-5, finished second in the regular season and won the league tournament championship to secure the conference's automatic NCAA tournament bid. And four players -- guard Jesse Reed, center Tony Wroblicky, guard Darius Gardner and guard John Schoof -- averaged double figures in scoring. Brennan, in turn, won Patriot League coach of the year honors.
Brennan noted encouragement from alumni and school administrators never wavered, even during the most difficult of times.
"We were losing games early on and with a new coach," Brennan said. "I was still receiving tons of supportive emails and phone calls and everything. The support has been great throughout the year. We've had viewing parties for the championship all over the country, so I'm sure we'll have the same for the NCAA game."
As for what Brennan thinks of Wisconsin's team, the praise was significant.
"As I watch more and more tape here, I'm not sure how we're going to stop these guys," Brennan said. "They've got really, really good players. They take such great care of the ball. They really make you work for everything you get. There's rarely clean looks on offense when they're defending.
"Obviously, they're all good. (Ben) Brust, the way he shoots it. I'm familiar with (Sam) Dekker. (Frank) Kaminsky, the big kid stepping out like that. Not many 7-foot centers can step out and bang 3s the way he does. Every time you turn on SportsCenter, Traevon Jackson is hitting a shot at the buzzer to win a game. They've got a bunch of competitors. They're all really good players. They can put the ball in the hoop. They know how to play, and they know how to play together."
In other words, American will need a performance for the ages to survive and advance.
"We know it's going to be a huge challenge Thursday," Brennan said. "But we're looking forward to getting out there and competing."
Follow Jesse Temple on Twitter
---