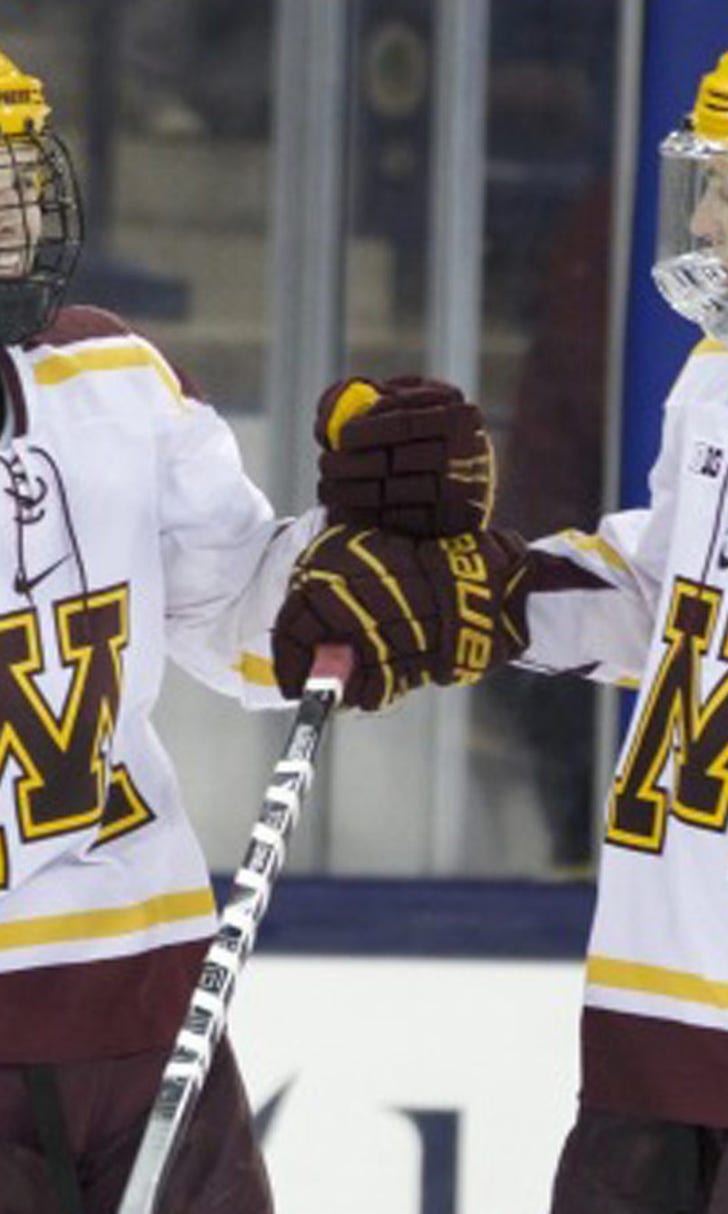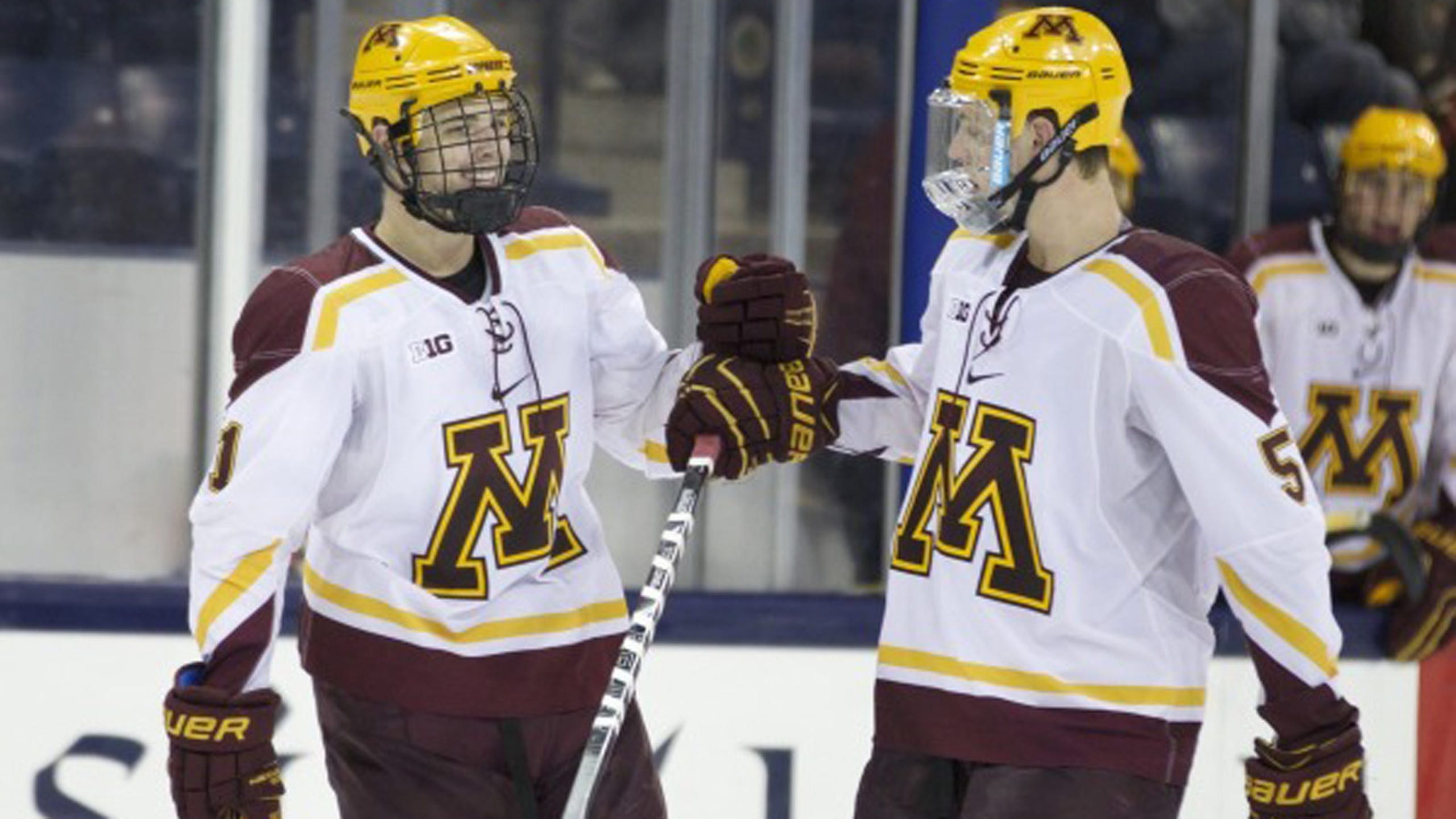 After strange season-opening schedule, Gophers ready to get going
BY foxsports • October 22, 2014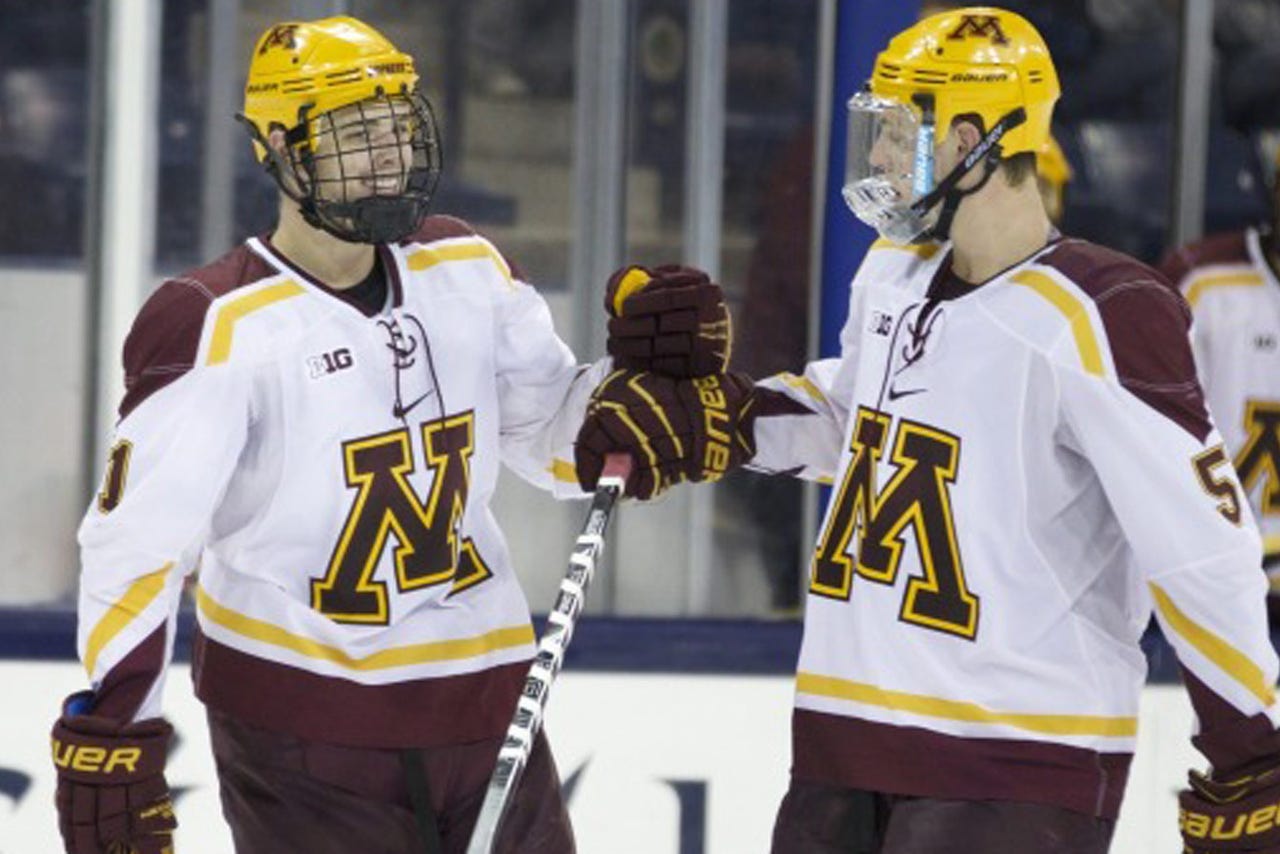 MINNEAPOLIS -- The Minnesota Wild aren't the only hockey team in town with a weird schedule to start their season.
The Golden Gophers will finally play their first home game of the 2014-15 season this weekend after an odd first few weeks of play. Minnesota opened up the year at the Ice Breaker tournament, hosted by Notre Dame, but the Gophers were playing afternoon games in front of small crowds on Friday and Sunday.
Following that weekend -- which included a pair of Minnesota victories -- the Gophers had last weekend off. Now they return to Mariucci Arena for their first regular-season home game since March 1 when they host Bemidji State for a series this weekend.
"It's kind of like a start-over to our season," said Minnesota head coach Don Lucia. "You practice for a week, you play in the Ice Breaker, and then you have two weeks off. We're yet to really play our first home game, and it's towards the end of October. I think the guys are excited to get going. I know from the coaching standpoint we're excited to play week in and week out."
Minnesota did have one exhibition game at Mariucci Arena earlier this month when it hosted the Northern Alberta Institute of Technology Ooks for a preseason game. The Gophers won that matchup, 5-0.
In the Ice Breaker tournament, Minnesota topped in-state rival Minnesota Duluth by a 4-3 margin and shut out RPI, 3-0, two days later. Now the Gophers face a Bemidji State team that split a home-and-home series with North Dakota two weeks ago and, like Minnesota, had a bye last weekend.
After no games for either team last weekend, it's safe to say the Gophers and Beavers are antsy to hit the ice once again.
"We've had 100 practices since we ended our season last year, so we're ready to go," said sophomore forward Justin Kloos. "We're ready to get some games under our belt and see what kind of team we've got this year."
Reilly to be honored Saturday: Gophers junior defenseman Mike Reilly will be honored during Saturday's game at Mariucci Arena. The Chanhassen, Minn., native will be recognized for his first team All-America selection, which he earned last season as a sophomore. Reilly had nine goals and 24 assists last year as he became the first Gophers player since Ryan Stoa in 2009 and the 42nd in school history to capture first-team All-American honors.
"It'll be pretty exciting. I'll have a lot of family and friends there," Reilly said of the ceremony. "I'm sure there will be a lot of people watching, but it just reflects the guys on the team. It's about the guys. We've just go to get that win. It's more important."
Reilly, a fourth-round draft pick of the Columbus Blue Jackets back in 2011, was one of several Gophers who could have turned pro early, but he decided to come back to Minnesota for his junior season. He's now the team's top defenseman after his breakout year as a sophomore.
"He had a tremendous year, the progress he made from his freshman year to his sophomore year," Lucia said. "A dynamic offensive player. He got a lot stronger over the course of last year. He's stronger this year. Hopefully he'll just continue on his upward trajectory, which he's doing right now."
Two teams, six brothers: It could be an interesting weekend for Reilly in more ways than just his ceremony Saturday. He is one of three brothers on the Gophers hockey team, as he's joined on Minnesota's roster by twins Connor and Ryan Reilly. Connor is a redshirt sophomore after missing a year with a knee injury, and Ryan is a seldom-used junior forward.
But the Reillys won't be the only set of three brothers in this weekend's series against Bemidji State. The Beavers have a set of triplets on their roster in freshmen Gerry, Leo, and Myles Fitzgerald. The brothers hail from Port Alberni, British Columbia, and all played on the same line together in Bemidji State's season-opening series against North Dakota.
"Very good players. They're not that big, but obviously they know how to play together," Lucia said of the Fitzgerald triplets.
As it turns out, the Fitzgerald brothers aren't just hockey players -- they were once actors. All three starred in the movies "Baby Geniuses" and "Superbabies: Baby Geniuses 2." That fact isn't listed on their bio pages on the Bemidji State website, but the Gophers players are well aware of it.
"I've heard a lot about those guys. I played against them in juniors, too," Mike Reilly said. "It's going to be fun to watch those guys play at the collegiate level. ... I think they're in the movie 'Baby Geniuses,' too. They actually told us that. It's going to be fun playing them."
So which trio of brothers will combine to score a goal first this weekend?
"I'd have to go with us," Reilly said. "We've got great chemistry together."
---