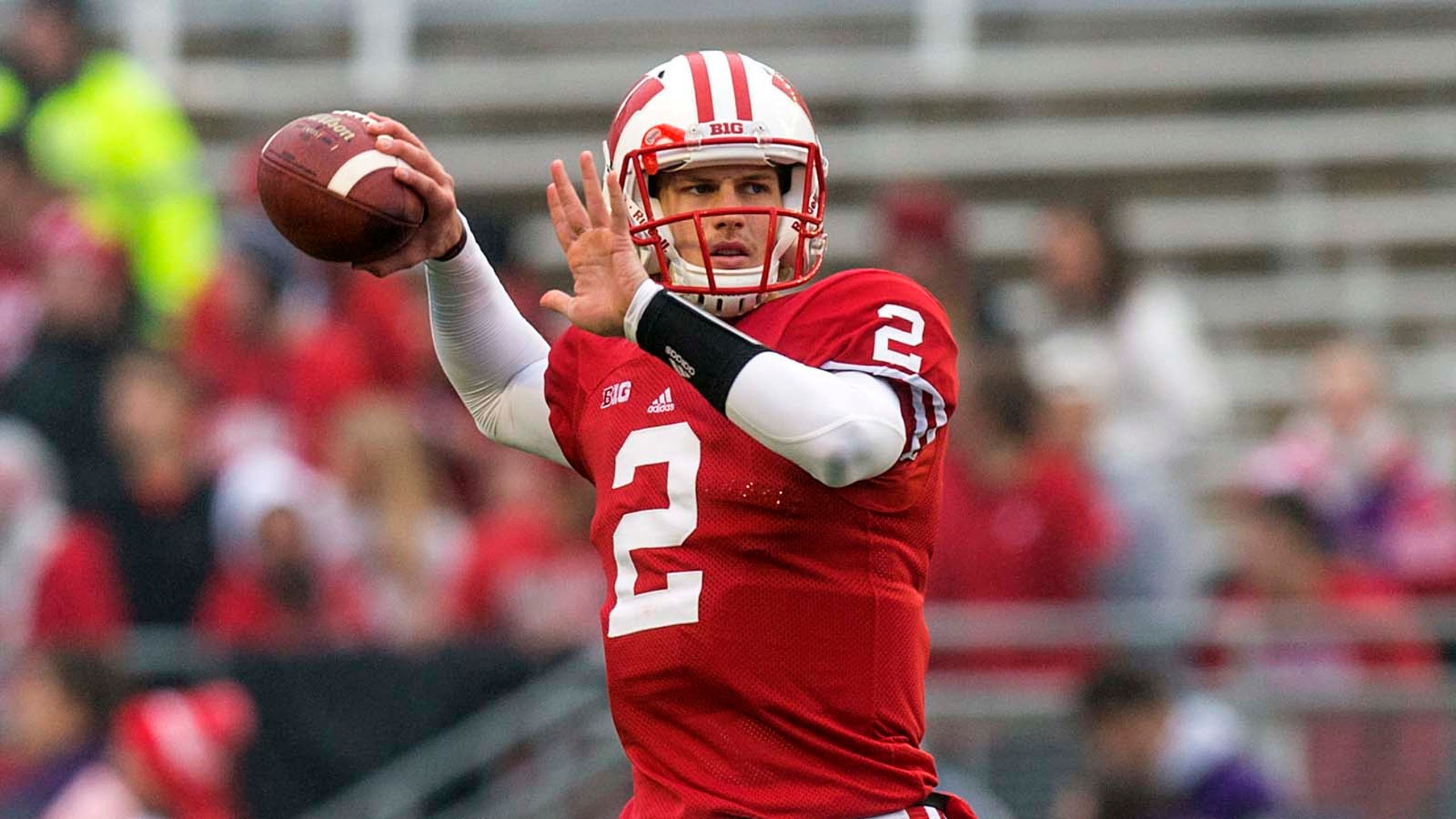 After first scrimmage, Stave appears to have upper hand as Badgers QB
BY foxsports • August 10, 2014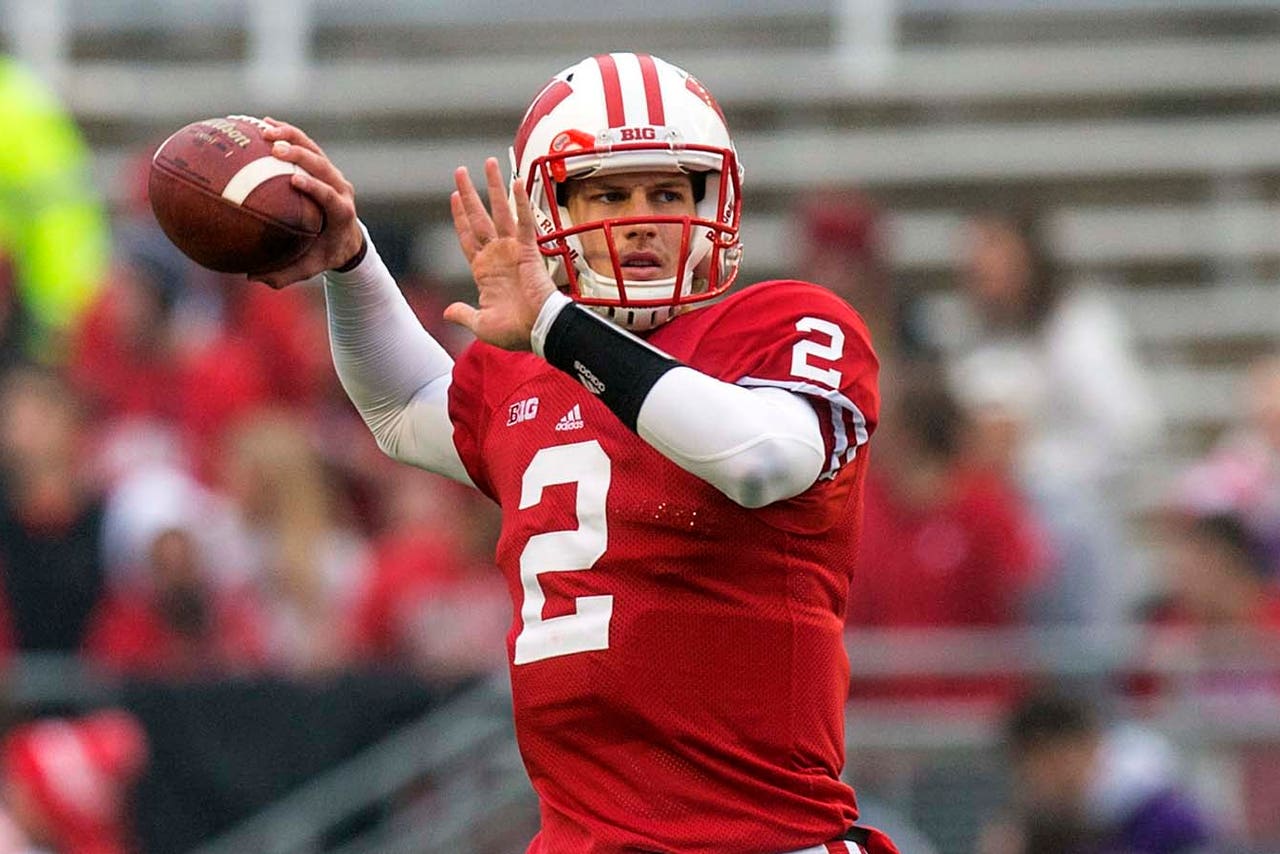 MADISON, Wis. -- Joel Stave and Tanner McEvoy put themselves in position Sunday to keep the starting quarterback battle raging on for another week of Wisconsin's fall camp. But if unofficial statistics and general observations based on a full week of practice are any indication, one man appears to hold the upper hand.
That man would be Stave, who has largely been the more consistent passer of the two -- a trend that continued Sunday during the team's first scrimmage at Camp Randall Stadium, which was open to the public and drew an announced crowd of roughly 5,000 people.
Stave finished the day unofficially completing 9 of 17 passes for 115 yards with two touchdowns and no interceptions. His best throw came on a 24-yard touchdown to redshirt sophomore Reggie Love, who caught the ball on his back shoulder against starting safety Michael Caputo in the left corner of the end zone. Stave also threw a 4-yard touchdown pass to Austin Traylor as the team closed practice with a red-zone drive.
"Joel's done a nice job," Andersen said. "He's poised. He's confident. He loves to compete. I think he's handling his team. I would say on the flip side of that, I think Tanner is doing the same thing. Again, they're competing well against each other. It's a great situation to be in. I'm proud of Joel Stave. He's gone through a lot of things in his career. He battles like crazy and comes to work every day. He's gotten better."
McEvoy, meanwhile, unofficially completed 4 of 7 passes for 40 yards. He began the day misfiring on his first three attempts, which included a poor screen pass that sailed at least three yards wide of his target. He did rally to complete his final four throws, the best of which was a 21-yard touchdown strike to freshman wide receiver George Rushing. McEvoy capped his day with a 12-yard touchdown to Traylor, who was left completely uncovered in the end zone.
Both quarterbacks spent time working with the first- and second-team offenses. Andersen said the passing discrepancy between the two quarterbacks was not planned and came more as the result "of the flow of the game" with offensive coordinator Andy Ludwig. In total, there were unofficially 32 plays that resulted in a pass from four different quarterbacks and 43 plays that resulted in rushes or sacks. Several more plays ended with penalty flags.
Reserve quarterback Bart Houston completed 3 of 3 passes for 40 yards, while freshman DJ Gillins struggled with the backups. He completed 1 of 5 passes for four yards and was intercepted for a touchdown by freshman safety Lubern Figaro. Gillins also was sacked four times.
Andersen acknowledged a number of factors had led to him feeling more comfortable overall with the passing game this year compared to last season. He said the offensive line was protecting better, there were more threats at wide receiver and the quarterbacks had improved at throwing accurately down the field to give teammates a chance to catch contested passes. On Sunday, 12 different players caught at least one pass, and four caught more than one.
McEvoy's advantage in the quarterback competition always has been his dual-threat ability, which he showed off some during the scrimmage. He gained 10 yards for a first down on an option keeper at his own 35-yard line and handed the ball off on a couple of read-option looks.
Stave's experience -- 13-6 as a starting quarterback -- is difficult to discount, and he has mostly displayed good confidence and composure. Still, McEvoy clearly has done enough to be considered in certain packages at the very least, and Andersen even hinted at such a scenario following Sunday's scrimmage.
"I think if you're going to look and say you want to be a speed option opportunity team and really have it be a viable speed option, it's going to be Tanner," Andersen said. "If we played a game today, we would have some scenarios where we would want to be a very multiple offense. If that means that another guy's got to get under center once in a while to make us be more multiple for people having to prepare, then so be it.
"I'm proud of these two kids. They're fighting, and right now they both deserve to be able to have some playing time. We'll see where it goes."
Kicking competition settled? Freshman kicker Rafael Gaglianone has been the talk of Wisconsin's fall camp through the first week, and he showed Sunday to the public why many are so high on him. Gaglianone buried 4 of 5 field-goal attempts and appears to be the clear frontrunner for the starting kicker job.
Gaglianone took the first repetitions at kicker and missed a 43-yarder wide left. Coaches gave him a second opportunity from 43 yards, and he took advantage by splitting the uprights. He also made his next three kicks later in the scrimmage, from 50, 55 and 40 yards.
Jack Russell, who was the starter last year, made just 1 of 3 field-goal attempts. He missed his first two tries, from 43 yards (wide left) and 40 yards (wide right) before hitting his last kick from 31 yards. Andrew Endicott went 1 for 2, missing wide right from 43 yards and hitting from 40 yards.
So, did Gaglianone make a statement?
"To me he did," Andersen said. "That's pretty good."
Andersen noted Gaglianone made a 62-yard field goal to end practice earlier in the week.
"It's great the kicks are going through," Andersen said. "That's awesome. He handles it. The kids razz him a little bit and try to get in his grill. We put him in this situation today. The first one he missed when he kicked it. Then he came back and made all the rest of them in a row. He's an impressive young man."
Injury update: Several Badgers did not participate in the scrimmage while recovering from injuries. Wide receiver Kenzel Doe sat out with what Andersen called an ankle injury, though Andersen expected him back next week. Other players held out were wide receivers Jordan Fredrick, Jake Stengel and Jazz Peavy, tight end TJ Watt, running back Taiwan Deal, linebacker Michael Trotter and safety/running back Vonte Jackson.
Jackson, who has had three ACL surgeries, appeared to injure his knee during Saturday's practice after switching from safety to running back as a fill-in for the injured Deal.
"He's trying like crazy, and he's battled," Andersen said of Jackson. "We said in the beginning of camp, we felt like he had turned the corner about two weeks left in summer and was moving about 85, 90 percent. A mild setback at this point, but we'll see how he progresses."
Austin Ramesh earned the bulk of the carries at running back with Deal out and finished with 15 rushes for 48 yards. Coaches limited first-stringers Melvin Gordon and Corey Clement to a combined nine carries for 33 yards.
Andersen said Deal would be back at practice Tuesday as the team's third running back, while Ramesh will continue to play fullback.
Love steps up: Andersen has talked openly over the past few weeks about the need for several wide receivers to emerge to help the team's passing game. One player he hadn't spoken much about was redshirt sophomore Reggie Love. But Love has continued to perform at a high level, and he did so again during Sunday's scrimmage, catching three passes for 39 yards -- including a 24-yard touchdown from Stave. Three other players caught two passes.
"Reggie's made some plays week in and week out," Andersen said. "I'm proud of Reggie. He's a young man who's battled his spot. I think he's just made football more important to him, and it's exciting. I don't know if it's just because there's some new guys in the program or whatever it is. But he's in a good spot."
Unofficial statistics
Passing: Joel Stave 9-17, 115 yards, 2 TDs, 0 INTs; Tanner McEvoy 4-7, 40 yards, 2 TDs, 0 INTs; Bart Houston 3-3, 40 yards, 0 TDs, 0 INTs; DJ Gillins 1-5, 4 yards, 0 TDs, 1 INT. Total: 17-32, 199 yards, 4 TDs, 1 INT.
Rushing: Melvin Gordon 4-13, Corey Clement 5-20, Tanner McEvoy 2-12, Derek Straus 1-4, Austin Ramesh 15-48, DJ Spurling 7-27, Bart Houston 1-12, Joel Stave sacked twice, DJ Gillins sacked four times, plus 2 rushes for 19 yards.
Receiving: Alex Erickson 1-17, Reggie Love 3-39 (1 TD), Rob Wheelwright 1-17, Lance Baretz 1-14, Natrell Jamerson 2-35, Derek Watt 1-4, Corey Clement 1-4, George Rushing 1-21 (1 TD), Troy Fumagalli 1-15, Austin Maly 2-9, Melvin Gordon 1-8, Austin Traylor 2-16 (2 TD).
Follow Jesse Temple on Twitter
---