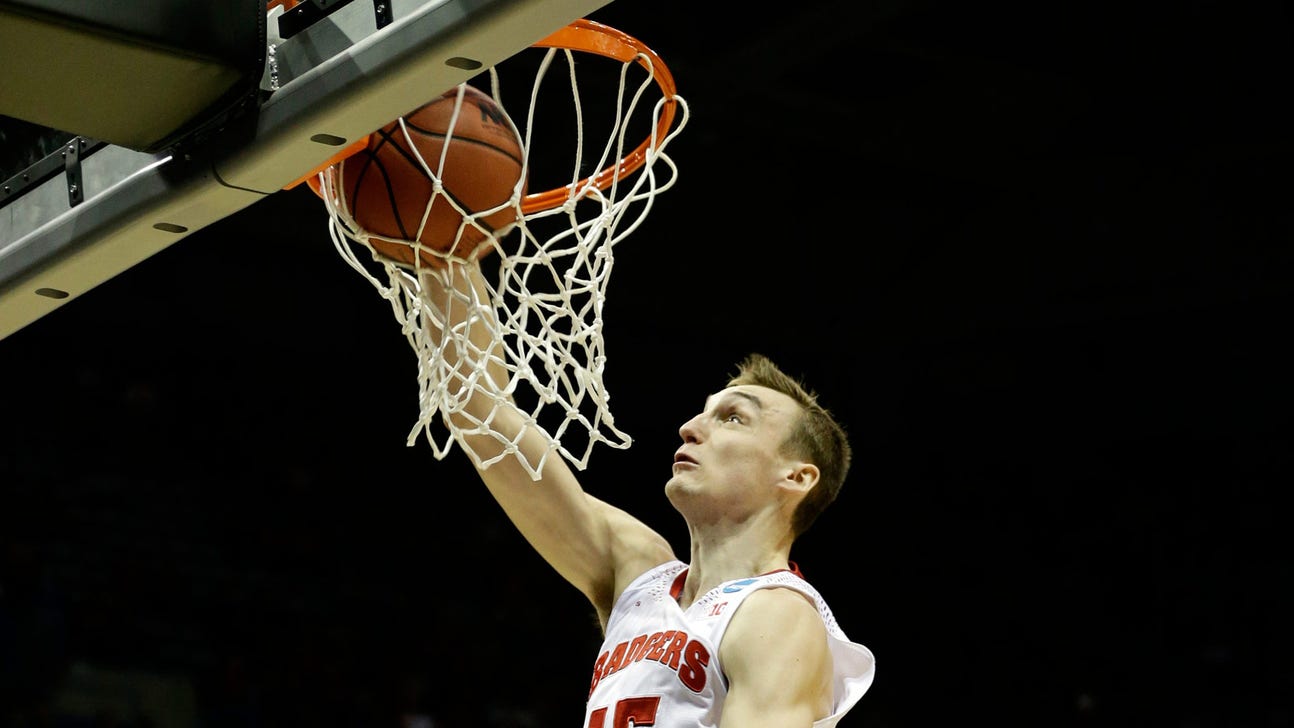 After early scare, Wisconsin stays calm to blow out American
Published
Mar. 20, 2014 6:11 p.m. ET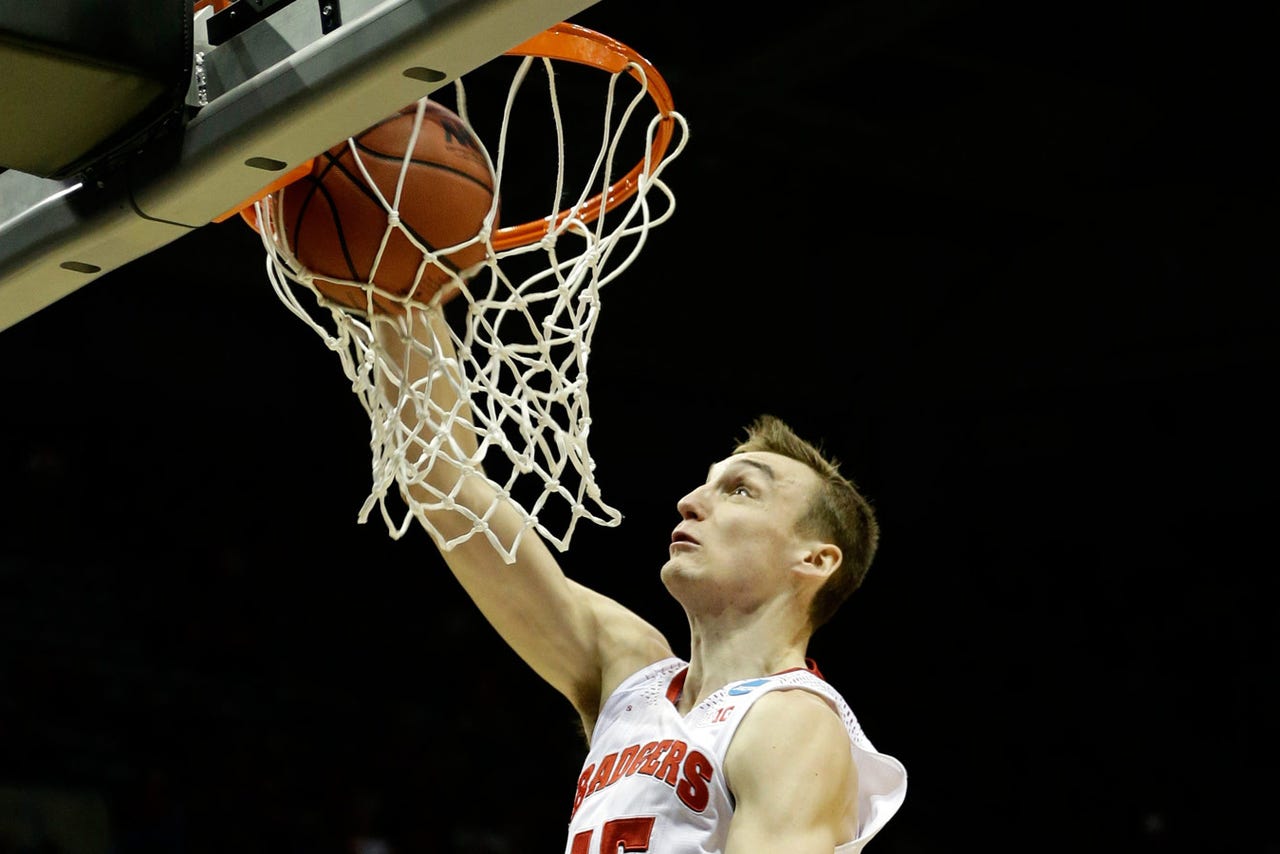 MILWAUKEE -- A pro-Wisconsin crowd rose to its feet, noise swelling with apprehension and desperation. It was the kind of anguished plea that comes only when something meaningful is on the line, with a sense that the outcome is in jeopardy of slipping away.
The madness of March had descended into the Bradley Center, and here was 15th-seeded American, with its deliberate Princeton-style offense, taking it right to No. 2 seed Wisconsin, playing a veritable home game 90 miles east of Madison. The Eagles held a six-point lead 13 minutes into Thursday's NCAA tournament opener by doing exactly what the Badgers knew would happen.
Wisconsin coach Bo Ryan would later say, perhaps facetiously, that he woke up on three occasions the night before, with visions of American beating his team for back door layups and hook shots in the post.
Now, his worst nightmare was coming true.
But just as quickly as the run came, it faded away. The upset special never materialized -- not even close. The games, Ryan likes to say, are 40 minutes, after all.
Second-seeded Wisconsin ultimately exhibited its power and steamrolled No. 15 American, 75-35, in the opening round of the NCAA tournament West Region. Wisconsin (27-7) advanced to face No. 7 seed Oregon (24-9), which defeated No. 10 BYU, 87-68, in the second game of the day.
"No matter who you're playing at this time of the year, it's going to be a battle," Badgers guard Josh Gasser said. "Fortunately, it wasn't a 40-minute battle, I guess. Really, we're just happy to be moving on. We're trying to play as many games as we can. We're trying to do something special here."
Thursday's result represented the largest margin of victory by a Wisconsin team in any NCAA tournament game, which few likely saw coming given American's promising start and the Badgers' early seven-minute scoring drought. Wisconsin's previous biggest win was 24 points against Montana two years ago.
The final high point for American came with 8:48 left, when Eagles center Tony Wroblicky made a tough left-handed scoop layup while falling off balance for a 19-13 American lead. With the minutes ticking away, the pressure for Wisconsin appeared to be mounting.
"We were excited," Wroblicky said. "We were playing well. We were making them take tough shots and we were scoring. Then, you know, after that we just kind of hit a rut, and it just extended throughout the rest of the game."
What happened next resembled something more like a cavernous crater than a rut.
Wisconsin forward Sam Dekker converted a turnaround in the lane, and Ben Brust followed with a 3-pointer from the right wing. When Brust scored off an and-one basket off a give-and-go pass from Nigel Hayes, he let out a yell and fist pump. Wisconsin had re-taken the lead, 23-20, at the 3:33 mark of the first half, and the Badgers would never look back.
"We were just trying to, I don't want to say it, but play like we were the Goliath and they were the David," Wisconsin center Frank Kaminsky said. "It was something like that. We're the 2 seed and they're the 15 seed, and we should be taking care of business. We went out there and did that."
The Badgers closed the game on an astounding 62-16 run, shutting off any backdoor cuts and challenging 3-point shooters beyond the arc. And, the first 13 minutes notwithstanding, they played like a team with the talent and efficiency to make a run at the first Final Four during Ryan's tenure.
"You don't get flustered, you don't get down," Ryan said of his team's approach. "You stay the task. We've got some really smart guys. We've got some tough guys. So I think they've handled it well when we've gotten behind."
Wisconsin held American 29 points below its season average, and the 35 points allowed also were the fewest surrendered by a Wisconsin team in the NCAA tournament since 1941. Perhaps most remarkable was that only four American players even scored.
During one stretch of the second half, the Eagles (20-13) went 13 minutes, 45 seconds without a single made field goal.
"That's pretty crazy," Gasser said. "That must mean you did something well, so I think we're proud of that. A lot of credit goes to our scout team. They did a great job of learning the Princeton offense, running it really well. We were definitely prepared for it, and I'm glad we got to show it out on the court."
Badgers point guard Traevon Jackson led all scorers with 18 points, Brust added 17 and Dekker 11 for a UW team that shot 50 percent from the field.
The task from here will only grow more difficult. But for Wisconsin players, what matters most is, despite an early hiccup, the Badgers are moving on.
"It's kind of a sigh of relief," Dekker said. "We've got one out of the way, but we've got much more work to do."
Follow Jesse Temple on Twitter
---