Adrian Peterson back at practice, likely to play Sunday
Published
Dec. 18, 2013 1:25 p.m. ET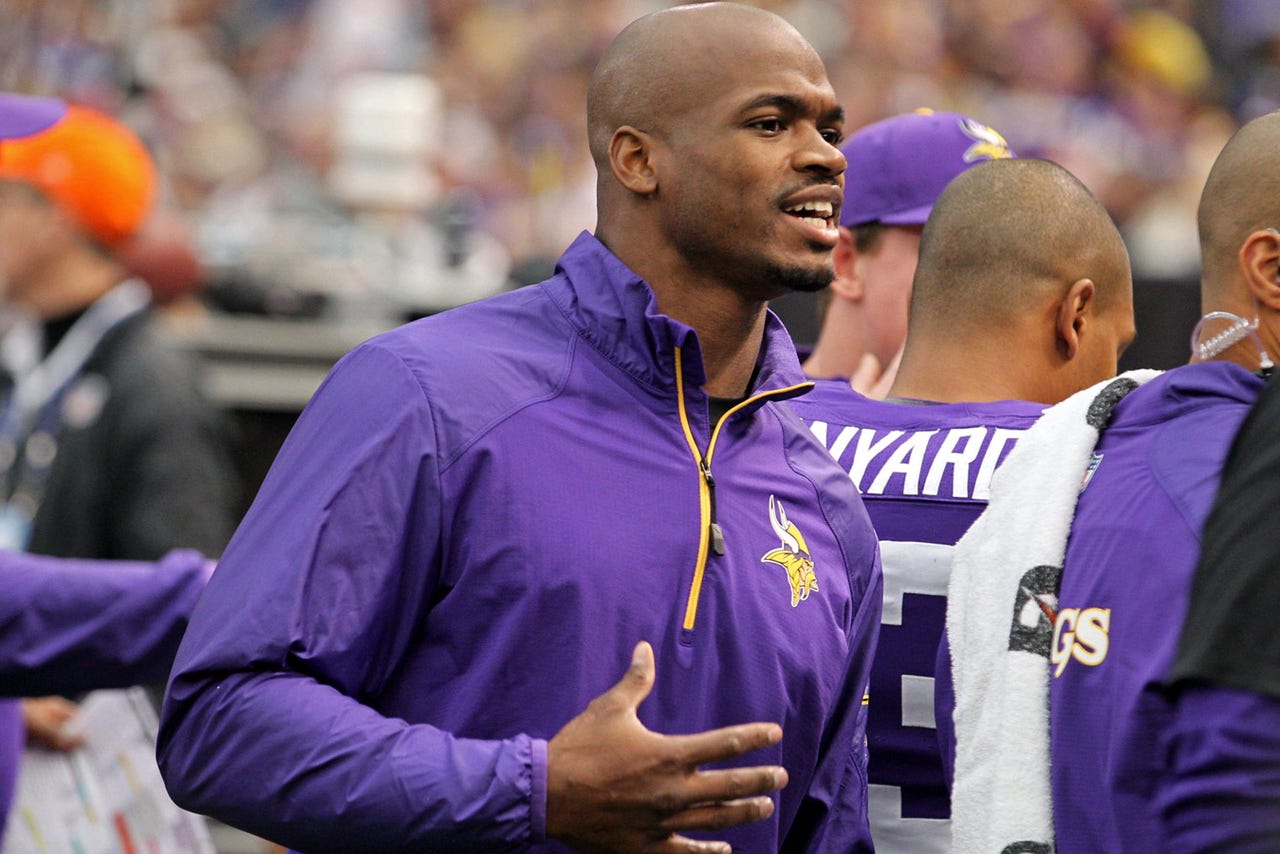 EDEN PRAIRIE, Minn. -- Adrian Peterson wasn't happy
about missing last week's game with a sprained foot.
One game is all Peterson is likely to miss.
Peterson, the league's second-leading rusher with 1,221
yards, returned to practice for the Minnesota Vikings on Wednesday and is
expected to be in the lineup when Minnesota travels to Cincinnati this weekend
to face the Bengals' fifth-ranked run defense.
"He's feeling better," coach Leslie Frazier said.
"So today he'll get a chance to test things out a little bit. But he's
feeling better."
The Vikings were without Peterson and backup Toby Gerhart on
Sunday, but third-string running back Matt Asiata stepped in with 30 carries
for 51 yards and three touchdowns in Minnesota's 48-30 win against the
Philadelphia Eagles. Without Peterson, quarterback Matt Cassel threw for 382
yards, the most by a Vikings quarterback since Brett Favre in 2010.
Peterson was held out while he was dealing with a sprained
foot, but wanted to play in against Philly. Frazier made the decision to sit
Peterson, who insisted he could play. But Minnesota wanted to be careful with
its franchise running back.
If Peterson is healthy enough to play, Frazier won't hold
him back this week.
"Well in the case of the running back position it's not
a hard decision," Frazier said of balancing how the team played last week
versus letting players heal properly. "If Adrian is ready to go, it's a
pretty easy decision. Some of the others might be a little bit challenging
depending on how the other guy was playing prior to his injury. But you don't
like to see a guy lose his position because of injury. You like for it happen
because he got beat out. But sometimes when a guy plays so well that he grabs
your eye it's hard to ignore that when you're trying to win games."
Peterson hasn't practiced on a Wednesday in several weeks
because he was also dealing with a groin injury. He had run for 357 yards in
two games before being spraining his foot on Dec. 8 when he was held to seven
carries and 13 yards.
"You sound just like Adrian saying that," Frazier
joked when asked about Peterson doing well without practice on Wednesdays and
Thursdays. "But, no, if he's healthy we'd like for him to get some work.
We think that helps with the timing and helps the offensive line as well."
Gerhart was also back at practice Wednesday from a hamstring
injury. Tight end John Carlson passed his concussion testing and returned.
The biggest concern, health-wise, for Frazier is the status
of rookie cornerback Xavier Rhodes, who still hasn't been able to practice
since spraining his ankle on Dec. 8.
"We'll probably hold him out to see if we get him back
tomorrow," Frazier said of Rhodes.

---