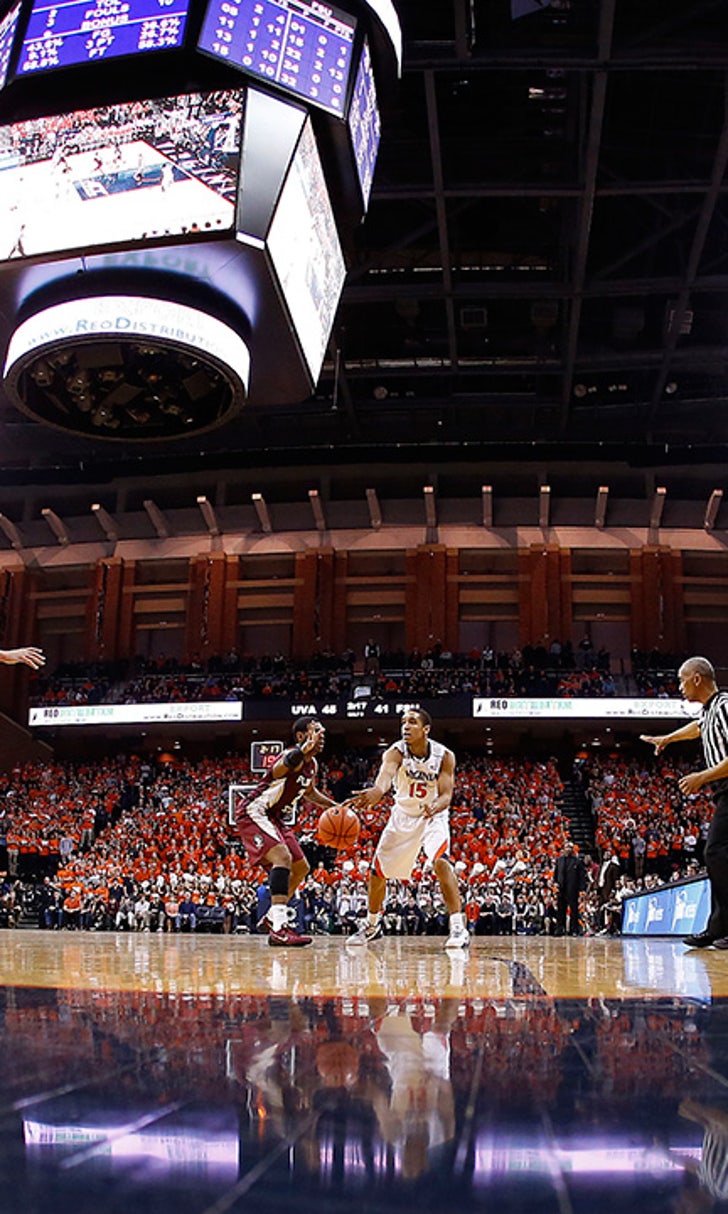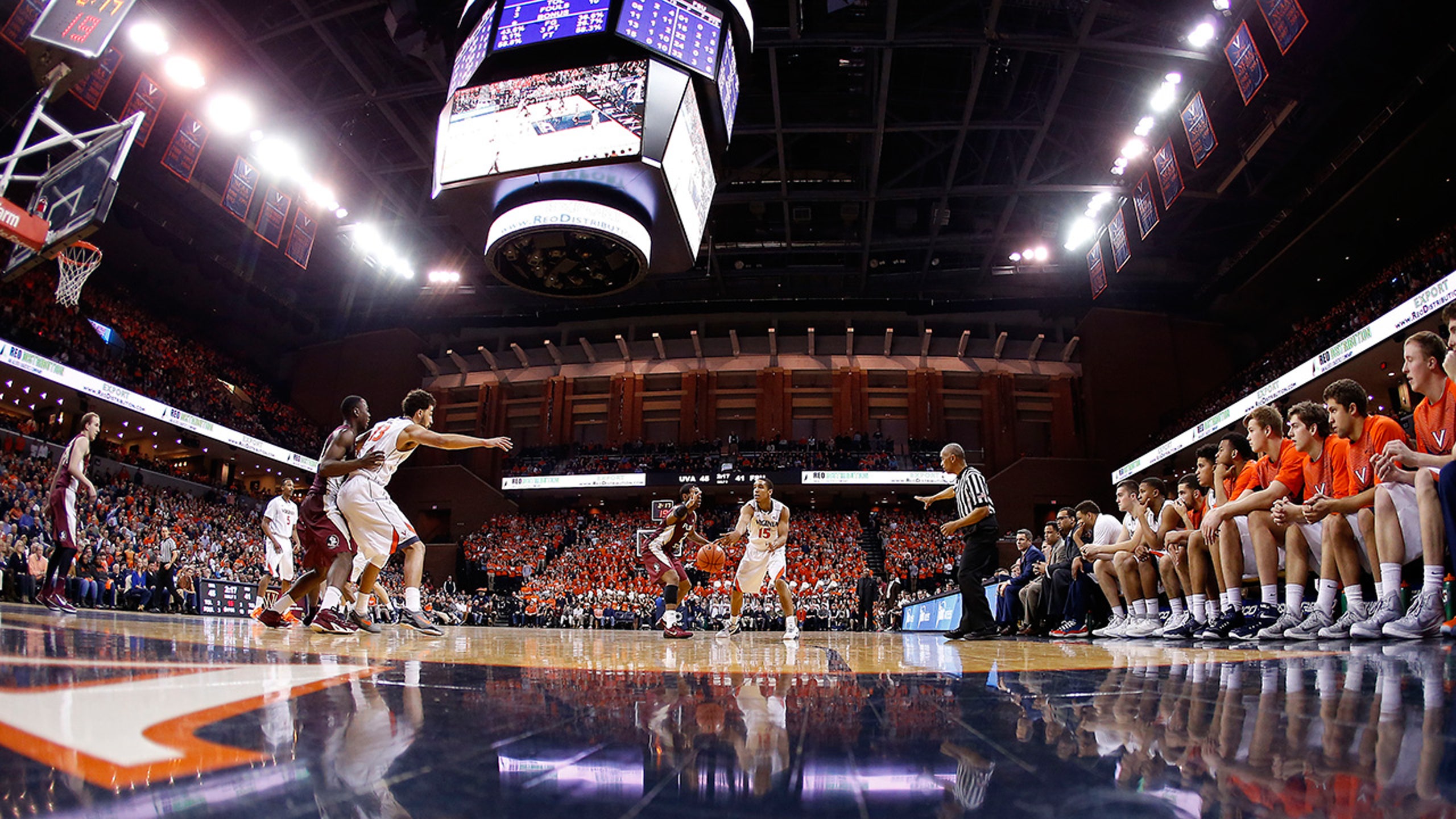 ACC Roundup: Top teams still jockeying for tourney position
BY foxsports • March 2, 2015
The final week of the ACC regular season is here, and there's still plenty left to be settled. Like, you know, who will win the ACC regular-season title.
Virginia has already clinched at least a share of it already, but Duke is still lurking should the Cavaliers stumble in the final week -- a week that includes road games against Syracuse and Louisville. All three of the ACC's potential at-large teams beyond the four obvious ones took hits to their bodies of work last week, and they'll all have to close out strong to solidify a spot. Players will make their push for All-ACC honors, too. All in all, an exciting week ahead.
Olivier Hanlan, Boston College: In spite of the Eagles' bad ACC record, Hanlan is really making a push for first-team All-ACC honors. He scored 63 points (31.5 per game) in two games last week on 17 of 31 shooting, which is just absurd, and was 21 of 22 from the foul line. Boston College needs him to score, and he's done that whether they've won or lost -- and he's done it efficiently, too. They did get a win last week against NC State, but Hanlan had his second-lowest point total in the last five games: 24. That's how good he's been.
Michael Young/Jamel Artis, Pittsburgh: The post duo combined for 87 points (44 for Young and 43 for Artis) in two games last week for the Panthers. They also each had 17 rebounds over those two games, and three assists apiece too. Young in particular was excellent, scoring 22 in each game, and Artis continues to have a very good season. Neither were the reason their team lost at Wake Forest.
Quinn Cook/Jahlil Okafor, Duke: Duke's senior captain, Cook, had 43 points in two games and was at his best, as usual, when his team needed him most: he scored 26 in the overtime win at Virginia Tech on 10 of 17 shooting. Okafor, meanwhile, averaged 21.5 points to go with averages of 11.5 rebounds (seven offensive boards), three assists and a block for the Blue Devils. Business as usual for the talented freshman.
Xavier Rathan-Mayes, Florida State: It was impossible to repeat his spectacular performance at the end of the Miami game, and he didn't, scoring 12 points against Louisville. But he did score 30 in the final 4:38 of that Miami game, cutting an 18-point lead to a one-score game in the closing moments. He ended the week with 47 points, and 30 of those were scored in that 4:38 span. He also shot just 15 of 35 for the week, but when you score 30 points in less than five minutes, you're going to get recognized.
FSU's freshman point guard is becoming one of the best scorers in the league.
Jaron Blossomgame, Clemson: He's had his ups and downs for Clemson this season, but the springy sophomore forward had a great game in Clemson's overtime win over Georgia Tech (the Tigers' only game this week), finishing with 17 points on 7 of 11 shooting to go with nine rebounds, an assist, a steal and a block. It was the most points for him in ACC play and most since Dec. 22.
Duke freshman point guard Tyus Jones scored just 16 points on 17 shots in two games for Duke last week, but he did add 7.5 assists (4.5 turnovers) and 1.5 steals. He played 83 minutes over those two games.
Georgia Tech's Tadric Jackson averaged 10.5 points in two games in an increased role since Chris Bolden's suspension, while North Carolina's Justin Jackson averaged 13.5 points in two games to go with 3.5 rebounds.
Lastly, Wake's Konstatinos Mitoglou had 18 points in two games and was 4 of 10 from the outside, including what was the go-ahead 3-pointer for Wake Forest in their win over Pittsburgh. He was also the only Deacon in double figures in the 70-34 loss to Virginia. His teammate, Mitchell Wilbekin, struggled against Virginia (as did everyone), but he got back on track against Pitt with 14 points, including shooting 4 of 4 from 3-point range.
It's hardly addition by subtraction to lose starting point guard Chris Jones (who's now facing very serious charges), but the Cardinals have rallied quite nicely. First, they beat Georgia Tech earlier this week and had to come back from a deficit to do it, on the road. Then, they went to Florida State -- a team that gave Miami fits -- and just decimated the Seminoles, 81-59.
Freshman Quentin Snider filled in nicely for Jones, finishing with 11 points in 29 minutes, and if he can keep playing that way -- along with sophomore Anton Gill, who had all four of his 3-point attempts -- Louisville will be just fine.
No. 2 Virginia at Wake Forest, 70-34: The Deacs, as evidenced by their win over Pitt and most of their other games this year, are always frisky, especially at home. But Virginia made quick work of them and methodically -- to use Wake Forest head coach Danny Manning's phrase -- beat them down.
Wake scored a total of 23 points in the first 30 minutes and it took a very late barrage for them to even pass 30 points. Wake shot 8 of 33 from two, 4 of 22 from 3-point range and turned it over on over 21 percent of its possessions. Meanwhile, Virginia averaged 1.13 points per possession. Oh, and the Cavaliers did all of this on both ends without Anderson and starting point guard London Perrantes, of course.
OK, NC State. You go on the road and knock off a top-15 North Carolina team, in spite of not shooting your best, and you are dialed in and focused and patient on both ends of the floor and it seems like you've turned a corner ... and then you come out flat against a Boston College team with one -- ONE -- ACC win to its credit, and lose by double digits. The final margin could've been much uglier; Boston College led by 20 or more at different points.
Look, lapses happen. But this has been a pattern -- a maddening one -- with this NC State team all season long. Every time it seems like they've turned a corner and can find some semblance of consistency, a head-scratcher of a performance happens. It's just inexplicable.
The Wolfpack's at-large hopes seem safe for now, but why even make it interesting?
Pittsburgh sophomore guard Josh Newkirk took one field goal (he missed) and one free throw (he missed) in two games last week, adding two rebounds, one assist, three fouls and three turnovers in 17 minutes. He also had the misfortune of committing what was essentially the game-losing turnover for the Panthers in the final moments at Wake Forest. That's not all his fault -- why is he being put in that situation at all? -- but just not very good minutes for a relatively experienced player.
No. 2 Virginia (27-1, 15-1) at Syracuse (18-11, 9-7), Monday, 7 p.m.
Notre Dame lost to Syracuse last week, so it's not unreasonable to think a good team could lose to the Orange. But if you based it solely on the way Syracuse played at Duke, Virginia should be fine. But nothing has been easy since Justin Anderson got hurt, and this game probably won't be, either. Syracuse is bound to play better than it did against Duke, and that zone defense will force Virginia to make shots.
NC State (17-12, 8-8) at Clemson (16-12, 8-8), Tuesday, 9 p.m.
Well, NC State, now's your time. Can you lose this one and get into the NCAA Tournament? Do you really want to try it and find out?
NC State has excellent wins, yes, but this has been the type of game it has lost all season long, somehow. NC State is 4-4 on the road in ACC play, but no win has been easy. Florida State was a nine-point win, but that was a close game down the stretch. But they also have wins at Louisville and at North Carolina, which pretty much sums up this group. How will they show up against Clemson? Hard to say, but they need to.
No. 12 Notre Dame (24-5, 12-4) at No. 16 Louisville (23-6, 11-5), Wednesday, 7 p.m.
The Irish are no longer a lock for a top-four seed (though it's pretty likely), and that loss to Syracuse was surprising to say the least -- at home, no less. And now, suddenly, Louisville is playing very well. And it's a road game for the Irish. This game has all sorts of tiebreaker implications and seeding ramifications entering next week's ACC Tournament, but mostly for the four spot (Louisville), as this would give them a better win than North Carolina. From an X's and O's standpoint, it'll be fascinating to watch Notre Dame's offense against the smothering Louisville defense.
Miami (18-11, 8-8) at Pittsburgh (19-11, 8-8), Wednesday, 7 p.m.
Neither team did itself any favors last week in terms of NCAA Tournament at-large hopes, as Miami couldn't finish the job against North Carolina and Pitt had a bad loss at Wake Forest. Both teams' chances are not all that great, but one would have to think the loser of this game would have to either win the whole ACC Tournament or make a ton of noise to have a shot at the field. So it's a de facto elimination game.
No. 2 Virginia (27-1, 15-1) at No. 16 Louisville (23-6, 11-5), Saturday, 6:30 p.m.
Will Virginia have Justin Anderson back by this game? The Cavaliers would certainly like to. He got hurt in the first meeting between these two teams and has been out ever since. Louisville is playing well, but maybe the loss of Jones catches up to them. The Cardinals couldn't score against Virginia the first time around and Virginia's defense hasn't slipped without Anderson. But Louisville's offense looks reinvigorated. It'll be a fascinating games that will tell a lot about where both teams are.
No. 3 Duke (26-3, 13-3) at No. 19 North Carolina (20-9, 10-6), Saturday, 9 p.m.
It's Duke-North Carolina. Does anything else really need to be added, particularly after that instant classic of a first meeting? The second one rarely lives up to the majesty of the first, for whatever reason, but this one might. Duke has played very well on the road all year against ranked opponents, and North Carolina has sometimes struggled at home. But it's always a weird game, and it's one that the Tar Heels will need for seeding purposes -- a win over Duke would give them a better win than Louisville, and if Louisville loses again, the tiebreaker.
---