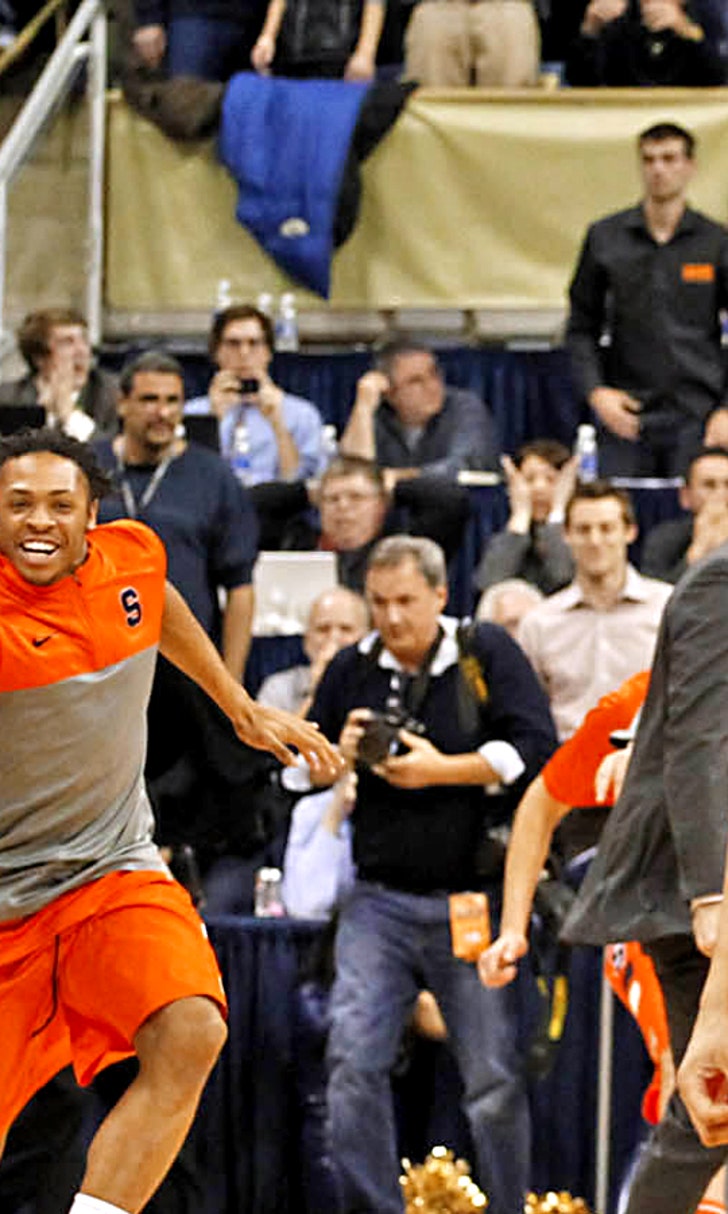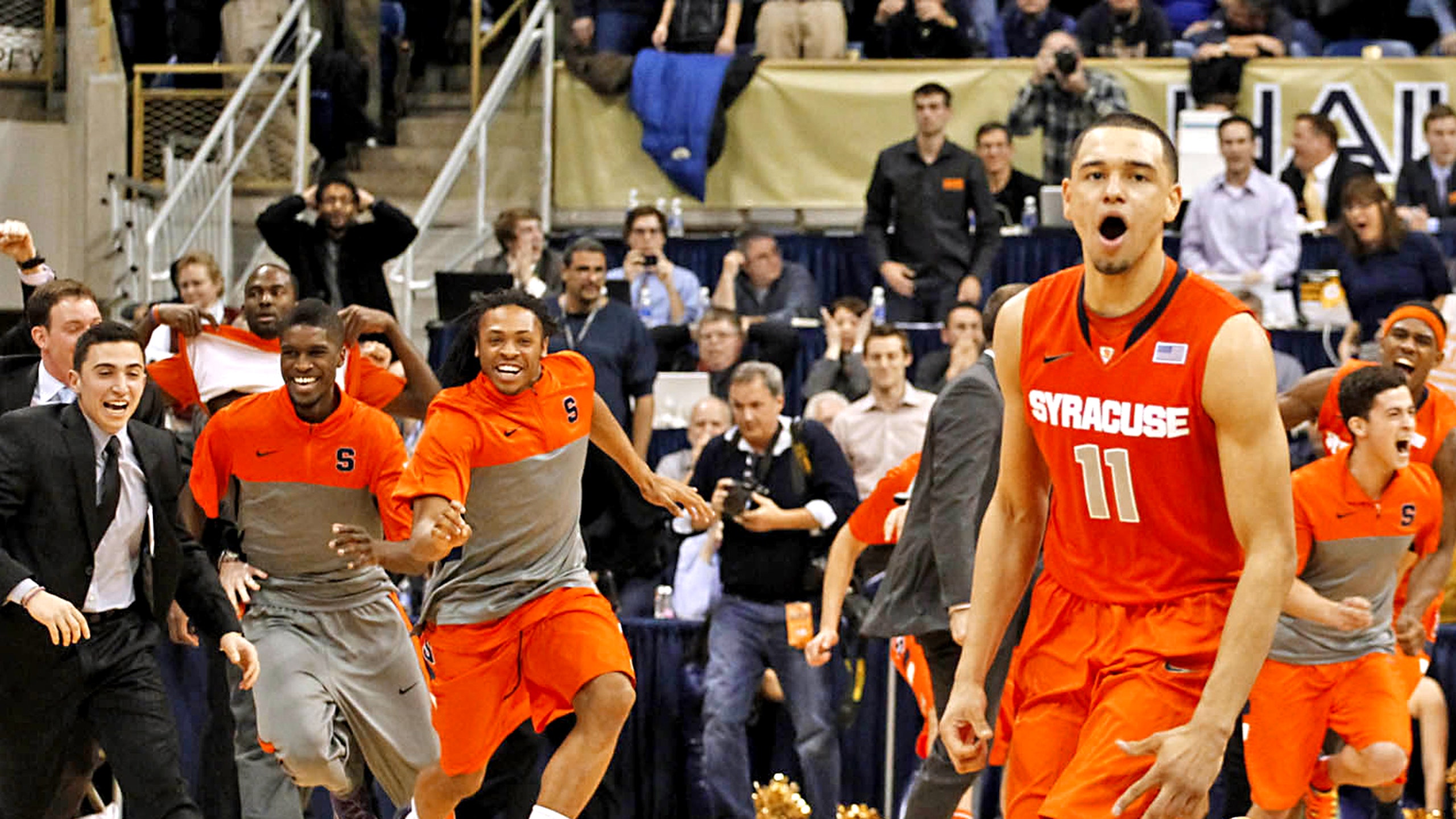 ACC Player of the Year race still wide-open affair
BY foxsports • February 19, 2014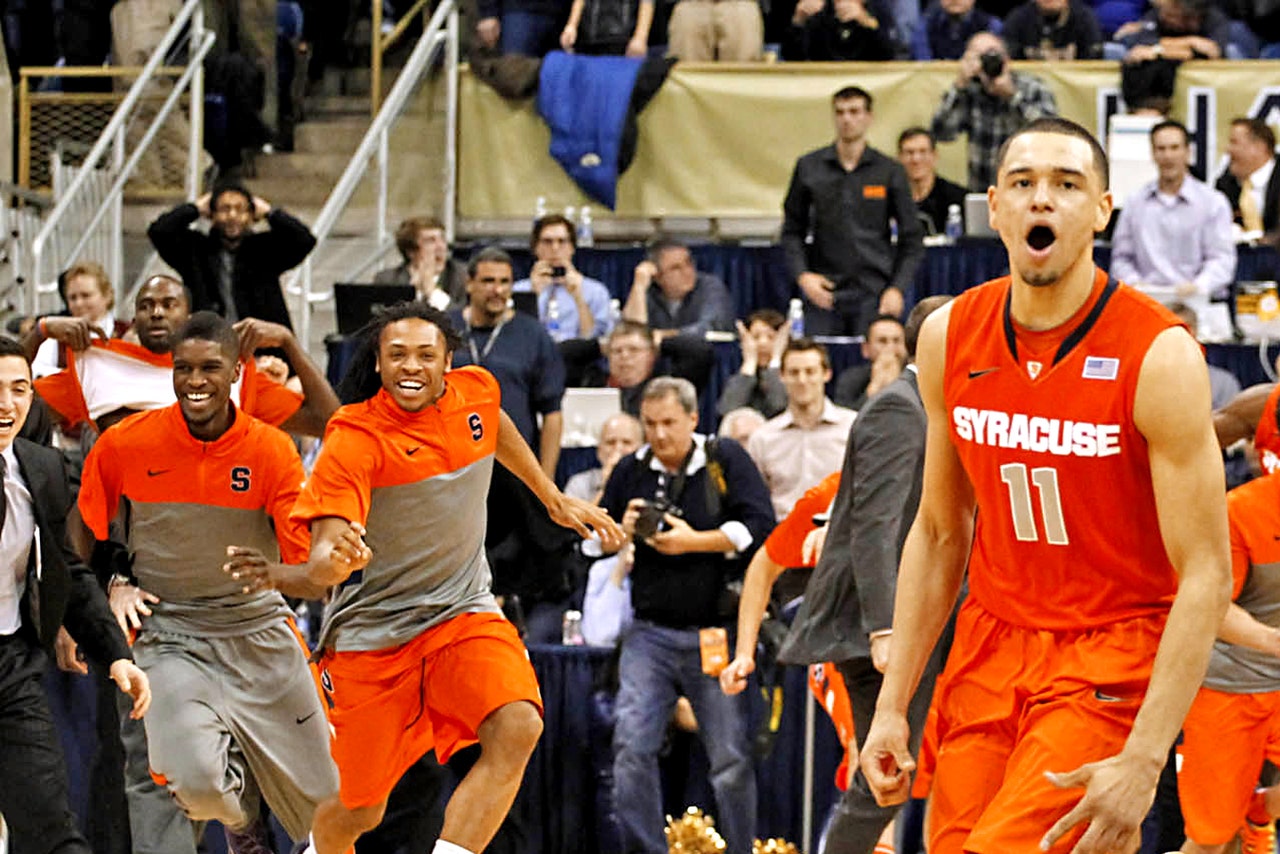 The ACC Player of the Year race, believe it or not, is as tight as it's ever been at this point in the year. By this time last season, there were really only 3-4 viable candidates.
This year, though, there's a group of about 4-5 guys that are the likely frontrunners -- and a group of players behind them that are making a strong push for First Team honors, at the very least, if not Player of the Year. Plenty of guys have a reasonable case. And almost everyone has a flaw or two.
Also of note, there are no pre-issued guidelines from the ACC as to how the media should vote. Some use all stats. Some put more emphasis on ACC-only stats. Extenuating circumstances are taken into account. And sometimes, if you watch a team play -- as is the case with some of these players -- you can digest a lot more about who that player is than stats, even the tempo-free variety, would tell you.
I tend to value ACC-only stats more, since it is, after all, an All-ACC team. So any stats listed below (unless specified otherwise) are ACC-only stats. I also took a look at both Ken Pomeroy's site and Sports Reference, a site that calculates Win Shares -- yes, like the baseball stat. And these candidates are in no particular order:
T.J. Warren, N.C. State
Pros: Plenty. He leads the league in ACC-only scoring (22.0 points per game), ranking second in field goal percentage (49.8 percent, with 27 more made field goals than the next-closest on that list), sixth in offensive rebounds (3.1) and 15th in total rebounds (6.4).
It's somewhat reminiscent of the season last year's ACC Player of the Year Erick Green had, except Green's Virginia Tech team didn't sniff any kind of postseason, while N.C. State has a shot at making the NCAA Tournament. Warren, obviously, is a big reason for that -- he has the highest usage percentage of any player in the league since Pomeroy began tracking player stats in 2004.
Cons: Unlike Green, he's not quite as efficient -- he doesn't make a ton of 3-pointers (shooting 29.4 percent from beyond the arc, though he's attempted nearly 300 more two-pointers anyway) and he doesn't hit his foul shots all the time (nearly 70 percent from the line, which isn't terrible but isn't great). He's a good defender, but not a great one.
The biggest thing working against Warren is that there are equally viable candidates from teams with better records, which wasn't necessarily the case last year with Green, who averaged nearly eight more points a game than the next-closest player in the league and had a much higher offensive efficiency rating, despite his stunningly-high usage on an awful team.
K.J. McDaniels, Clemson
Pros: If you like stat-stuffers, McDaniels is your guy. He's third in scoring (17.4), eighth in rebounding (7.6), fourth in field goal percentage (45.6), third in free-throw percentage (84.8), second in blocks (2.8) and eighth in offensive rebounds (3.1). He made the leap this year from an athletic dunker/shot-blocker to a well-rounded, skilled player that has at times taken over games on his own. And he leads the league in that Win Shares stat, by the way (5.0).
Cons: Clemson got a step closer to the NCAA Tournament with that win over N.C. State last night at home, but it still has a long way to go. The Tigers aren't likely to finish in the top four of the ACC. McDaniels might even be punished for his team's style of play, which is at times tough to watch on offense. And like Warren, there are candidates on teams with better records that have an argument.
Lamar Patterson, Pittsburgh
Pros: He's like a McDaniels in terms of his stat-stuffing ability, but his teammates are slightly better and he's been slightly more efficient on offense. His team has more wins, too. Fourth in scoring (17.2), he's by far Pitt's best option -- and, at times, only option -- to score. He's also fourth in both assists (4.2) and steals (1.6), not to mention sixth in 3-point percentage (37.8 percent). And he's doing it without much consistent help from his teammates, like both Warren and McDaniels.
Cons: A hand injury has hampered his shooting ability, to the point where in the double-overtime win over Virginia Tech recently, he could barely even shoot a free throw. He's been better in the last two games, but he's still struggling with his shot (10 of 30 in the last two). We always tend to remember what you did most recently, and with Pitt not having any big wins (again, not Patterson's fault) and Patterson struggling a bit in the last few weeks, he'll likely be punished for that rather than rewarded for his body of work. Unless he can pick it up.
Jabari Parker, Duke
Pros: Even though his efficiency numbers still aren't back up to what they were in the non-conference, it's hard to argue with the results: Parker is fifth in scoring (17) and first in rebounding (9.4), also ranking ninth in field-goal percentage (42.3 percent) and blocks (1.3). Oh, and he's second in offensive rebounding (3.7) and third in defensive rebounding (5.7) ... the only candidate to rank in the top 10 in both.
Forget the numbers -- he's spectacular. The freshman is a matchup nightmare, too quick for opposing big men to guard and too powerful for smaller forwards to slow down. He's still learning, which is the terrifying part, and he's far from a finished product. Yet he attacks the glass even when he's not scoring, and is generally able to drive and get to the free-throw line. Save a few hiccups, he's been more consistent than you could expect most freshmen to be. Many thought his candidacy would be hurt by having a great player like Rodney Hood on his team as well, but Parker is just barely behind Warren in usage rate (31.6 percent) and takes nearly a third of Duke's shots when he's on the floor. It's his team. It runs through him. And his team is in the top-10 nationally and could still win the league.
Cons: Ah, those hiccups. The first half of ACC play -- a nine-game hiccup -- he averaged 14.7 points but shot just 34.7 percent from the field and took over 21 percent of his shots from 3 (and made just 27.3 percent of those). He too often settled for jumpers in that stretch, starting to get to the foul line more about midway through it but still not shooting well. In the last four games, though, he's averaged 22.3 points on 58.2 percent shooting (and 11.5 rebounds), while still getting to the foul line a staggering 8.8 times a game. Yeah, I'd say it has clicked for him. But he can't fall back into the trap of settling for jump shots. On the drive or posting up is where he's at his best, and at times it seems that he forgets that.
C.J. Fair, Syracuse
Pros: The lanky, multi-faceted 6-foot-8 senior forward is a player whose value is better understood by watching him in person. Only 13 players in the country play a higher percentage of their team's available minutes than Fair, and while his efficiency numbers don't jump off the page -- eighth in scoring (15.5), but shooting just 41.5 percent; 18th in rebounding (6.1) -- he's one of the league's best defenders. He can block shots, get steals and just generally be disruptive in that zone. There are stretches of games in which Syracuse has struggled with lesser opponents where Fair is the only one that can generate any offense, like at Wake Forest or at Miami. And then in big games, like the win over Duke, Fair was at his absolute best, dominating to the tune of 28 points. He's so, so important to what Syracuse wants to do on both ends.
Cons: The shooting percentage is what it is at this point. If Syracuse wins the league, naturally a guy like Fair is going to get a bump, particularly from those that have seen him play. But regardless of the reason for his poor shooting, it's difficult to ignore when others in the league are much more efficient. And he also is tied for the third-highest turnover percentage on his own team, and while he shoots two's pretty well (47.8 percent), he struggles from 3-point range (27.3 percent). While his importance on a Final Four candidate is not in question, there's a chicken-or-the-egg argument to be made with he and his teammate, freshman point guard Tyler Ennis. Who's the one who really makes the team go? Does he make Ennis better or vice versa (or both)?
Tyler Ennis, Syracuse.
Pros: Like Fair, he's one you need to see to believe. His stats justify his candidacy a bit better than Fair's do, though -- he's first in assists (6.0), fourth in assist-turnover ratio (3-to-1), tied for seventh in steals (1.5) and 10th in free-throw percentage (78.3). He's also top-50 nationally in assist rate and plays nearly 86 percent of his team's available minutes, coming through over and over again in crunch time. He has enough talented teammates that he doesn't have to score as often as some, but he gets his teammates in the best possible positions to score, keeps a cool head and is almost always able to turn it on when he has to -- the last five minutes of close games. He's also great defensively, ranking 37th in the nation in steal percentage. Oh, and he's the starting point guard on a really, really good team.
Cons: His statistics aren't eye-popping, and he's not in the top-20 of ACC-only scoring. He's one of just two ACC players who are in the top-10 of Win Shares on both offense and defense, but that's not likely to be a statistic that most voters look at. If you haven't seen him play in person, or even if you don't watch Syracuse regularly -- and believe it or not, there are plenty of voters who haven't -- it's difficult to appreciate him. If Syracuse ends up losing a few games down the stretch, it might get tougher to justify him as a Player of the Year candidate.
Rodney Hood, Duke.
Pros: He leads his team in Pomeroy's offensive rating stat, mostly because he's a great shooter and he rarely turns it over (just 12.9 percent of possessions). He's also ninth in scoring (15.2) and seventh in field-goal percentage (43.4 percent) in ACC play. As of late, he's taken to doing all of this while guarding the opponents' best player, giving Patterson, Warren and even Maryland's Dez Wells a hard time. He's eager to embrace that challenge, and somehow has managed to stay efficient and steady.
Cons: Parker is his teammate. No, seriously. I'll admit it: Hood was my Preseason Player of the Year, mostly because no one is ever sure what to expect out of freshmen, and from what I knew of Hood, he was an excellent all-around player. He hasn't disappointed in that department, but he doesn't have the kind of usage percentage many expected he might when Mike Krzyzewski said the offense would run through he and Parker. Turns out, it has -- just more Hood setting things up rather than scoring, more often than not.
Malcolm Brogdon, Virginia.
Pros: He might be the most complete player in this second group. Well, no might about it. He's 11th in scoring (14.9), 19th in rebounding (5.9), fifth in field-goal percentage (44.9 percent), first in free-throw percentage (87.5 percent) and tied for seventh in steals (1.5). He's one of the best defenders on a team that's probably the best defensive team in the league, and he's the best player on a team that still has a legitimate chance to win the ACC. But that's it.
Cons: At the pace Virginia plays at, Brogdon's numbers don't look as flashy next to some of the others as they would through a tempo-free lens. And Virginia is just so balanced that it's often a different player each game carrying them to a win -- all the while, though, Brogdon just stays steady.
Marcus Paige, North Carolina.
Pros: He's sixth in scoring (15.9), fourth in free-throw percentage on a team that can't make any (84.1 percent), seventh in 3-point percentage (36.8 percent), second in assists (5.3) and sixth in steals (1.6). In UNC's four wins over top-25 teams this year, he averaged 21.5 points. So it's not like he's racking up his stats against bad teams. He's been in single digits scoring just three times this year, and those were three of UNC's ACC losses. It's very difficult to argue how important he is to the Tar Heels, particularly since he's been playing more and more at his natural position at point guard and is able to combine his newfound scoring ability with his beyond-his-years-understanding of how to run the UNC offense.
Cons: A slump early in ACC play clouded the way many viewed him. As UNC started 1-4, in the four losses, he shot just 16-of-57 from the field. He was a virtual non-factor in all the games. That certainly hasn't been the case during this win streak, but it was nearly a third of the ACC season that he's having to make up for now. He's not quite on the level of an Ennis defensively, though he's pretty darned good. UNC's finish will impact where he finishes in the voting, as will likely who voters think is more important to the team, Paige or McAdoo.
James Michael McAdoo, North Carolina.
Pros: His energy and effort have been a big reason the Tar Heels are on a seven-game winning streak, and his play has been fantastic during it as well. He's averaging 14.8 points per game (12th in the league), 8.1 rebounds (5th) and shooting 50.7 percent (1st), adding a league-high 3.8 offensive rebounds per game. He's arguably UNC's best defender, and he is really settling in on the offensive end, figuring out what works for him and what he needs to do to score points efficiently. His leap this year from last has been impressive, and he's the heart and soul of this group -- a team that's currently fourth in the ACC standings after starting out 1-4 in league play.
Cons: He might not even be the most important player on his own team, for one. At least not statistically. It's Paige who leads the Tar Heels in Win Shares at 4.3 (fourth in the ACC). The fact that UNC won a game on the road and had to overcome a deficit, all while McAdoo got into foul trouble and had to watch from the bench, scoring zero points, doesn't help either. How important could he be to the Tar Heels if they could win a game like that? (Silly, obviously, but a narrative nonetheless.) And if UNC finishes outside the top-four in the ACC, it's likely neither he nor Paige would have a legitimate shot anyway.
---