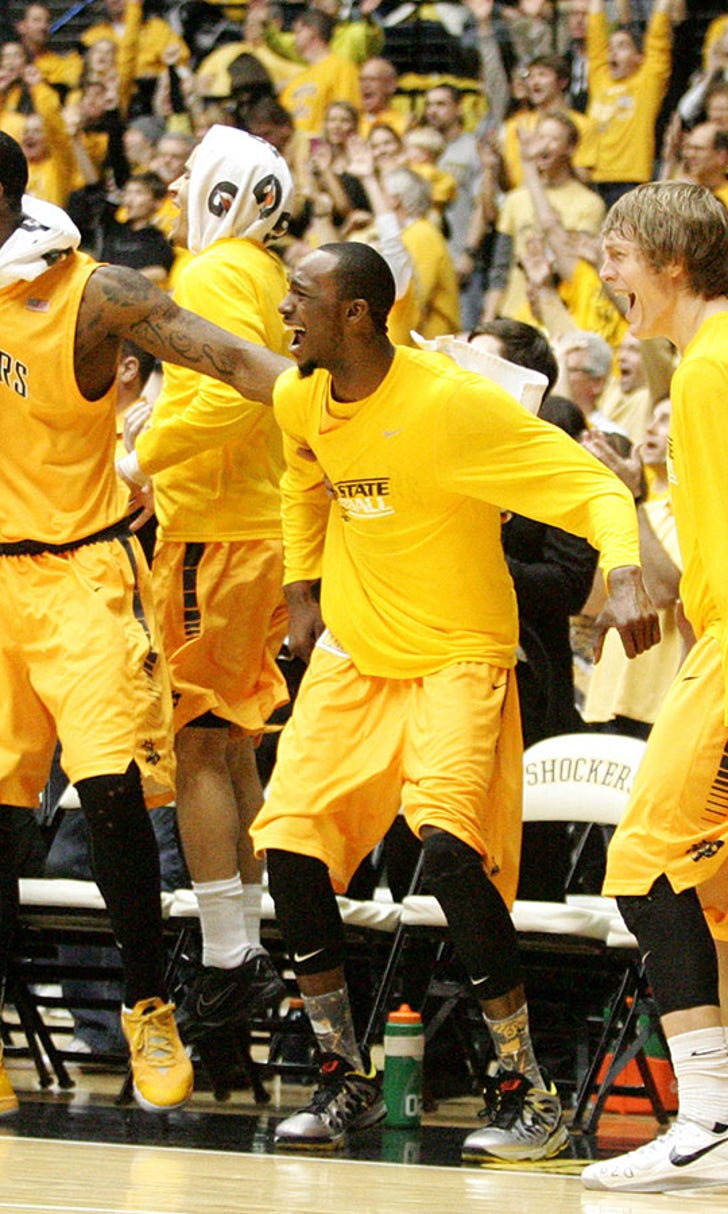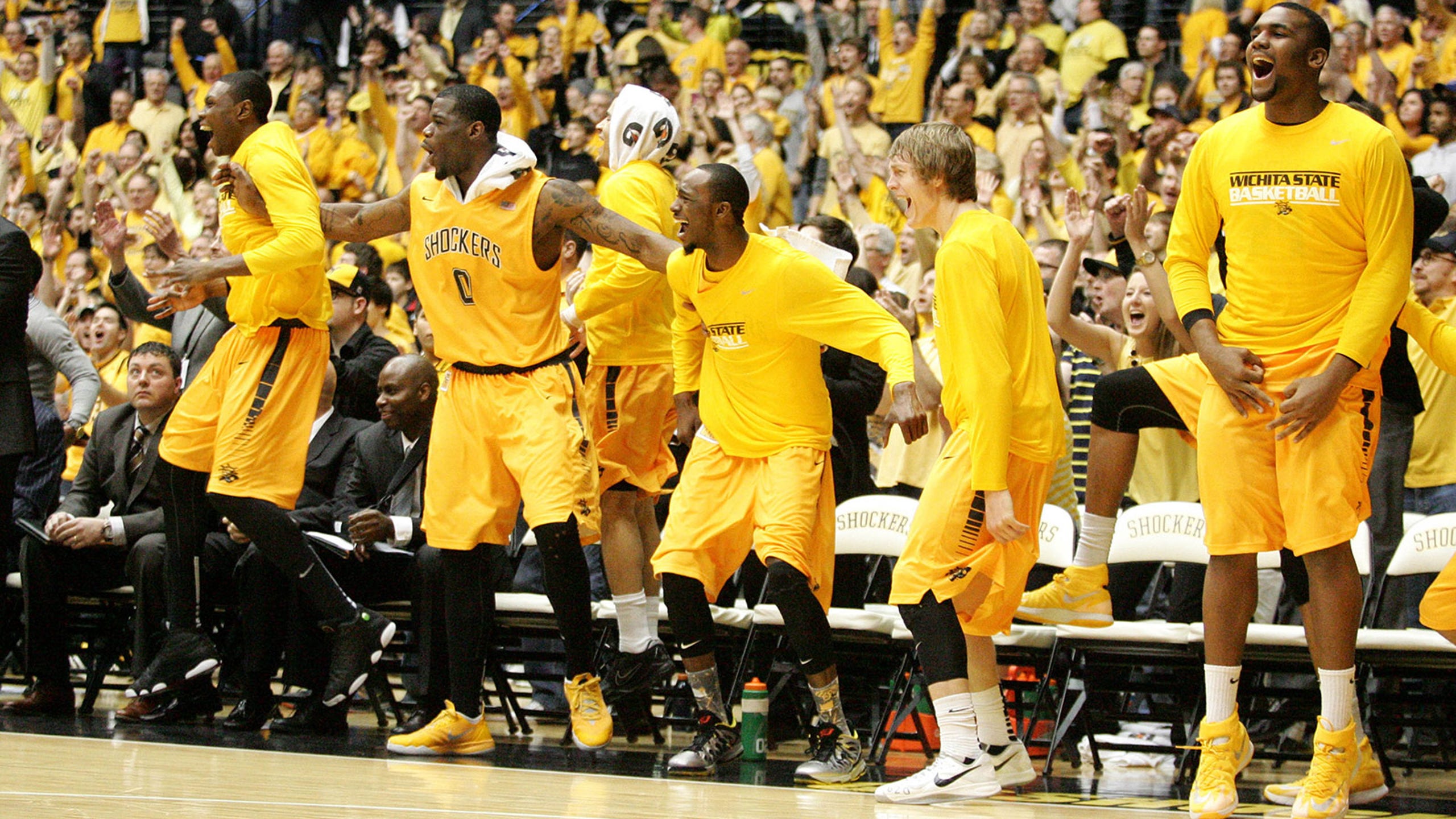 A newcomer's guide to Wichita State
BY foxsports • March 17, 2014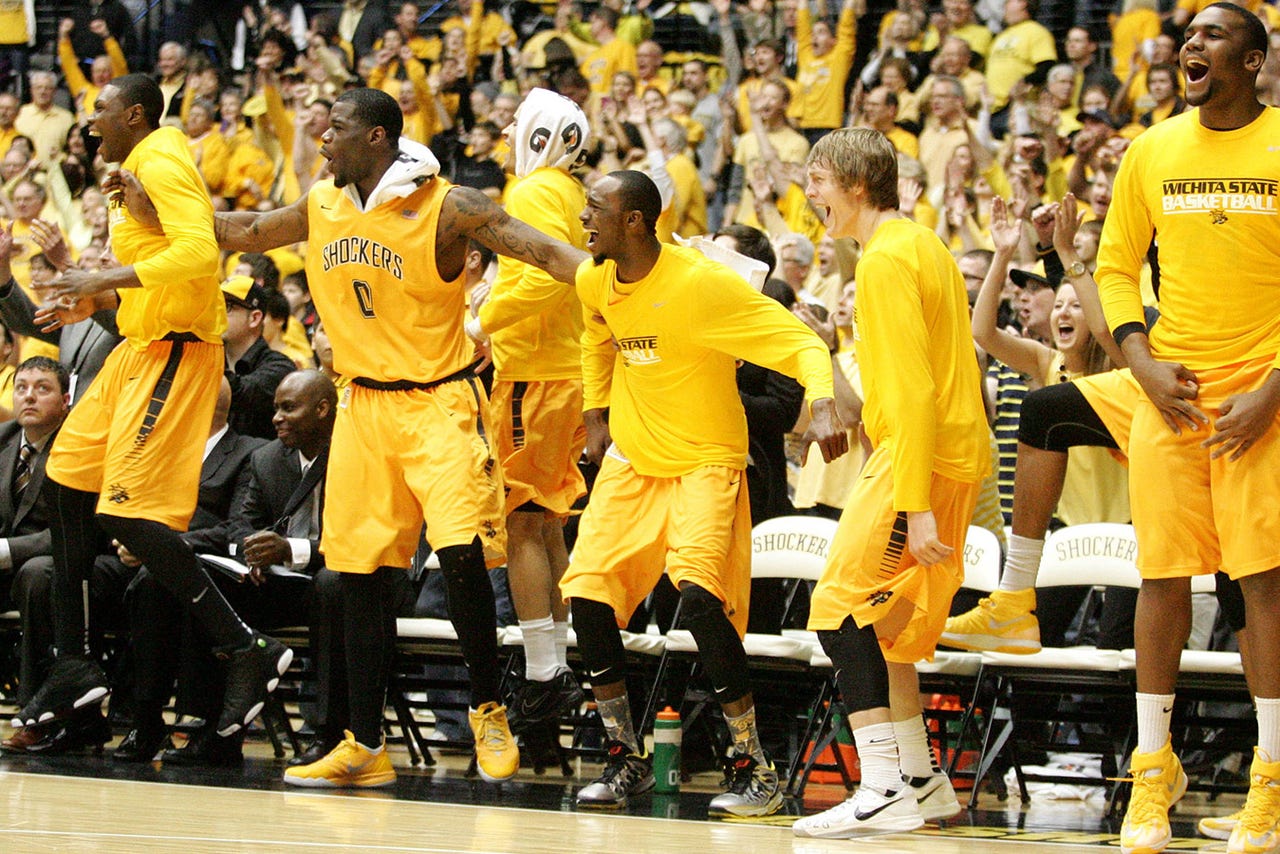 Q: Wichita State ... Wichita State ... where have I heard that name before?
A: Last March, probably. That's the team that came out of nowhere -- and by nowhere, we mean southern Kansas -- and reduced your carefully crafted bracket to tiny salt pellets. The Shockers were the Cinderella story of the 2013 NCAA Tournament, entering Bracketville as a 9 seed and knocking off Pittsburgh (the 8), Gonzaga (the 1), La Salle (the 13) and Ohio State (the 2) en route to the program's first Final Four appearance since 1965. Plus, it was the first Final Four showing by a school from the Missouri Valley Conference since Larry Bird led Indiana State to the promised land in 1979.
Also, they haven't lost a basketball game in 11 months. So there's that.
Q: All right then, smart guy. Why are they a 1 seed?
A: The Shockers are the first Division I men's basketball squad to open up a season with 34 straight wins (and no losses) since UNLV in 1990-91. And they were the first team in Division I to post a perfect regular season since Saint Joseph's in 2003-04. Both the Running Rebels and Hawks wound up with 1 seeds in their respective NCAA tourneys. To the surprise of no one (except maybe skeptical Kansas Jayhawk fans), the Shockers did, too. With a victory Friday against the winner of the 16-seed/First Four matchup between Texas Southern and Cal Poly, Wichita will become the first team in Division I history to start a year 35-0.
Q: Yeah, but my buddy Biff in marketing says the only reason they haven't been beat is because they haven't played anybody. Right?
A: Well, no. The Shockers have actually played five teams from this year's NCAA field -- Saint Louis (a 5 seed), BYU (a 10), Tennessee (an 11), Tulsa (a 13) and North Carolina Central (a 15). They beat them by average score of 74-62, and all of those games but one (NCCU) was played away from Wichita's raucous home court, Koch Arena, a.k.a. "The Roundhouse." As far as out-of-conference games go, Wichita's five non-conference games against the 2014 Bracketville field is more than any of the other top four seeds in the Midwest region (Michigan, four; Duke, four; Louisville, three).
Q: So what happened after that?
A: They started conference games. Wichita's non-conference strength of schedule ranked a respectable 28th nationally, but the Shockers' overall SOS checked in at 98th, the worst of any of the No. 1 seeds. The short answer is the Missouri Valley was down and young, but mostly young, and the next-best team in the loop, Indiana State (No. 71 RPI), wound up in the NIT. There were no league opponents within the RPI top 60, and no BracketBusters game in late February to give the computer profile a little B12 shot, either. Since Jan. 1, the Shockers have played in only one game decided by five points or less -- a 72-69 overtime victory at Missouri State (now in the CIT) on Jan. 11. And only one opponent (the Sycamores) within the RPI top 75.
So maybe Biff would be more accurate to say that they "haven't played anybody" since New Year's Day. That said, Marshall and his staff have tried to put together a challenging non-conference slate to counter-balance a slipping MVC that lost Creighton, another perennial Valley power, this past spring for the new-look, basketball-first Big East. Some coaches, such as Tennessee's Cuonzo Martin, have returned the Shockers' calls; others, such as Kansas' Bill Self, have not. The irony is that the better Wichita gets -- the Shox have averaged 30 wins over the last three seasons -- the harder it is to get marquee opponents on the slate.
Q: I hear a lot about this "Play Angry" thing. What the devil is that all about?
A: A pregame pep talk in February 2013. Xavier McDaniel -- the former Shockers great and, to date, the only NBA star to receive a speaking part in a Cameron Crowe movie ("Singles") -- and another ex-Wichita star, Antoine Carr, addressed last year's team before it hosted Missouri State, and exhorted the Shox to, basically, "Play angry." Carr was your classic grinder as a collegian and a pro, and McDaniel was one of the NBA's infamous bad boys during the league's late '80s/early '90s heyday. Their alma mater was riding a three-game losing streak at the time, and the former Shockers challenged the current crop to go out there play like the other team had stolen their mama's purse.
It worked. Wichita rolled that night, 79-50, and would go on to win 10 of its next 13 contests, including four straight in the NCAA tourney.
Fighting for a rebound? Playing angry. Diving for a loose ball? Playing angry. Stifling defense? Playing angry. Sacrificing your body for the cause? Playing angry. The Shockers aren't the most talented team in this field -- not by a long shot. But Marshall wants them to be the hardest-working. The toughest.
Q: So that's why they're dangerous?
A: Well, that and the fact that they've got one of the best backcourts in the country and one of the best coaching staffs, collectively. Surviving in Bracketville is about getting stops, going on runs and controlling the game from the perimeter, and the Shockers do all three of those, in tandem, as well as any team in the field. Rarely have guards Fred VanVleet, Ron Baker and Tekele Cotton all posted awful offensive statistical lines in the same game; at least one usually finds a way to beat you, and heaven help you if everybody happens to be feeling it. A team with long, athletic guards that can limit VanVleet's vision and mobility could prove to be a headache, but the sophomore point guard has pretty much countered all types of opposition to this point. Wichita ranks among the top 25 programs in Division I in the percentage of rebounds obtained (fifth), defensive efficiency (12th) and offensive efficiency (15th), three excellent indicators of how far a team can progress in a tournament or neutral-court setting.
Q: Biff says you're full of crap, that this team is too small to do any real damage in the Big Dance, that it doesn't have the kind of post players to match up with Kentucky or Louisville down low. What say you?
A: Biff is a tool.
Q: That's it?
A: Look. Last year, the Shockers often played without a true center but had a big-time post presence in bruising 6-8 forward Carl Hall. This year, Marshall has operated a three-man rotation on the blocks, splitting the minutes between 6-foot-9 Kadeem Coleby (who hails from the Bahamas), 6-7 Darius Carter (who doesn't) and 6-9 Chadrack Lufile. While none of them quite adds up to the power of a healthy Joel Embiid, they did average 17 points, 13 rebounds and three blocks per contest, collectively.
Q: Who's Joel Embiid?
A: Never mind. All you need to remember is this: According to the site Hoop-Math.com, the Shockers ranked 12th nationally in lowest field-goal percentage allowed on shots taken at the rim (50.5 percent) -- as a point of comparison, Louisville ranked 89th, Duke ranked 278th and Michigan ranked 348th. And get this: Hoop-Math.com ranks the Shockers as No. 5 nationally in percentage of opponent shots at the rim that wound up blocked (19.5); Louisville was No. 28; Duke, No. 215; and Michigan, No. 324. Between the three-headed monster mentioned above and forward Cleanthony Early, the Shockers have enough guys with reach to impact shots -- and impact outcomes.
Q: Wait. Doesn't that Wiggins kid play for Wichita?
A: A Wiggins kid does, but it's not that Wiggins kid. Shockers senior swingman Nick Wiggins is the older brother of Kansas superstar (and future NBA millionaire) Andrew Wiggins.
Q: Who's this VanVleet? Why is he so awesome?
A: He's the Shockers' point man, the head of the snake, and the MVC Larry Bird (there's that name again) Player of the Year. He's also one of the unsung stars of this entire field, a 5-11 pit bull who does everything you want from a point guard in March: score in the paint (12.1 points per game), score from the arc, get to the free-throw line, distribute the rock (his 179 assists led the MVC), lead the break, defend like a demon (1.9 steals per game, third in the MVC) and blend in to whatever his team needs at any particular juncture in the contest. If off-guards Baker or Cotton are hot, he'll find them. If they aren't, he'll find a way to do the heavy lifting himself. And he hails from Rockford, Ill., a blue-collar town where they roll out of bed ...
Q: Angry?
A: Exactly.
You can follow Sean Keeler on Twitter @seankeeler or email him at seanmkeeler@gmail.com.
---