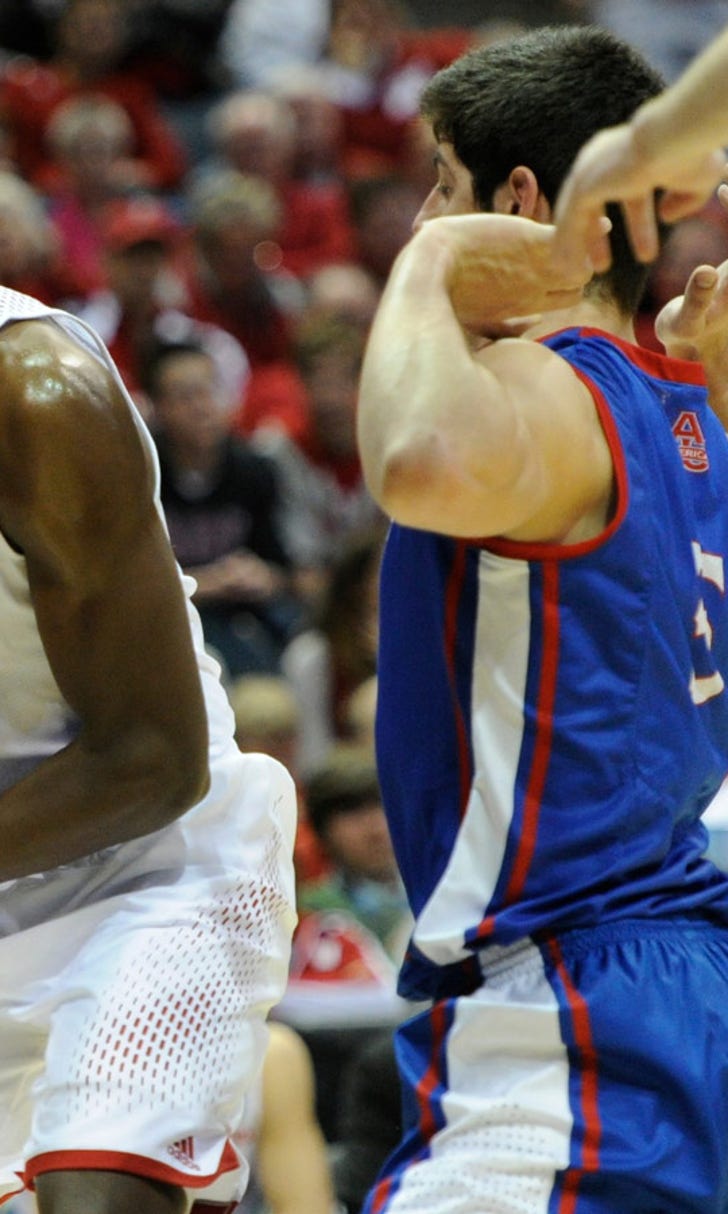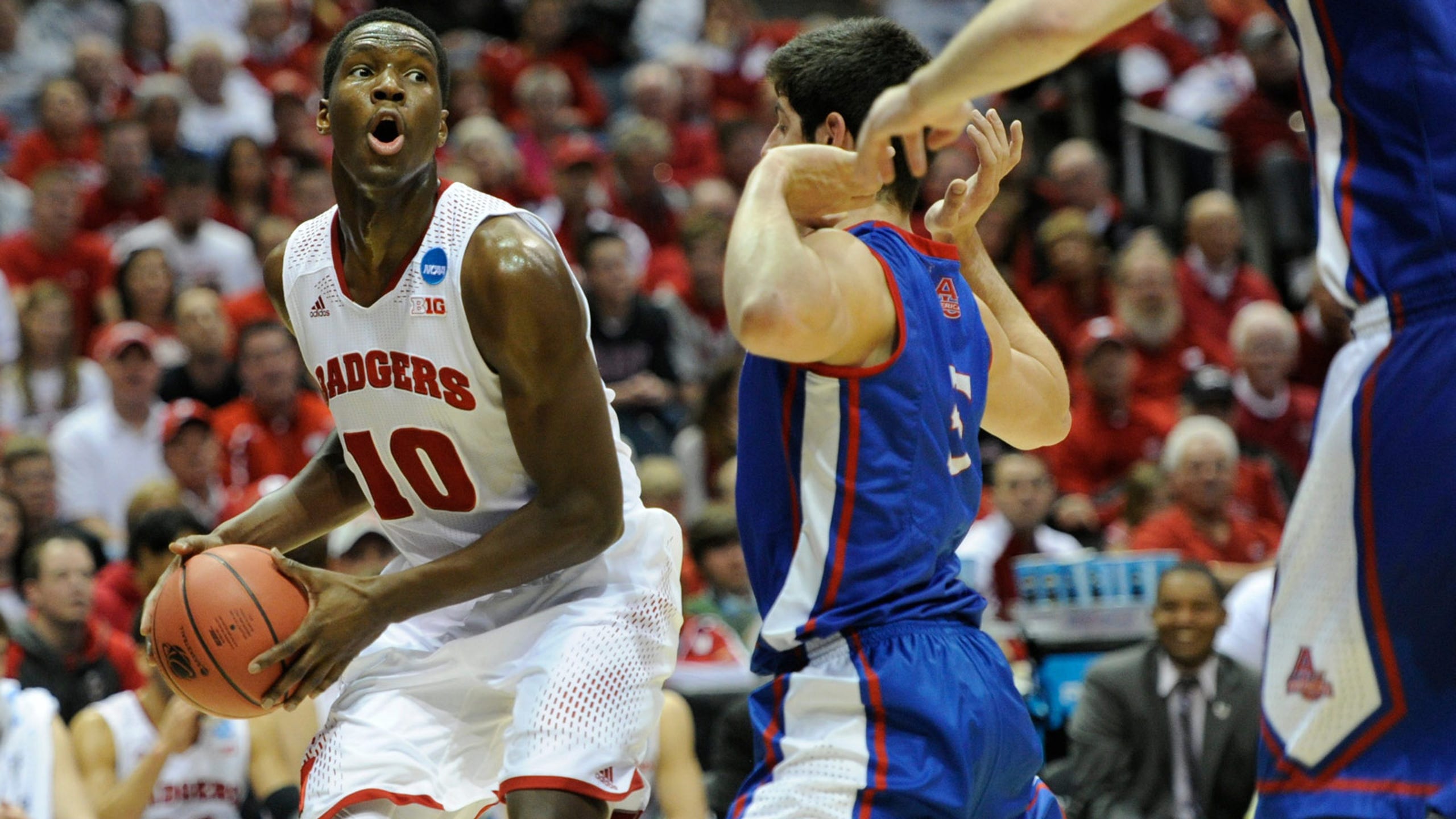 A load in the paint, Badgers freshman Hayes keeps it light off court
BY foxsports • March 21, 2014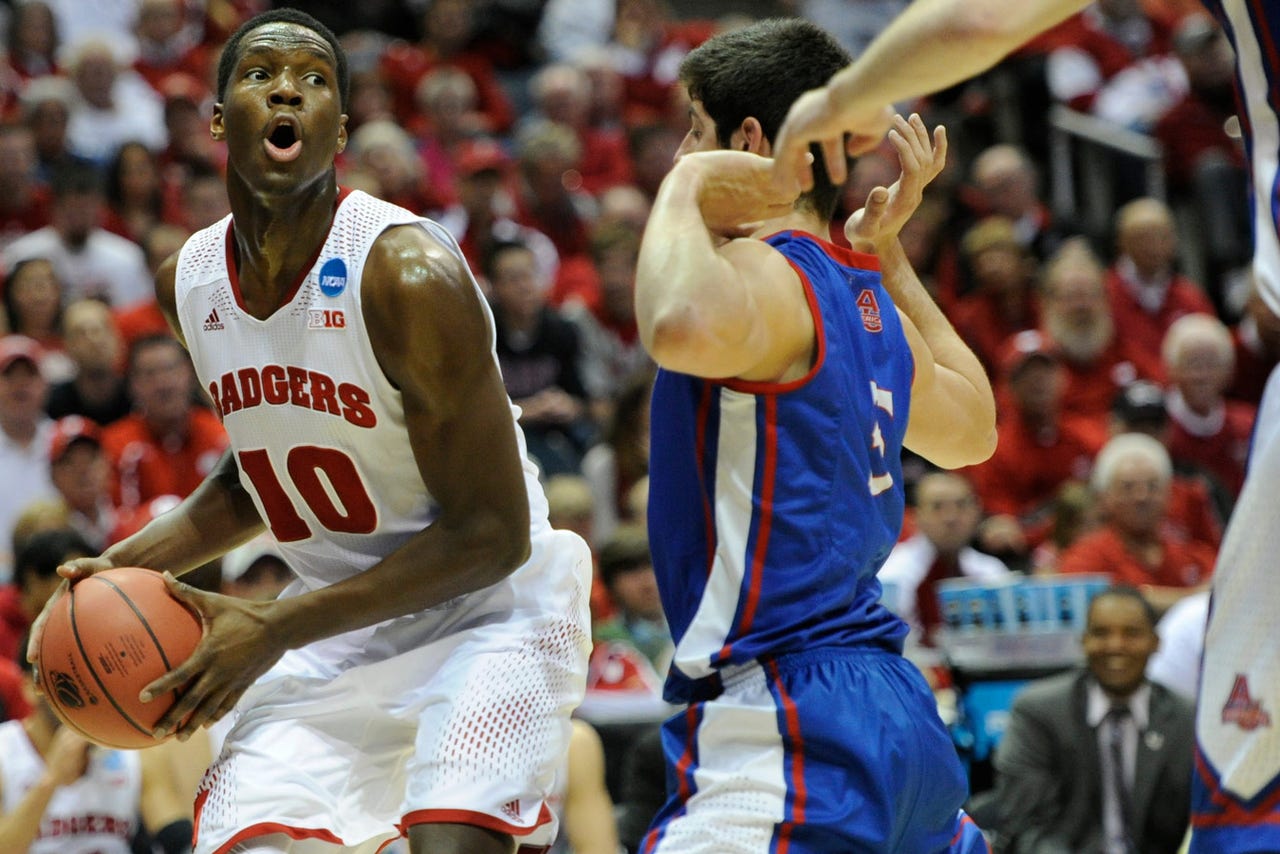 MILWAUKEE -- If you want to really understand Nigel Hayes, the first thing to know is there are two separate versions of Nigel Hayes. There is Hayes, the no-nonsense, all-business basketball player, a 6-foot-7, 250-pound chiseled and polished freshman who plowed his way to Big Ten Sixth Man of the Year honors this season.
And then, there is the other, softer Nigel Hayes. Call him "Nigel Burgundy."
At least, that's the persona he's taken during Wisconsin's off days this week at the NCAA tournament. Hayes, er, Burgundy, is the fun-loving 19-year-old who will crack jokes and clever one-liners at any moment, who often tells teammates he wants to name his children after them during post-game press conferences and who generally lightens the locker room mood daily.
"He's so witty, he's comical," Badgers center Frank Kaminsky said. "That'€™s how I like to describe it with all his little sayings he has and everything. They're just comical."
This week, Hayes has filmed two segments for the athletic department's website as TV reporter Nigel Burgundy, a man who asks probing questions during media locker-room sessions about teammate Sam Dekker's new hairstyle, Josh Gasser's ability to defend NBA superstar Kevin Durant and Zach Bohannon's reaction to being named among the top 15 sexiest players in the NCAA tournament.
"I heard through the grapevine that Nigel Burgundy will be back," Hayes said in the locker room Friday, before he filmed his second interview spot with the team. "I haven't met the guy myself. I'm sure he's a great guy. They said he did a great job interviewing."
The videos have further illustrated why Hayes and his effervescent nature have been such a hit with the Badgers since he arrived on campus.
"He came in, he was talkative right away, and we liked it," Dekker said. "We embraced it and realized that'€™s the type of guy he is and that makes him good and makes him confident. When you'€™ve got a guy that's so confident off the court like that, you know he's only going to be confident like that on the court. His personality is something that's unique and brings a light to the locker room. I really think it makes us a better team."
Hayes' on-court play is a big reason No. 2 seed Wisconsin (27-7) has advanced to the NCAA tournament Round of 32, where it will play No. 7 seed Oregon (24-9) at roughly 6:45 p.m. CT on Saturday in the Bradley Center. But perhaps just as important has been his impact off the court.
Badgers coach Bo Ryan said Hayes' personality was one of the first things that stood out about him. When Ryan visited Hayes on a recruiting trip in Toledo, Ohio, Hayes made Ryan play the video game "Call of Duty." Ryan held the controller upside down, which prompted Hayes to razz him.
Ryan, known for producing one-liners in his coaching career, said Hayes had proven an equal match for him.
"An old line is obviously the early bird catches the worm as we're done with our video session," Ryan said this week. "Nigel always tries to beat me to the court. I said, 'Good, Nigel, the early bird catches the worm.' (He said), 'Coach, the second mouse always gets the cheese.'  I never heard it. I said, 'All right, Nigel, you got one on me.'"
Hayes' roommate, freshman forward Vitto Brown, said Hayes had earned the nickname "off bread" because of how odd he can be. Brown's favorite one-liner from Hayes comes before Wisconsin takes the floor on game days.
"We're always like, 'Nigel you ready to go?'" Brown said. "He'll be like, 'Born in '82, ready in '81. So that's one of his main one-liners right there."
Informed that Hayes was, in fact, born in 1994, Brown replied, "I know. I don't know where he gets it."
Hayes noted his behavior was simply a product of him being himself and a willingness by teammates to embrace him.
"I felt like that was just me," Hayes said. "I've been like that all my life. Anybody from back home knows that'€™s how I am. I think that's helped the team a little bit. I think I've made coach Ryan a little less uptight, made his job a little easier for him. I think the players can see that. We're having more fun, and I think you perform better when you have more fun."
Badgers guard Josh Gasser, a redshirt junior, said not all freshmen that come into Wisconsin's program are willing to show their true personalities so early in front of a group of new teammates. Gasser, for example, tried to stay quiet and avoid stepping on the toes of the team's upperclassmen.
Hayes, on the other hand, has brought a different dimension to the Badgers and is someone who can break up the monotony of a long season. In particular, Hayes is willing to rib Ryan when other players wouldn't dare. If point guards Bronson Koenig or Traevon Jackson throw a bad pass in practice, Hayes will step in to diffuse the situation.
"Coach Ryan, you can see that he's upset," Hayes said. "And I just walk up to him, 'You know all you have to do is put me at the 1, Coach, and I'll take care of it.' It gives him a little chuckle. He laughs. He lightens up, and we just go from there. I keep everyone happy-go-lucky."
Added Dekker: "Sometimes the way he talks to Coach is hilarious just because no one else does it. And he'll talk to Coach. He has like inside jokes with himself to Coach. He'll call him pops or something under his breath and it makes us all laugh, and Coach will laugh at it. He can really lighten the mood in any room, no matter how stern it is. You've got to have that on your team."
While Hayes the jokester has flourished, Hayes the basketball player has put a serious hurting on opponents this season. He is averaging 7.9 points and 2.8 rebounds in 18.0 minutes per game and has become vital as a reserve to Kaminsky and Dekker. He also is shooting 52.4 percent from the field and has recorded more steals (30) than anybody else on the team.
Even while on the court, Hayes acknowledged he sometimes lets some of his natural, engaging personality slip through at inopportune times when talking to Ryan.
"I think sometimes I shouldn'€™t say certain things during games," Hayes said. "But, I mean, they're said and I think it really does lighten his mood even though you may not be able to see it directly because he always does look angry on the sideline.
"I feel like deep inside, he's a little happier."
With Hayes performing both on and off the court, so is Wisconsin's team.
Follow Jesse Temple on Twitter
---