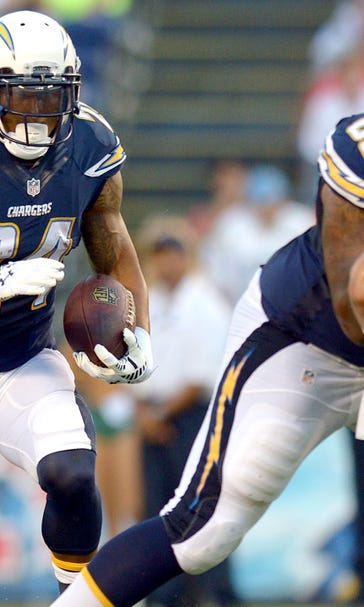 A Few Tricks to Winning on DraftKings
September 6, 2014

If you're playing weekly fantasy football, the general principles remain regardless of the sport, but it's important to keep in mind that the implementation of those philosophies should change based on each site's scoring system and starting requirements. I want to give you an idea of what you should be examining when creating your weekly fantasy football lineups. And since I have some data from DraftKings at my disposal, they're the obvious choice to analyze.
So here are some of the subtle nuances of a couple aspects of DraftKings' scoring and lineup requirements that mastering can turn a good player into a great one. Take this information and use it to help you build those Week 1 Lineups!
DraftKings awards a full point per reception, which changes the value of some positions relative to one another. The most obvious effect is that wide receivers and tight ends hold more value. PPR scoring increases the scarcity of the top receivers; it creates another category through which they can differentiate themselves.
It also decreases the importance of quarterbacks. Passers are already of limited value on DraftKings because they receive only four points per passing touchdown and one point per 25 yards. There's not as much scarcity at the position as if the quarterbacks got six points per score and one point per 20 yards, so it can be advantageous to go a little lower at the position, especially in tournaments when you don't need consistency. That also fits with the data, which shows that winning GPP lineups spend $350 less at quarterback than winning 50/50s lineups.
DraftKings gives you three points for 300 passing yards, 100 rushing yards, or 100 receiving yards. I think one of the areas daily fantasy players can go wrong is spending too much time trying to predict bonus points. On the individual level, they're volatile enough to just ignore them. Sure, Drew Brees is more likely than a rookie quarterback to reach 300 yards, but that effect is the same across positions.
On the positional level, though, the bonuses mean something. If you're trying to figure out how to efficiently allocate cap space among positions, it's obviously valuable to know which ones are the most important. So I charted the occurrences of the bonuses.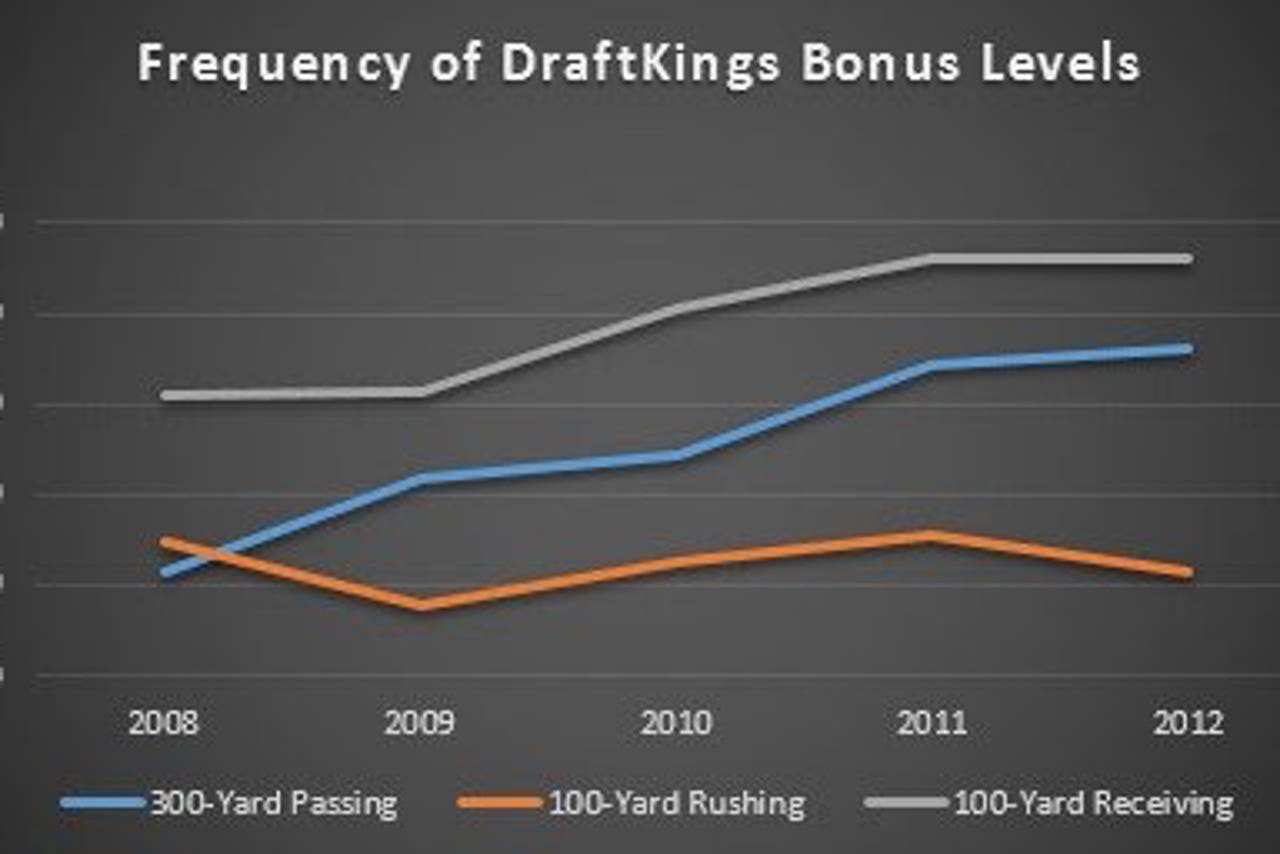 You can see that 100-yard receiving performances have been the most common in every season. Part of that is probably due to a larger potential player pool since teams could theoretically have three receivers go for 100 yards in a game, whereas typically just one running back has a shot to crack that barrier.
However, the difference in 100-yard games is large enough to suggest it's at least as likely that your receiver will go for 100 yards as your running back. Second, quarterback and wide receiver bonuses are increasing, whereas running back bonuses have remained steady, suggesting that quarterbacks and pass-catchers are becomingly increasingly more important in relation to running backs.
Again, bonuses are relatively fluky, so it's not like they should be an enormous factor in your projections; you should still consider paying for running backs in head-to-head leagues, for example, since they're more consistent than wide receivers on a weekly basis.
The main aspect of lineup creation in which bonus points are meaningful is the flex…
If you're searching for the biggest possible advantage you can uncover in the world of DraftKings weekly fantasy football, you just found it. The flex spot allows you the opportunity to gain a major advantage over other players because most approach it inefficiently.
When I discussed the flex position with the top weekly fantasy players, the majority said they almost always play a wide receiver in the flex in PPR leagues. On a $/point basis, wide receivers consistently offer the most value on DraftKings. Now, that's always subject to change if the site alters the way they price their players (so do your research), but it's unlikely to vary too much since pass-catchers naturally offer more value in PPR leagues.
So when I got this data from DraftKings on the win rates for head-to-head lineups with different positions in the flex, I was a little surprised.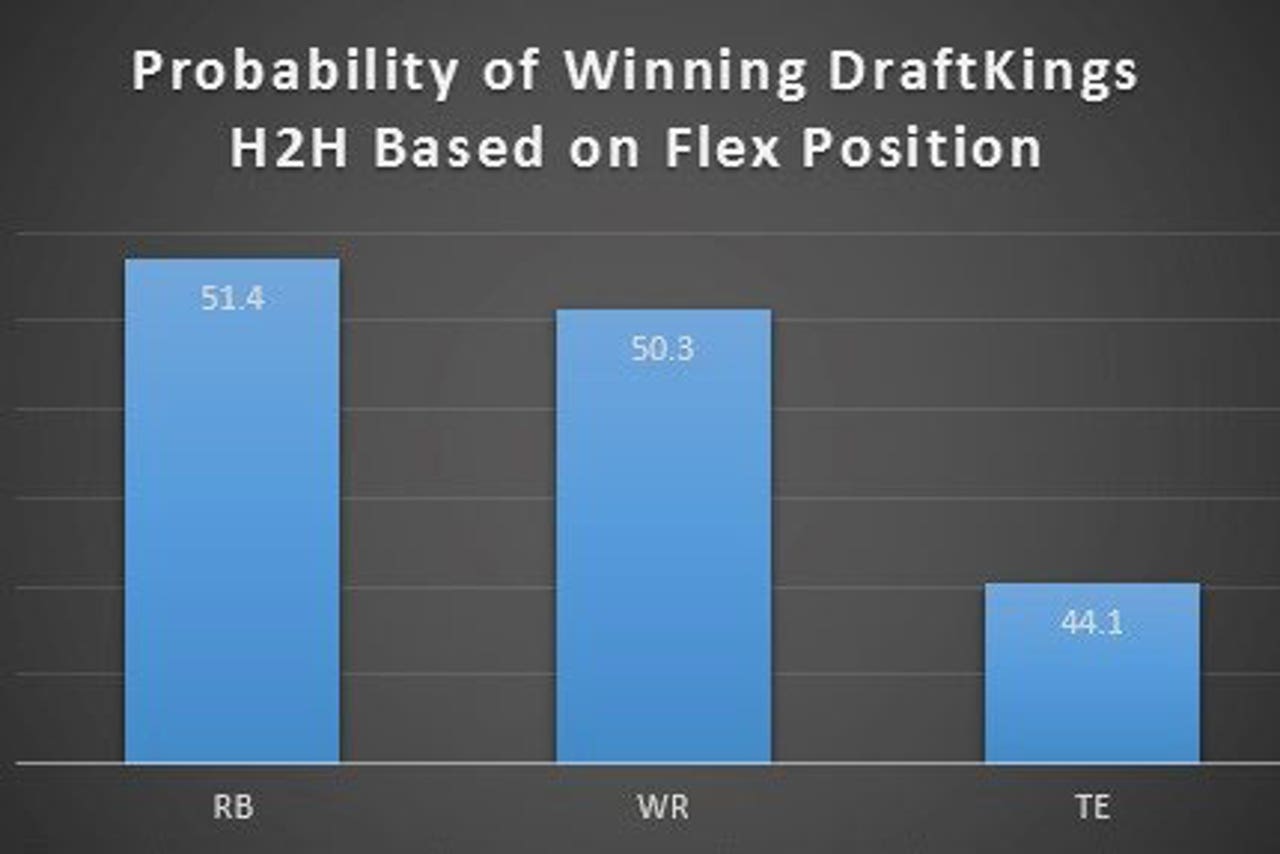 I say "a little surprised" because you have to remember that running backs offer far more safety than wide receivers and tight ends. If you can find cheap running backs expected to see a surge in workload, it should be a fairly consistent source of points.
Further, my hunch is that most players have been using receivers pretty much interchangeably. By targeting solely slot receivers who have proven to be more consistent, the wide receiver-in-the-flex lineups might win a little more frequently.
The real surprise here comes at tight end, as only 44.1 percent of lineups that used a tight end in the flex won their head-to-head matchups. With 10,300 total leagues in this data set, the results are stunning and undeniably significant. Since tight ends usually don't offer value comparable to that of receivers in terms of $/point and their week-to-week production is relatively volatile, it seems like you should avoid them as flex plays except in really extreme situations.
Meanwhile, this is evidence that running backs are indeed in play as head-to-head (and 50/50) flex options. They're predictable, and there's value in that. You can and should still consider wide receivers, too, especially those who see shorter targets from the slot.
Week 1 is almost here, so come play for your shot at $5 Million in Guaranteed Week One Prizes!
---