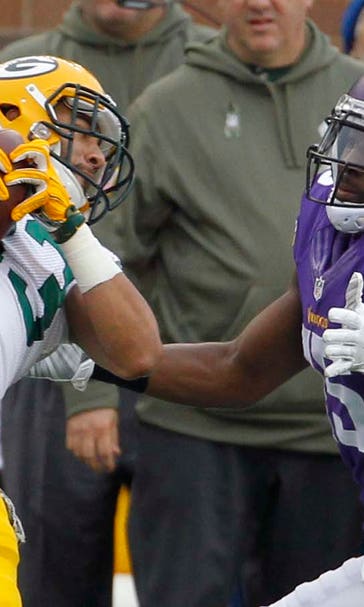 5 things we learned: Packers at Vikings
November 23, 2014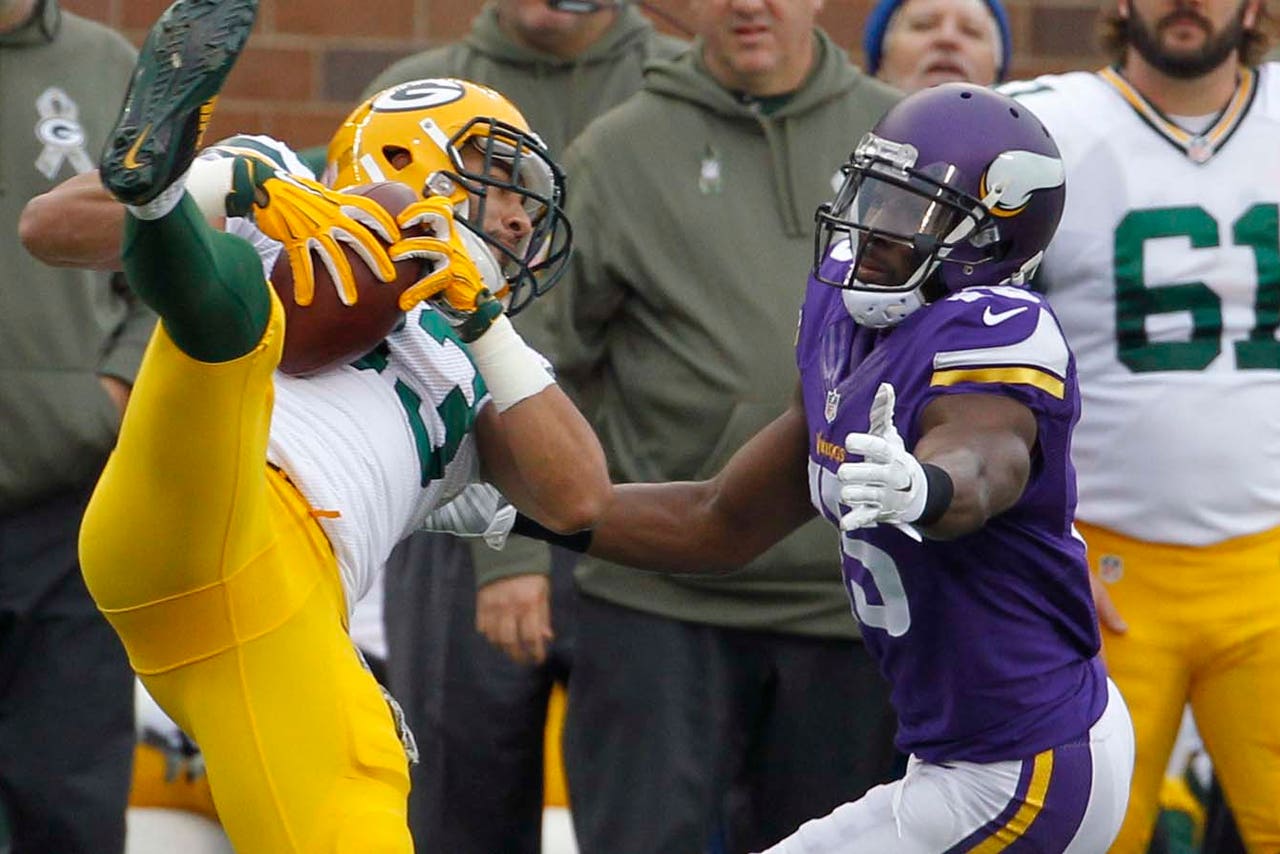 Five things we learned from the Green Bay Packers' 24-21 win over the Minnesota Vikings in Week 12 . . .
The Packers haven't been involved in many games recently that required the starters to play a full 60 minutes. The last time was a Week 6 fourth-quarter-comeback victory over the Miami Dolphins. Since then, it's been three blowout wins and a 21-point loss. Seeing the excitement of a couple Green Bay offensive linemen after running out the clock shows the pride that was felt by winning this game, even though it wasn't the decisive outcome that some expected.
Not that there was much question before this game, but with the Packers now in first place in the NFC North (as Detroit lost at New England to fall to a second-place 7-4 record), a trip to the playoffs is inevitable. Once Green Bay is playing postseason football, putting up 50-plus points and having the games over by halftime is unlikely to happen. It will be a win like this one Sunday in Minnesota that the Packers will need to pull off at least once if they're going to have a real run to the Super Bowl.
Green Bay was far from flawless in this game. Up by 11 points in the fourth quarter, the Packers defense allowed a 13-play, 79-yard touchdown drive. But even that was an experience that the players and coaching staff can draw upon now as they move forward.
Jordy Nelson and Randall Cobb were both held below 70 receiving yards, and neither had a touchdown catch. With the Vikings clearly doing whatever they could to minimize the effect that Nelson and Cobb had, Green Bay's offense found other ways to do enough to get the job done. Again, that's something that will be more beneficial to the Packers over the next couple months than another 30-plus-point win would have been.
This was Eddie Lacy's game. It's because of his performance that the Packers were able to survive when Aaron Rodgers threw for only 209 yards. Lacy was the reason -- along with help from the offensive line, of course -- that Green Bay was able to run out the clock after Minnesota's decision to not try an onside kick. The Vikings knew running plays were coming, but Lacy's powerful rushes of 3, 5, 4, 5 and 10 yards ended Minnesota's hopes of getting the ball back.
It's been a question all season: When are the Packers going to really start feeding Lacy the ball? Or, is this simply an offense that only needs Lacy to rush an average of 13 times per game? Lacy's season high entering Sunday's game was 17 carries at Chicago in Week 4. He's also had games with just 10 and 11 rushing attempts. Because of that limited work, Lacy only had one 100-yard rushing game this season before Sunday. That was at Lambeau Field against the Vikings in Week 5.
Well, 25 carries and 125 rushing yards later, Lacy set new season highs for himself. Not bad for a player who was feeling so ill that he didn't speak with reporters afterward.
It was also the second consecutive game in which Lacy had both a rushing and receiving touchdown, and it's the third game in a row in which he's had a touchdown catch.
The play-calling of head coach Mike McCarthy definitively answered the question of when the offense planned to use a heavy dose of Lacy. While some NFL running backs spent the first 10 games taking a lot of hits, Lacy is relatively fresh now as the season gets later -- and colder. It proved to be a difference-maker that gave Green Bay the edge it needed in this game.
Three days before this game, Clay Matthews didn't think his groin injury would have any impact on his playing time. "I don't think there were will be any limitations going into this weekend," Matthews said Thursday. Well, it did limit him.
Matthews started at inside linebacker for the third consecutive game, but he didn't play in third-down situations. When the Packers went to their dime package, it was seldom-used Brad Jones on the field while Matthews took those plays off. Matthews' specialty is, of course, pass-rushing. For him not to be running after Teddy Bridgewater on obvious passing downs was a clear signal that Matthews wasn't anywhere close enough to 100 percent to risk it.
The question coming in was whether Nick Perry's absence (inactive in this game due to a shoulder injury) would affect Matthews' role. It turns out that it was Matthews' own injury that changed the way defensive coordinator Dom Capers chose his personnel. Undrafted rookie Jayrone Elliott got a lot of snaps as a result, though, and he performed very well.
Matthews got one QB hit in, but having two tackles and zero sacks is much different than what he's done since moving to inside linebacker (16 tackles and two sacks in the previous two games).
This wasn't shaping up to be a good game from Micah Hyde, who struggled in the first 20 minutes of action. Then, with the score 7-all, Hyde intercepted Bridgewater on a first-down play near midfield to give the Packers good field position. Four offensive plays later, Green Bay was in the end zone to retake the lead.
Since the Packers' bye, Hyde has become a true playmaker for this team. In Week 10, he intercepted Jay Cutler in a game that was only 7-0 at the time. Just like Sunday in Minnesota, Green Bay scored a touchdown four plays after that. In Week 11, Hyde's 75-yard punt return for a touchdown broke open a 10-0 game and helped turn it into a blowout.
After Hyde's rookie season, McCarthy identified him as one of the defense's best 11 players. That meant getting Hyde on the field as often as possible, even if he had to be taught how to play safety. But with Hyde's role as a slot cornerback and punt returner right now, he's changed the dynamic of three consecutive games. This coming from a player who wasn't selected until the 159th overall pick in the 2013 draft.
Hyde's interception wasn't his only contribution Sunday. He also picked up one of two Packers sacks and had a 17-yard punt return.
It's no secret that Greg Jennings left Green Bay to play with the division-rival Vikings 20 months ago. Jennings' exit from the Packers after more than 6,000 receiving yards was a major headline on both sides of the state line. It cost Minnesota $45 million over five years (nearly $18 million guaranteed) to make that happen.
The Vikings signing Charles Johnson (a 2013 seventh-round pick by Green Bay) earlier this season was not exactly met with the same level of attention. Johnson never even made it onto the Packers' active roster, being signed off their practice squad as a rookie by the Cleveland Browns.
But, in a game that featured two former Green Bay wide receivers facing off with their old team, it was the unheralded Johnson who saw a lot more action. Johnson had a team-high 11 targets, including his first touchdown catch. Jennings only had six passes thrown his way from Bridgewater. One of them was a touchdown, but he also was the target on Hyde's interception in which Jennings could have been more aggressive in going after the ball.
Since Minnesota's bye, Johnson has been more involved in the offense than Jennings has. Johnson has more targets, more receptions and more yards. And he's doing so at about 1/20th the cost of Jennings.
Follow Paul Imig on Twitter
---