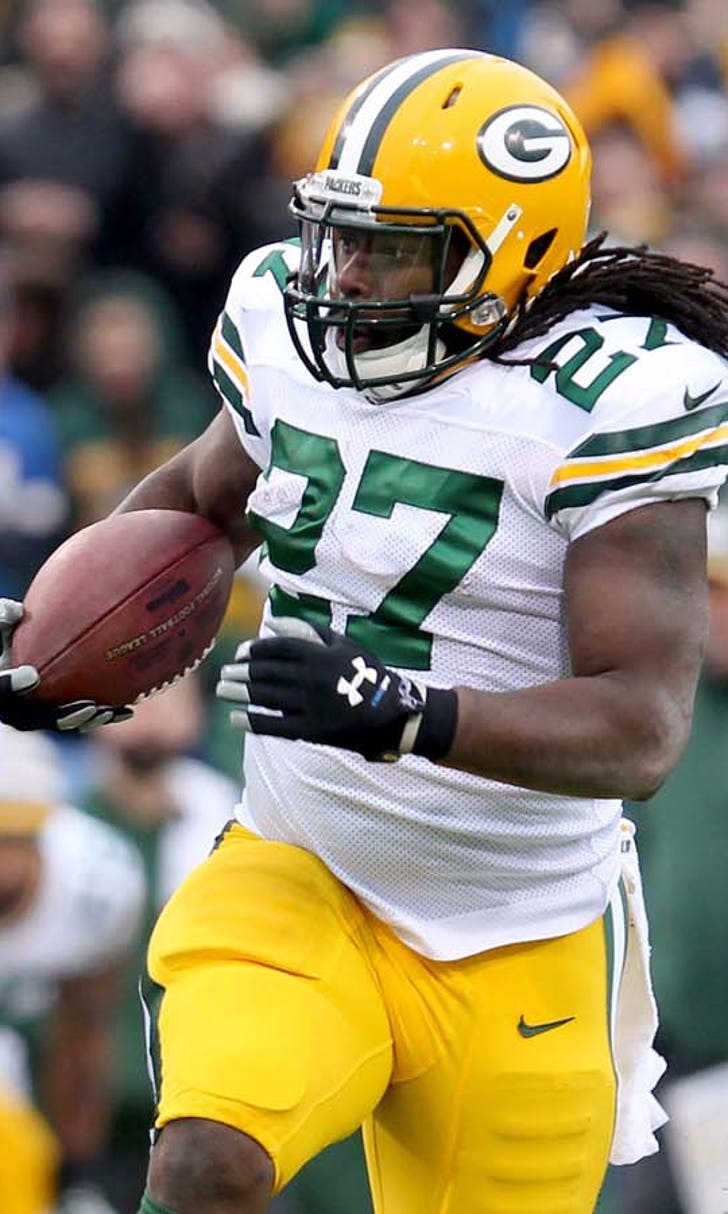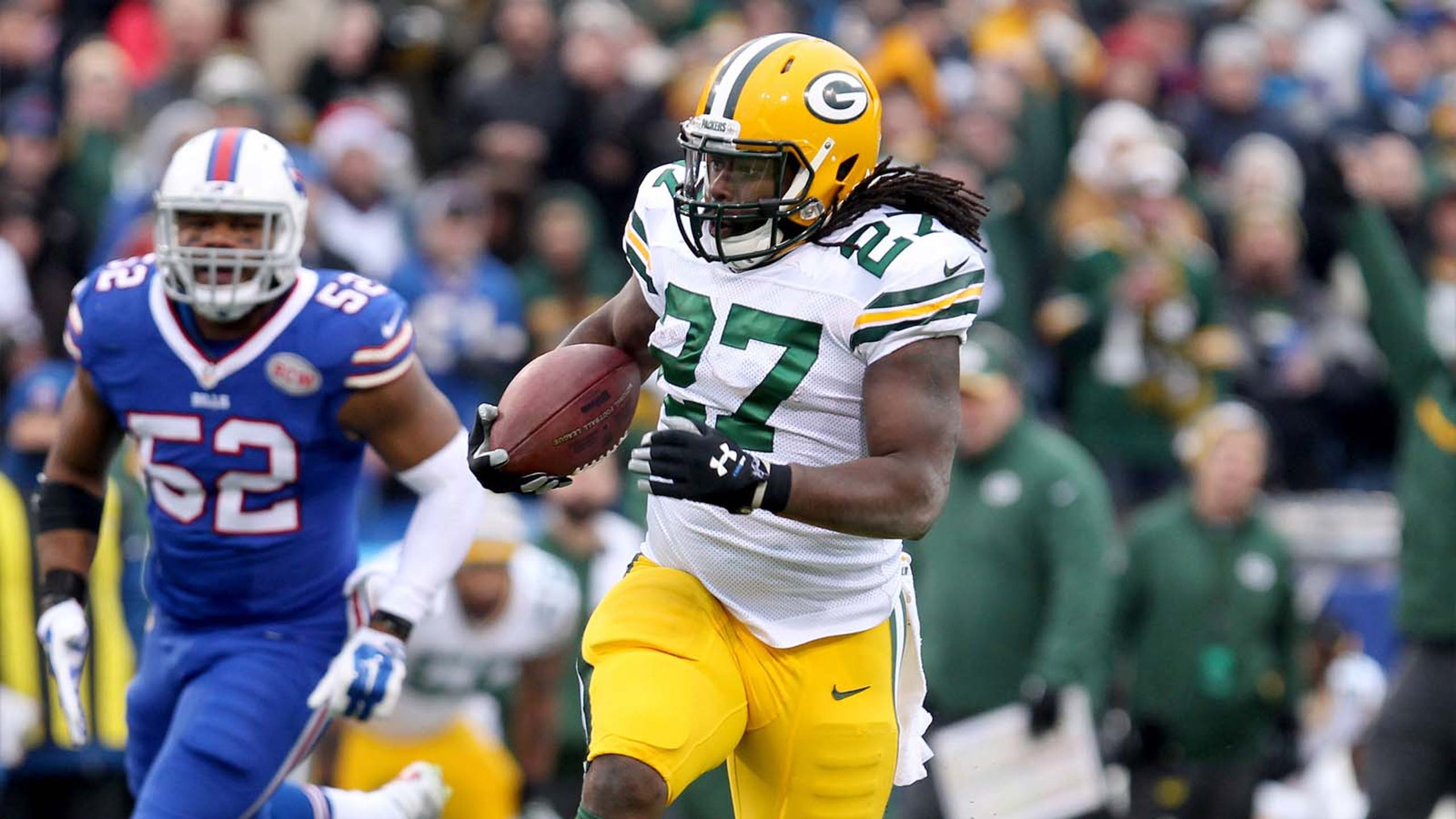 5 things we learned: Packers at Bills
BY foxsports • December 14, 2014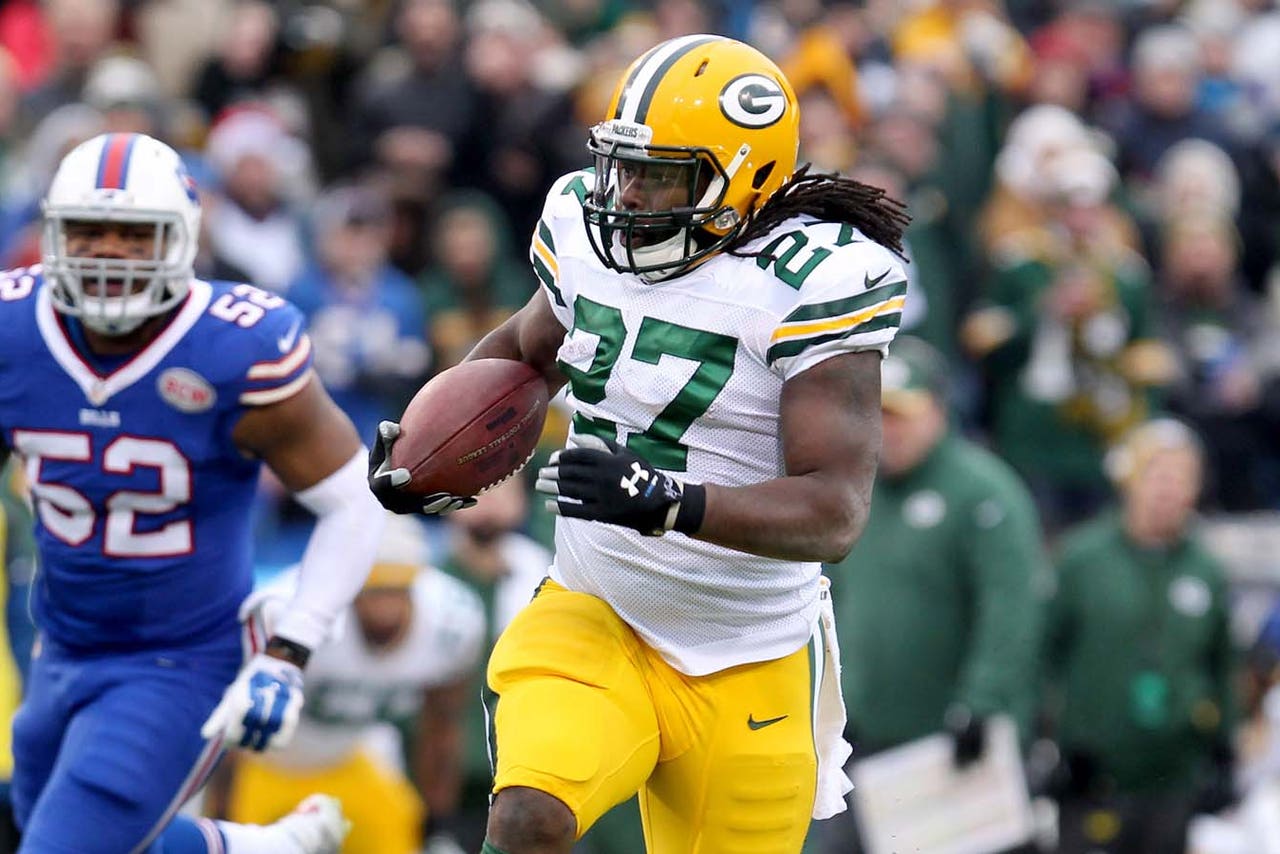 Five things we learned from the Green Bay Packers' 21-13 loss to the Buffalo Bills in Week 15 ...
In early-season losses on the road at Seattle and Detroit, Green Bay began to expose the factors that were most likely to lead to a Packers loss. Those pieces were once again in place Sunday in Buffalo, and the same result occurred.
When Green Bay has played a top-5 defense away from Lambeau Field, the NFL's highest-scoring offense has been shut down. Despite averaging 32.5 points per game entering Week 15, the Packers scored just 16 points against the Seahawks, seven points against the Lions and now only 13 points against the Bills. That's a Seattle defense that currently ranks first in yards and third in scoring, a Detroit defense ranked second in yards and first in scoring, and a Buffalo defense that came in ranked fifth in yards, fourth in scoring, first in sacks, third in interceptions and second in takeaways.
Buffalo only had one sack in this game, but it had two interceptions and will improve its spot in points allowed, with the 13 points given up being fewer than its 18.5 average before this game.
With the exception of one drive, Green Bay's offense couldn't get going. The Packers punted six times and had the outcome sealed by allowing a safety.
The Bills defense came as advertised. They were aggressive, smart and made it tough on just about every Green Bay offensive player. Eddie Lacy is likely the only one flying out of Buffalo who can feel like it was a great individual performance. Lacy's 15 carries for 97 yards and one touchdown, while playing with a bruised hip, made him the sole offensive standout.
Looking ahead to the postseason, what will happen if the Packers have to once again play at Seattle or at Detroit? The two teams with arguably the league's best defenses, both of which have already shown Green Bay what it can do in head-to-head matchups. Anything can happen, of course, but so far the Packers have shown little to make a reasonable observer believe they could win against those defenses on the road.
Nearly every week there is another record broken or milestone reached for Aaron Rodgers. This game was no exception. The difference this week, though, is it was three career numbers for Rodgers that are in the negative column.
Rodgers' 40.5 completion percentage, 34.3 passer rating and 4.4 yards per attempt were all career lows for him.
For Rodgers to throw 42 passes and only come away with 17 completions and 185 yards is a good glimpse into why the Packers offense struggled. Right from the beginning of the game, Rodgers and his receivers weren't on the same page. Several passes were nowhere in the vicinity of the targeted receiver, making regular attempts look like throwaways.
Even more noteworthy than those numbers was Rodgers' two interceptions. Now with only five on the season, Rodgers even threw one that wasn't off the hands of a receiver. That was a first for him this year. It was a ball that stayed in the air a split second too long, as safety Bacarri Rambo closed on it and made the pick. That was one of two Rambo interceptions, the other being a ball that first hit receiver Jarrett Boykin's hands before floating in the air.
It was that rare reminder that Rodgers can have off games, too, especially when the receivers don't do much to help him out.
There were several key dropped passes by Green Bay. Andrew Quarless started things off with a third-down drop on the opening series that seemed to set the tone. Randall Cobb had a drop, and the intended pass to Boykin that was intercepted should be credited as a drop.
None, however, were as important -- and as head-scratchingly uncommon -- as the pass to Jordy Nelson that might have been a 94-yard touchdown. Nelson made a great move on two defenders to get himself wide open, only to drop a pass that Rodgers laid in perfectly to him. Nelson has made that catch repeatedly and turned it into critical, game-altering touchdowns. It's a main part of Nelson's game, as he already has seven touchdowns this season of 40-plus yards. This time, though, rather than making what is a routine catch for NFL receivers, Nelson let it hit his hands and fall to the ground.
If Nelson makes that catch, it might have given the Packers a 17-16 lead with a few seconds remaining in the fourth quarter. If Nelson gets caught from behind, it at least sets up Green Bay with great field position. Instead, the Packers had to trot back to the 6-yard line and face third down. That drive later ended on the pass to Boykin that was intercepted.
Nelson has a chance to be an All-Pro this season and should at least make his first Pro Bowl, but this will be a play he'll always want back.
The interception off Boykin's hands wasn't the only negative to come from that play. As Rambo ran 28 yards up the field, Bryan Bulaga was hit hard and took a while to get up. Bulaga got to his feet eventually and walked to the locker room, but the Packers confirmed after the game that he had suffered a concussion.
This meant Green Bay needed to insert someone off the bench at right tackle, and that man was JC Tretter. Though Tretter played fairly well in a tough situation in the Packers' next drive that resulted in a field goal, it will be his final play of the game that's remembered.
With Green Bay on its own 10-yard line and 1:58 on the clock, Tretter had Mario Williams rushing against him. Williams got around the outside of Tretter and swatted the ball out of Rodgers' hand. The ball was loose on the ground for several seconds with few players recognizing its whereabouts. When Lacy scooped it up in the end zone, the NFL rule kicked into place that in situations under two minutes in the game, only the player who fumbled can recover the ball. Because Lacy recovered in the end zone, it was correctly ruled a safety.
Would Bulaga have allowed that same pressure? Maybe. We'll never know for sure, of course. But Tretter's inexperience, and the difficulty in general of being thrown into a game when someone gets injured, made it the play that ended the game and gave the Packers a loss.
Three days before this game, special teams coordinator Shawn Slocum spoke about why his group already had a league-most five kicks blocked this season. He was thankful that most of them didn't matter to the outcome.
"Continuity and personnel," Slocum said Thursday of the reasons behind those struggles. "We need to do a better job there. Really, overall in the protection, we've had some breakdowns on the placement unit and twice on the punt team. For me, as a special teams coach, that's unacceptable."
Well, Sunday in Buffalo, it happened again. As Williams got between Brett Goode and Corey Linsley in the second quarter on a field-goal attempt, he blocked Mason Crosby's kick. That's the sixth time this year it's happened to Green Bay; twice on field goals, twice on extra points and twice on punts.
That wasn't the only issue on special teams for the Packers in this game. When 34 total points are scored between two teams, and there's a special teams touchdown, it's going to swing the advantage significantly to the team that scores it. The Bills took a 7-3 lead in the first quarter when Marcus Thigpen escaped from the middle of the field and was able to outrun and outmaneuver Tim Masthay and Demetri Goodson for the 75-yard touchdown return.
Those two special teams plays changed this game and might have been the biggest factor in Green Bay's loss.
Follow Paul Imig on Twitter
---