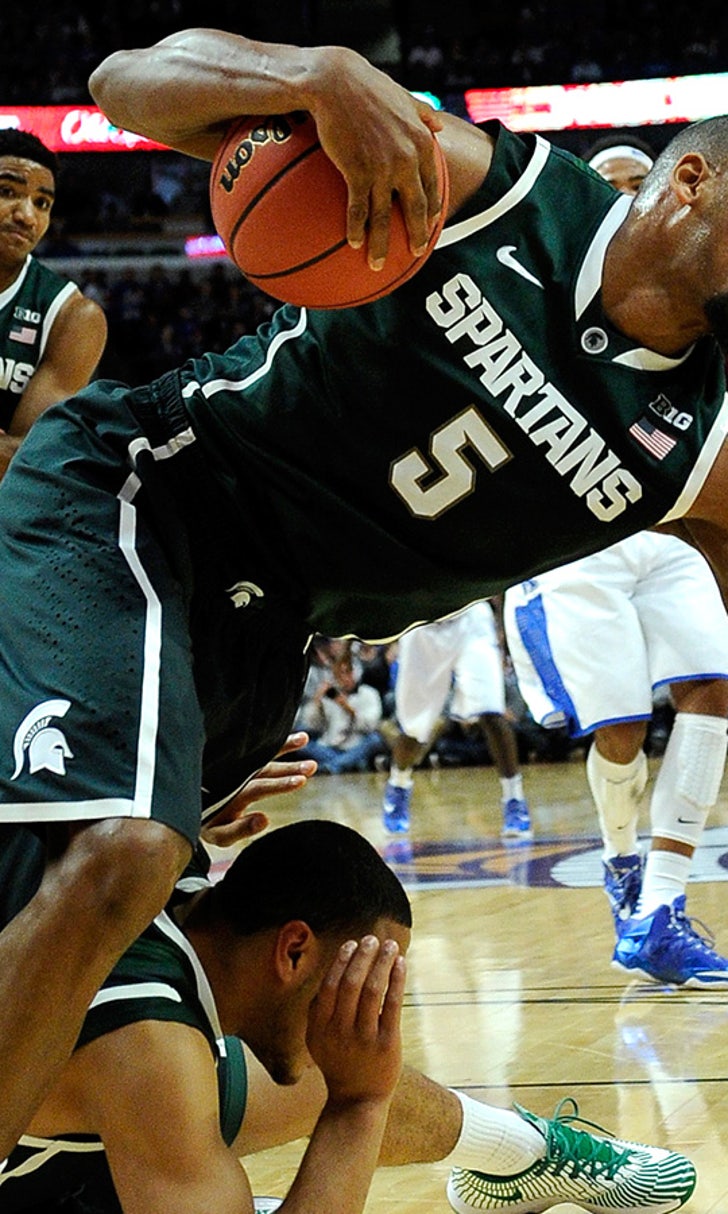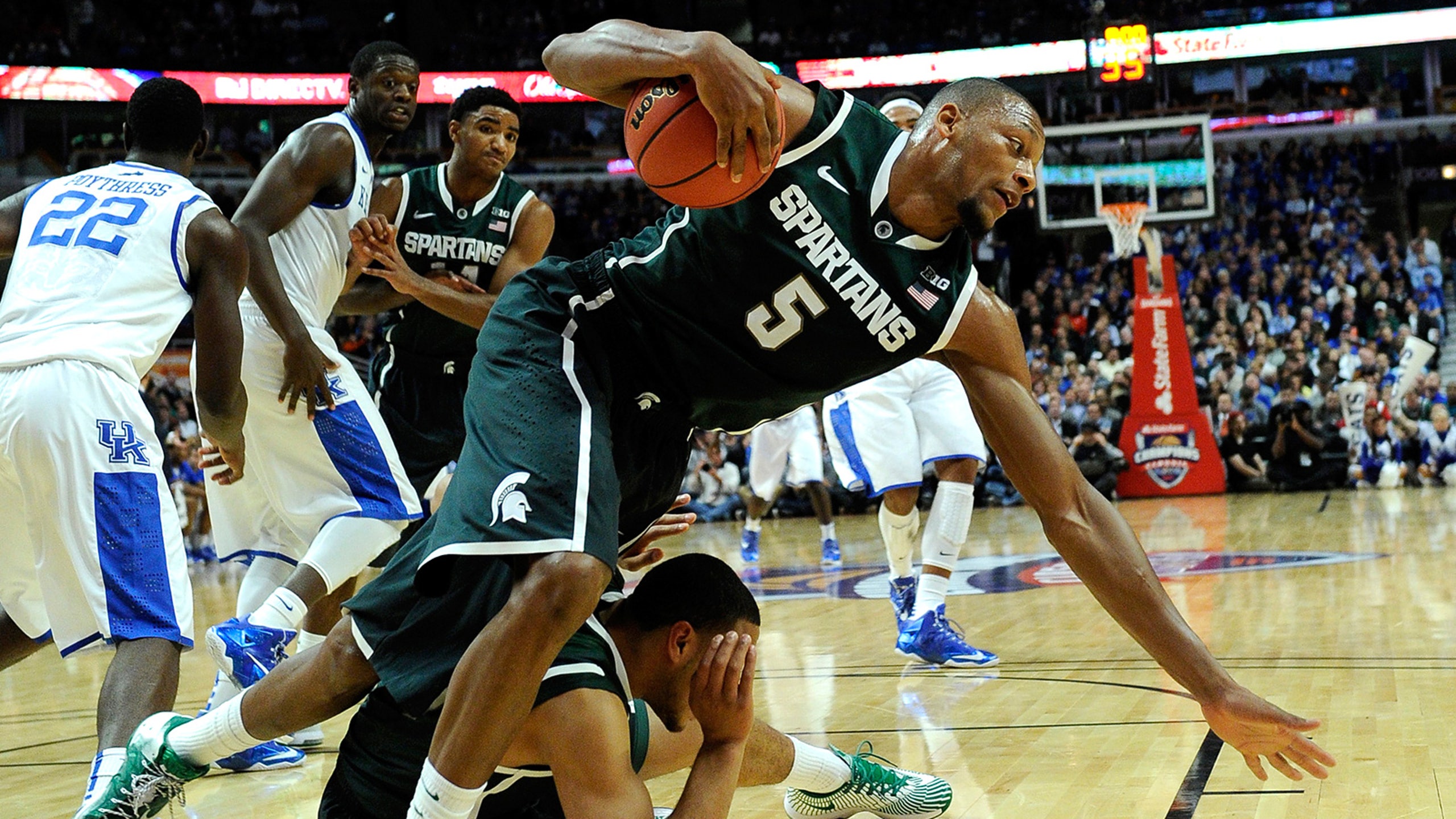 4 Corners: Season in full swing with top-25 upsets
BY Zach Dillard • December 11, 2013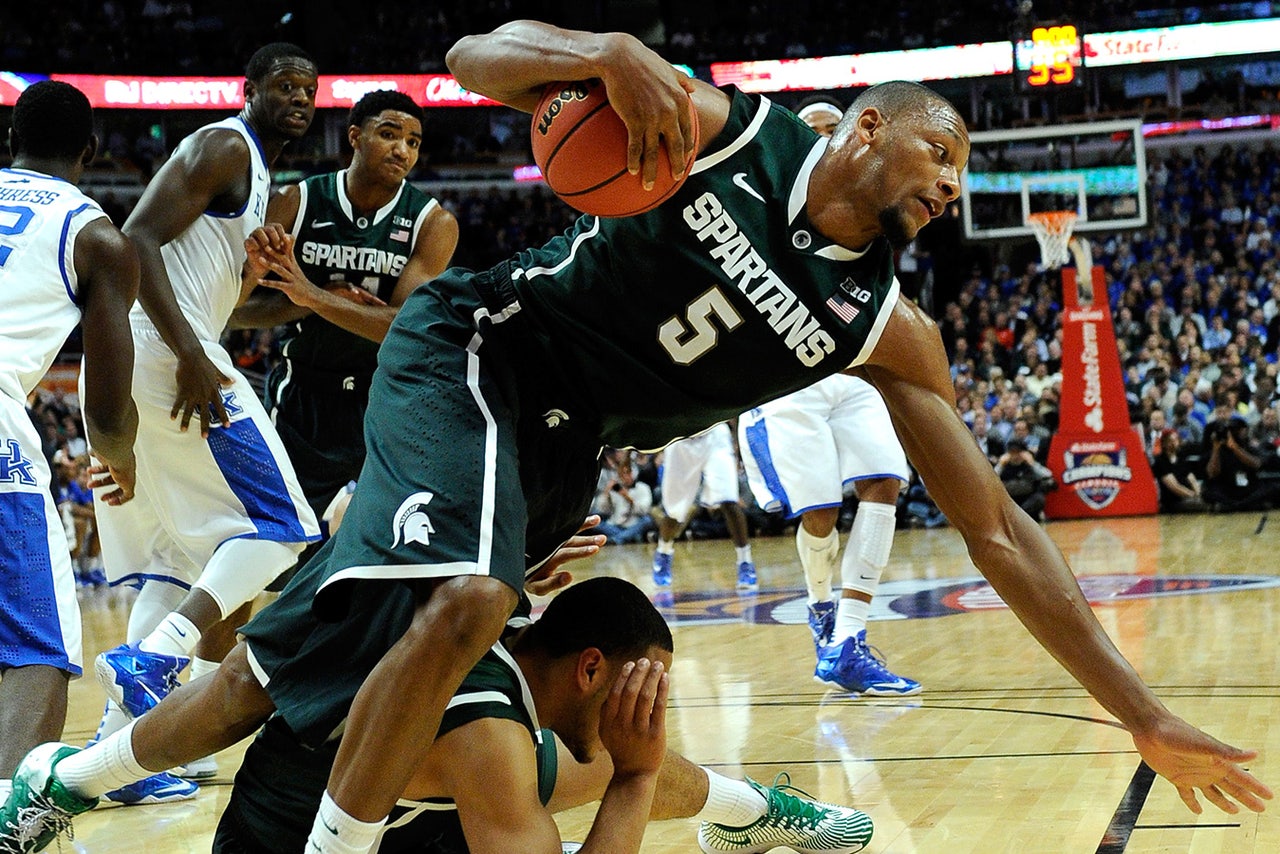 Following a few premier matchups and three top-25 teams falling to unranked opponents, college basketball is in full swing.
Applying heavy weight to last week's Champions Classic, the Michigan State Spartans now hold onto the top spot in the AP Poll for the first time since Zach Randolph and Jason Richardson shared the court in East Lansing and Castaway was the No. 1 movie at the box office. That 2000-01 team did, in fact, go to the Final Four, which is the general expectation of this current Spartans squad after starting the season at No. 2 and taking down previously top-ranked Kentucky. The rest of the poll reads off Kansas (the other Champions Classic victor), Louisville, Kentucky, Arizona and Duke, respectively.
As of right now, though, there's very little distinction in terms of resume-building between, say, Nos. 3 and 8 or Nos. 4 and 12. In fact, 12th-ranked Wisconsin has not had a cupcake game yet, tipping off the season 3-0 against St. John's, Florida and Wisconsin-Green Bay. Not bad.
So let's give these things some time -- although Tom Hanks' first-ever appearance in the Corners can only be considered a positive. "First thing it's two minutes, then four, then six, then the next thing you know, we're (losing to Indiana State)." First off, best of luck studying up for Wichita State and then The Fighting McDermotts this week, Tulsa:
1 Watching the consistent proficiency of Doug McDermott in the college game, it's nearly impossible to wind back the clock and remember that he didn't even start for his own high school during his junior season. He was the sixth man of that particular Ames High School squad that featured No. 1 recruit and now second-year NBA forward Harrison Barnes and … some other people that played basketball in high school. Described as a "good, heady player" by Scout, he was handed a three-star rating before following his father to Creighton.
Of course, that was 2,293 collegiate points, two All-America mentions and an inch ago. Generally regarded now not only as the most accomplished college player to come off that Ames team, but also the most complete offensive force in college at the moment, McDermott has built upon three successful seasons in Omaha and an impressive Team USA stint to set himself (and his program) up to be successful during the transition phase into the Big East. Scoring 77 points in 85 minutes (thanks for ruining the point-per-minute pace, St. Joseph's), the 6-foot-8 inside-outside threat looks better than ever.
If he can replicate his offensive production in his sophomore and junior seasons, he'll cement his place among the most consistently productive offensive players in Division I over the past decade-plus (number of seasons posting a 120+ in Ken Pomeroy's offensive rating system in the efficiency era):
The sledding will be tougher game in and game out with this non-OVC schedule -- the Big East boasts six top-50 teams in terms of defensive efficiency entering the week -- but with a supporting cast of Grant Gibbs, Austin Chatman, Ethan Wragge and others shouldering some of the load for the nation's top offense (through three games), there's no reason that 120-plus mark isn't within reach. And if it weren't for that lowly 109.5 offensive rating (kidding) during his freshman campaign, he'd be in exclusive company with former Naismith winner J.J. Redick.
2There's simply little excuse for UNC to drop a game to a Belmont team sans three senior starters from last year's tourney team, one that had previously lost to Richmond and beat Lipscomb and (a very formidable) Indiana State team by a grand total of four points, by consistently going under every ball screen or hand-off ball screen imaginable on a 3-point shooting bunch. But here we are.
It's become an annual ritual for the Tar Heels to allow a small school guard or forward to come in and rain down 3s (See: Casper Ware, Andrew Goudelock, T.J. Robinson, Brandon Wood, Grayson Flittner, etc.) as J.J. Mann did on Sunday afternoon.Every time UNC made an adjustment, Mann and the Bruins responded in kind.
Through three games, opponents are now shooting 52.8 percent of 3-point range this season, the 346th-worst mark of 351 teams. Chalk that up to a three-game sample size if you wish, but keep in mind that UNC has not finished in the top-100 nationally in 3-point defense in the Roy Williams era.
Granted, teams are likely to shoot more 3s against high-profile opponents that typically possess more length on the interior, but the Tar Heels' defensive issues are something to keep an eye on this season. (Their horrific start behind the arc and on the free throw line offensively, lowlighted by J.P. Tokoto's 4-of-16 free throw performance against Belmont, will have to be saved for another day. But, as Adrian Atkinson points out, UNC is on a program-worst, Wrecking Ball-type pace behind the arc.) Last season's team was arguably Williams' worst group on the defensive end, and after facing Oakland, Holy Cross and Belmont, the 2013-14 group is on a similar pace:
There is a national championship season (2009) sprinkled in there, so this is not a death knell by any means -- although Ty Lawson is not walking through that door.
All of that statistical mess aside, UNC's biggest problem remains on its bench, where P.J. Hairston and Leslie Mcdonald still await the NCAA's ruling on the possibility that both received improper benefits in separate instances -- one for a litany of offseason incidents (Hairston) and the other in conjunction with a mouthguard company (McDonald). But as university spokesman Steve Kirschner said last week, "There's no timetable. It'll be done when it's done."
Hairston was suspended back on July 28. If you check your calendar, you'll see that it's mid-November and basketball is being played and, regardless of the time it takes to acquire evidence, an NCAA decision is deserved.
That answer may not solve the Tar Heels' defensive issues -- it certainly would help take the extraordinary offensive load off Marcus Paige and James Michael McAdoo -- but at least Williams and his staff wouldn't be looking to the bench, waiting and hoping.
3 In a studious -- OK, simply very amusing -- piece looking at a demonstration of what will and will not be called a foul under the new officials' mandate in college basketball, Black Heart Gold Pants, the Iowa-focused arm of the SBNation network, focused in on noted defensive celebrity Aaron Craft of Ohio State, labeling every play he's made since middle school as whistle-worthy. As it turns out, it appears Craft, along with his Buckeyes teammates, has taken the officiating changes in stride.
Through three games, he's fouling at the same rate he was during his freshman campaign (2.7 per game), but overall he's still spearheading one of the nation's best defenses (No. 1 in defensive efficiency entering Monday's games). Never was this more apparent than the Buckeyes' shutdown effort against then-No. 17 Marquette over the weekend. The Buckeyes held the Eagles to 19 percent shooting on 53 shots, just 21 free throw attempts and forced 20 turnovers in the 52-35 game. As lackluster as Ohio State's own offensive production was at times -- this was a 19-19 game at the half and the Buckeyes were just 5-of-15 from the line -- this one still turned into a rout.
The Buckeyes are holding opponents to 86.5 points per 100 possessions, the best mark in the nation thus far.
It's fair to say that Marquette is still finding its way offensively after losing its Vander Blue-Junior Cadougan backcourt from last season's Elite Eight club, but this is nothing new for Thad Matta's program: Ever since Craft took over the starting job at point guard in 2010-11, the Buckeyes have boasted a top-20 defense.
4 Scoring is up nearly six points per game. Tempo is up. Freedom of movement and intrigue and offensive efficiency … all of it, up. If college basketball's newly-reinforced rules -- or the "Oh Man We Need To Avoid UConn-Butler By Calling Actual Fouls" mandate -- were meant to open the game and its scoreboards up, it's working.
Sure, there have been some rough patches. In Sunday's Marshall-Morehead overtime slugfest, 76 fouls were called and 108 free throws were taken. That barely edged Niagra-Seton Hall (102 free throws). And have there been bad calls? Yes. When aren't there bad calls in sports? But those examples are on the outskirts. In general, officials are justly zoning in on the contact fouls, particularly against ball-handlers, that have been ignored for years and players are adjusting. The result allows for less stagnancy, both on the court and in the box score. For a point of reference as to how teams are getting to the line more often -- creating more scoring opportunities -- here's the national free throw rates since 2003 (via KenPom):
A couple things to point out here: (1) This is the national free throw rate, not the number of fouls called per game (that increase is around three whistles per outing), so the numbers likely take into account teams' aggressive strategy to test the new rules by driving the ball inside, attacking defenses, etc.; (2) Coming out of an offseason where the rules were reiterated and reinforced time and again, the numbers were probably bound to be higher in the early going as officials used letter-of-the-law judgment and as players continue to adjust; (3) This is a very, very small sample size -- we're less than two weeks into the season here -- so there's plenty of time to find the new normal.
In the end, I expect fouls and free throw rates and the like to decrease nationally as the season wears on, though not to previous levels. Using an unscientific survey of some of the country's top teams in years past, free throw rates have generally declined once conference play starts up and "Let 'Em Play" mentality goes into overdrive. Officials will (and should) continue to strictly enforce an offensive player's right to space and movement, but players will learn ... or give up easy baskets trying. As for that free throw rate, let's set the over/under at 40 and go from there.
Sure, there are preseason favorites to win the Naismith Award. However, it's a bit too early to start naming definitive names. So we'll run with some of the remaining top performances from the past week, keeping in mind this will transform into the National Player of the Year watch by December.
Adreian Payne, Michigan State: The Spartans' senior post presence is not only endorsing the "Feel Our Payne" movement around East Lansing, but he's also helped save the nation's top-ranked team's bacon early on. After a quality 15-point and three-rebound performance in a Champions Classic win over Kentucky -- showing off his offensive repertoire inside and out, though not submitting a great effort on the defensive boards -- Tom Izzo relied on him primarily in a too-close-for-comfort win against Ivy League challenger Columbia. Utilizing the 6-foot-10 forward on 34 percent of available possessions, he responded with 26 points, 10 rebounds, three blocks and two steals. Point of interest: He's cut his turnover rate down to 8.8 percent so far after posting three seasons of 18 percent or higher.
J.J. Mann, Belmont: Entering the season without the productive backcourt of Ian Clark and Kerron Johnson, arguably the best guard tandem in school history and one that led the Bruins to three straight NCAA Tournament appearances, Belmont looked like a learn-as-we-go type of team. But the reality is that Rick Byrd's team, led by Mann, is already in Cinderella form. The 6-foot-6 senior forward poured in 28 points and grabbed nine rebounds against the Tar Heels in Chapel Hill, adding his name to a growing list of non-conference underdogs to torch UNC's defense. Game-winners never hurt, either.
Julius Randle, Kentucky: The freshman sensation has yet to play a college game without posting a double-double. After three consecutive 20-plus, 10-plus performances, including his second-half takeover in the Champions Classic loss to Michigan State, Randle played sparingly against the Wildcats' 2013 NIT foil, Robert Morris. Still, he put up 10 points and grabbed 15 boards in just 28 minutes of play. I'm not quite sure what type of player he projects as, but there's little questioning his smooth transition in the college game.
Melvin Ejim, Iowa State: Canadiens are taking over college basketball. And while Anthony Bennett and Andrew Wiggins were off doing NBA-related things, either as No. 1 picks or No. 1 prospects, Ejim was simply keying Sunday's upset of seventh-ranked Michigan. Returning to the Cyclones' lineup after missing two games with a hyperextended knee, he played better than ever: putting up 22 points and nine rebounds against last season's national runner-ups.
Georgia State: The arrival of former N.C. State and Kentucky guard Ryan Harrow, who received an immediate NCAA waiver this offseason due to his father's health (in Marietta, Ga.), gives coach Ron Hunter a high-major backcourt tandem to work with. Pairing Harrow with Hunter's son, sophomore wing R.J. Hunter, should keep the new Sun Belt members in the NCAA tourney hunt all season long.
Both players are off to fast starts -- Harrow has scored 47 points and dished out 10 assists through the first two games, while Hunter leads the team with 48 points and seven boards; both rank in the top-20 for offensive rating among players logging at least 40 percent of their team's minutes -- while taking nearly 55 percent of the team's shots. That shouldn't change much as the season progresses. His coach has said before he's an NBA-quality guard; now he just needs to prove it.
If big men, Manny Atkins and Curtis Washington (6.5 blocks per game) can man the interior, the other team in Atlanta is a rather dangerous draw. Quick note: Harrow is not the only transfer point guard making noise within the city limits -- Tennessee import Trae Golden is also making noise at Georgia Tech, averaging 15.7 points per game in wins against Georgia, Delaware State and Presbyterian.
Indiana State: Mike Brey had not lost a November home game in 14 seasons at Notre Dame (48-0) -- that is, until the Sycamores came to town, knocked down 11 3-pointers and upset the 23rd-ranked Fighting Irish. With the win, Indiana State became the first unranked team to knock off a ranked opponent this season, narrowly beating Belmont and Iowa State to the punch.
Saint Mary's: The Gaels have won at least 25 games in each of the past six seasons and are well on their way toward that mark yet again, getting off to a 4-0 start against a decent schedule (Louisiana Tech, Akron, North Dakota State, Drake). Even with long-time head coach Randy Bennett serving a five-game suspension for recruiting violations, Saint Mary's is eligible for the postseason and should provide plenty of competition for Gonzaga and BYU in the West Coast Conference.
Operating a largely non-traditional lineup -- no true big man outside of backup Matt Hodgson (11 minutes per game); bigger guards -- through 6-foot-9 forward Brad Waldow (19.3 points per game, 144.8 ORtg, 12.1/21.7 OR/DR) and do-it-all point guard Stephen Holt, the Gaels have the personnel to compete with some of the country's better teams. Their top-10 offense, in terms of efficiency (granted, small sample size), surely looks like it can hang.
New Mexico: In Cameron Bairstow, Kendall Williams and Alex Kirk, the Lobos trust. All three-headed monster poured in 20-plus points against Charleston Southern to improve to 2-0, with Williams and Kirk logging double-doubles in assists and rebounds, respectively. But the story here is Bairstow, who has scored 51 points in 51 minutes played this season and looks dramatically improved in his senior campaign. The competition will certainly get tougher, but he could be first-year head coach Craig Neal's go-to threat come Mountain West play.
» Inconsistent as the NCAA's eligibility process may be across all collegiate sports, this offseason's seemingly large number of immediate waivers has provided immediate intrigue at a variety of programs -- both power conference teams and mid-majors. Take Ryan Harrow and Trae Golden (mentioned above). Take Houston transfer Joseph Young, who has come into Dana Altman's Oregon program and provided a huge offensive lift (30 points, 5.5 rebounds per game) for a program still missing some of its top players. Take Young's Ducks teammate, Mike Moser (20 ppg, 143.1 ORtg), a UNLV import.
Take Rodney Hood (Duke), Josh Smith (Georgetown) and T.J. McConnell (Arizona). Take ' em all.
This is good for the sport, creating a free market for talent that benefits both majors programs and mid-majors alike -- though not always equally in every scenario. If a Summit League player wants to take his game to a Power-6 conference team and compete for playing time on a title contender, then so be it. The process is not one-sided, though. If a high-major player believes he is being buried on a roster or not receiving enough playing time, the usual byproduct is the strengthening of a smaller program.
And if not ... so?
Policing the outright recruiting of another team's players is one thing -- Southern Illinois coach Barry Hinson calls it "poaching" -- but if a young man wants to take his talents to another university, as any other student (funny how the student half of "student-athlete" is never prioritized in NCAA rulings) would be and is permitted to do, then punishing him for that decision not only affects the young man but the overall quality of the sport in general.
Mike Krzyzewski, who had to watch the aforementioned Hood sit out (and reportedly dominate practice) last season in Durham, recently discussed setting an all-encompassing rule for transfers: either make them all sit out or let them all play. But I'm on board with CBS' Gary Parrish, who wrote back in September that there should be zero restrictions on Division I transfers. Setting aside the hypocrisy in preventing unpaid players from moving as they please, there is no actual harm or "free agency" to be dealt with here. And if you think top-20 programs with ample national exposure, "the poachers," are the only ones that stand to gain in this situation, then what about these five players sitting out this season (picked at random)?:
Paul Jesperson: Virginia to Northern Iowa
A.J. Astroth: Vanderbilt to Towson
Martin Breunig: Washington to Montana
Dominique Bull: Missouri to George Washington
Yemi Makanjuola: Tennessee to UNC-Wilmington
At least 43 players from Power-6 conferences moved to "smaller" schools this offseason, according to ESPN's Jeff Goodman. Many of them are not being permitted to play this season. So, which programs is this rule actually hurting?
As the 2013-14 season has already outlined, checking "YES" on every legitimate transfer-waiver situation would offer more advantages than disadvantages for all parties involved.
» Marcus Smart has been everything we remembered and more. Not only has the 6-foot-4 All-America candidate averaged 13.7 points and 4.3 rebounds in just 24 minutes per game, he's also been active on the defensive end: logging 12 total steals, including nine against Utah Valley (Luke Winn provides the visual). The Cowboys have hardly needed his production -- or even presence, given the ridiculous starts of Markel Brown, Le'Bryan Nash and Phil Forte -- but it's nice to see he's still around as the competition picks up over the next couple of weeks: Memphis, South Florida, Purdue and South Carolina are next on the docket.
» In taking over for mid-major legend Brad Stevens, new Butler coach Brandon Miller has largely kept the Bulldogs' identity that led them to so much NCAA success. In the first two wins of his career, Miller's version is playing a bit more uptempo (69.2 adjusted tempo, though this will presumably become more methodical against better competition) but is otherwise avoiding turnovers, limiting second-chance opportunities and overall playing "smart" basketball, particularly on the defensive end. Here's a quick look at some similarities in how this team played against Lamar and Princeton compared to the 2011 Final Four squad:
2010-11: 95.1 defensive efficiency, 16.9 turnover rate, 27.9 opponent OR%
2013-14: 95.7 defensive efficiency, 11.0 turnover rate, 13.3 opponent OR%
One step at a time, though. It makes sense that Stevens' assistant's team, composed largely of the same personnel, would show some similarities, especially early on against lesser competition. Let's see how Kellen Dunham, Khyle Marshall and Kameron Woods handle a visiting Vanderbilt team on Tuesday.
» Defense comes first in this week's FSU-VCU Thursday matchup. Since Shaka Smart took over the VCU program for Anthony Grant back in 2010, these two programs have combined for five top-50 finishes in defensive efficiency. And though Florida State faltered last season on that side of the ball last season, the Seminoles appear to be back on the right path: forcing opponents to turn the ball over 28.4 percent of the time (fourth nationally) and doing an admirable job of protecting the rim. Oh yeah, no surprises here, but VCU ranks third nationally in turning over opponents.
So be prepared for Havoc, in every way possible.
---