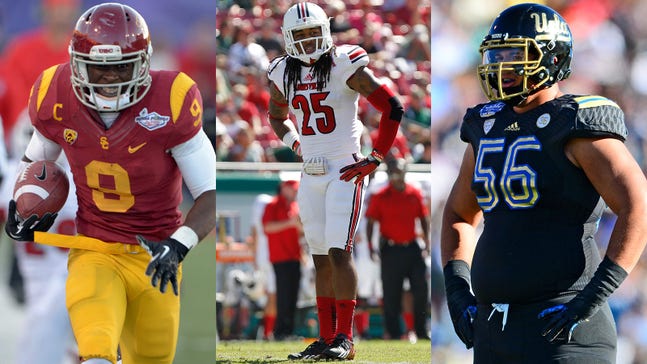 3 in the Kee: Which three positions are 'safest' for Chiefs at No. 23?
Published
May. 5, 2014 11:36 a.m. EDT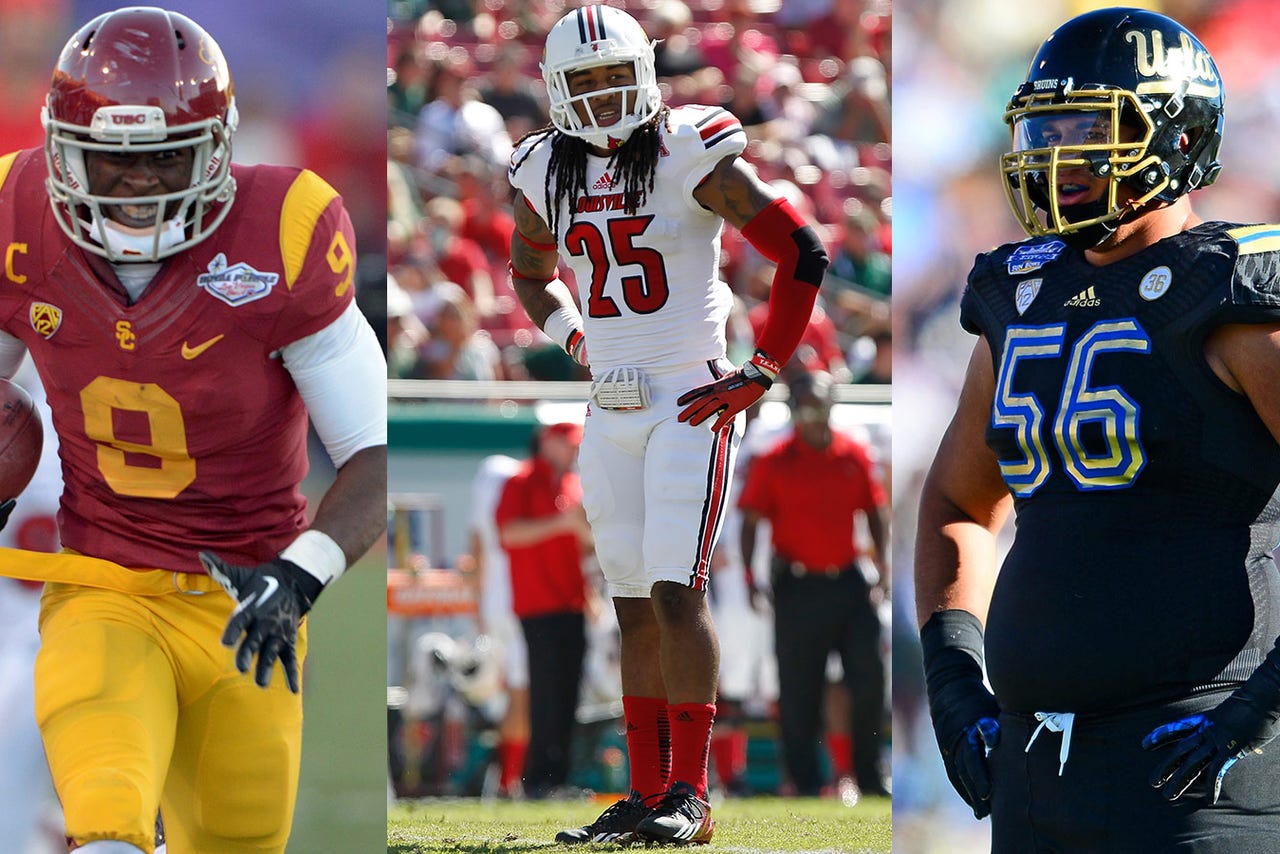 KANSAS CITY, Mo. -- Happy NFL Draft Week! The problem, of course, is the Kansas City Chiefs have only six candles on the cake.
With only six picks (for now, anyway) available to general manager John Dorsey and coach Andy Reid, the emphasis for the Chiefs becomes quality rather than quantity.
"You begin to not only look horizontally, but you look vertically and then you begin to narrow your choices down," Dorsey told reporters last week. "Then you have to build in those hypotheticals, too -- what happens if you decide to trade up, what happens if you decided to trade back as well. So you have to factor that in."
Because of Alex Smith helping to shore up the quarterback position, the Chiefs are slated to draft in slot No. 23 of the first round. Because of the trade that BROUGHT Smith to town, though, Dorsey won't get a chance to pick AGAIN until the third round with selection No. 87.
So what's the best way to go late in the first round, assuming that's the first salvo of the weekend?
In April 2012, Robert Bedetti of the Harvard Sports Analysis Collective compiled a report of the "safest" positions in the NFL Draft's first round, based on performance of those picks from 1980-2005. The position that got the most consistent performance -- that is, the lowest variance in actual results compared to expected results -- from picks 17-32 was ...
... along the defensive line (-2.32 actual-expected difference, or AED, and the lower the negative number, the better). The more pass rushers, the merrier -- remember what happened when Justin Houston and Tamba Hali went down? -- but with Vance Walker on board and Mike DeVito aiming to try and stay on the field on passing downs and Allen Bailey and Mike Catapano in the rotation, defensive end is hardly the most pressing need. Ergo, we're throwing it out. Which leaves us with Bedetti's next three "safest" positions to pick from ...
THE THREE  "SAFEST" POSITION GROUPS THE CHIEFS SHOULD GO WITH TO ADDRESS PICK NO. 23 (ASSUMING THEY KEEP IT)
:03 ... WIDEOUT (-4.45 AED)
Recent history says it's a "safe" pick, more often than not -- and, sure enough, a big-time position of need along Arrowhead Drive. Incumbent bell cow Dwayne Bowe now finds himself on the wrong side of 30 -- OK, the "30" side of 30. Donnie Avery is a crossing-route king, but far less consistent as a deep threat up either boundary.
With slot/return ace Dexter McCluster now in Tennessee and Bowe and Avery not getting any younger, Reid will be pining for a sure-hands guy who can get the yards after the catch bursts (LSU's Odell Beckham Jr. or Oregon State's Brandin Cooks out of Oregon State, perhaps) that are a staple of the West Coast offense, or a big target who can stretch defenses up either sideline in USC's Marqise Lee or Indiana's Cody Latimer.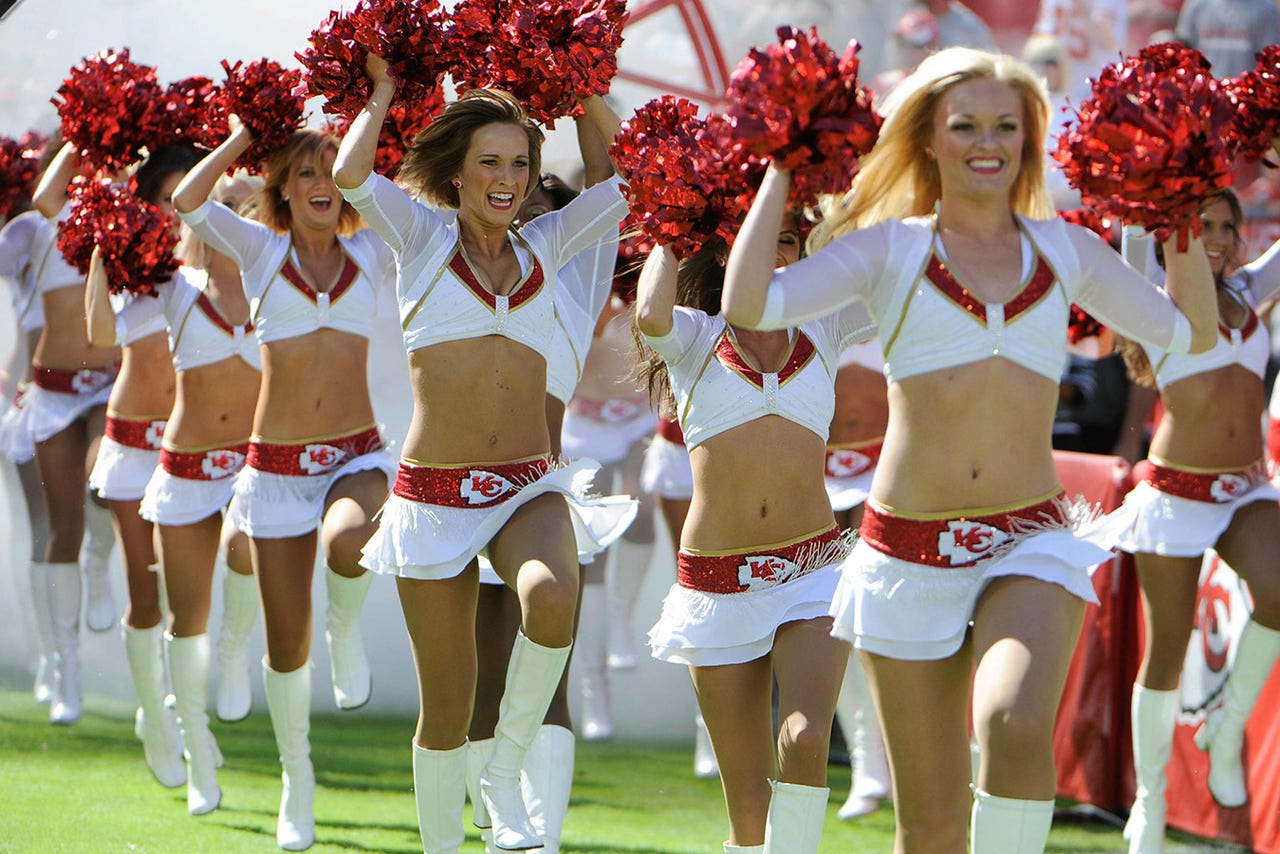 CHIEFS CHEERLEADERS: Flip through our photo album of Chiefs cheerleaders.
If there's a little PTSD for fans here, it's because of one man -- well, two men, actually: wideout Jon Baldwin and the man who drafted him, Scott Pioli. With the 26th spot in the 2011 draft, the Chiefs landed their "wide receiver of the future" in Pitt's Baldwin, who was billed as a 6-foot-4 Spider-Man clone. One problem: Baldwin couldn't catch a cold in a preschool. That "future" lasted less than 20 months, and the big guy is now running interference for Colin Kaepernick in San Francisco, carving out more of a niche as a blocker than as an actual receiver of the football.
:02 ... DEFENSIVE BACK (-3.64 AED)
Sometimes, fate does you a solid. The Chiefs have one starting safety job completely up for grabs; at least a couple of stud defenders could be available here and contend for a starting role.
But which one: Calvin Pryor from Louisville? Jimmie Ward out of Northern Illinois?
You build a beast to win your division -- or at least neutralize it. The Chiefs lost six games last fall, counting the postseason, to elite passers -- twice to Peyton Manning, twice to Philip Rivers and twice to Andrew Luck, including the mother of all kidney punches in the AFC's wild-card round.
Dorsey treats his secondary the way a carnival staffer treats a giant roller coaster -- you must be THIS tall to ride this ride -- but as long as the Broncos and Chargers are set up the way they are now, you can never have too many studs in the defensive backfield, regardless of height.
:01 ... OFFENSIVE LINE (-2.87 AED)
Whaddaya know? The "safest" selection for an NFL team picking late in the first round is another of Dorsey's positions of need. The Chiefs have a guard slot wide open, just waiting to be filled by ... somebody.
The best interior collegiate prospect, Notre Dame guard Zack Martin, is expected to be off the board by midway through the first round. Fortunately, UCLA big man Xavier Su'a-Filo, an athletic guard with nimble feet, sounds like a natural fit.
And here's the really interesting part: There are also a slew of pretty-darned-good guard prospects who are expected to be available from picks 40-120, including Gabe Jackson out of Mississippi State, Nevada's Joel Bitonio, LSU's Trai Turner and Baylor's Cyril Richardson.
Because of the Smith trade, the Chiefs have only one selection within that window, but wouldn't mind trading down to get more picks to try and land there, if someone wants to take No. 23 off their hands. Or, perhaps, maybe a little something else. It could get horizontal. It could get vertical. Hell, it could even get weird.
You can follow Sean Keeler on Twitter at @seankeeler or email him at seanmkeeler@gmail.com.
---