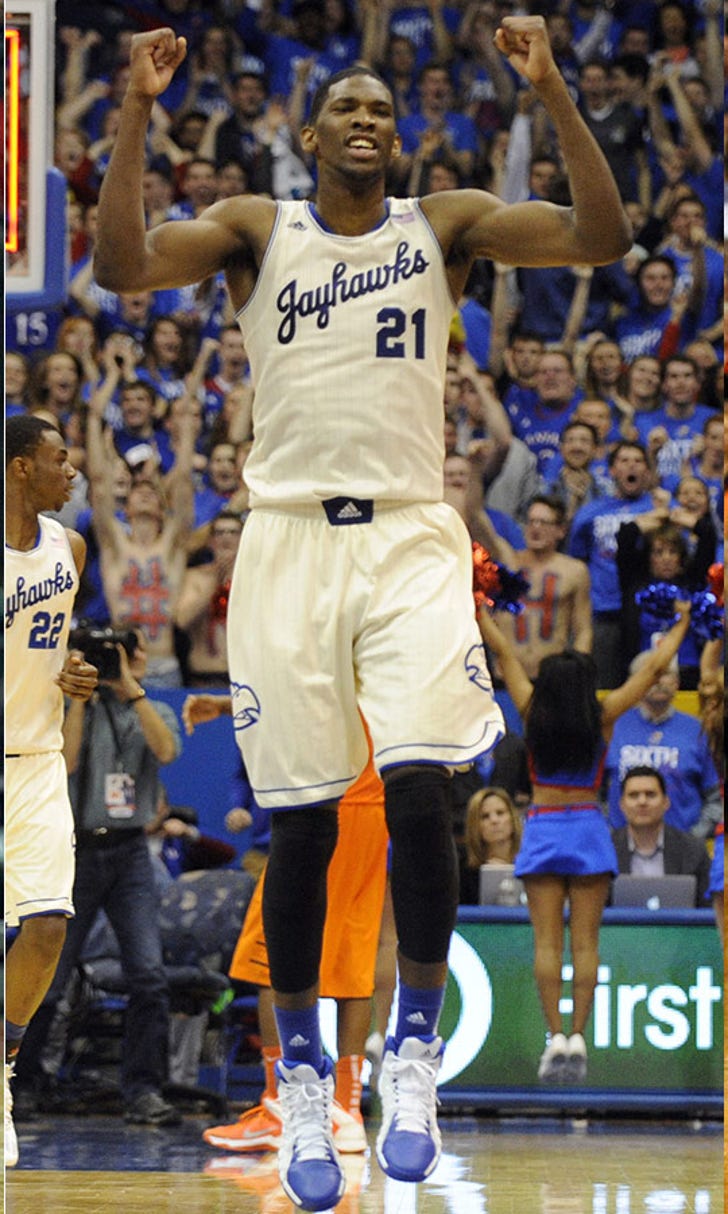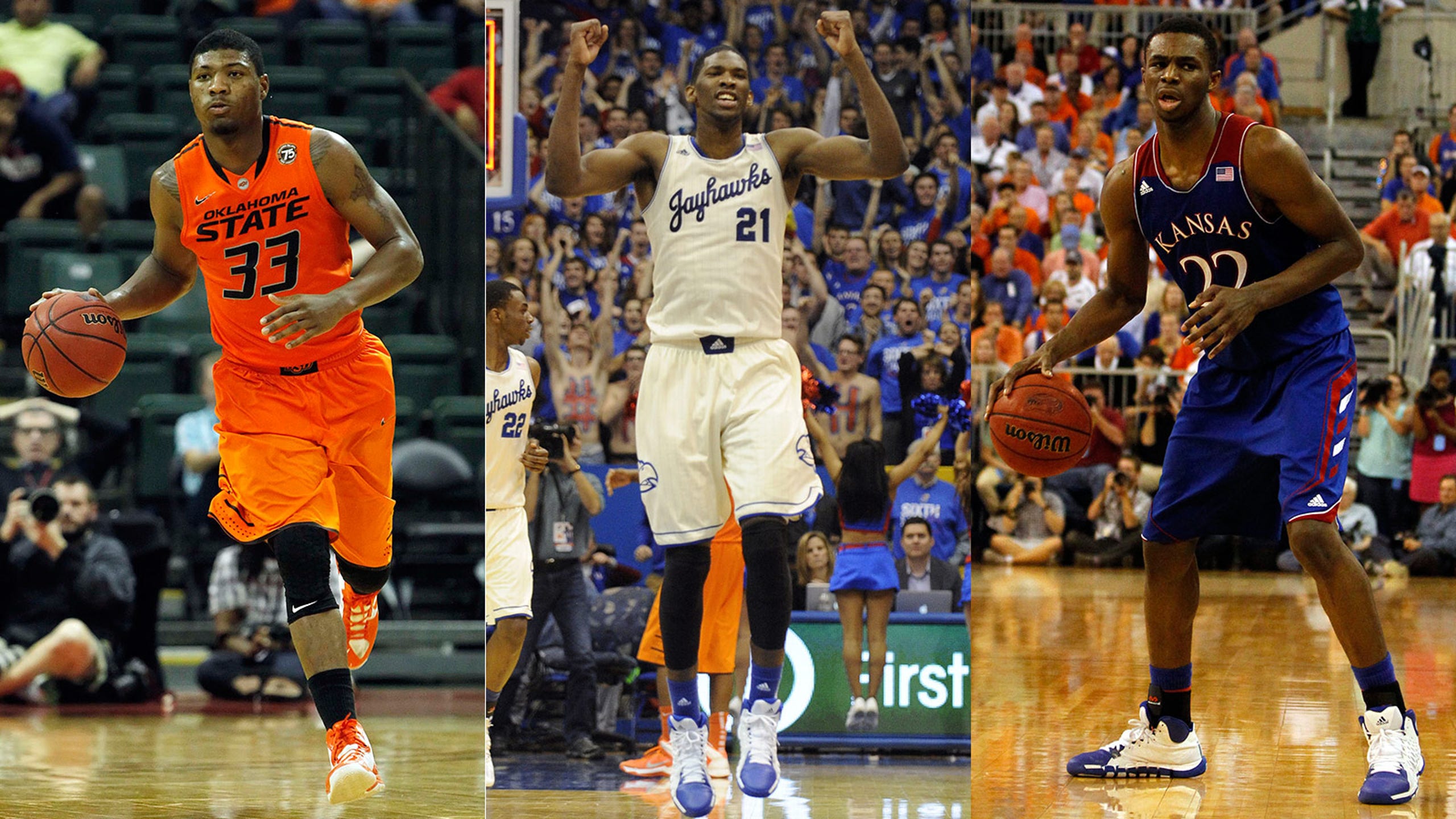 3 in the Kee: Three leading candidates for Big 12 Player of the Year
BY foxsports • January 27, 2014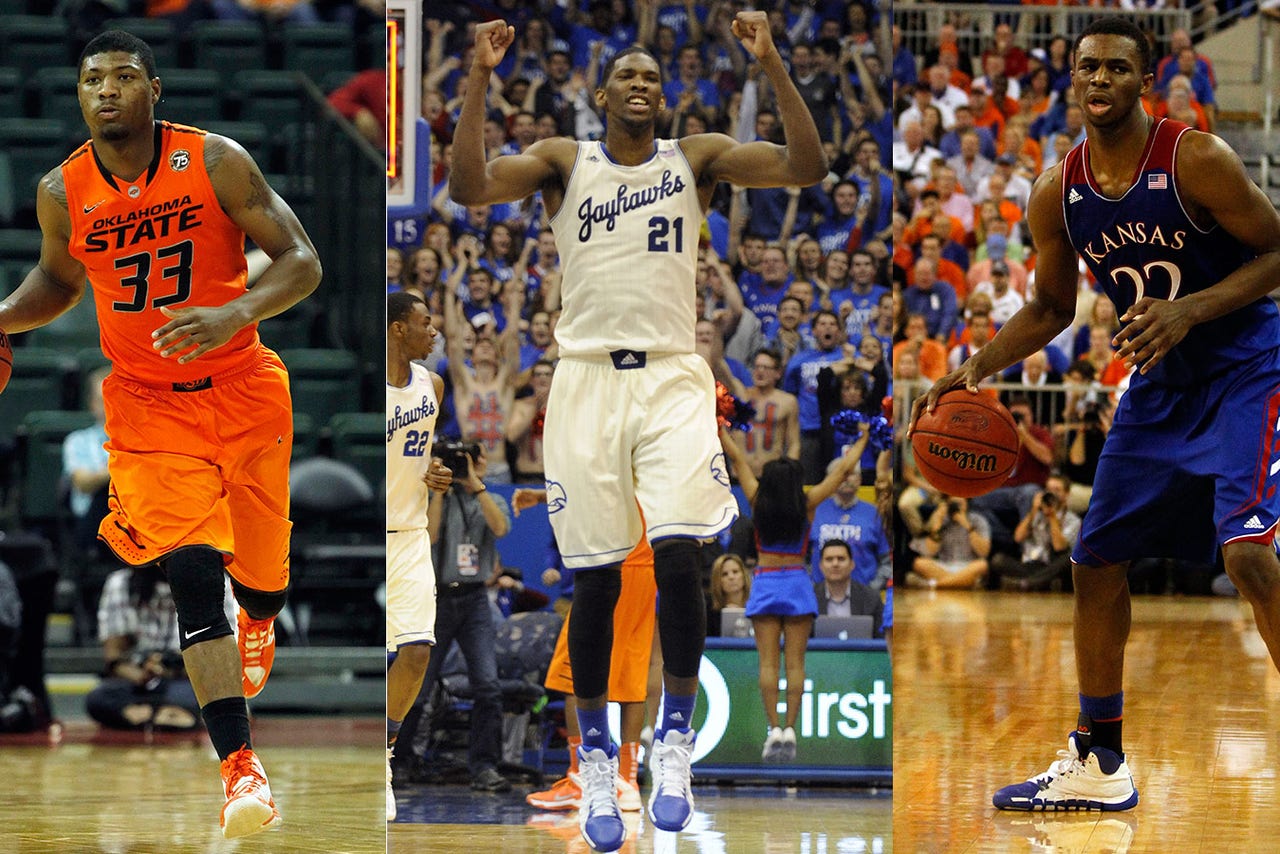 Don't look now -- no, seriously, if you're a Kansas Jayhawks fan, you might not want to look -- but of the top six projected picks in the latest NBA mock draft over at DraftExpress.com, three hail from the Big 12. KU center Joel Embiid is slotted to the Milwaukee Bucks at No. 1; teammate Andrew Wiggins to Orlando at No. 2, and Oklahoma State guard Marcus Smart to Cleveland at No. 6.
Sounds like a pretty good, pretty easy 1-2-3 as far as Big 12 Players of the Year, right?
Ah, but not so fast. As we make the turn toward the final five weeks of the regular season, you could make five or six pretty good cases already -- the list below doesn't even include Oklahoma's Buddy Hield and Ryan Spangler, West Virginia's Juwan Staten or Texas Tech's Jaye Crockett -- and none of them would be wrong. That, my friends, is depth ...
THE TOP THREE CANDIDATES FOR BIG 12 PLAYER OF THE YEAR (MIDSEASON EDITION)
:03 (tie) ... Marcus Smart, G, Oklahoma State (16.0 points per game, 5.8 rebounds per game, 4.3 assists per game) and DeAndre Kane, G, Iowa State (15.7 points per game, 5.5 rebounds per game, 4.7 assists per game)
Coaches love Smart. Scouts love Smart. Hell, even metrics love Smart. At the start of the week, the 6-foot-4 Texas native leads the Big 12 in defensive rating (87.7 points allowed per 100 possessions), defensive win shares (1.7) and steal percentage (4.7). He'll never be confused with Joe Dumars when it comes to long-distance shooting, but few backcourt players in the country are as physical, fearless, demanding, or -- after his Twitter apology to teammates last weekend -- accountable.
The Cyclones' Kane, meanwhile, offers a similar skill-set: A 6-foot-4 point guard with a small forward frame and a wing man's range, the latest transfer jewel in Fred Hoiberg's crown might be the craziest matchup problem in a starting lineup that's full of them.
In league games only, Kane ranks second in scoring average (19.0), first in assists per game (5.17) and steals (2.67 per game) and 15th in rebounding average (6.3) -- and all this despite a gruesome ankle injury at Oklahoma on Jan. 11. The former Marshall standout lit Baylor up for 30 points, eight rebounds and nine assists on Jan. 7 in his Big 12 debut, although a recent shooting funk over the last two games (6 for 26 versus Texas and Kansas State) and the occasional brain-cramp at the free-throw line (38 for 62 in league contests) have taken off a bit of the shine.
:02 ... Andrew Wiggins, F, Kansas (15.8 points per game, 6.0 rebounds per game, 1.6 assists per game)
We wanted the stars; Wiggins has given us the moon. We wanted great; he's given us very good with glimpses of dominance. Overrated? Well, no. Overhyped? No question.
And yet the 6-8 Canadian wing is still the only freshman in the Big 12 to rank among the league's top 10 in both scoring (ninth) and win shares (2.6, also ninth). Few league defenders can handle him one-on-one, affirming the view of many scouts that he might post far better numbers in the NBA than he will as a collegian. Not that those numbers are bad, mind you: Wiggins is averaging 15.8 points and 7.3 boards per game in Big 12 contests, dropping 22 points on K-State and 27 at TCU.
When motivated or challenged -- remember the end of the Duke game? -- Wiggins has raised his play to match every last paragraph of the preseason ink. It's the other games, those other moments, that drive fans, and coach Bill Self, a little nuts.
:01 ... Joel Embiid, C, Kansas (11.2 points per game, 7.4 rebounds per game, 1.4 assists per game)
Few individual stocks have risen as quickly since Christmas as that of the 7-footer from Cameroon, and with good reason. His January per-game splits: 12.0 points, 8.1 rebounds, 3.6 blocks and 66.7 percent shooting from the floor. We can't get enough of the backstory -- a soccer/volleyball kid who took up basketball only three years ago, learning the game as he goes -- or enough of the ceiling. Over the past four weeks, the only factors that have seemingly kept the KU freshman relatively grounded are his own inexperience with the game and the occasional retaliatory loss of self-control (three technicals in Big 12 play, 3.7 fouls per game this month).
Advanced statistics are on board, too: Embiid's player efficiency rating of 28.8, according to Sports-Reference.com, is going at a better clip than that of KU post stars Jeff Withey in 2012-13 (27.2) and Thomas Robinson in '11-12 (27.4). In league contests, Embiid has averaged 12 points, 3.3 blocks and 7.5 rebounds.
A post prodigy with dancer's feet and a mean streak, JoJo makes no secret of patterning his game after that of NBA legend Hakeem Olajuwon. He's not there yet, but no one in the Big 12, right now, can do what he can do -- something league coaches have been finding out the hard way, one week at a time.
You can follow Sean Keeler on Twitter @seankeeler or email him at seanmkeeler@gmail.com.
---