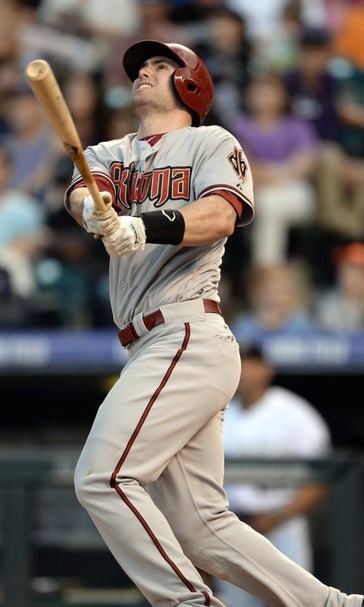 3 home runs power D-backs to sweep of Rockies
June 6, 2014

DENVER -- Chris Owings has been in a little bit of an offensive funk. Leave it to hitting friendly Coors Field to snap him right out of it.
Leave it to this park to get the entire Arizona lineup revved up.
Owings, Paul Goldschmidt and Miguel Montero homered as the Diamondbacks reached double-digits against the Colorado Rockies again, completing a sweep with a 12-7 win Thursday night.
Arizona took all three games at Coors Field for the first time since April 2008. This series was quite an offensive display by the Diamondbacks, too, as they scored 32 runs and collected 48 hits over the three games.
"(This) happens every other week here, doesn't it?" Bronson Arroyo said. "Doesn't usually happen to those guys, though. We just happened to put all the runs on the board this time."
Even Arroyo (5-4) pitched differently in this park. He went with fastballs 60 percent of the time -- something the 37-year-old usually doesn't do. But hey, this quirky park sometimes calls for an unorthodox approach.
"I threw an offbeat game," said Arroyo, who allowed four runs and six hits in 6-1/3 innings.
The Rockies were once again off their game as they lost their seventh straight. It's their longest skid since losing nine in a row late in the 2012 season.
"We come to play every single day," said Troy Tulowitzki, who had a homer and a double. "It's just not happening right now.
A night after the Diamondbacks put up 16 runs, they pounded Rockies starter Juan Nicasio (5-4). The right-hander struggled with his command, allowing a season-high seven runs in 5-1/3 innings.
Manager Walt Weiss called a team meeting before the game, just so he could check in with his team during this horrendous stretch. He said there are "no magic words in this game or magic words for success."
Is this rock bottom?
"I don't know," Weiss said. "We have a game tomorrow. We'll try to win a game tomorrow."
The top five hitters in the Diamondbacks lineup -- Gerardo Parra, Owings, Goldschmidt, Montero and Martin Prado -- feasted on Rockies pitching, going a combined 13 for 24 with nine RBIs.
"I know we've got a good hitting ball club. I know that," Montero said. "We showed it the last couple of games."
Did they ever.
According to the Diamondbacks, it's just the second time the team has had back-to-back games with 18 or more hits. It's only the fifth time they've scored 12 or more runs in two straight.
"You hear stuff about Coors Field coming up through the minors leagues," said Owings, who finished 3 for 5 with four RBIs. "You watch a lot of games here, see a lot of runs scored. But I wouldn't say that plays into anything you do differently here. You hit the ball hard.
"The ball might do some different things here."
Owings had a two-run homer in the eighth that gave Arizona a 9-6 lead. The cushion was valuable at the time as Rockies pinch hitter Brandon Barnes hit an inside-the-park homer in the bottom of the inning, when the ball sailed over the head of center fielder Ender Inciarte, hit off the base of the wall and caromed away.
It was the 14th inside-the-park homer in Rockies history and first since Eric Young Jr. had one on Aug. 8, 2012, in Los Angeles.
Arizona added to its lead in the ninth with three more runs. Inciarte ended the game by making a leaping catch at the wall on Wilin Rosario's deep drive.
Arroyo had a 7-3 lead heading into the seventh inning, when he ran into trouble. A usually reliable bullpen struggled, too. The Rockies scored three times on RBI singles from Drew Stubbs, Michael Cuddyer and Corey Dickerson.
With the bases loaded and two outs, Oliver Perez was brought in to face pinch hitter Justin Morneau, who grounded out to third to end the rally.
"That was huge," Arroyo said. "He came in and gave us that one out we needed and really broke the game open for us."
---