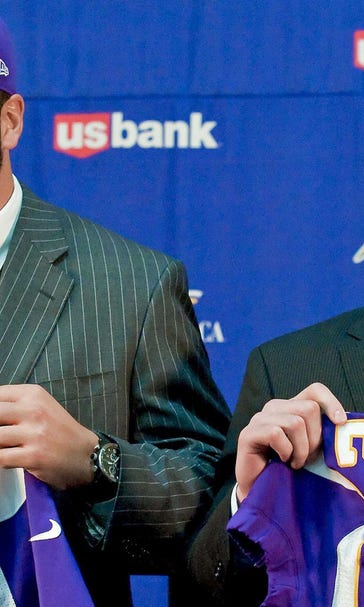 2015 Vikings draft preview: Grading the 2012 class
April 14, 2015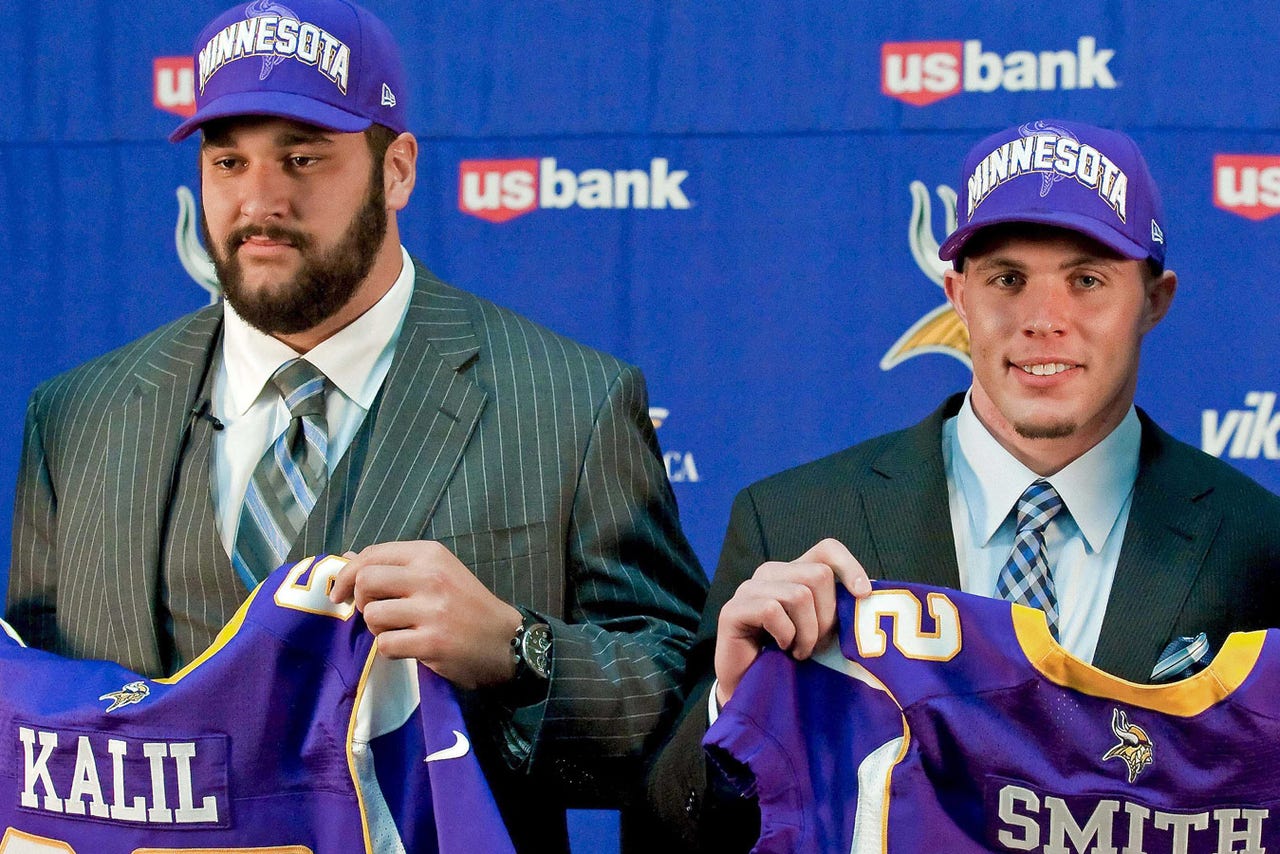 If 2010 was the beginning of the "Trader Rick" ways for Rick Spielman with the Minnesota Vikings, 2012 was when it was taken to another level.
Minnesota entered the draft with the third-overall pick (yes, it missed out on the second pick or the bounty of picks from Washington, which traded up with St. Louis to get Robert Griffin III, because of a late-season win against the Redskins) and had its eyes on a blue chip left tackle prospect.
Spielman somehow convinced the Cleveland Browns they needed to trade up to make sure they got Alabama running back Trent Richardson. By dropping back one spot, and still getting the player he coveted in Matt Kalil, Spielman received additional fourth-, fifth- and seventh-round picks.
With the extra picks in his back pocket, Spielman swung a trade with the Baltimore Ravens to jump back into the first round and select safety Harrison Smith. Spielman and the Vikings have since become active traders in the last half of the first round, trading for an extra first-round selection in each of the past three years.
Spielman was operating the draft with the title of general manager for the first time in 2012 and his influence could be seen as Minnesota left the draft with 10 selections -- a Spielman objective -- and significant moves towards making the Vikings a younger team. The 2012 draft, essentially, accelerated Minnesota's makeover to Spielman's beliefs.
NFL teams like to wait three years before evaluating draft picks and 2012 is looking good for Spielman:
Round 1, No. 4 overall:
LT Matt Kalil -- Kalil is a curious case as he heads into his fourth season with the Vikings. Kalil became the scapegoat for a failing offensive line early last season after having a down sophomore campaign while dealing with a knee injury. Kalil wasn't playing well last season, but Minnesota still believed in his talent.
The Vikings' opinion of Kalil could soon become known as the team faces a decision on whether to exercise the fifth-year option on his contract. With little commitment in taking the option, expect Minnesota to add the fifth year with Kalil.
The 6-foot-7, 308-pound Kalil has all the makings of an elite left tackle. He has the arm length and feet to handle pass rushers, but he's struggled with speed to the outside and inside counter moves since suffering the knee injury. Kalil said he was still taking time last season to fully trust the knee. This offseason will be an important one for Kalil, who needs to come back strong and regain the form he showed as a rookie when he was named to the Pro Bowl.
Kalil is likely to come back with his starting spot intact. He will have to perform to keep it in a pivotal year for him. Another down season will lead to likely look elsewhere going forward. Coming back strong and in the right mindset could again show Kalil might be the fit long-term at left tackle for Minnesota.
Grade 5 years later: C
Round 1, No. 29 overall:
S Harrison Smith – While a question exists whether the Vikings will add the fifth year to Kalil's contract, there's only one thing which would keep Minnesota from doing so with Smith -- a contract extension. The Vikings have been willing to extend their core players heading into the final year of their contracts and Smith is the next most logical target. Smith might be the most indispensable player on the defense.
The trade to move back into the first round has paid big dividends for Minnesota. The Vikings gave up their second-round selection in addition to a fourth-round pick to move up and secure Smith. In a draft that has mostly underwhelmed, Smith might be developing into one of the best players selected in 2012.
Smith has been a big-play performer on the back end of the defense and is become one of the league's better safeties. In head coach Mike Zimmer's defense, Smith is a versatile performer and Zimmer can scheme with Smith to take advantage of matchups.
Smith had 92 tackles, three sacks and five interceptions last season. In 40 career games -- he was sidelined eight games in 2013 because of a foot injury -- Smith has 10 interceptions and has returned three for touchdowns. He's added four career sacks.
Grade 5 years later: A
Round 3, No. 66 overall:
CB Josh Robinson – Another enigma for the Vikings after three years is Robinson. Smaller in stature, Robinson was a draft standout because of his speed. Three years in and the speed hasn't made a big impact for Minnesota. Robinson has started 21 games in three years and has 155 total tackles to go with five interceptions.
In truth, Robinson was probably more of a project when he was drafted. He did end up starting six games as a rookie and showed some signs of potential. His second season was a disaster. He was named a full-time starter, but was asked to slide inside to cover slot receivers in the nickel. Robinson, new to the role, never adjusted and his confidence took a hit. He was routinely beat by receivers whether inside or outside and looked to be a potential bust.
Then Zimmer came in last year and helped resurrect Robinson's confidence and game. Robinson wasn't asked to move inside to cover the slot. He was able to stay outside and concentrate on his development. He finished with three interceptions and was a steady performer for much of the year.
Is there more in Robinson? Minnesota has found a quality No. 1 cornerback in Xavier Rhodes. The Vikings still need to discover the right complement to Rhodes on the other side. Captain Munnerlyn started in the base defense last year, moving inside to the slot when Robinson came on in the nickel. Minnesota also signed 36-year-old Terence Newman in the offseason and very well could look to draft a cornerback early in the draft.
If Newman starts or if another cornerback is drafted, Robinson could slide down the depth chart. He would make for quality depth, but would be a third-round drafted backup.
Grade 5 years later: C
Round 4, No. 118 overall:
WR Jarius Wright -- Wright was the first of two Arkansas receivers the Vikings drafted in the fourth round in 2012. Three years later he was the only one left. But Wright could very well have some staying power, as well. He hasn't been given a lot of opportunities, but has made the best of his chances.
A smaller receiver at 5-10 and 180 pounds, Wright is speedy and has averaged 14.8 yards per catch in his career. Like the rest of Minnesota's receivers, Wright's impact has been stunted somewhat by the inconsistency at quarterback. He's also been left to do what he can as a backup. He has 90 catches for 1,332 yards and seven touchdowns in 39 career games.
His career started slowly as he didn't get on the field until Week 10 as a rookie. He's started 11 games in his three years, seven starts coming last year as he was mainly the No. 3 receiver. Wright can be a valuable piece to the offense as the No. 3 receiver often lining up inside. He had 42 catches for 588 yards and two touchdowns last season. He went 87 yards for a touchdown in overtime to beat the New York Jets on a short receiver screen.
The Vikings traded for Mike Wallace and have Charles Johnson and Cordarrelle Patterson. They could draft another receiver as well, but there is a place for Wright in the offense.
Grade 5 years later: B
Round 4, No. 128 overall:
TE Rhett Ellison -- "Who?" There were a few puzzled reactions when Minnesota drafted Ellison in 2012. Ellison said he wasn't expecting to be drafted. He was out with his family on a river on the third day of the draft when he was selected. Spielman has proven to be right with this unexpected pick.
Ellison is a valuable member of the special teams and offense. He's only caught 31 passes in his career, but he's made his impact as a blocker. Ellison, as a blocker, is the perfect complement to pass receiving tight end Kyle Rudolph. Ellison has shown better-than-expected hands and he's nimble. He has 334 receiving yards and two touchdowns.
But he's started 26 games in his career because of his blocking ability. Ellison can line up on the line or in the backfield as a fullback. He's a quiet player who just goes about his work as a gritty member of the team. An extension for Ellison wouldn't be a surprise either. Not bad for someone who many had to research on draft day.
Grade 5 years later: B
Round 4, No. 134 overall:
WR Greg Childs – A compensatory pick like Ellison and an Arkansas receiver like Wright, Childs was the last of three fourth-round selections. Childs had the size and receiving ability to be a good project. But his knees would never let him play in an NFL game.
Childs had suffered knee injuries in college and was still rehabbing when he was drafted. Spielman took a chance that Childs could regain the same skills he showed when he was healthy. The 6-3 Childs could jump and had plenty of speed.
Yet, this wasn't a case of trying to overcome an anterior cruciate ligament injury. Childs had torn the patellar tendon, an injury from which few football players have returned. Childs worked feverishly and was on the field for Minnesota in his rookie training camp.
Then Childs went up for a pass in an evening passing scrimmage and when he landed he tore the patellar tendons in both of his knees. Childs promised to return and went to work again. He showed considerable progress but was never able to get back on the field. He hasn't played in an NFL game after being released before last season.
Grade 5 years later: F
Round 5, No. 139 overall:
S Robert Blanton – Three years is in the books for Blanton, and it sure appears as the Vikings are close to finishing their evaluation of the former Notre Dame cornerback.
As a rookie, he was a developmental prospect playing mostly special teams. In his second season, he finally got a chance to play safety and had some moments of promise mixed with a bit of inconsistency. He was even used as a nickel cornerback at times.
Last year, Blanton won the starting safety spot next to Smith, his college teammate. He put up big tackle numbers, leading the team with 106 tackles. But he was often out of place in the passing game and slow to make a stop in the running game. Many of his tackles came several yards downfield. Zimmer preferred a safety with coverage ability, which Blanton had, but he didn't make a big impact. He had one interception and lost his starting job after an injury.
Blanton missed just one game, but Andrew Sendejo stayed in a starting role upon Blanton's return. Minnesota has another former college cornerback in second-year safety Antone Exum. The Vikings also signed safety Taylor Mays in the offseason and could very well look to draft another safety this year as Blanton's hold on a roster spot looks tenuous heading into training camp.
Grade 5 years later: D
Round 6, No. 175 overall:
K Blair Walsh – The Vikings' transition notably started at kicker. Minnesota had steady veteran Ryan Longwell, but Spielman made the decision to go younger and cheaper in selecting Walsh. No one expected the Vikings to move from Longwell at the time, but Spielman and the team went into the draft planning on drafting Longwell's successor.
Walsh was an interesting pick, as well. He was coming off an inconsistent college career, but special teams coach Mike Priefer believed in Walsh's leg and knew they could clean up some of his poor tendencies. In a draft which featured several big-leg kickers, Walsh was the third one off the board behind Houston's Randy Bullock and St. Louis' Greg Zuerlein.
Then Walsh went out and made the pick look brilliant. He set a record as a rookie by converting 10 of 10 field goals from 50 yards or longer. Walsh missed only three kicks all year and, like Kalil, made the Pro Bowl as a rookie. There were a few hiccups last season as Walsh adjusted to being outdoors all season, but he finished the season on a positive note.
Walsh is one of the league's top kickers on kickoffs. He had a 63.2 percent touchback percentage last season, sixth in the NFL. He was 5 of 9 on field-goal attempts 50 yards or longer.
Grade 5 years later: B
Round 7, No. 210 overall:
LB Audie Cole -- The defensive focus continued in the seventh round with Cole, a tall, rangy prospect from North Carolina State. Through three NFL seasons, Cole showed promise in limited opportunities.
He hasn't developed into a full-time starter but is an important special teams player and has come up with some big games on defense in replacing injured players. It remains to be seen whether he will have a chance to become a starter next season. Minnesota is still searching for a starter at middle linebacker.
Cole has paid off as a late pick for the Vikings, though. In 34 career games, he's started six games, had 71 tackles, one sack and two pass deflections. He's been a solid depth linebacker with the ability to fill-in when needed.
Grade 5 years later: B
Round 7, No. 219 overall:
DL Trevor Guyton – Another late pick, Guyton never panned out. The "tweener" defensive lineman out of California didn't have the size (at 285 pounds) to hold up inside or the speed to play end in a 4-3 defense.
He was released after training camp of his rookie season and has been out of the NFL since.
Grade 5 years later: F
Follow Brian Hall on Twitter
---