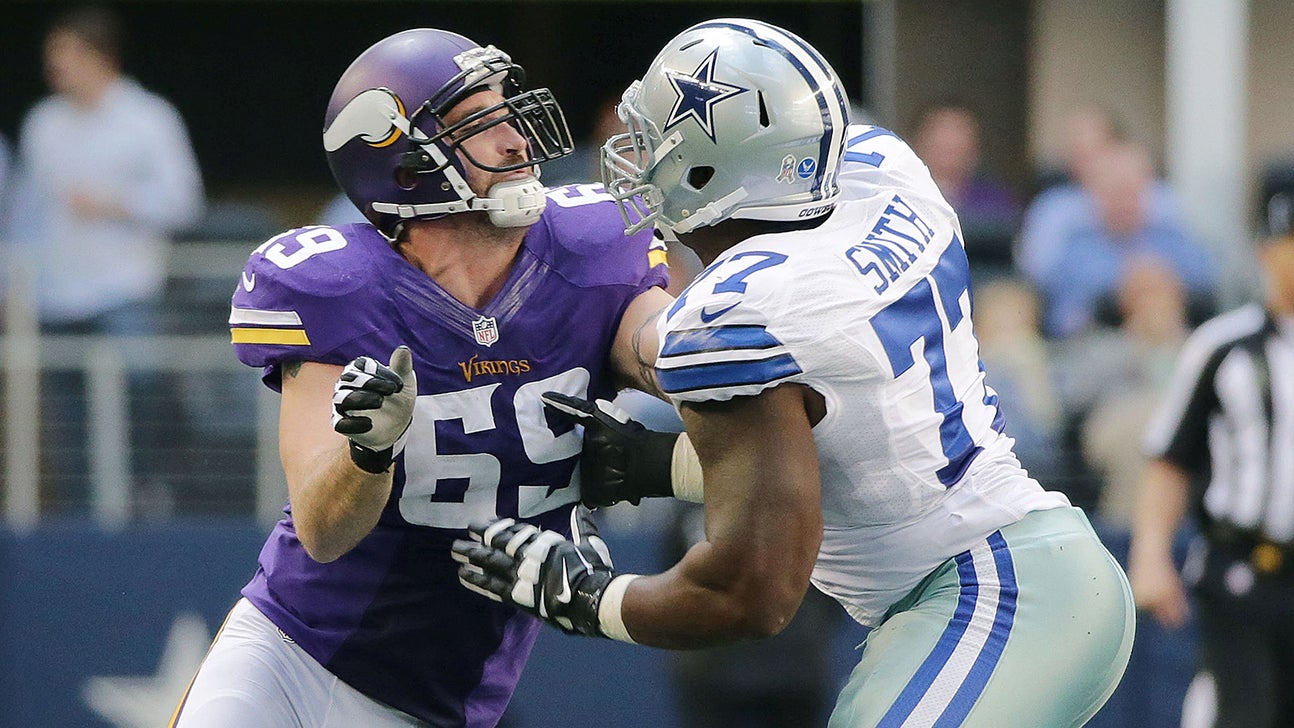 '13 Rewind: Week 9 - Cowboys Back On Win Train W Vikings
Updated
Mar. 5, 2020 12:35 a.m. ET

Throughout the first few weeks in August, we will carefully review the 2013 season week by week. I do this as a matter of habit during every training camp because the offseason allows too many things to fall from my memory banks and I think as I get older, that issue becomes bigger. But, since I write about this team daily and I forget most of the details, I thought perhaps you would like to take this trip as well. Some of you will, I assume most of you will pass on this endeavor, but the blog space is free so don't say that I didn't offer. 
Here is the Week 9 Summary from Arlington against the Vikes:
November 4, 2013
If there is one thing I have learned covering the Dallas Cowboys over the last 16 seasons, it is the idea that on many Mondays during the year, the team will be expected to apologize for winning a game without the requisite style that those who enjoyed the dynasty days came to expect 2 decades ago.
You see, there are losses (which, of course, are unacceptable).  But, there are also wins that feel like losses to so many who lived through somewhere between 3 and 5 Lombardi Trophies, and certainly didn't expect to wait this long for #6.
What happens, of course, is when you add up the real losses and the perceived losses over the course of every year, you find that there are only about 3-4 Mondays where the franchise is in good standing with its fan-base.  It is the toughest of crowds.  It is also a delusion-filled crowd that has not changed its expectation level to coincide with the changes in the NFL, but surely that isn't their fault, right?
Anyway, after beating the Vikings on a 90-yard drive that snatched victory from the jaws of defeat - a complete reversal to the deed that was done to Dallas last week in Detroit - the loathing began again.
"Dallas played down to its competition!"
Here is a question:  What if this is the level of both the Dallas Cowboys and most of its competition?  What if they are not playing "down" to its competition but rather, just playing?  What if it is all an illusion that makes you believe that this team, with its fancy stadium, reputation, and Sky Mirror, is superior to its foes most weeks, but in reality, they are Detroit or Minnesota or Philadelphia or Washington, but in fancier clothing?
Sure, there will be exceptions to every rule and teams that stand above and below the giant pack in between in the NFL, but overall, is it reasonable to assume that this is the 2013 Dallas Cowboys?  A team that - on its day - can play with anyone on the league.  And a team, when it is not hitting on all cylinders, must scratch and claw and overcome itself in beating a team that is playing at a very low level and still has yet to win a game on United States' soil all year?
So, when people ask why the Cowboys play down to the level of their competition so much, I often wonder what that really means.  I see them in the great peloton that sits between 6-10 wins every year playing a team that has been horrid this year, but also was in the playoffs 10 months ago and still has several wonderful talents, including the greatest RB of this generation.
They survived a game that was a gigantic struggle and needed a remarkable 90-yard drive at the end that accomplished more than most expected when they were down 3.  The risk averse Cowboys might play for a field goal there and take their chances in overtime, but on that final drive, the Cowboys offense deserves some very high grades for not settling, but continuing to attack - even when in safe field goal range - to go for the victory and to then execute just that objective.
And when they survive a 3-hour grind against a talented, yet disappointing Minnesota side, you shouldn't expect apologies.  They know that they underperformed on offense and for them to be a divisional winner, they will have to sort that out immediately.  They are 5-4 at the 9 game mark, but trouble is straight ahead.  Trouble that won't forgive the mistakes of Sunday.
Mistakes?  There were many.  For roughly the 4th week in a row, the Cowboys offense frustrated itself with missed opportunities and self-inflicted wounds.  This time, 8 of the 10 drives were sabotaged with self-inflicted wounds.  Here is the damage:
Drive #1 - tackle for loss, poor throw
Drive #2 - tackle for loss
Drive #3 - sack, sack
Drive #4 - tackle for loss, dropped pass, sack
Drive #5 - Touchdown
Drive #6 - penalty
Drive #7 - dead ball penalty that takes team out of field goal range
Drive #8 - dropped pass, penalty
Drive #9 - interception
Drive #10 - Touchdown
Those events listed for each drive are what are known as "drive killers" in the coaching community.  Sacks, penalties, drops, and of course, turnovers are drive killers.  They can take a drive where good things are happening and all it takes sometimes is a holding penalty to bring the whole thing to a halt.  Drives with sacks or penalties have about a 85% fail rate if the numbers are consistent with traditional numbers around the league.  Given that this team is in a bad way offensively, they cannot overcome these issues as offense is difficult enough these days.  The Cowboys rank near the bottom of the league in sustained drives (10 plays or more) in 2013 after ranking dead last in 2012.  They cannot grind you down to a fine powder, and one reason is that they have a hard time running that many plays in a row without a self-inflicted wound.
But, let's understand what we are looking at here.  A tackle for loss on a run play is often not a mental bust, but being physically dominated at the point of attack.  Same goes for a sack, where a man just cannot get and win his block.  This is all starting to point back again to that familiar tradition around here, which is entering November with a feeling of impeding doom about the state of the offensive line.
I have already been asked today several times whether Brian Waters was really that good that they could look this differently in his first game away from the squad.  The short answer is that he was solid, but not necessarily spectacular.  He was a guy you didn't have to worry about and they should not immediately go to nearly helpless the second he lands on injured reserve.  Remember, the Cowboys were not going to have him at all until Nate Livings broke down and then Brandon Moore left them at the altar.
But, Waters provided something that is in short supply around here these days and that is just a bit of belief in the offensive line.  You see, there is some sort of self-fulfilling prophecy about the ineptness of the offensive line that goes back several years and plays into the greater tapestry of Cowboys football.  They were bad and the coaching staff and Quarterback lost faith in them.  But instead of insisting that they improve and sticking with it, it almost went the other direction where they were asked to do less and less run blocking over the years because it was assumed they couldn't.  Then, especially against the Vikings front (it is highly possible, given the game-plan, that the Dallas coaching staff thought yesterday that they were playing the Vikings of 2009 and 2010, when the Vikings front was thought to be the industry leader) they run so seldom that we are not really sure if they could run because the coaching staff sent the message with their play calling that they could not.
DeMarco Murray, for instance, carried the ball 4 times the entire game.  Since he broke one for 27 yards, we can assume that he was going to be able to accomplish something more if they offered him a few more opportunities, but it appears that the 2 or 3 negative runs early in the game spooked the Cowboys out of even trying.  This is a characteristic that reminds us plenty of those games in 2012 (Cleveland, New York, Washington, in particular) where they design a game-plan all week that is balanced and sound, then on game day, when there is a sign of frustrations from players, coaches, or even the stadium seats, they scrap it all and go shotgun the rest of the day.  It is a weird thing to criticize, because although it destroys all balance and renders your planning as pointless, it eventually helps the Cowboys win the game by putting things back on Tony Romo and the playmakers to put the necessary points on the board.  And, until proven otherwise, that is the best option for this offense.  But, it is that same crutch that might keep them from ever improving to a team that can consistently win.
Meanwhile, the defense pulled another rabbit out of its hat by winning the turnover battle with multiple takeaways (again) and scoring a timely and required touchdown (again).  They continue to put guys on the field that their own fans must identify during the game because they have never seen them before (this week: say hello to Everette Brown!) and watch them make plays.  They were run over a few times by Adrian Peterson, including a touchdown run that will be talked about for a long time, but in the end, made a stand with the game on the line against a team that had nothing to lose.  The ability for the Cowboys to force a 3 and out after the Romo interception with 4 minutes to go was vital and likely deserves as much credit for the victory as the final drive itself.  They could not give up a 1st down to Minnesota on that drive and to their credit, they held tight with a few stops.  There is no doubt we grade the defense on a curve these days, but like the Washington game, give them credit for their timeliness, if nothing else.  They are making key plays late in games to preserve victories.
So, what do we have here?  We have a Cowboys team that is grinding through injuries and overall mediocre performances to a point where they are 5-4 in the NFC East, which remains good enough for 1st place in their division.  They will play a game next week as a pretty substantial underdog to a team in New Orleans that should trouble them with an offense who has too many weapons to contain and a defense who has a coordinator that knows what the Cowboys do not like to face.
Then, they will get to the bye week with a chance to look at their final 6 games with some reinforcements returning and a real shot to finish their job.
This is not a team that will be confused with a dynasty team.  But, this is a team that should be credited with finding a way to win a game that was entirely too easy to lose yesterday.  There are lessons that can be learned in a loss, but let's not be silly;  either you win or you lose every Sunday, and this team is not good enough to turn its nose up at a win because it did not contain the style points that everyone in their audience demands.  They needed to grind for the entire afternoon and then make a few timely plays on offense and defense, and if they didn't, this season might have imploded.
Don't be afraid to recognize the difficulty in that.  It doesn't mean you have to enjoy mediocrity or being a normal NFL franchise, but it does mean that every Sunday must be taken seriously and appreciated when victories are achieved.  Nothing comes easy to the Dallas Cowboys;  that is true.  But, look around the league.  Nothing comes easy to just about every team in pro football.
So, you can be mad at Romo for not being Troy Aikman,  Garrett for not being Jimmy Johnson, and Murray for not being Emmitt Smith.  Or, you can accept that for now, this is the best team they can put on the field and understand that the 1990's Cowboys are not coming back unless you dust off your VHS tapes.  And in a race against the 2013 versions of the Eagles, Redskins, and Giants, this group holds a small lead in early November.
I talked to your mailman today, and he said there are no apologies arriving at your house from the Cowboys for that win over the Vikings.
Maybe tomorrow.
=====
Decoding Callahan - Week 9 - Those Negative Runs
Kiffin Report - Week 9 - The Remarkable Waiver Wire DL
Xs and Os - Week 9 - The Game Winning 90-yard Drive
Next, the humbling at New Orleans
---