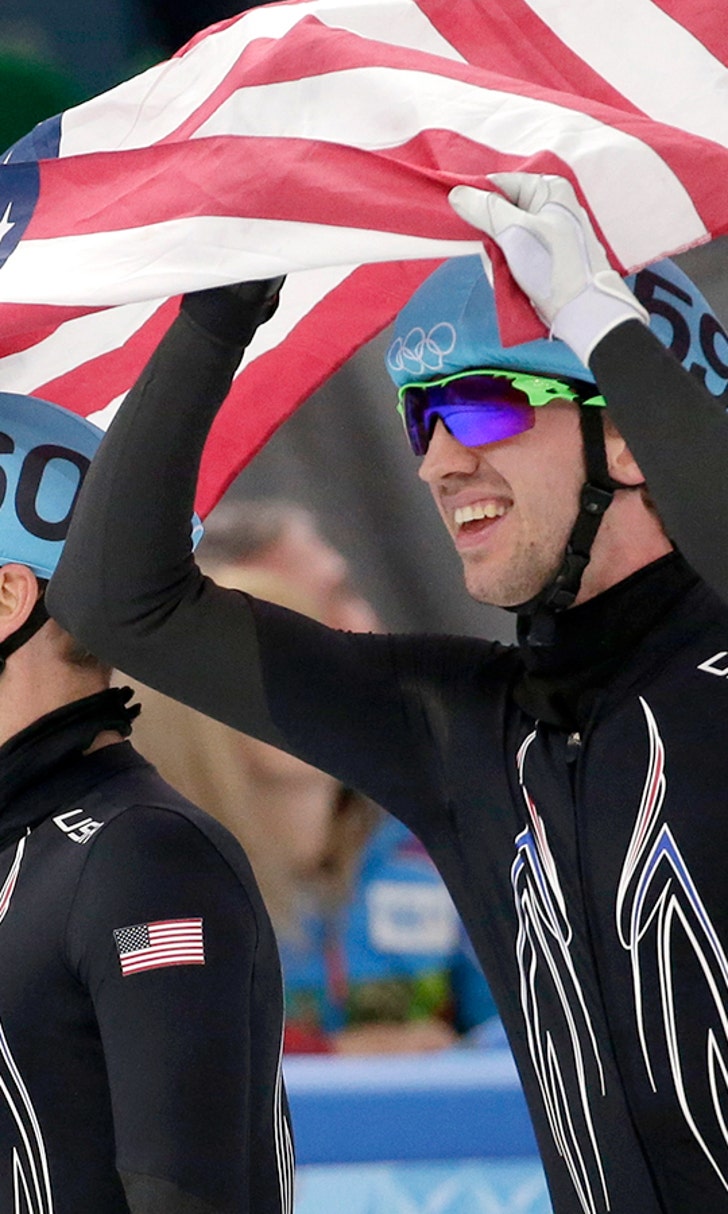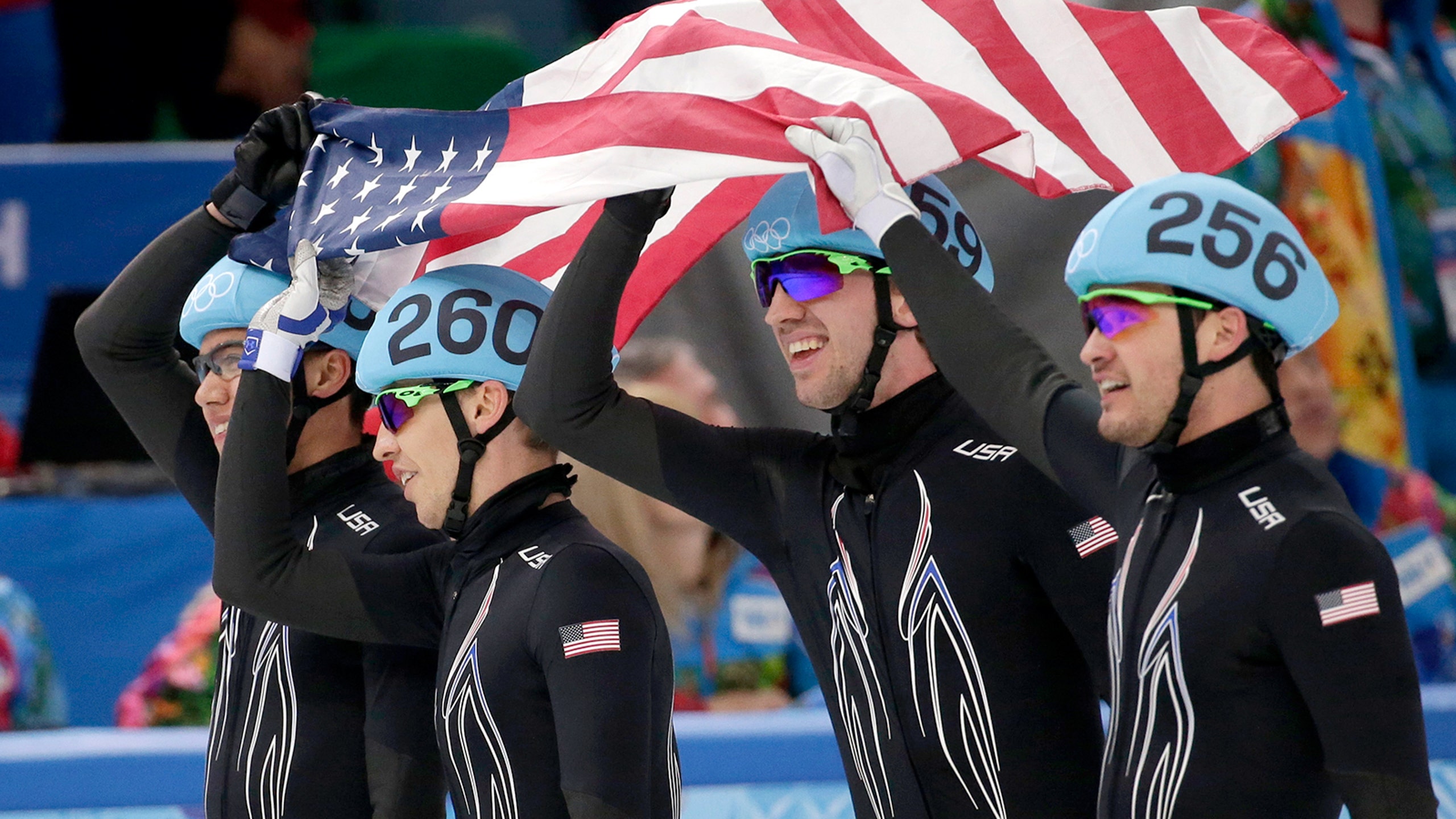 US skaters finally medal on last try
BY foxsports • February 21, 2014
SOCHI, Russia -- J.R. Celski and his three U.S. teammates clasped hands, crouched down, and feigned as though they were about to leap onto the podium.
No need for that.
A simple step -- upward -- felt pretty darn good.
"It's relieving," Celski said, "to be leaving here as a medalist."
The men's 5,000-meter relay team made sure the American skaters didn't have a totally wasted trip to the Sochi Olympics, claiming a silver medal Friday on the final night of short track.
Finally, the folks at U.S. Speedskating -- which governs both short track and the beleaguered long-track program -- had a medal to celebrate.
It wasn't gold, but it was good enough.
"I told the guys, 'We're not going to let skating go without a medal,'" said Jordan Malone, another member of the relay from Denton, Texas. "It was a disappointing year for speedskating."
Earlier Friday, next door at Adler Arena, the long-track team ensured its first medal shutout since the 1984 Winter Games with a dismal showing in team pursuit. That put all the pressure on short track, which still had the relay team and three individual skaters in the mix for medals going into the finale.
One by one, they fell by the wayside.
Emily Scott of Springfield, Mo., was eliminated from the women's 1,000 in the quarterfinals. Celski, of Federal Way, Wash., was knocked out in the semifinals of the men's 500. And, finally, Jessica Smith of Melvindale, Mich., finished last in the four-woman final of the 1,000, the only skater in the race to miss out on a medal.
That brought it down to the relay, the last short track race of these games.
U.S. coach Stephen Gough had some words for Celski, Malone, Eddy Alvarez of Miami and Chris Creveling of Kintersville, Pa., before they stepped on the ice.
"I'm really tired of everybody else but us celebrating out there," the coach said.
The Americans caught a break on the very first turn when China and the Netherlands wiped out, leaving both far behind in the 45-lap race. The U.S. and Russia pulled away from overmatched Kazakhstan, which got into the five-team final through a bit of a fluke. From there, the Americans merely had to stay on their skates to ensure a medal of some kind.
They would've preferred it to be gold, of course.
Celski, though, had no chance of chasing down Russian star Viktor Ahn after the final exchange.
"I wanted a shot with him, and I got it," Celski said. "But, man, that guy is an incredible skater."
The U.S. short track program was wracked by retirements, scandal and a bitter split in the national team after taking six medals at the 2010 Vancouver Olympics.
Apolo Anton Ohno, the most decorated U.S. Winter Olympian, retired to the broadcast booth. Rising star Katherine Reutter was forced to quit because of injuries. Another promising young skater, Simon Cho, was suspended after conceding he had tampered with a rival's skates. The national coach, Jae Su Chun, was accused by some skaters of physical, emotional and verbal abuse. Other athletes sided with Chun, including Smith, and followed him to a breakaway team.
In an added blow to the program's reputation, Olympic medalist and former U.S. Speedskating President Andy Gabel was alleged to have sexually abused underage skaters during his career.
Gabel denied forcing himself on anyone but acknowledged making mistakes and apologized. He resigned from both U.S. Speedskating and the International Skating Union.
Given all the team had been through, no one expected another six medals in Sochi.
But the pressure began to build when the Americans missed out on medals in the first five events, marred by silly mistakes (Celski tripping over a block in the turn) and just plain bad luck (Smith and Alvarez getting taken out by other skaters).
"We were struggling individually," Alvarez said. "Luck was not on our side."
Down to their last race, they came through.
"This was it. Drum roll, please," Alvarez said with a big smile.
"These Olympic Games were not easy for us as a group. Just to be able to pull through and not go home empty-handed, I'll take it. I'll take it any day."
---