Brits, Kiwis advance to next round in America's Cup prelims
June 1, 2017

Emirates Team New Zealand, determined to atone for its soul-crushing loss in the 2013 America's Cup, took a big step forward Thursday when it clinched a spot in the challenger semifinals on Bermuda's Great Sound.
Sir Ben Ainslie of Britain also earned a spot in the next round, but only after a humbling moment in which technology failed one of the world's best sailors.
Ainslie's Land Rover BAR was leading Emirates Team New Zealand early on the first downwind leg when it attempted a gybe and the 50-foot catamaran came crashing off its foils, burying its hulls in the turquoise water.
The onboard microphones picked up Ainslie saying, ''What happened? What happened? It's just killing us. It's absolutely killing us.''
The British never recovered. The Kiwis, showing good speed in light, shifty conditions and exceptional maneuvering, sailed so far ahead that when they crossed the finish line, Ainslie still had nearly a full lap of the course to complete. Ainslie radioed in to the race committee that he was withdrawing.
''We had a pretty big wipeout and stuffed the bows in and killed all of the speed and lost a huge amount of ground,'' Ainslie said. ''It was a frustrating moment for us. We had a nice start against Emirates Team New Zealand but they were coming over us with pace. We had to gybe away and we had a systems failure, which means we couldn't control our daggerboard properly.
''In those light winds, once you do that it's just so painful to rebuild the speed high and get going again,'' Ainslie said.
Ainslie said he withdrew to give the team's engineers and technicians time to fix the issue, which they did in time for the day's last race. The Brits and Groupama Team France swapped the lead on every leg, with Ainslie making a nice move near the finish line to win by 23 seconds.
That victory assured that Ainslie will advance to the semis.
There are huge expectations back home in England, which has failed for 166 years to win back the silver trophy it lost to the schooner America in 1851. Ainslie would love to become the first Englishman to hoist the Auld Mug in victory, but he's been plagued this spring by speed issues and collisions.
Ainslie was knighted several months after winning his fourth straight Olympic gold medal, in home waters in 2012. Ainslie helped Oracle Team USA rally from an 8-1 deficit to beat Team New Zealand in the 2013 America's Cup before starting his own campaign, which has the backing of the Duke and Duchess of Cambridge.
He's been saved in this regatta by two bonus points earned by leading the fleet after the America's Cup World Series the last two years.
Two-time defending champion Oracle Team USA, which came in with one bonus point, leads the qualifiers with seven points, followed by Emirates Team New Zealand with six and Land Rover BAR with five.
SoftBank Team Japan has three points while Sweden's Artemis Racing and Groupama Team France have two apiece Those three teams will fight for the final two spots in the challenger semis.
In one of the many radical departures from tradition, this is the first time the defender has sailed against challengers in the preliminaries. If Oracle wins the qualifiers, it will carry a one-point bonus into the first-to-seven America's Cup match beginning June 17. If a challenger wins the qualifiers and then reaches the match, it will get the bonus point.
One challenger will be eliminated by Saturday. Oracle will practice on its own while the challengers sail their semifinals and finals.
Also Thursday, Oracle overcame a penalty at the start and passed stablemate SoftBank Team Japan to win by 32 seconds. Team Japan routed Team France in the day's first race.
Team Japan bought Oracle's design package as part of a deal to enter the America's Cup, and there has been speculation that the startup syndicate, led by former Emirates Team New Zealand skipper Dean Barker, could help Oracle clinch the bonus point by tanking in the head-to-head showdowns. Oracle has now beaten Japan twice in the round-robins.
Barker was asked if Team Japan was allowed to beat Oracle.
''It was a pleasant prestart; we enjoyed that and the first two thirds of the race,'' Barker said. ''Unfortunately we chose the wrong gate at the bottom. I can assure you it was not a deliberate act if that's what you're asking.''
---
Follow Bernie Wilson on Twitter at http://twitter.com/berniewilson
---
---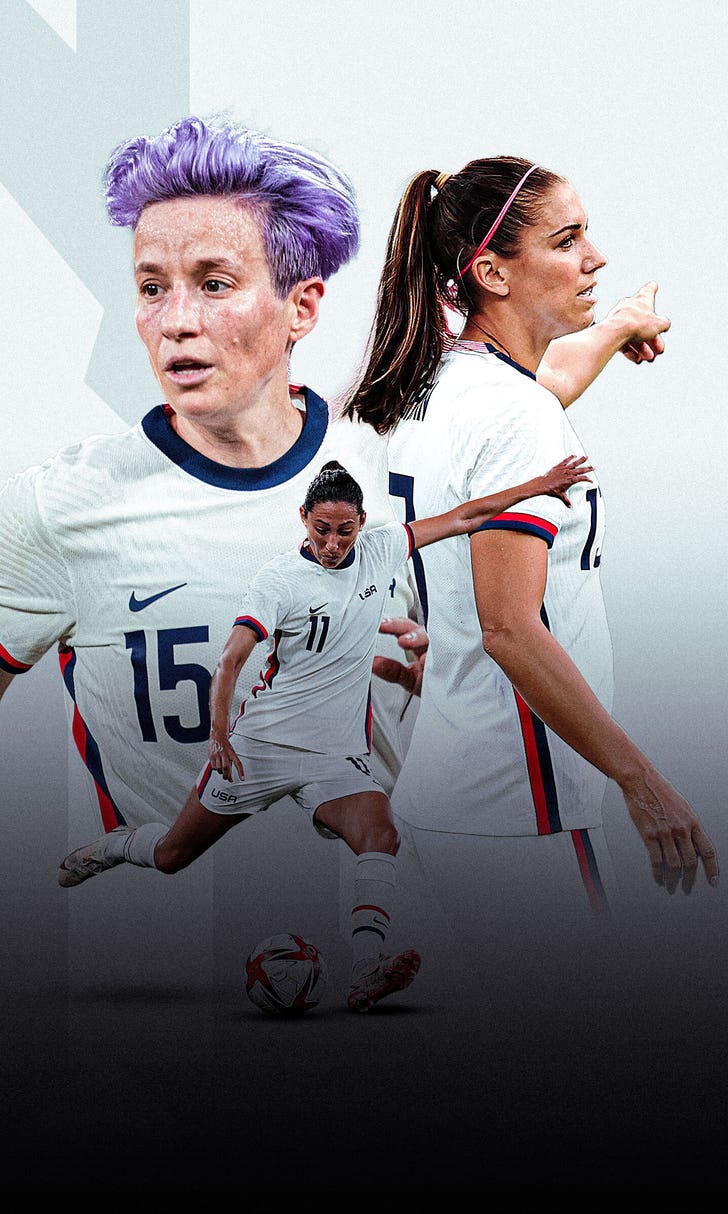 After stunning loss to Sweden, USWNT seek to regain 'ruthless' edge vs. New Zealand