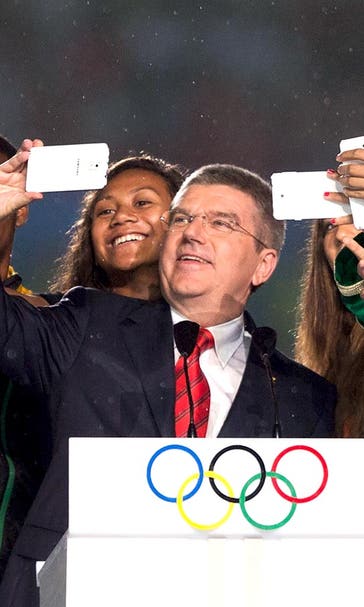 Bach reflects on busy first year as IOC president
September 9, 2014

Thomas Bach has been moving at breakneck speed in his first year as IOC president. Yet even he didn't expect to secure support for his Olympic reforms so quickly.
It's been a manic 12 months for Bach, who was elected on Sept. 10, 2013, in Buenos Aires as the ninth president of the International Olympic Committee, succeeding Jacques Rogge. He marks the anniversary on Wednesday at IOC headquarters in Lausanne, Switzerland.
The 60-year-old German has overseen the Winter Olympics in Sochi, traveled the globe to meet sports and political leaders (81 heads of state and government, according to the IOC), set up a $20 million fund to fight doping and match-fixing, and struck 13 broadcast and sponsorship deals worth $10 billion - including a record $7.75 billion deal with NBC for U.S. TV rights through 2032. He recently returned from China, where he presided over the Youth Olympics in Nanjing.
''It's been pretty dynamic,'' Bach said in a telephone interview with The Associated Press. ''There was a lot going on. At the same time, it was a very, very encouraging first year.''
Most surprising, he said, was how IOC members and others lined up so swiftly behind his ''Olympic Agenda 2020.'' The roadmap - to be voted on by the full IOC membership in December - envisions a more flexible Olympic bidding process and sports program, lower costs for hosting the games, and creation of an Olympic television channel.
''I thought it would take maybe two or three or maybe even four years after the election'' to get full backing for the program, Bach said. ''This happened already in the first couple of months. This was a very positive surprise.''
Here are a few things on Bach's plate:
---
READY FOR RIO?: After a barrage of complaints from international sports bodies over chronic delays in preparations for the 2016 Olympics in Rio de Janeiro, Bach said Brazilian organizers are now making good progress. Work has finally started on the Deodoro venue cluster. A sailing test event went off relatively smoothly last month, despite continuing worries over pollution in Guanabara Bay. Brazil's successful hosting of the World Cup has eased some concerns. Bach has sent veteran administrator Gilbert Felli to Rio to help sort things out.
''It's very encouraging to see what's happened in the last couple of months,'' Bach said. ''The mayor and the governor took over some responsibility and are working well with the organizing committee. You see now the facilities in Deodoro getting off the ground. The first test event in sailing in principle went well. So it is going in the right direction.''
Bach pointed to recent polls in Rio showing that 79 percent of the population supports the games.
''The people have understood that there will be a Rio before the Olympic Games and a better Rio after the Olympic Games, with a highly improved infrastructure in transportation, telecommunications and tourism,'' he said.
---
COUNTING THE COSTS: Convincing cities that hosting the Olympics is not prohibitively expensive is one of Bach's biggest challenges. The $51 billion price tag associated with the Sochi Olympics has scared off many potential bidders. A series of voter rejections and withdrawals has left only three cities in the race for the 2022 Winter Olympics - Beijing, Oslo and Almaty, Kazakhstan. Oslo's bid remains uncertain amid public and political opposition in Norway. Bach keeps reminding everyone that long-term infrastructure costs should be considered separately from the Olympic operating budget.
''We have to explain, explain, explain the system of the two budgets,'' he said. ''I think now slowly the people start to realize this. You just have to look at the high interest we see for 2024 already.''
Cities in the United States, Germany, France, Italy, Hungary, Qatar, Azerbaijan and South Africa are among those that have expressed interesting in bidding for 2024.
''I'm very happy about this,'' Bach said. ''I'm optimistic enough to think that our explanations about the two budgets and positive legacy of the games is showing some result.''
---
ON THE AGENDA: Bach's Agenda 2020 is moving smoothly through the refining process. IOC working groups and commissions are in Lausanne this month to formulate recommendations. The IOC executive board will hold a brainstorming session Oct. 22-24 in the Swiss lakeside resort of Montreux to finalize proposals. The package will be put to a vote at the special session in Monaco from Dec. 8-9.
Among the novelties is creation of a digital channel to promote Olympic sports in the years between games. The network, which would include a mix of sports coverage, archive footage and other programming, could be launched next year.
''This is very, very important - to keep Olympic sports and values relevant outside the Olympic Games,'' Bach said.
---