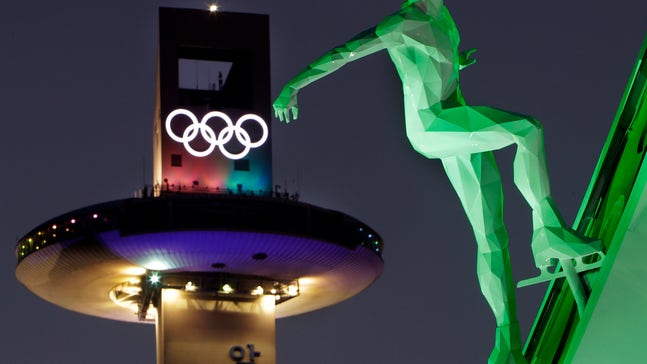 APNewsBreak: Govt Olympic funds not usable for abuse probes
Updated
Mar. 4, 2020 8:15 p.m. ET
DENVER (AP) — A growing sex-abuse problem in Olympic sports has led to a steady stream of Congressional hearings and a three-year grant worth $2.2 million.
Yet not a penny of those federal funds can be used to fight the actual problem: investigating or resolving more than 800 open cases, many brought by victims themselves.
That leaves an ever-growing backlog for the U.S. Center for SafeSport, the organization that opened 20 months ago to investigate sex-abuse complaints in Olympic sports.
"We didn't realize until the (bid instructions for the grant) came out that we would not be able to use it for performing investigations," said SafeSport CEO Shellie Pfohl. "Clearly, that is a need, and we are continuing to look for more robust funding, both from government sources, as well as from outside of government."
SafeSport's mission is to investigate cases and serve as an independent clearinghouse for educating about abuse, with the authority to ban athletes and coaches across organizations that run Olympic sports in the United States. It is backed by the U.S. Olympic Committee, which took steps to decertify USA Gymnastics this week for botching an organizational rebuild following the sexual abuse scandal involving now-imprisoned team doctor Larry Nassar.
To be sure, the money — SafeSport will use $1 million in the first year, $875,000 in Year 2 and $378,000 in Year 3 — represents a significant infusion for an office operating on $6.4 million in 2018. But according to the rules of the Justice Department grant awarded last month, it must all be directed toward prevention and education programs, and for auditing national governing bodies' work in sex-abuse prevention — not the most acute needs for an operation that has struggled to hire investigators to look into the 1,622 complaints, an average of 85 a month, that have come its way.
The backlog is growing steadily, with spikes coming whenever sex-abuse and assault cases make big headlines.
Not long after opening, when the #MeToo movement and Nassar allegations were in the headlines, the number of reports coming into the center rose from 20 to 30 a month to that same number each week. Over the two weeks that Supreme Court Justice Brett Kavanaugh's confirmation topped the news because of sexual assault allegations that he denies, the center received 135 calls.
The center has 14 employees on its response and resolution team, including six full-time investigators and another dozen who work on a contract basis. According to numbers provided by the center, full-time investigators handle an average of 10 active cases at any given time and the contractors handle between three and six. That means no more than 132 of the 800-plus cases are being investigated at any given time.
The $2.2 million grant won't help resolve any of those manpower issues.
"We're looking at all kinds of strategies of knocking down that backlog," Pfohl said. "It's not just throwing bodies at the workload. It's also being very strategic about the type of people we're hiring who can help folks from the time they call us to submit a report."
The Senate subcommittee hearings being chaired by Sen. Jerry Moran, R-Kansas, may lead to revisiting the law that formed the USOC, potentially reshaping the relationship between the USOC and the 50 national governing bodies it oversees. More stringent language about handling sex-abuse cases could be added.
A spokeswoman for Moran said the panel is reviewing whether the center needs additional resources but could not explain the reason the grant was written the way it was.
"Senator Moran ... is uniquely positioned to address resource-related concerns as appropriate," said spokeswoman Morgan Said. Lawmakers are looking for other ways to fund the center, she said.
The U.S. Olympic Committee provides $3.1 million a year for SafeSport. Earlier this year, the organizations that run Olympic sports in America (national governing bodies) doubled their contributions to $2 million total per year in 2019, which at the time increased SafeSport's overall budget by about 25 percent.
When the USOC pushed to open the center amid growing outrage over slow responses to scandals in swimming, taekwondo and other sports, it searched for funding across the sports landscape — from pro leagues to the NCAA and elsewhere — but found few backers. The relative dearth of cash flow has slowed the center's mission.
Since its opening, SafeSport investigations have led to 381 disciplinary actions, including 222 cases that led to permanent ineligibility.
The discipline is similar to what the U.S. Anti-Doping Agency does on the drug front.
By comparison, USADA, which also must fund a robust testing system, reported $21 million in revenue in 2017, $9.5 million of which came from a grant from the federal Office of National Drug Control Policy and another $5.1 million of which came from the USOC. There were no significant strings attached to USADA's government grant.
(The USOC, chastened by critics for not reacting strongly enough to the Russian doping scandal, increased USADA funding by about 35 percent from 2016. Under similar criticism, it has doubled its outlay to the SafeSport Center since the opening.)
Earlier this year, Congress passed a bill requiring that the USOC and sports federations under its umbrella report abuse allegations to law enforcement. It also granted authority to SafeSport as a place for athletes to report abuse allegations. The Senate version of that bill included $1 million for the SafeSport center, but that funding was stripped when the bill reached the House.
The grant, part of the omnibus spending bill, originally was written to be $2.5 million per year for five years, but the full amount was not appropriated, Pfohl said.
That left $2.2 million total over three years, and though the SafeSport center was the only legitimate competitor for the money, it still needed about six months to apply for and receive the grant.
"When you know the original bill was worth $2.5 million for five years, then you come to find out that the actual final allocation is $2 million over three years that can't be used for investigations, it's just a slap in the face for an important effort," said Max Cobb, the American NGB leader who spearheaded that group's funding increase.
---
---