What Memorial Day means to mother of fallen hero on Dale Earnhardt Jr. car
Published
May. 30, 2017 11:56 a.m. ET

For some people, Memorial Day is simply an extra day off, a three-day weekend that unofficially kicks off summer.

But not for everyone.

Not for families who have lost loved ones in the line of battle, like Susan McClamrock.

McClamrock's son, U.S. Army Private First Class James McClamrock, a native of Huntersville, N.C., was killed in action Sept. 7, 2010 at Balad Air Base in Iraq. Shot seven times by an insurgent during a mission, James died in valiant service to his unit and his country.

"Memorial Day is very hard. It's very bittersweet," Susan McClamrock says. "It's not a holiday, it's an observance day because, for us, it's a huge loss. And we understand the sacrifice men and women make for their country"

She says it almost matter-of-factly, but the movement in her hands and the intensity in her eyes say everything about the emotion of the moment. Memorial Day isn't a day off for her, it's a hard reminder of her precious loss.

This Memorial Day weekend, though, is a little different for Susan and her family.

In Sunday night's Coca-Cola 600 at Charlotte Motor Speedway, the name of James McClamrock was carried on the windshield of Dale Earnhardt Jr.'s No. 88 Hendrick Motorsports Chevrolet as part of the NASCAR: An American Salute initiative.

Earnhardt finished 10th in the race.

Earnhardt's sponsor, Nationwide, is very active in veterans' affairs and arranged to have McClamrock and her family attend the Coca-Cola 600 through Nationwide's Military Associates Resource Group.

There, they met Earnhardt and presented him with a collection of James' final possessions, including his dog tags, a photo, and an American flag.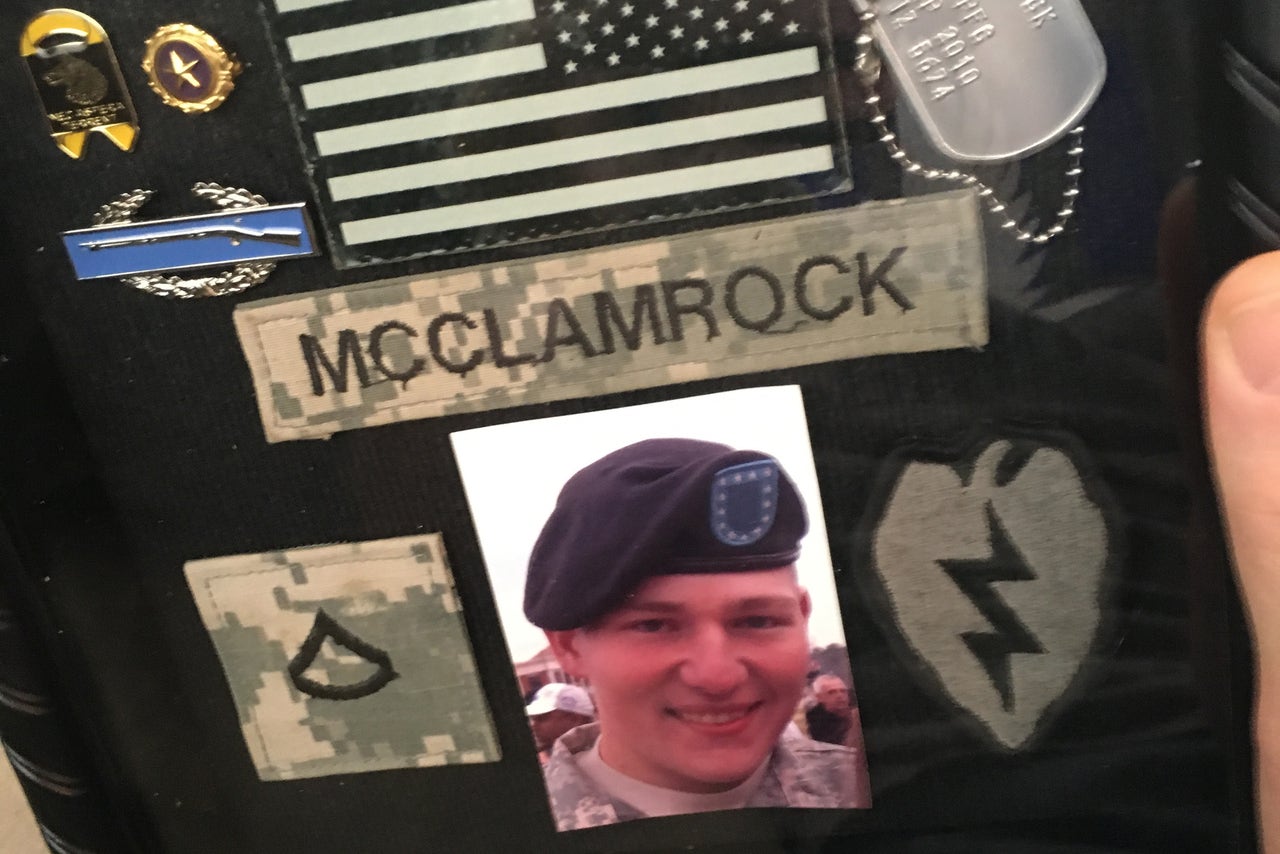 There was also a tour of Hendrick Motorsports for the family. "They learned from the crew guys how much it means to have James' name on the car," said Nationwide senior vice president Eric Smith.

"The amazing thing about Nationwide and Dale Jr. is they are so comforting and compassionate," Susan says. "They're in it for us."

All 40 cars in the race carried the name of a soldier killed in battle. And when a member of a soldier's family speaks, as McClamrock did before the race, it's a solemn reminder of the sacrifices military families make to keep our country free.

The men and women who died in combat are true American heroes, of that there can be no doubt. But so, too, are their families, who've had to carry on with huge voids in their lives.

Susan says her family was honored that her son's name was selected by Nationwide to go on Earnhardt's car. "An event like this is huge because we've got the No. 1 race-car driver," says Susan. "Everyone wants Dale Jr. just because of his dad's legacy and now his legacy. … It's just a sweet thing."

Having James' name on the car is a way to keep his memory alive, according to his mother.

"We never want him to be forgotten," says Susan. "For us, when people stop talking and the honors stop coming, he will truly die. And at some point in time, we will all die and he will be forgotten, just like all the many greats that came before."

But not now. Not yet. Not on this Memorial Day.

"He would be quite proud," Susan said of her son being remembered. "He would be humbled. He would so proud there are patriots who continued after him."

Being here was a hugely emotional experience for the family, because it reminded them yet again of their loss.

"I think about, 'What did you think when you were dying? What did you think about when your best friend was holding you?'" Susan says. "And trying to do everything they could to keep him alive, to get him to the air base that he needed to go to. Once they got him in the ambulance, he looked at one of the medics and said, 'Pray for me.' That was his last words.

"That's what's so hard. That's your child. I carried him. I loved him. And that love never stops. Just because someone dies, you don't stop loving him, you know?"

No, you don't stop loving him.

Nor do you ever forget. Not now. Not ever.

RIP, James.

And thank you, McClamrock family and all military families, for your service and most of all, for your sacrifices.


---