Test Drive: 2014 Toyota Corolla Eco Premium loaded with features at modest price
Published
Aug. 5, 2014 5:30 p.m. ET

So maybe the Toyota Corolla isn't a driver's car. Or a sporty car. But it is a good little car, inexpensive to buy and operate while boasting a great reputation for reliability. 
Corolla is all new for 2014, and it continues its role as a mainstream vehicle designed to get you where you're going with a minimum of fuss. Corolla is the kind of car that people might refer to as a mobility appliance. But it's also the kind of car that most people want for their everyday driving, thus its huge sales numbers, both here and abroad. 
Corolla may not be a fun car, but it does have some solid pluses going for it. For instance, the Corolla LE Eco Premium that I drove was a whole lot of compact car for the money, with a boatload of desirable features on board - the kind of stuff once found only on high-priced luxury cars. 
Keyless remote everything, including push-button start; a 6-inch video screen with a full suite of navigation, upgraded audio system (with six speakers), Bluetooth, hands-free phone with voice control and other tech features; leather seats and trim; power moonroof; power seats. Pretty much the works.
And the bottom line with options and shipping came out to a modest $23,270, all in, for the Eco Premium version that I drove. Well-equipped even without the extra options, this upper-end model starts off at $20,100, plus $810 shipping. That's the kind of pricing that keeps the customers coming.
Ride and handling are smooth and stable, but indifferent, and performance is just so-so. The new styling has been sharpened, including a new sporty-looking front end, but Corolla still rates just average in appearance, which is probably just where Toyota wants it to be. An innocuous car for those who like driving anonymously.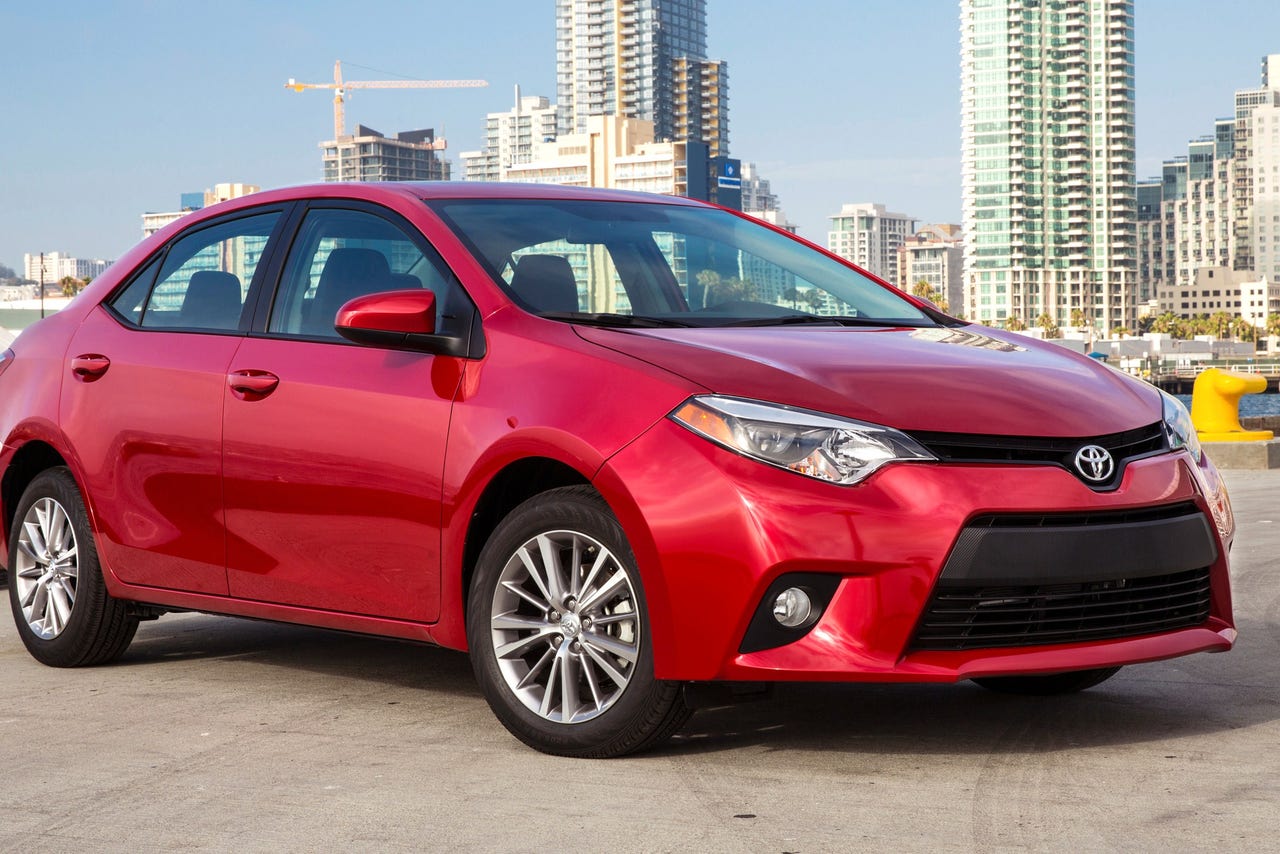 The Toyota Corolla was completely restyled for 2014.
Power is provided by a 1.8-liter four with Valvetronic and 140 horsepower, which is enough to motivate this 2,800 pound car in the city and on the highway. Acceleration is modest but quick enough for freeway merging and such, and the demeanor at higher road speeds is relaxed and fairly quiet.
The engine in the test car was hooked up with a continuously variable transmission, which is great for mileage but lousy for performance or driver engagement. The CVT does have manual shifting, however, which electronically hold ratios to replicate actual gears. In this case, there are seven shifts that make it seem like a seven-speed automatic. It works well and mitigates the otherwise boring action of the CVT. 
Corolla Eco models are also available with six-speed manual shifting, which would be my preference by far, and the non-Eco Corollas have a four-speed automatic option as well. 
Fuel mileage is impressive, rated by the EPA at 30 mpg city, 40 highway and 34 combined. In my week of driving with a slightly heavy foot, my average mileage came out slightly over the 34 mpg mark, according to the onboard computer.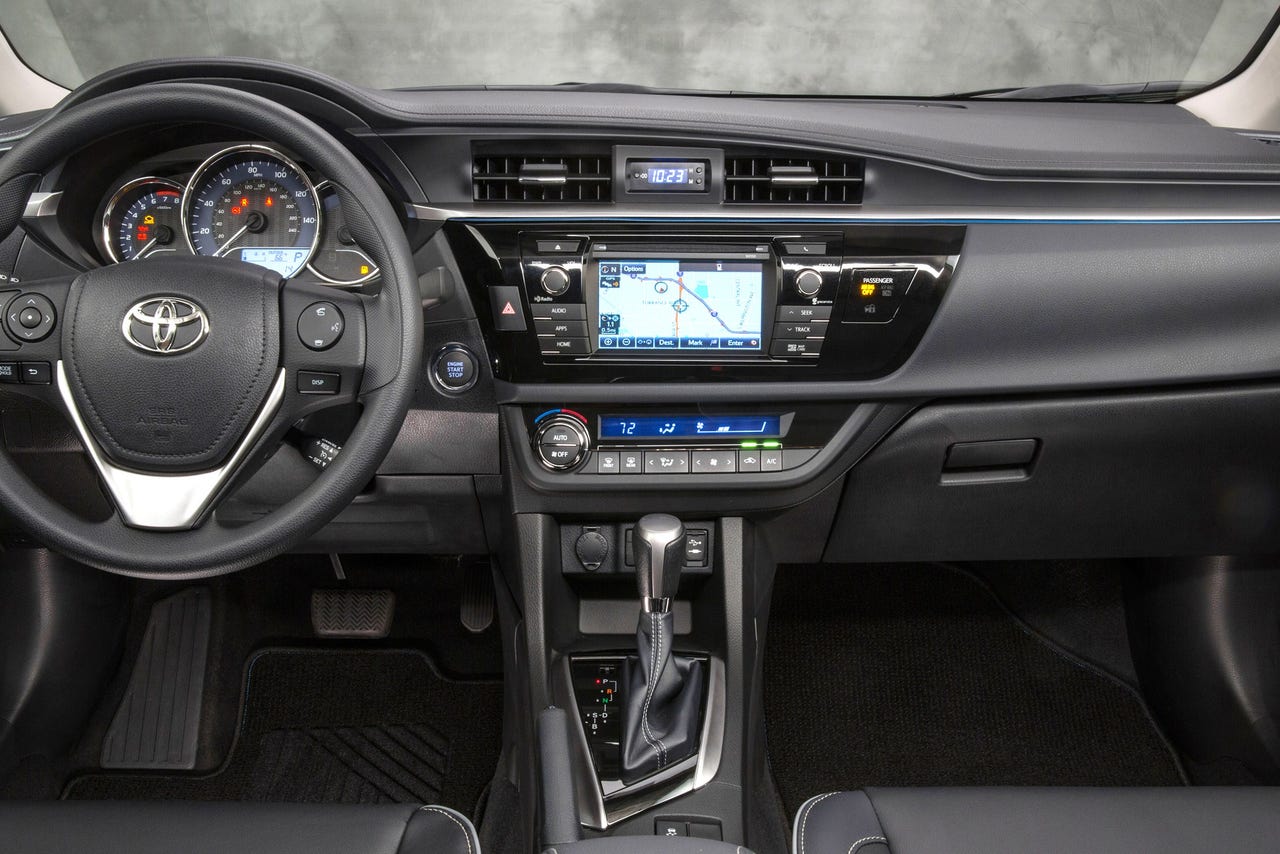 Corollas can be well-equipped with premium features.
Toyota has upgraded the interior to feel more high quality, and it has lost the cheap feel that had been the subject of criticism for the previous model. There was adequate legroom and headroom even for a too-tall driver like me, and the comfort level was better than acceptable. The back seat has enough room for adult humans, more so than most compact cars.
The electronic controls and display work very well, with a nicely adaptable navigation system on a bright screen, and real knobs for controlling climate and audio functions without having to mess with the video display. The upgraded audio system sounded very nice.
So really, the Corolla is not so much a mobility appliance as it is a nicely turned out little car with enough premium features and trim quality so that you don't feel like you're driving a cheapo compromise, despite the modest price tag. It drives well enough, and for most folks, that's enough.
2015 Toyota Corolla LE Eco Premium
Corolla Eco models are powered by a thrifty 1.8-liter engine.
---