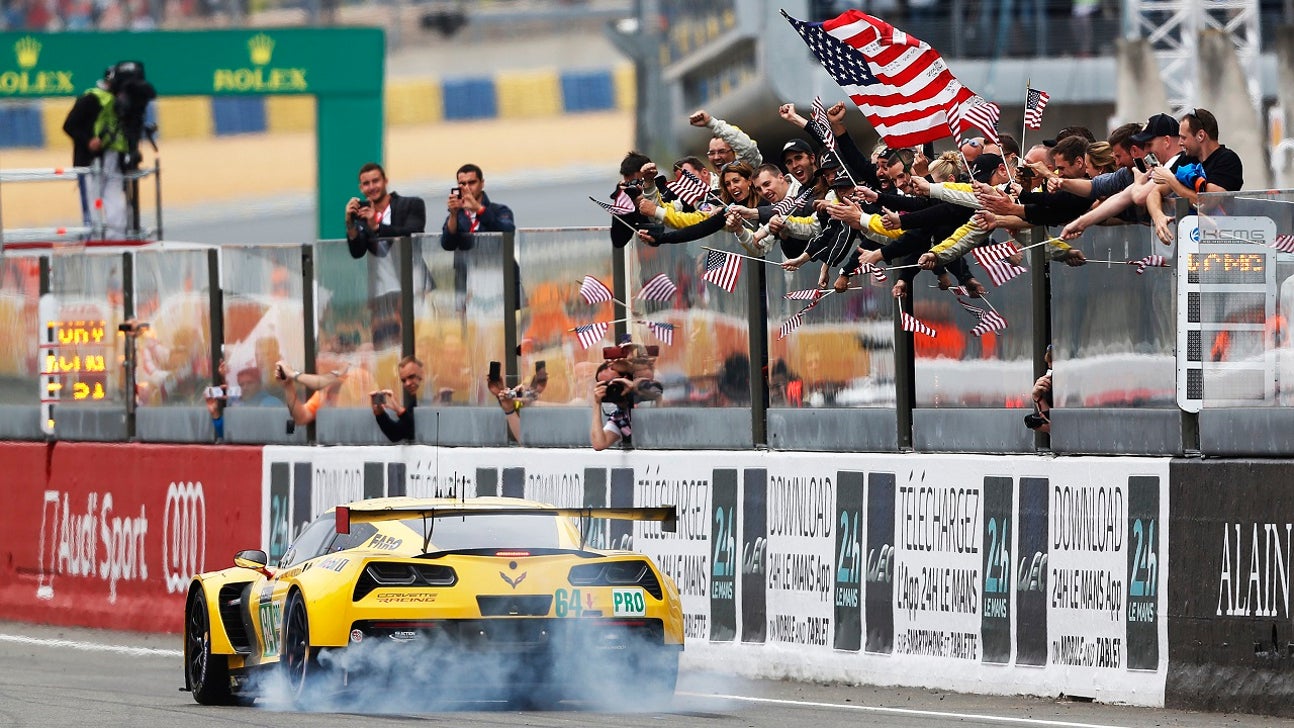 Taylor and Newgarden prove American racers still have a shot
Published
Jun. 17, 2015 11:33 a.m. ET

Jordan Taylor stood atop the podium at Le Mans, surveyed the massive crowd below him, and thought of only one thing to scream.
"Fonzie!" he yelled.
Curiously, the crowd roared its approval as if it knew Taylor was giving a shout-out to his dog back in Florida.
Such is the life for the 24-year-old Taylor, who on Sunday teamed with Tommy Milner and Oliver Gavin to win the GTE Pro class in the most prestigious sports car event in the world. It was the biggest victory of Taylor's career, and he once again proved he's one of the top road racers in America.
He's also stunningly under the radar despite an accomplished resume in the Tudor United SportsCar Championship. The son of former champion Wayne Taylor, he earned his own series title in 2013 and is currently fourth in the standings with older brother, Ricky.
Carefree and outgoing, he's also mastered social media like no other driver in any other series. Taylor uses Twitter and Instagram to chronicle his life with his dog, his hectic travel schedule and all the adventures in between. As the clock ticked down on Sunday's race and the Corvette Racing team inched closer to victory, Taylor posted a selfie of him nervously killing time.
"It's too stressful to watch, so I'm just here sitting on the toilet," he wrote.
He's added a slew of behind-the-scenes photos since, including one of him in the last row on his plane coming home from France with his trophy in the seat next to him. Taylor has documented the excitement of his win through social media, but was at a loss to actually verbalize the accomplishment.
"I'm obviously a little speechless about the whole thing -- the goal in sports car racing and almost any kind of motorsports in general is to win Le Mans," he said. "To win with Chevrolet and Corvette Racing as an American driver doesn't get any better than that."
At a time when American drivers struggle to find high-profile opportunities outside of NASCAR, Taylor on Sunday celebrated a big day for the red and white and blue.
Milner, his teammate at Le Mans, is also an American who has utilized Chevrolet's factory program to make a career in sports cars. Sunday was his second Le Mans victory; Milner also was part of Corvette's 2011 winning effort in the GTE Pro class.
Meanwhile, actor and part-time race car driver Patrick Dempsey finished second in the GTE-AM class for his first Le Mans podium in four tries with his own team, and Scuderia Corsa's trio of Townsend Bell, Bill Sweedler and Jeff Segal -- all Americans -- finished third in GTE-AM in their Le Mans debut.
Meanwhile, in IndyCar, Tennessee native Josef Newgarden won his second race of the season, driving for a team fielded by Americans Sarah Fisher and Ed Carpenter.
Newgarden, who from 2008 until 2011 chased a racing career in Europe, has now won two of the last seven IndyCar races -- no small feat considering he doesn't drive for Roger Penske or Chip Ganassi. It's a coup of sorts for a driver who could have been out of career options by his 21st birthday.
Now 24, he's finally come into his own as IndyCar is breathlessly waiting for an American driver to take command of the series. Newgarden, only in a one-year contract with Carpenter and Fisher, is taking it day-by-day.
"I'm lucky enough to be driving an IndyCar, and to get two wins is really fortunate," he said. "There's not a lot of people that have won two IndyCar races, but I think if you really measure it, as a driver you don't want to win a couple of races, you want to win a lot of races.
"It's nice to have two, but I don't think it means anything. It doesn't mean you're safe in a sport -- I think you can always get kicked out. You never know if you're going to be here next year; you always got to prove yourself, and that case still stands, in my opinion."
Such is the life for the American racer who doesn't compete in NASCAR, where the paychecks are much higher and the publicity far greater.
But Taylor and Newgarden have never chased the stock car dream, and both are content with what they are doing. They are the face of young American racers, even though they go unrecognized most of the time.
That was clear late Monday as Taylor pulled another one of his trademark gags -- posting a photo of himself on a plane next to an unsuspecting sleeping passenger. Too bad the passenger hadn't realized he was seated next to a Le Mans winner.
---