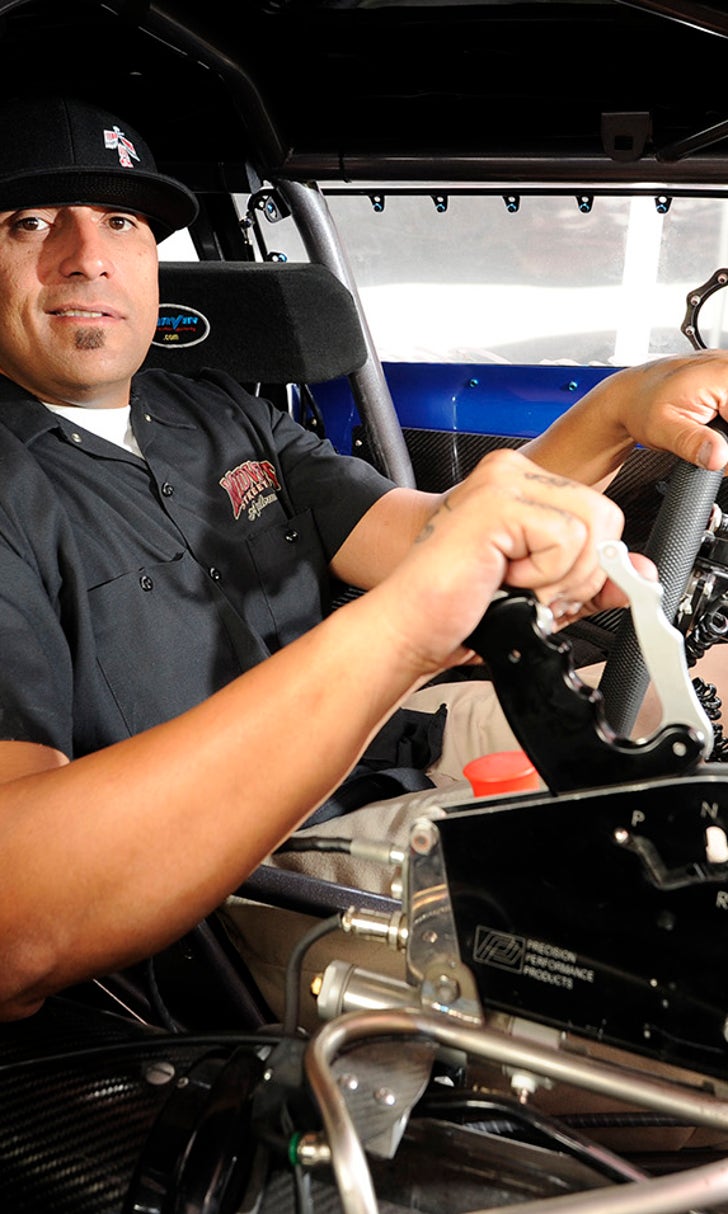 Street Outlaws star Justin Shearer is racing at the U.S. Nationals
BY foxsports • September 3, 2016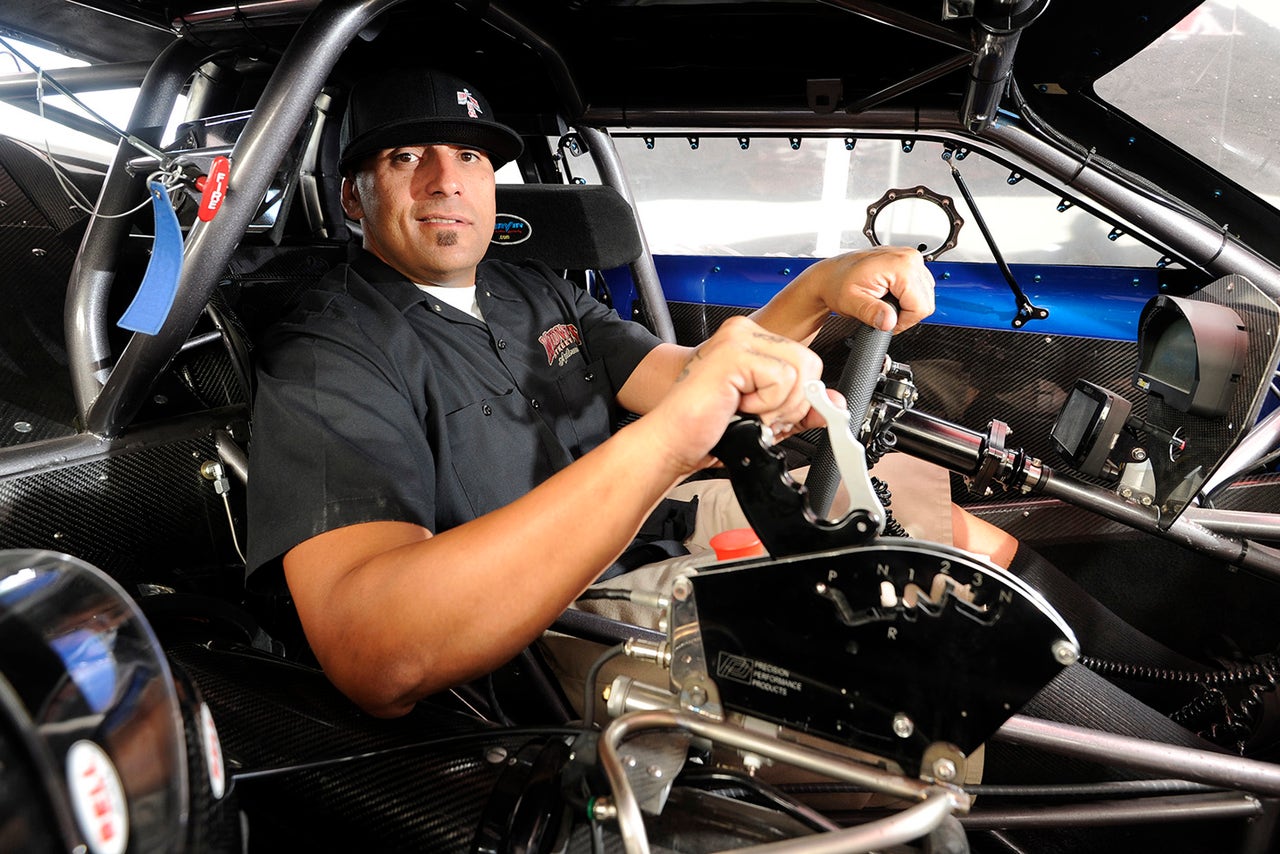 The line snaking from the roped off pit area and across the pit entrance road told the story. While there are 34 entries in the J&A Performance NHRA Pro Modified division, none had an autograph line like the one standing behind Justin Shearer's pit area during first-day qualifying for the GM Performance NHRA U.S. Nationals in Indianapolis.
Shearer, best known as Big Chief on the Discovery Channel's Street Outlaws reality show, made his NHRA debut this weekend; another move to bring more peace between the parties who have resolved a once adversarial relationship. Now the two work together with PSA spots to discourage illegal street racing.
Even when the NHRA threatened to pull the competition licenses of Street Outlaws participants, Shearer never wavered in the desire to play on their stage.
"I have envisioned this my whole life," said Shearer. "I didn't care what they said. I didn't care if they took away my license. I don't care if they hated what I did. I didn't care if they hated who I was. Eventually, one day, I was gonna be a race car driver for a living in the NHRA. I've always known that."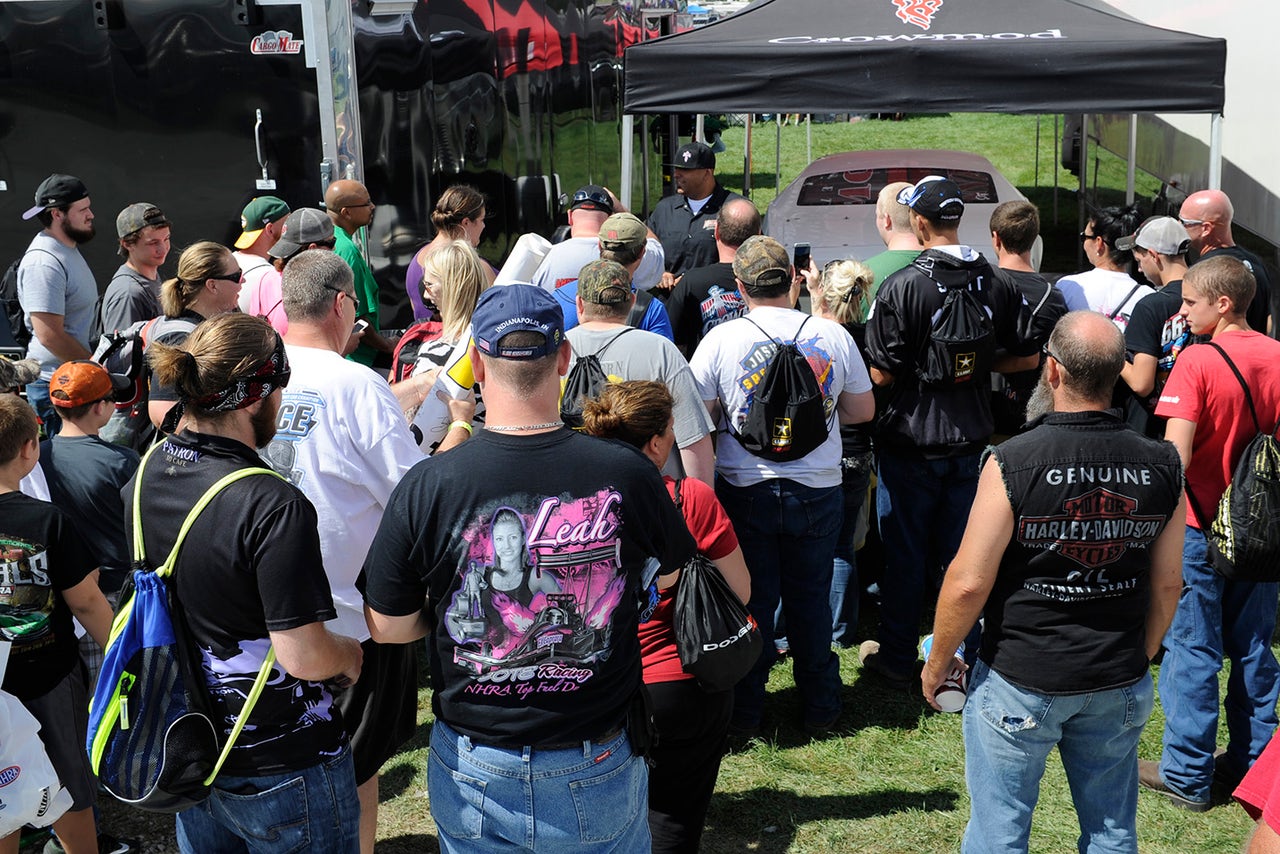 Fans line up to see Justin Shearer at the U.S. Nationals.
For NHRA, Shearer's presence brings a measure of relativity to a younger audience; one which the sanctioning body has targeted aggressively in the last three years.
Shearer fits the bill, and it was no more evident than when he prepared his turbocharged Firebird for Friday's qualifying. Parents stood in line with their young children and teenagers.
The trailer they stood behind was no 18-wheeler or high-end hauler. Instead, it was a 32-foot enclosed trailer similar to those at their local tracks pulled by a pick-up truck. There were no high dollar crew uniforms on those turning the wrenches.
Instead, they wore flat billed ballcaps, shirts and knee-high socks. Together they didn't miss a beat as gangster rap music blared in the background.
"I've noticed two things," Shearer said. "I'm the only Pro Mod out here with a 53-year-old factory engine, and I'm the only Pro Mod out here with what seems like 7,500 people behind my trailer. I don't know if those two are related or not but I have noticed that for sure. I have noticed that there are a lot of people coming to see me race and I think it's awesome. It sucks that I'm not competitive with this engine and combination but it's really cool they came out to support me."
For Shearer, the opportunity to race as a professional fulfills a lifelong dream. Just playing the game trumps winning the race this weekend.
"It's my World Series," Shearer admitted. "Right now it's Yankees versus the Dodgers in the World Series, and I get to throw the first pitch. I was the first car down in Pro Mod, in the left lane, first car and I'm not gonna strike anybody out, but I'm out there on the field, and I get to throw the first pitch and to me that's amazing. Amazing."
Shearer's 7.127 at 160.27 mph fell well short of the strike zone. It's just part of the learning experience for Shearer, who is filling his experience banks with every investment he can including his first drag racing press conference.
Shearer was an open book, revealing untold details including the hoops he had to jump through for the NHRA's Technical Department before he could step on the field.
"To make it through tech, I did stuff to my car I never thought I would do to a race car," Shearer said.
One of those chores was adding carbon fiber brakes, a 16K investment he admitted, "I really didn't have."
On Shearer's very first quarter-mile run, the parachute on his Pontiac failed to deploy forcing him into an object lesson why the NHRA required him to add those expensive brakes to his non-descript, plain white racecar.
In one fell swoop, Shearer admitted the switch flipped revealing why NHRA required him to install those high-end specialty brakes.
Shearer understands there's a time and a place to be an outlaw; and while one can have the edgy dress and tattoos from head to toe, there's no margin when it comes to safety.
Shearer also understands he's a guest at a party with different clientele, but when it comes to relating the diametrically different worlds there's no real difference between the players in simulated street racing and big time championship drag racing.
"I can be respectful," Shearer said. "I understand when things do mean something. I understand and know passion. That's one thing I understand very well. When people come into my world, sometimes they don't understand why I love it so much. When I come into their world, I understand the passion.
"I may not be able to change the way I look, but I can sure change the way I act. You have to flip the perception to the young people, that's the hardest part. I just want to hang out with the kids all day. In doing so, I say things to kids like I would my crew. I relate to kids better. Sometimes I say stuff to kids and my guys remind me the kid's dad is standing right there."
Shearer knows his strengths and weaknesses.
"I don't have much of an edge on anybody out here performance wise, but consider this, I've raced in front of more people than we will see out here," Shearer explained. "I've raced on sketchy, sketchy roads in the middle of the dark. I've raced with the cops coming trying to take my stuff away from me. And I've raced for way more money than I'm racing for today. They're not going to get me nervous out here. This ain't nothing.
"To me, this is a good time."
While Shearer gives the impression he's been there and done that, racing quarter-mile in a fast doorslammer is uncharted territory.
"The only thing that's nerve racking is speed," Shearer said. "I've never been quarter-mile. To go the difference between 190 in the eighth, which is what I would consider fast in my car, to 240 or 250 in the quarter, a lot of stuff can happen out here."
Shearer knows even a short distance can be treacherous, as he found out last season on Street Outlaws when he and co-star Brian "Chucky" Davis crashed while filming an episode. He suffered bruising to his lungs, back injuries and a broken collarbone.
"What I learned from the crash definitely steered me this direction because I could go any minute and I'm not gonna wait for the street stuff to be over before I went to try my hand at the NHRA," Shearer said. "I may never get another shot.
"Ever since I was a little bitty kid I told everybody I want to be a race car driver and this is where the race car drivers are at."
***
Bobby Bennett is the Publisher/Editor of CompetitionPlus.com, a leading independent online drag racing magazine, since 1999. For the latest in dragster news worldwide, visit www.competitionplus.com or follow on Twitter @competitionplus
---