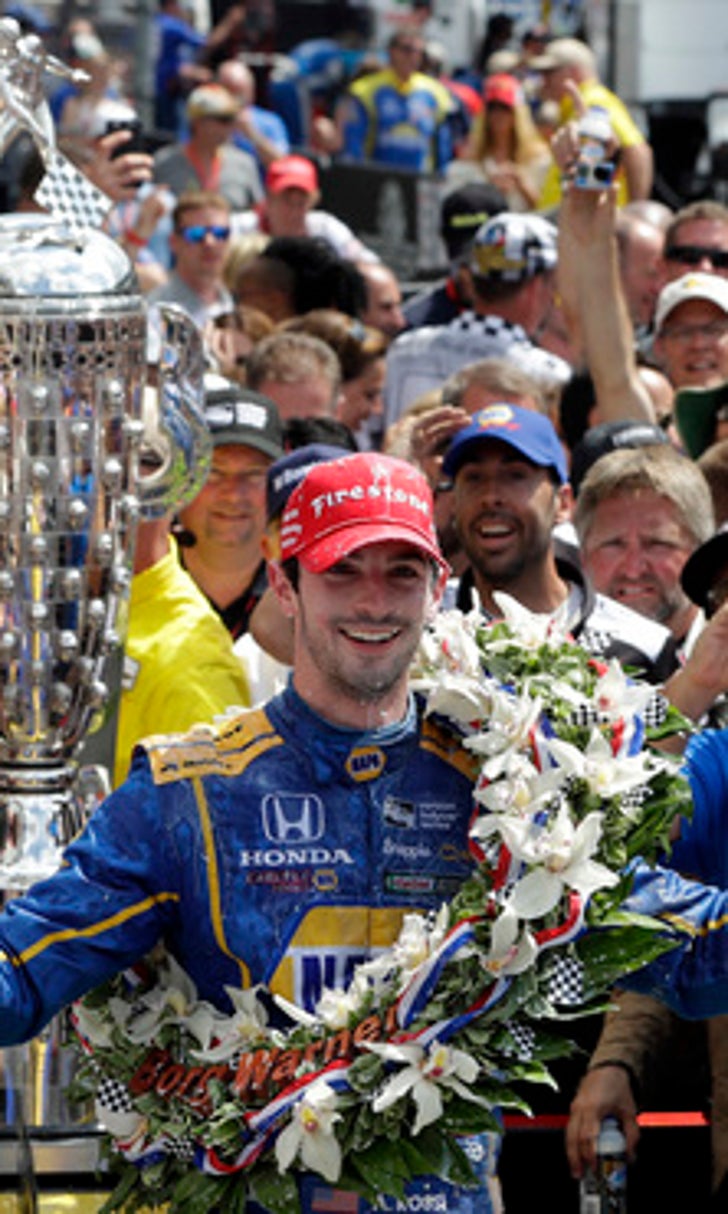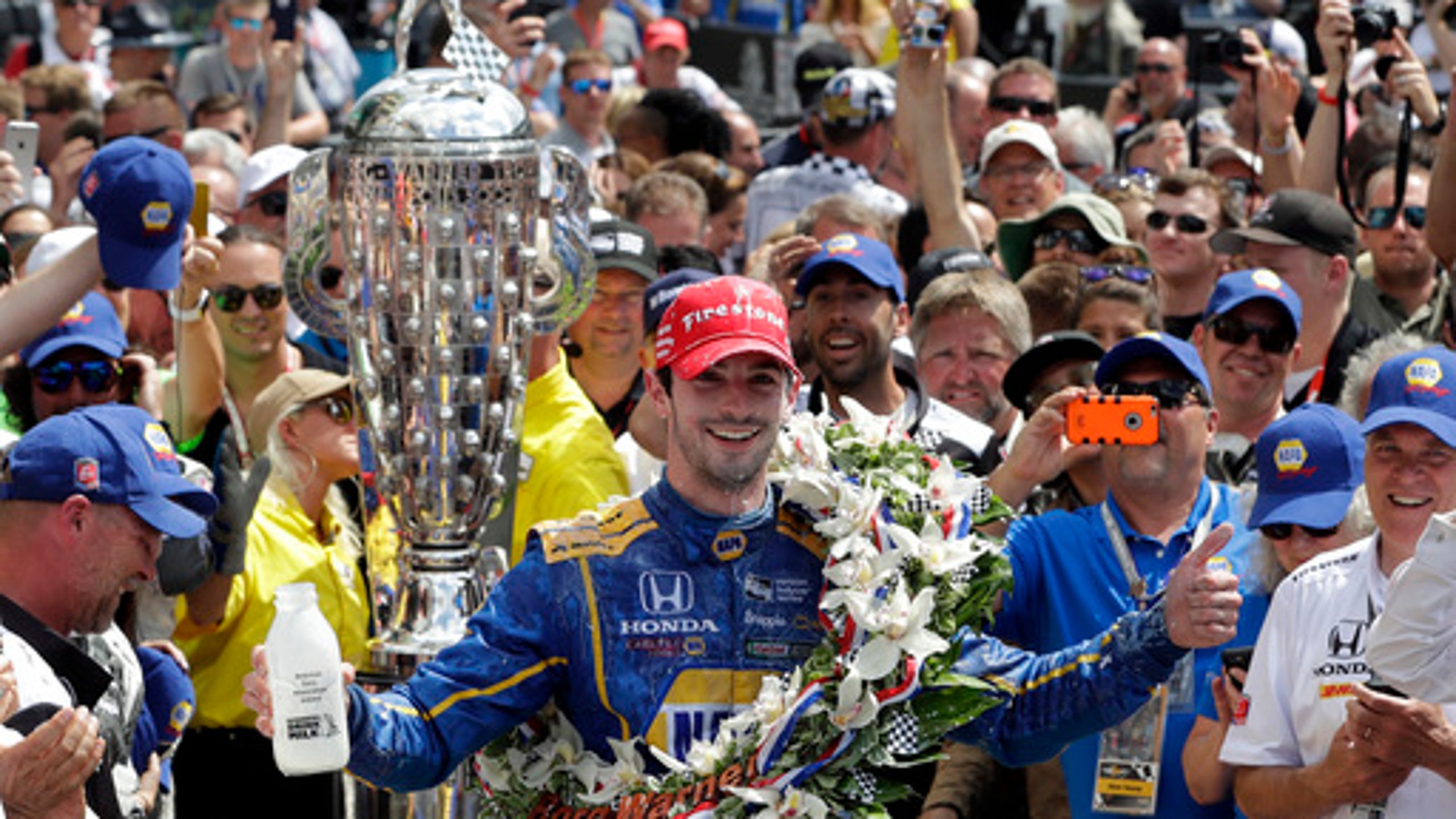 Pagenaud celebrates title as 2017 IndyCar season takes shape
BY foxsports • October 4, 2016
INDIANAPOLIS (AP) As Simon Pagenaud collected a $1 million champion's check Tuesday night, he was already contemplating what the 2017 IndyCar season might actually look like.
He's already been involved in meetings about improving of the No. 22 car. He plans to test next week at Elkhart Lake. He wants to win the series' marquee race, the Indianapolis 500. And soon, Pagenaud could be welcoming a new teammate to Team Penske's stable in North Carolina.
Things couldn't get much better for the 32-year-old French driver, who won a series-high five races and seven poles this season to attain his lifelong dream by winning the series title.
''I'm so proud of what happened, so happy because it really has been my dream and it hasn't been easy to get here,'' he said. ''I really mean it, this has been my dream since I was a little kid.''
Pagenaud's victory added another chapter to Roger Penske's incredible resume as a team owner, this time in his milestone 50th season as a team owner.
Penske didn't make it this far by sitting still, savoring victories or getting complacent. So why start now - after Pagenaud, 2014 series champ Will Power and three-time Indianapolis 500 winner Helio Castroneves swept the top three points' places in 2016?
Instead, Penske always keeps chasing more, which is why he wants to add the best young American driver in the series, Josef Newgarden, to his four-car garage. Had Newgarden been on the team last season, Penske would have swept the top four spots.
And now it looks like the worst kept secret in IndyCars is on the verge of being confirmed.
''We're here tonight to celebrate 2016,'' Penske said, brushing aside questions about the expected announcement. ''I think we'll decide what the future will be soon, I hope.''
Ed Carpenter Racing announced last week that Newgarden had decided not to return to that team next season.
And Newgarden tried to keep his future plans under wraps Tuesday night, explaining he didn't even consider moving on until he flew to Hawaii following the Sept. 18 race at Sonoma. In the two-plus weeks since the season finale, what started as a rumor has quickly become the conventional wisdom.
Newgarden didn't help his case when he arrived on the red carpet after Castroneves, after Power, after Penske and even after Pagenaud. A slightly embarrassed Newgarden downplayed the order of appearance, acknowledging that never was the plan, but it still raised more questions about what's next for the rising star.
''Yes, I'm currently unemployed, hopefully not for long,'' the 25-year-old Tennessee native said. ''When I had that conversation with Ed, it was very difficult. I think we could have continued for as long as we wanted, but a lot goes into a decision and sometimes when you're young, you just want to try something different.''
Penske and his drivers didn't drop any hints of what may be coming.
''I know Josef pretty well,'' Pagenaud said. ''I actually don't know what's going on, I've just been reading what you've been writing about Josef and Juan (Pablo Montoya). I thought it worked pretty well last year, and that's not to say if Josef comes on board that it wouldn't work. It probably would.''
But before Pagenaud welcomes a new teammate and begins the daunting task of defending a title, he has a few more stops on his agenda.
He'd like to take a vacation, switch off his cellphone and spend some time reflecting the biggest achievement of his life.
''I just want to take some time to enjoy all this,'' he said. ''I haven't really had time to do that yet.''
NOTES: The late Bryan Clauson was selected as the series' most popular driver by fans. The 27-year-old Clauson died in August from injuries sustained in a crash during a midget-car crash. ... Pagenaud also earned the P1 Award for scoring the most points among pole winners. ... Billy Vincent, who worked with Pagenaud, was named the series' chief mechanic of the year, and Jon Bouslog, of Team Penske, was named team manager of the year. ... Indy 500 winner Alexander Rossi was named the series' rookie of the year, Conor Daly earned the Don't Crack Under Pressure Award, and Charlie Kimball earned the Drive to the Finish Award for completing the most laps.
---