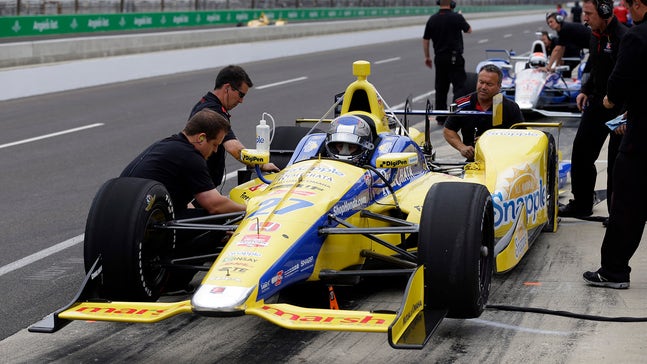 Opening day at Indy produces positive results for speedway Aero Kits
Published
May. 4, 2015 11:24 a.m. ET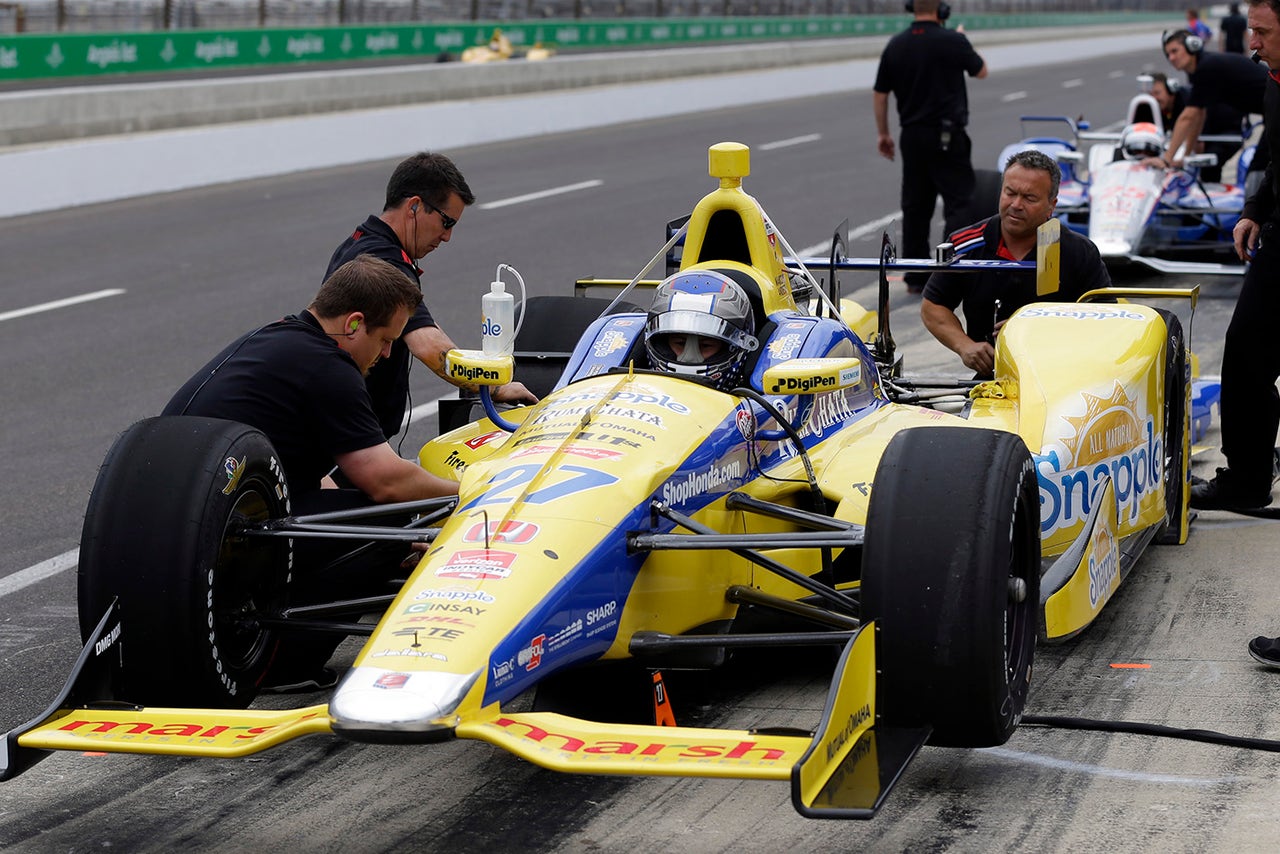 INDIANAPOLIS – After a very busy Sunday at the Indianapolis Motor Speedway for the opening day for the 99th Indianapolis 500, INDYCAR President of Competition and Operations Derrick Walker was very happy with the first test of the superspeedway Aero Kits. The extra bodywork applied to the Dallara chassis for the Chevrolet and Honda teams are much sleeker and cleaner looking than the cumbersome and complicated kits that have been used through the first four races of the season on street and road courses.
That's because the goals are much different on a superspeedway than on a road course. Teams look for minimum drag and mechanical grip with lower downforce to produce higher speeds on the superspeedway. On a road course, downforce is more important and with the extra downforce comes more drag.
It was a perfect springtime Sunday in Indianapolis with blue skies and temperatures hitting 80 degrees as the cars hit the track for a full day of testing. And while it was no great shock that Team Penske drivers Juan Pablo Montoya and Helio Castroneves were the two fastest drivers of the day – Penske drivers have dominated the speed charts all season – Marco Andretti's Honda was third. In fact, there were four Hondas in the top 10 giving hope to those teams that the manufacturer's superspeedway Aero Kit may be more competitive than its street and road course version.
"I don't know how much you put into speed today because everybody is working on different configurations but they are all up there and there were a lot of laps run today," Walker said. "What I'm impressed with is 1,845 laps run on Day One so I would say these teams are taking it pretty seriously.
"The cars are getting there. Not all the way there but it's getting there. What I like in an IndyCar is fast and sleek and this is better than it was before Aero Kits."
Opening Day for this year's Indianapolis 500 is much different than in the past. Usually, it's the start of a full week of practice heading into qualifications. But this year, the track is shut down Monday through Wednesday, as the road course is set up for Thursday's practice for the Angie's List Grand Prix of Indianapolis. After Thursday's practice, qualifications will be Friday with the second annual event Saturday at 3:30 p.m. ET.
The Speedway will be closed next Sunday with Indy 500 practice resuming on Monday, May 11. Qualifications are May 16-17 and the big race - the 99th Indianapolis 500 - is set for May 24.
"I think the fans enjoyed this," Walker said. "I just think the fans want to see racing. It's a good start, the first weekend of May and the guys were running lap after lap and really getting into it. It's got a feel like it used to have, actually."
Walker remains confident once the cars get trimmed out speeds could increase 3-5 miles per hour by qualification weekend off last year's spec Dallara chassis. That means speeds could hit 234-235 miles per hour.
The first day of practice with the new Aero Kits saw Montoya pace the field at 226.772 miles per hour in a Chevrolet followed by teammate Castroneves at 226.468 mph.
Walker helped push the series to implement the Aero Kits to give the cars distinctively different looks, but many team owners believe it was unnecessary and costly. Michael Andretti called it "a waste of money" and would have rather seen the millions of dollars used to promote the sport.
"I get where Michael is coming from, there is a lot of money spent on Aero Kits for sure," Walker said. "It's not where the money is spent; it's what the fans think of it. If the fans like it it's money well spent for me. All the feedback I've seen has been very positive and they are interested in it. We have car competition and we needed that.
"I wish it wasn't as many of millions of dollars spent on it. I think we could have structured the rule book differently so it wasn't as costly but it's here and we are doing to make it work."
Walker is optimistic about next weekend's Angie's List Grand Prix of Indianapolis on the IMS road course.
"I think if we get the conditions like we had at Barber Motorsports Park last week, the fans could really get into that," Walker said. "Honda's Aero Kit on the street and road course looks a little more complicate but give them time. They will get it together."
Opening Day was all about the Indy 500, however, and Walker walked off pit lane with a smile on his face.
"There were a lot of positives to take away from today, for sure," he said.
**
Be sure to catch Bruce Martin's Honda IndyCar Report on RACEDAY on FOX Sports Radio every Sunday from 6-8 a.m. ET.
---