NASCAR Craftsman Truck Series
NASCAR Craftsman Truck Series
New museum tells story of New England car racing history
Published
Jun. 7, 2017 9:58 a.m. ET

LOUDON, N.H. (AP) There are no video games or interactive exhibits at the new North East Motor Sports Museum in Loudon, New Hampshire. Not even a touchscreen.
Instead, the museum is devoted to showing off cool cars and the history of car racing in New England, from a 1915 Duesenberg - which looks like a missile on wheels - to the No. 47 car that in 1981 won NASCAR's legendary Talladega race, driven by Massachusetts' Ron Bouchard.
''If you are a gear head, no matter what age you are, you don't need computers. You don't need phones. You don't need all the data,'' said Raymond Boissoneau, a vintage race car driver who owns 32 race cars himself and helped choose the cars on display at the new museum. ''They are here for the experience. They have heard about these cars. They have heard their parents or their friends talk about these cars and that is what brings them in.''
The museum, which opens Monday at the New Hampshire Motor Speedway, is the first in New England telling the story of the sport's regional history through its cars and drivers, dating back to the early 1900s.
''This is as much a part of the lives of the people in New England as any other sport that has a major presence,'' said Dick Berggren, a former NASCAR pit TV reporter who has been working on making the museum a reality for two decades. ''There are people who love the Boston Red Sox and go to all the games. There are people who love the races and have come to this race track and have seen every one of the cup races.''
A CHALLENGING TIME FOR MOTOR SPORTS
But the museum's arrival comes at a challenging time for motor sports in the Northeast and beyond.
For two decades, the New Hampshire track hosted the two top-tier NASCAR races each year. But NASCAR announced in March that one of the races - which attracted as many as 90,000 fans at its peak - will relocate to Las Vegas in 2018.
At the same, the national TV audience for NASCAR's Sprint Cup series has fallen dramatically - from 8 million in 2004 to only 4.6 million last year. Revenues have fallen, too, along with a 30 percent drop since 2010 in the number of fans in the stands.
''I think the whole of NASCAR/motorsports is in decline,'' said Winthrop University's Cara Peters, a professor of marketing who studied NASCAR and brand museums. ''The NASCAR organization realizes that its fan base is aging and that the world of sport is changing. They are planning on trying to make some changes to be more relevant to younger generations.''
Museums - like the NASCAR Hall of Fame in Charlotte, North Carolina, and the new one in New Hampshire - could be part of the solution. But Peters says they need a strong narrative, connections with the community and entertainment that reaches beyond hard-core race fans. That wider audience doesn't even ''necessarily have to care about the cars,'' she says, as long as the museum offers ''the fun of doing something different from your everyday life.''
LOOKING UNDER THE HOOD
While the Motor Sports Museum doesn't offer high-tech attractions, it does immerse fans in old-school race car culture, which has become something of a novelty in itself. Visitors are invited to reach into the interior of the cars, look under the hoods and even get on the floor and stare up at the suspension. Some cars have been restored and are still racing while others look much like they did when they took their final lap decades ago.
The museum's collection of nearly 40 cars, motorcycles and even a snowmobile also includes the No. 20 car that Connecticut's Joey Logano won his first top-level, NASCAR sprint race in at the New Hampshire speedway, as well as a 2005 Lola that New Hampshire's Bill Binnie drove in world-class events in the United States and Europe, including at Le Mans.
''To have a shrine where we honor the heritage of racing in the Northeast is the coolest thing,'' said David McGrath, executive vice president and general manager of the New Hampshire speedway.
There are also racing uniforms, helmets, trophies, piles of old racing newspapers and photos that detail the sport's history in New England, starting with the first oval track in Cranston, Rhode Island, in 1896. There are photos of a 1925 track in Salem, New Hampshire, made entirely out of lumber and with 49-degree banks. And there are stories of dirt tracks across New England, including at the Keene fairgrounds, where one photo shows fans crowded behind a picket fence as cars race past.
Walking past several soap box derby cars, a 1932 MG factory car and one of the oldest dragsters, Berggren recalled the first time he saw a stock car race in Connecticut as an 8-year-old with his father. It's the kind of memory he hopes youngsters get from visiting the museum.
''It was one of the most incredible experiences of my life,'' he said. ''I couldn't believe the colors, of the car the drama, the speed and the noise and the excitement of all of it.''
---
---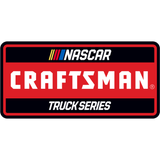 Get more from NASCAR Craftsman Truck Series
Follow your favorites to get information about games, news and more
---