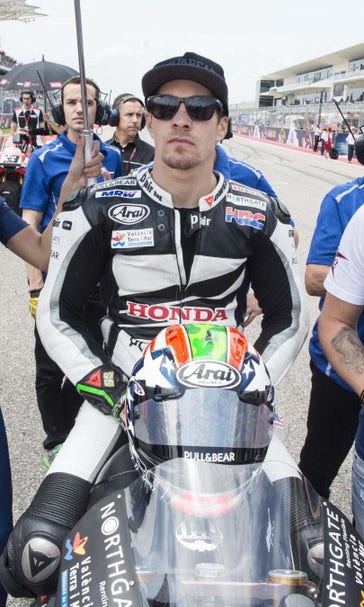 MotoGP: Hayden pleased with 'small victory' in front of home fans
April 14, 2015

Nicky Hayden finished 13th in Austin, after starting from 22nd place on the grid, taking home 3 Championship points.
Power Electronics Aspar rider Nicky Hayden made his 200th Grand Prix appearance on Sunday and he showed all the class and experience that has taken him to this impressive figure to bounce back from two difficult days of practice.
The former World Champion started from 22nd on the grid but he soon began to make up positions once the race started, picking up three places on the first lap and continuing to advance forward whilst entertaining a valiant Jack Miller, whom he beat to secure thirteenth position at the finish.
"Compared with the rest of the weekend we have performed well in the race," said Hayden. "I made a pretty bad start and lost acceleration in turn one, we still don't know why. After that I pushed hard and made up quite a few positions quite quickly. I had a nice fight with a bunch of guys, which I won to take some points and that was a small victory in my 200th GP.
"We have taken a lot of information from the weekend and we know that we need to improve the response from the front under braking. At the end of the race we suffered a lot from tire wear, especially on the front, and it was tough to hold my position on the last few laps. Thirteenth place is not spectacular but I am happy because we have finished the weekend moving in the right direction and hopefully we can keep it going from here. I want to say thanks for all the support from everybody in my 200 GP."
MotoGP will be back in action this weekend from Argentina, with the race being shown LIVE on FOX Sports 1 Sunday beginning 2:30 p.m. ET.
Click HERE for more MotoGP news and features.
---