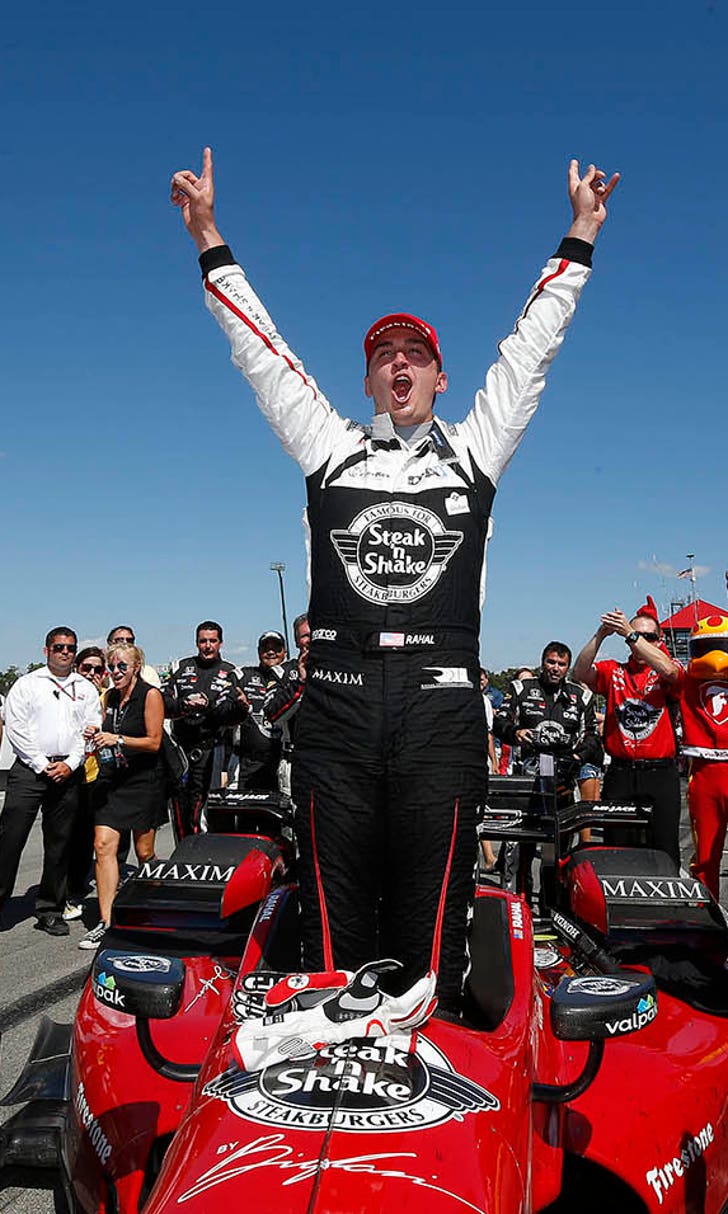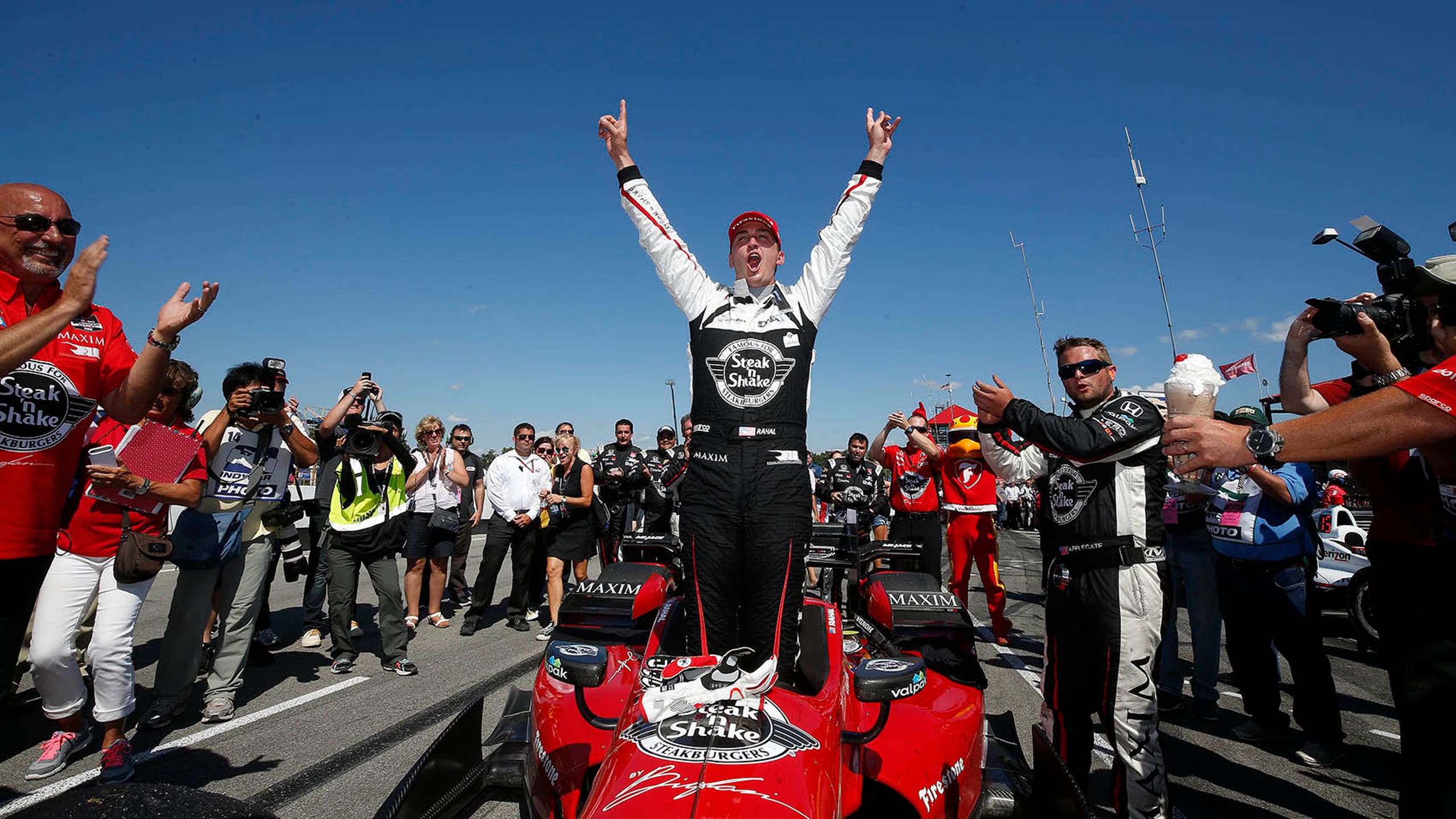 IndyCar: Rahal celebrates home victory as title fight tightens
BY foxsports • August 2, 2015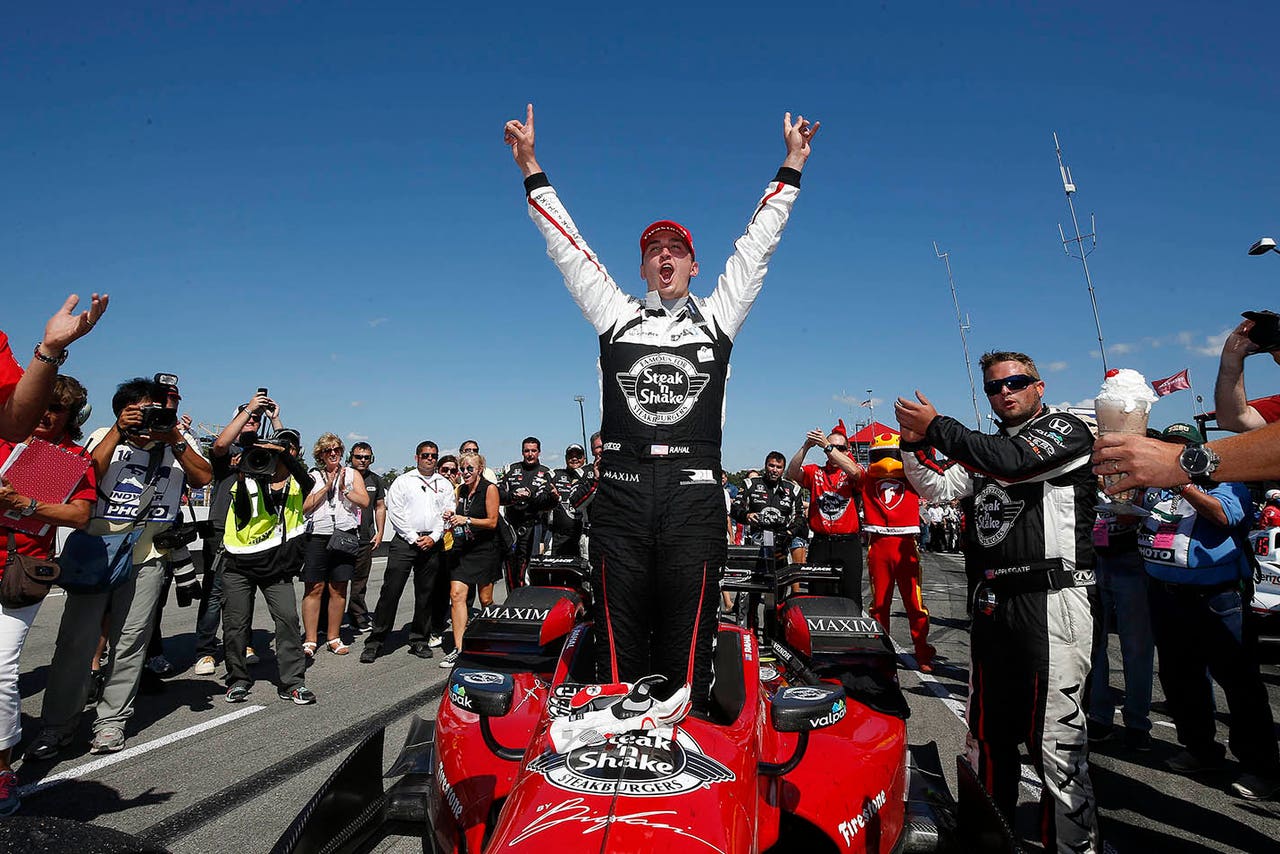 STEAM CORNERS, Ohio – In what stands as the biggest day in Graham Rahal's career, the driver from New Albany, Ohio scored a victory at his hometown track and - in the process - may have staked his claim on the 2015 Verizon IndyCar Series championship.
Rahal won Sunday's Honda Indy 200 at Mid-Ohio and that, combined with Verizon IndyCar Series points leader Juan Pablo Montoya's 11th place finish, has placed the 26-year-old driver within nine points of the championship lead with just two races remaining.
Rahal drove from 13th starting position and go to the front through fierce determination, withstanding a fierce challenge from Justin Wilson on a restart with seven laps to go.
Seven years separated Rahal from his first career win in Feb. 2008 to his second victory at Auto Club Speedway in Fontana, California on June 27. Only two races separated Rahal from that victory and his third career Verizon IndyCar Series win on Sunday.
Scott Dixon started on the pole and appeared destined to win the race when he made his final pit stop on Lap 63 as he was going to stretch fuel mileage to make it to the end of the race.
The major break of the race came on Lap 66 of the 90-lap contest when Rahal drove into the pit. At virtually the same time, Sage Karam spun in Turn 5 to bring out a full-course caution. Rahal had already committed to pit lane before the pits were closed because of the caution. That proved to be a major break for Rahal.
All the drivers after Rahal still had to make one more pit stop.
Once the sequence was completed when the pits were open, Rahal was in the lead of the race on Lap 68.
The green flag waved on Lap 70 and Rahal was under attack by Pagenaud. One lap later Justin Wilson passed Pagenaud for second place.
Montoya was mired back in 12th place and Dixon had moved up to fourth.
Karam's spin was a bit curious and INDYCAR officials requested a post-race review to see if he intentionally created a caution.
With 10 laps to go, Kimball went into the gravel and stalled his Chevrolet for a full-course caution. That wiped out Rahal's 3.1125-second lead over Wilson.
"Dad, don't worry about giving me updates unless someone is there," Rahal radioed to his father and team owner, Bobby late on in the race. "The car is just now coming to me. It's getting better every lap."
Not only did Rahal cruised to his third win but it has dramatically changed the complexion of the Verizon IndyCar Series championship. Montoya entered the race with a 42-point lead over Rahal and a 48-point lead over Dixon. He now leads Rahal by nine and Dixon by 35.
**
Be sure to catch Bruce Martin's Honda IndyCar Report on RACEDAY on FOX Sports Radio every Sunday from 6-8 a.m. ET.
---