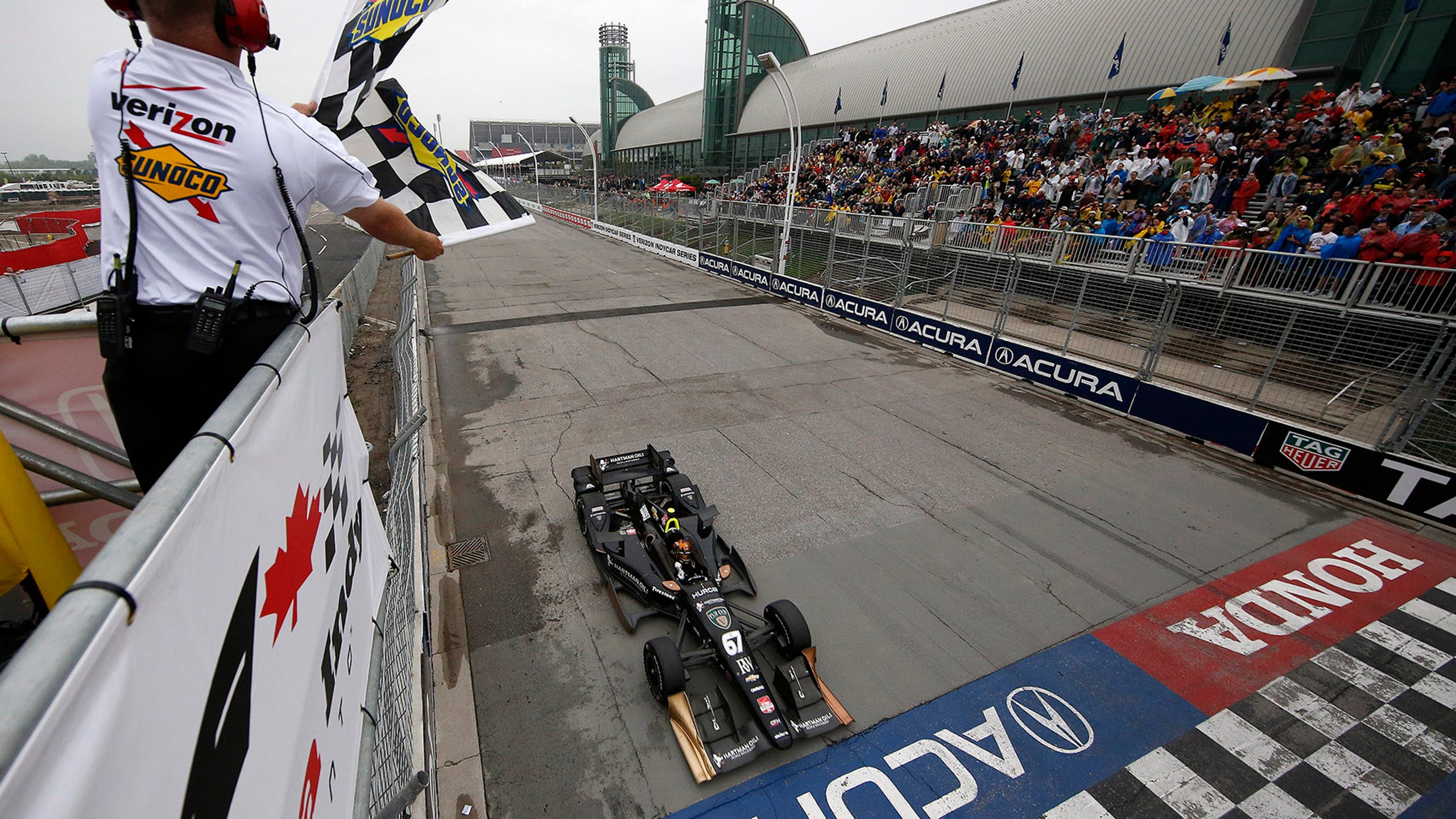 IndyCar: Newgarden leads home CFH Racing 1-2 in Toronto
BY foxsports • June 14, 2015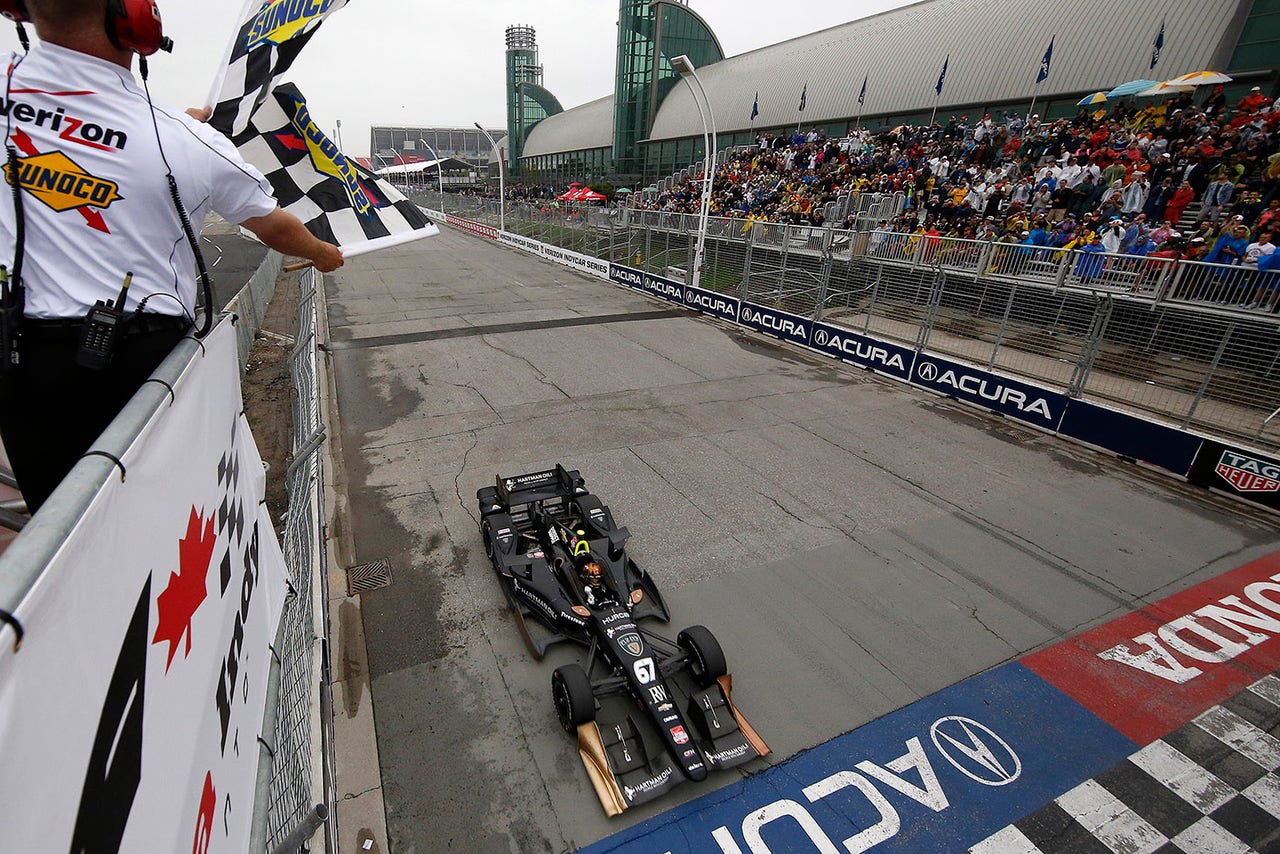 TORONTO – One of the great characteristics of a rain race in the Verizon IndyCar Series is the unpredictably of the race strategy and the circumstances. But CFH Racing had the right plan by sweeping the first two positions in Sunday's Honda Indy Toronto at Canada's Exhibition Place.
Young American driver Josef Newgarden won for the second time this season and the second time in his career. He defeated teammate Luca Filippi of Italy by 1.4485 seconds to give team owners Ed Carpenter, Sarah Fisher and Wink Hartman a first since merging their operations at the end of last season.
Newgarden gave the combined team its first win in the April 26 Honda Indy Grand Prix of Alabama.
"I'm so happy we were able to get a win, but a 1-2 it just amazing because Luca (Filippi) is such a star," Newgarden said afterwards. "I'm super happy for the whole group. It's just an amazing team effort - I can't believe we had a 1-2. It got a little close there with Luca but we were really just trying to keep up after we got into the final stint. I got a little bit of lapped traffic, but I couldn't do anything with the lapped traffic, but they wanted me to because of everyone that was coming. It's close racing and for sure I got a little lucky too on that yellow.
"But you can't discount that because it was an amazing effort by this crew at CFH Racing - they gave me amazing pit stops and a car to win. I'm definitely excited, cause this is Toronto and this is an INDYCAR town."
Second place was the best career finish for Filippi, who started his 16th IndyCar Series race on Sunday and shares the No. 20 entry with owner/driver Ed Carpenter, who drives that car on the ovals.
"We had a goal to be on the podium and we both achieved it with both cars, so it's nice when you set the goal and you achieve it and the team did everything perfectly to give us the opportunity to be up front," Filippi said. "But we had a fast car and we knew we needed to be kind of in the clean air up in front and this is what we did -- just kept pushing. We were faster and we ended up in front. I'm very happy -- very happy. The team did a great job. I thank the Fuzzy Vodka team because they believe in me and they gave me the opportunity to race IndyCar properly and my first podium. Many more to come."
Team Penske driver Helio Castroneves finished third and was able to close the gap on all three drivers in front of him for the Verizon IndyCar Series championship. One of those drivers is teammate second place Will Power, who finished fourth just behind the three-time Indianapolis 500 winner. Sebastien Bourdais rounded out the top five.
IndyCar points leader and fellow Team Penske driver Juan Pablo Montoya, who won the Indianapolis 500 for the second time in his career on May 24, finished seventh. Scott Dixon remains third in the standings after finishing eighth.
Chevrolet drivers swept the top eight positions. Graham Rahal was the highest-finishing Honda driver in ninth place followed by another Honda driver, Takuma Sato of Tokyo.
Power led the most laps in the 85-lap race when his No. 1 Chevrolet was out front for the first 30 laps before he pitted to take off the rain tires and add the faster racing slicks. Newgarden also led 30 laps including the final the laps.
"They are doing a great job and put themselves in the right place at the right time," Castroneves said of CFH Racing. "People say they are very lucky but sometimes it's better to be lucky than be good. I haven't won a race yet so I'd like to be that lucky. It makes a statement that in the Verizon IndyCar Series that if you work hard it will pay off."
There were seven lead changes among six drivers and the race was slowed two times for nine laps.
The race started on a wet track but the 23 drivers in the field were able to race cleanly with the first yellow flag coming on Lap 29 when James Jakes spun off in Turn 5.
The beauty of a rain race on the streets is how the strategy can change allowing some drivers to make a gamble on stretching their fuel window. That is what helped determine the outcome of this contest as CFH Racing had the best rain-day plan.
It was also the first race that injured driver James Hinchcliffe has attended since the Toronto native suffered life-threatening injuries in a brutal crash at the Indianapolis Motor Speedway on May 18. Hinchcliffe served as the Grand Marshal and gave the command, "Drivers, Start Your Engines."
"How amazing his quick recovery," Castroneves said of Hinchcliffe. "It shows his amazing determination. When I bump into him I want to tell him to worry about his health first. I'm extremely happy that he is on it and the way he is recovering hopefully he will be racing soon."
**
Be sure to catch Bruce Martin's Honda IndyCar Report on RACEDAY on FOX Sports Radio every Sunday from 6-8 a.m. ET.
---
---