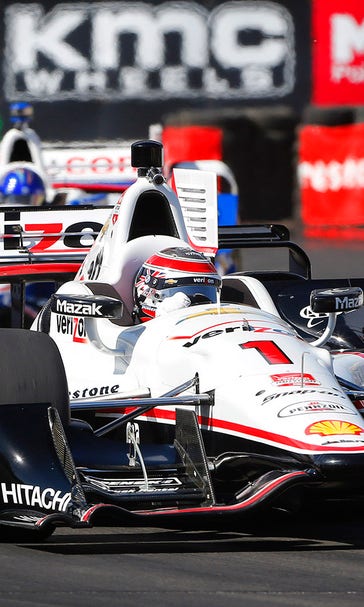 IndyCar mandates Aero Kit changes for Long Beach
April 18, 2015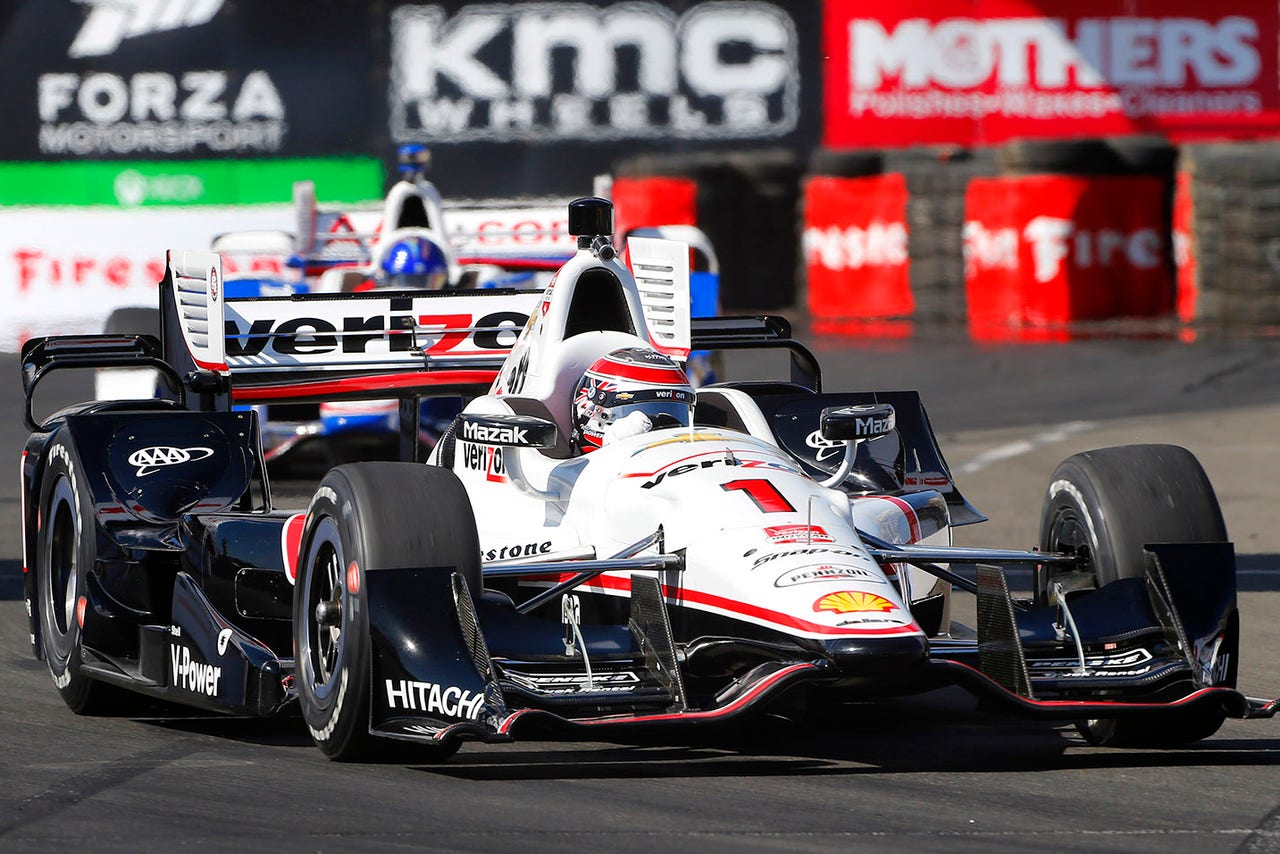 LONG BEACH, California – When the Verizon IndyCar Series entered the "Era of Aero" it was going to be an evolutionary process. After all, any time changes are made to a race car the "Laws of Unintended Consequence" come into play and that is obvious with the extra bits and pieces that make up the Chevrolet and Honda Aero Kits.
The biggest problem in the first two races is that the structural integrity of the pieces has become a concern after they break off from contact during the course of the race. That has created a debris field and turned the first two races of the season into caution-filled contests where the racing has been slowed to a relative crawl.
Last week, INDYCAR officials allowed Honda to strengthen the layered areas of the front wing. Chevrolet was also allowed to add layers of carbon fiber to strengthen parts of its kit.
On Friday, INDYCAR issued another mandate requiring Chevrolet to add a tether to the winglets, or remove the winglets, from its front wing assembly and for Honda to implement additional reinforcements to its rear wheel guards.
Chevrolet teams will not have time to properly strengthen a part of the front wing that Team Penske driver Will Power has referred to "Rabbit Ears" so the Chevy teams have taken them off for this weekend's 41st Toyota Grand Prix of Long Beach.
Apparently, the lack of the piece didn't adversely impact performance, as the six fastest cars in Friday's combined practice sessions were Chevrolets, led by Team Penske's Will Power at 1:07.5485 (104.885 miles per hour) around the 11-turn, 1.968-mile temporary street course. Teammate Simon Pagenaud was second at 1:07.5855 (104.827 mph) with another Team Penske driver, Helio Castroneves, third at 1:07.9132 (104.321 mph).
The changes are being made in the interest of improving the product, according to INDYCAR President of Competition and Operations Derrick Walker.
"If you look at both Aero Kits there are still parts on them that we considered were still vulnerable to popping off in an incident," Walker said. "All these yellows and picking up these extra bits we thought were counterproductive. We talked to both manufacturers in two different areas and recommended some changes and if they couldn't make the changes they took those bits off and they did.
"The solution to keeping that component on the Chevrolet can't be done in a day or two. They didn't want to do things half measures – they wanted to do the proper fix – so Chevy and Honda decided to run their cars without that component on it."
Walker could not determine the loss of downforce each car will lose by not running those pieces on the streets of Long Beach.
"When you build and design something like this you spend a lot of time and money and as a complete component so I'm sure they would have liked to run it but in the interest of a better show, this is a physical track so the risk of having more of those things knocked off was the basis to not run them," Walker said.
Team Penske president Tim Cindric voiced his displeasure at INDYCAR's mandate. He believes the parts integrity should have been fixed during the "Homologation Period" that ended on Jan. 18.
"Those parts are there for a reason and I don't know how it all got decided but they were homologated and approved and now they aren't part of the car," Cindric said. "I don't know what the plans are for the future. Those parts add more efficient downforce to the front wing. We had 20 some front wings lost here last year and it wasn't because of the upper front wing flap (what Power calls Rabbit Ears) because those weren't on the cars in that race. You are going to have debris on the track when the car is hit no matter what.
"I don't think the upper front wing flaps are contributing to any of the issues more than anything else will this weekend. You will see plenty of front wing debris without these things."
Another unintended consequence of the Aero Kits is the additional downforce has caused the Dallara spec main plane to flex because it was not designed to withstand that much downforce.
"It concerned us when we started because of the amount of downforce that was going to be added," Cindric said. "The manufacturers were told to design around that and the front wing wasn't going to be changed. There wasn't going to be any more stiffening of the front wing and that is the front wing you had to design around and that is the approach the manufacturers should have taken.
"When they brought up the issue and told to design around that it should have been the end of the story."
Power, the man who came up the term "Rabbit Ears" is not concerned.
"We've run them without them and it's been fine," Power said. "We will make adjustments and run them again. A big deal is being made out of it and INDYCAR is making it stronger so they don't fall off. But if you hit someone it's going to break off. I don't know how much you can strengthen it so that doesn't happen."
Graham Rahal believes there are many different factors of safety and applauds INDYCAR for making adjustments. But he believes the drivers have to share responsibility.
"Fan safety is a huge part of this and driver safety – I don't want to be hit in the head by anything," Rahal said. "I think the art of open-wheel racing wasn't hitting each other. That has to change a little bit. But I think we've become accustomed the last few years you knew if you put that wheel in a shark fin nothing would happen.
"But with light contact it shouldn't break off. We don't need to make it so strong that you can punt people off the track. We really don't need that. I don't think these changes are really going to cost any money but we don't need to start running up the cost to the teams, either."
Pagenaud takes a hard-edged approach to INDYCAR's decision to remove the parts for this race.
"Frankly, it's really not my decision, it's INDYCAR's," Pagenaud said. "For the safety of the fans, it's great, but you've got to make it fair for the manufacturers as well. As long as it doesn't slow down one manufacturer or accelerate the other one, then it just has to be fair."
**
Be sure to catch Bruce Martin's Verizon IndyCar Series Report on RACEDAY on FOX Sports Radio every Sunday from 6-8 a.m. ET.
---