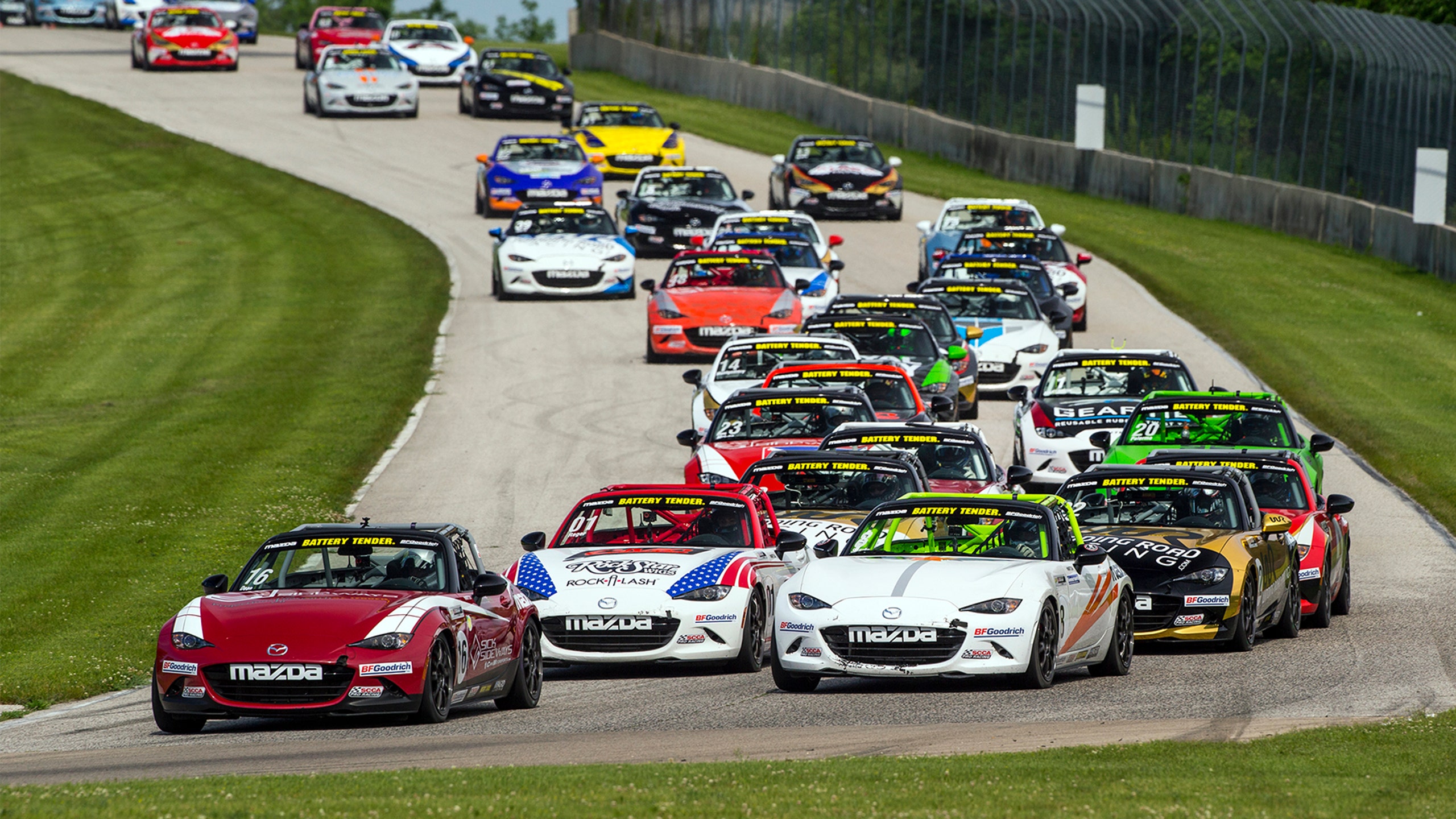 How Mazda expects new car to increase global interest in MX5 Cup
BY foxsports • September 4, 2016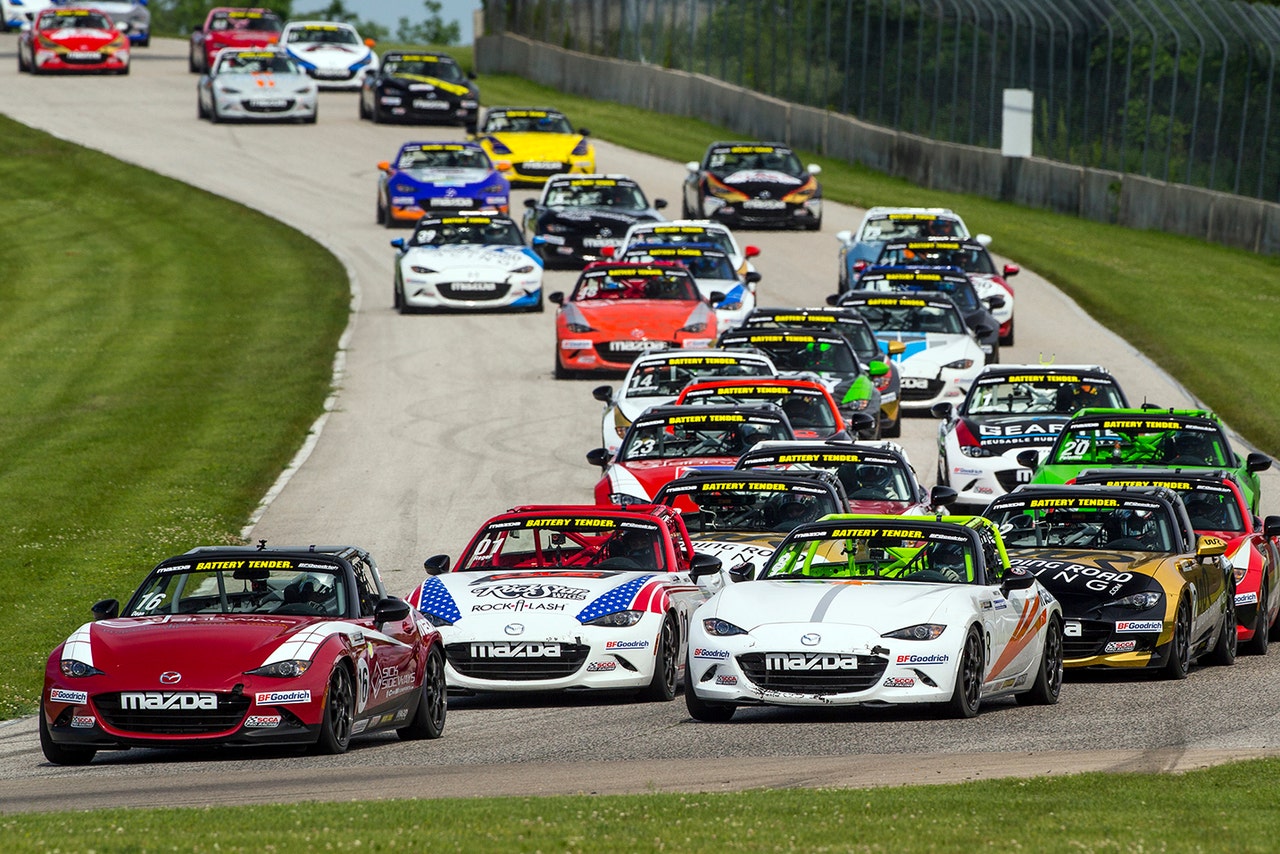 Just two races remain in the 2016 Battery Tender Global Mazda MX-5 Cup presented by BFGoodrich tires, following the first season of competition for the 2016 Mazda MX-5 Miata Cup Race Car.
Beginning this season, all competitors have had to switch from the NC to the new fourth-generation ND Cup car, which was designed by racers for racers.
As noted by one of the car's designers, Glenn Long of Long Road Racing, the previous MX5 Cup cars "were all equal but some were more equal than other," so the manufacturer wanted to take production of the race cars into its own hands.
"This is the first time we've ever presented a complete race car to the marketplace," explained John Doonan, Director of Motorsports, Mazda North American Operations. "With the spec Miata we've always done a kit, so you can purchase a Miata... buy a kit, and off you go.
"So we made a decision, because there was a vision to have a global series. You need to have a single builder, there's got to be parity."
All of the ND race cars were originally road-going Miatas. However, after being built they are dropped off at a factory in Statesville, N.C. where they are gutted out and given slight modifications to turn them into a safe, track-ready race car. They are then put on sale for the public for a price tag of $53,000, which will be increased to $58,900 on Thursday.
The engine, transmission, differential and shocks are all sealed, as well as the ECU so that Mazda can check the electronics after each session and ensure that they haven't been tampered with. Quite simply, as part of Mazda's Road to 24, Mazda wants to make sure that the cars are as equal as possible, so that they know that the winner of the championship - who gets a $200,000 scholarship to move up the ladder - won because he or she was the best driver, and not just because they had the best car.
While drivers are able to modify the cars by switching, for example, to a different brand of tire, Mazda went through a lot of testing to determine which vendor's products would work the best with their cars. Thus, whenever one of the Global MX-5 Cup drivers does switch to a different make of tire, they have often found themselves encountering issues such as tire rub.
But it isn't just for racing in the Global MX-5 Cup. The car can be used in Club and in Pro racing, fitting FIA, SCCA, NASA specs and more. Mazda has delivered over 100 orders of the car this year, with around 40 of them competing each weekend in the Global MX-5 Cup. Colleagues in Europe, Japan, Canada and Australia have been among the buyers, hoping to get similar series and ladder systems set up in their own countries so that they have an organized way to move their promising younger talents up to the big leagues.
Though all the cars are identical, there are still many different-sized teams to be found up and down the paddock - from multi-car teams to family-ran organizations.
In order to help the drivers for smaller teams learn and improve as the season goes on, Kenton Koch, who was part of the winning team in the Prototype Challenge class at the 2016 Rolex 24 at Daytona, helps out as a driver coach, aiding as many drivers as possible in order to give them a shot at the $200,000 scholarship at the end of the season.
"It takes a lot of effort and skill to win a championship like this," says Koch, explaining how the top runners of the series can catch the eyes of IMSA teams. However, you can't just take the $200,000 scholarship anywhere. "It's Mazda's money and they're vesting it in the series... so they have some guidance in where their money should be spent... so you can't just go and race a BMW for $200,000 because that's not a good investment for them."
Of course, you don't have to change series at all. Instead of moving up after winning the championship in 2015, John Dean asked for just a $100,000 scholarship and two ND MX-5 Cup cars so that he could build a stronger force for his Sick Sideways Racing team in the series.
Sick Sideways Racing driver Nathaniel Sparks leads the points heading into the final event in Road Atlanta.
While the 2016 Global MX-5 Cup has a lot of diversity, with drivers coming from many different backgrounds and three full-time female drivers, it is hoping that its organized ladder system and now identical cars will help attract more drivers from across the globe - if they don't get into one of the upcoming foreign MX-5 Cup series first.
---