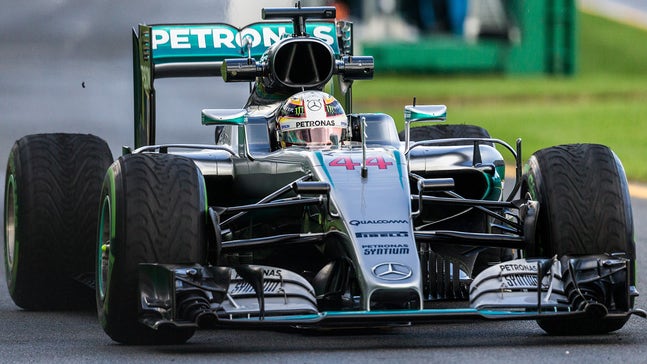 Hamilton fastest on opening day of practice for new F1 season
Published
Mar. 18, 2016 8:22 a.m. ET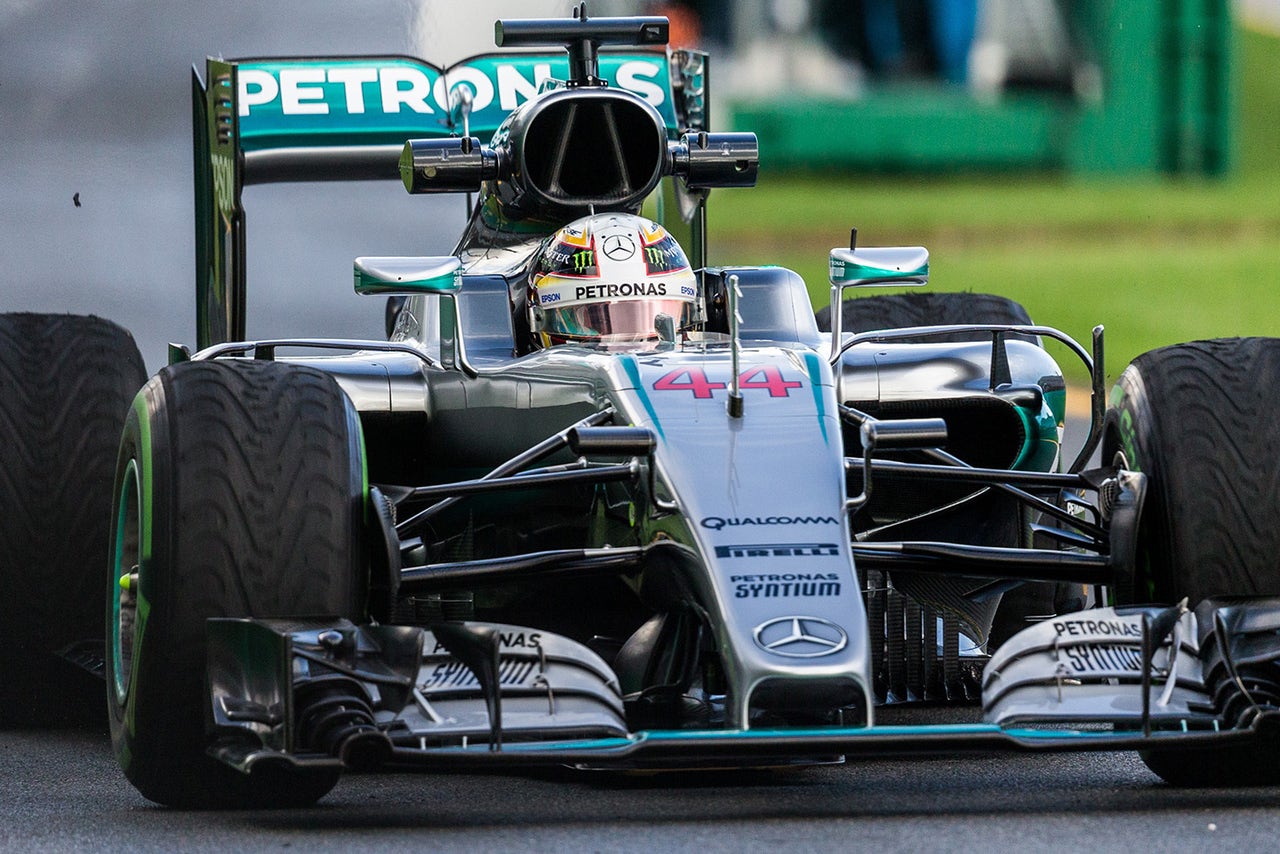 Formula One champion Lewis Hamilton set the fastest time while Mercedes teammate Nico Rosberg crashed during a wet Friday practice for the season-opening Australian Grand Prix.
Heavy morning rain and showers throughout the day meant there was very little useful running in terms of preparation for Saturday's qualifying and Sunday's race, which are expected to be dry.
Hamilton set the fastest time in the opening practice when there was a small window of dry-weather tire use, and was quickest again in the second practice when only the intermediate and wet-weather tires were used.
Rosberg crashed in the second session, when he accelerated too quickly out of a bend, spun, and hit a concrete barrier, knocking off the Mercedes' new high-tech front wing and prematurely ending his day.
Rosberg became the first victim of the series' new radio rules which outlaw a lot of communication between pit and driver so as to make drivers make their own judgments. Team principal Toto Wolff said the team was watching on monitors how the car was behaving on the wet track, and decided the intermediate tire was not providing enough grip and he should change to full wet tires, but could not tell him before the accident.
The few laps of opening practice which allowed dry tire running were more indicative of true pace than the times in the wetter second practice. Three teams - Williams, Renault, and Sauber - did not bother setting a lap time in session two.
In the opening practice, Hamilton's time was four tenths of a second faster than Daniil Kvyat, and the Russian's Red Bull teammate and local favorite, Daniel Ricciardo, was third fastest.
"The car performed well and although we didn't get a huge number of laps in, they were still quite constructive sessions," Hamilton said. "I was lucky to get a couple of dry laps to get a tiny feeling for what the balance is like around here, which was down to some good work from the team to time my runs right."
McLaren had two cars in the top 10, giving a limited indication that the team could improve on its disappointing 2015, which was the first year back in the series for engine supplier Honda.
Force India and Toro Rosso also set good times, suggesting they will live up to predictions of strong performances in the early part of the year.
Ferrari's Sebastian Vettel set no time in the opening practice but was eighth fastest in the second, while teammate Kimi Raikkonen was third quickest overall.
Qualifying was likely to be highly unpredictable, as no teams have been able to finalize their settings or decide which of the three available tire compounds will work best, or how long they will last.
Teams and drivers will also have to adjust to a new qualifying format in which all drivers will get a few minutes in each of the three qualifying segments in which to set a time before the slowest driver will be eliminated every 90 seconds.
Ricciardo said that advantages Red Bull, as the likes of Mercedes and Ferrari may be underprepared.
"Any time you are not the best team, you think any change can help," Ricciardo said. "You've got less to lose.
"Today, with the conditions like that, and going into an interesting qualifying format tomorrow, it could be an opportunity for us."
Click HERE for more F1 news and features
---