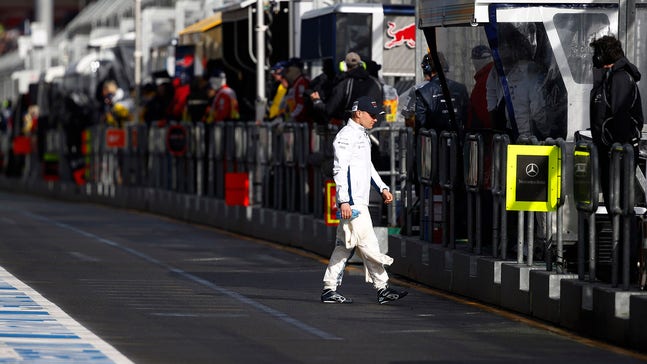 From Hamilton to Alonso, F1 field has mixed views on radio ban
Published
Mar. 18, 2016 4:05 p.m. ET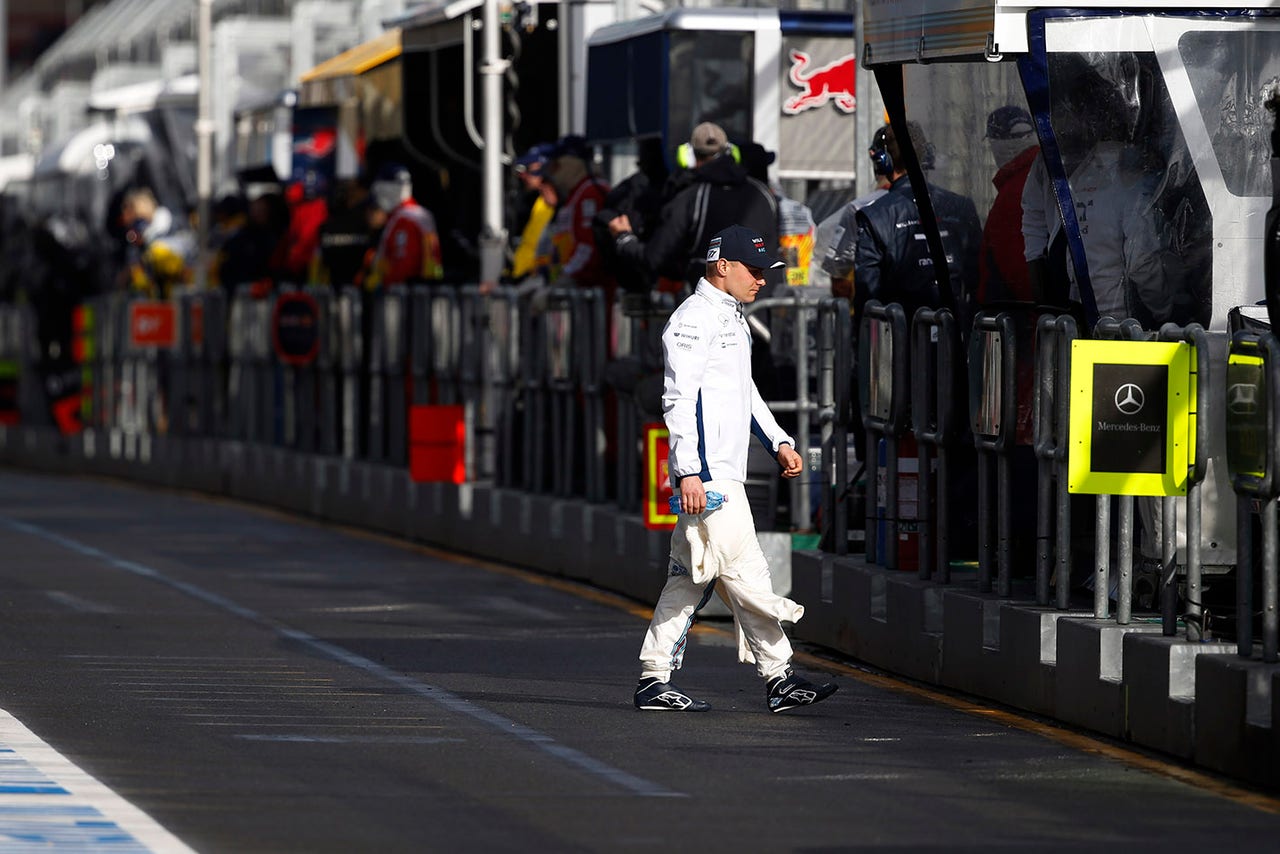 The FIA's clampdown on radio chatter is one of the most talked about subjects in the Melbourne paddock, and opinions are divided among the drivers as to the impact on the racing.
That was perfectly represented by the contrasting views of Nico Rosberg and Fernando Alonso. The German takes the view that the drivers now have greater responsibility, saying "we're not Muppets anymore." Alonso, meanwhile, felt that drivers will now have to follow pre-agreed plans "like a robot," because they won't have the flexibility to discuss alternatives to what was previously agreed.
The FIA has made the interesting step of changing what was a list of things that could not be discussed on the radio into a list of things that can now be discussed, and even that has been trimmed further recently - teams can no longer discuss subjects like the tire choice at the next pit stop, or safety car windows.
Here's a selection of views from key paddock figures:
Charlie Whiting (FIA): "We heard many many complaints from viewers who were a bit fed up of hearing the continual engineering assistance the driver was getting. That's fundamentally what we want to cut out. But the driver is allowed to say anything he wants - there's no restrictions in what he says; it's what the team can say to him. You'll still get what I would call the juicy content - if someone has done something silly on track, the driver can call him an idiot and all that sort of stuff. Those are the things that generally I think people like to hear. We're listening to it in real time. We've got four people in race control listening to three drivers each, and then we've got four or five software engineers listening to two or three each, so it's relatively straightforward, for a start. Quite honestly, they're not saying that much."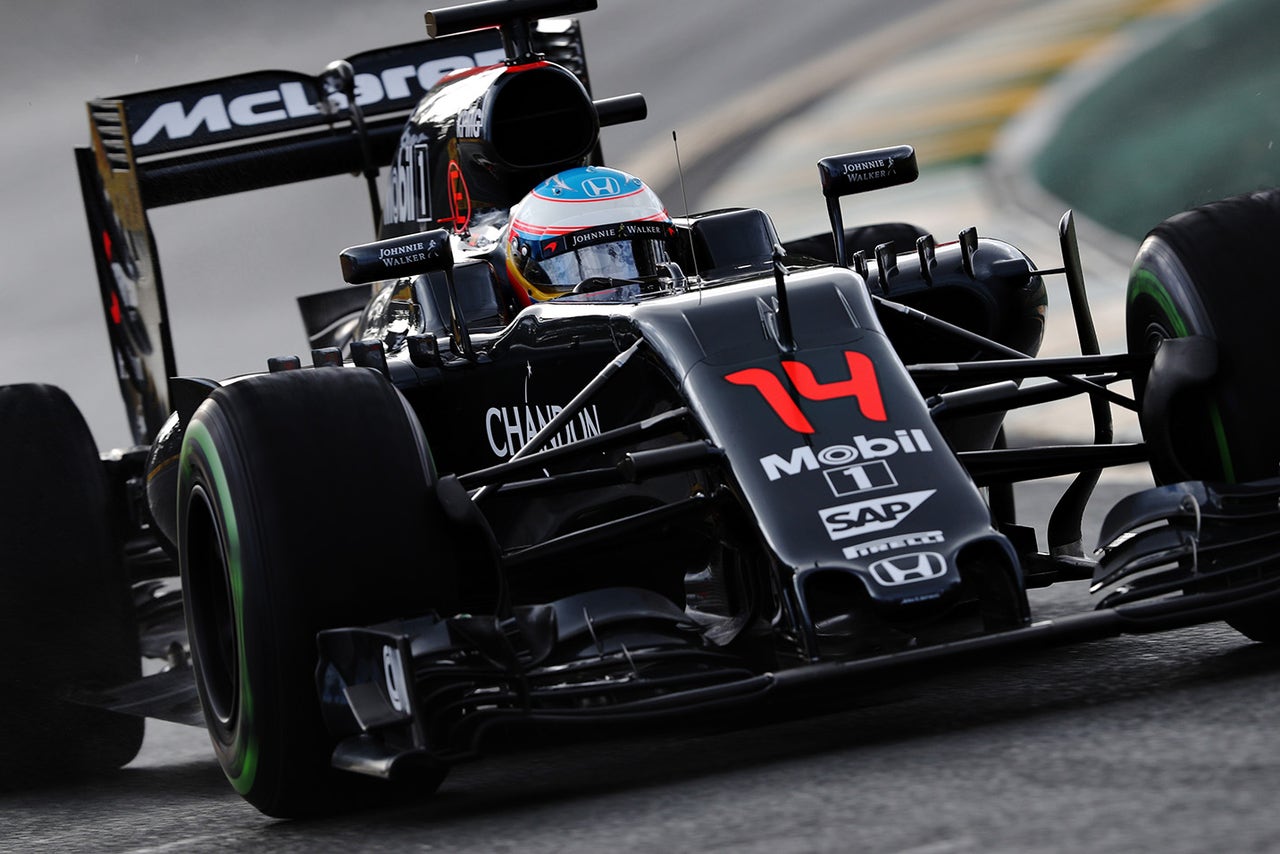 Fernando Alonso of Spain drives the McLaren-Honda MP4-31 on track during practice ahead of the Australian Formula One Grand Prix at Albert Park on March 18, 2016 in Melbourne, Australia.
Fernando Alonso: "Honestly, we need to wait and see a couple of races to really make a conclusion on these radio limitations. I don't want to be negative on any of the changes, but I honestly think that this will do the opposite probably. The aim is to give the driver more freedom, or more input in terms of strategy or changes in the car, or preparation. I think now we will not have any input in anything we do – because we have not the possibility to have that conversation with the team or have that decision on the radio. So we will stick to the program and what we decide two hours before the race in the strategy meeting and we have to follow that. I don't think it is going change anything, but if it does change it will be even less possibility for a driver because we are not able to chat [about] that thing. I don't think it is going to change much. You will follow what the team [said], information was given to you two hours before the race, the stopping laps, the managing of the tires, the managing of the brakes, whatever you need to do – there is no more time to talk about that, and you will follow that instruction like a robot. So I don't think that is the aim of the thing."
Lewis Hamilton: "We're all in the same boat. Some of us will handle it better than others. I don't particularly see there being much of be a problem. But is it good? I don't really know, but we'll manage it the best way we can."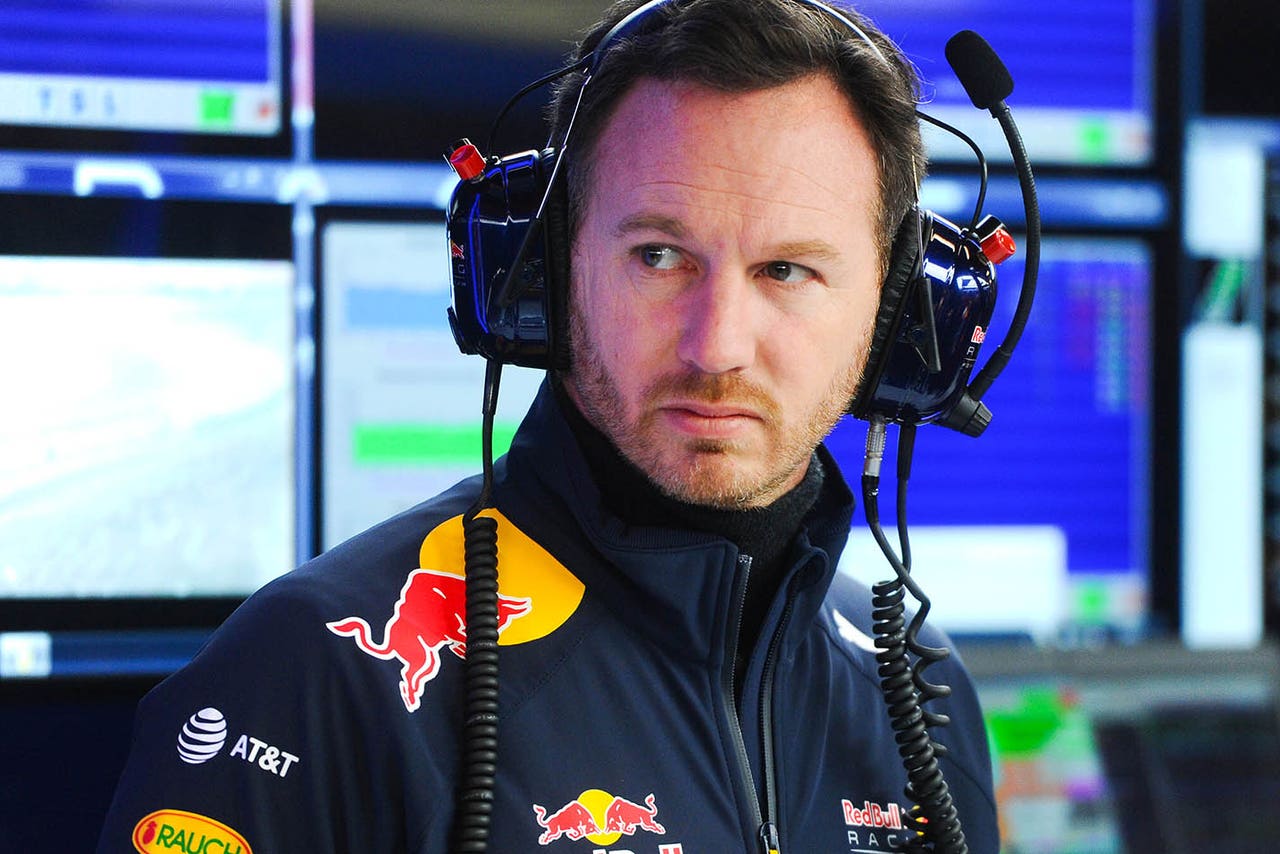 Red Bull Racing Team Principal Christian Horner seen looking on in the garage during day two of F1 winter testing at Circuit de Catalunya on March 2, 2016 in Montmelo, Spain.
Christian Horner: "I guess like modern technology these days and how people communicate, we're working by text – maybe to SMS the driver would be an easier way, because we're not allowed to say much these days. I think it's going to be a voyage of discovery and I hope we haven't gone too far on the radio stuff, because that's taking away an element of dialogue between the engineer and the driver and some of that from behind the scenes can be quite entertaining, some it X-rated, but quite enthralling for the fans. We've got quite a few changes to take on board this year, let's see how it goes."
Valtteri Bottas: "It relies a bit more on the driver to give all the feedback about the tires, about if we think we can continue this Plan A, or Plan B or Plan C strategy, or whatever. And all the fuel saving and everything relies a bit on us as a driver, so more responsibility. I think it's only a couple of races and then it's standard, no drama. It's going to be more quiet in the cockpit, but it doesn't stop us as drivers from sharing all the information that we have. I think it's good. In qualifying finding a good gap is a bit like a bit like in go-karts or junior formulae, you need to find a good gap without some info. That's OK for me."
Nico Rosberg: "It has a big influence. It's great, because we're not Muppets anymore. It's down to us to get the job done on our own. It's very good. It's gone to the extent of not even being able to tell us that strategies have changed, so if I change from a three stop to a two-stop, I'm driving flat-out thinking I'm stopping in two laps time, and then they're just not going to pull me into the box. And then my tires are done. So for sure, there's going to be some more fault. What is it going to do? It's going to make it more challenging at times. Last year was already two-thirds of the way, there was not much going on any more last year. Now it's more the procedural stuff that is left, which they've totally removed now as well. That's just a matter of preparation. From that point of view, I'm comfortable. Us drivers, all of us benefited from strategy. And we're going to lose race performance as a result, because we can never drive according to our strategies. We can just drive according to what was planned before the race."
Felipe Massa: "You will hear a lot less talking on the radio. I don't know if it's nice for the fans or not, because people like to hear what a driver is saying. If they understand anything or not I don't know, but people like to hear radio! But it's OK to do it. I hope when you have a little bit more experience it can help in this area as well, compared to maybe young drivers, compared to teams that you are fighting with. I'm totally ready to start and totally ready to learn, and trying to learn as quick as I can all these different rules that we're going to have this year."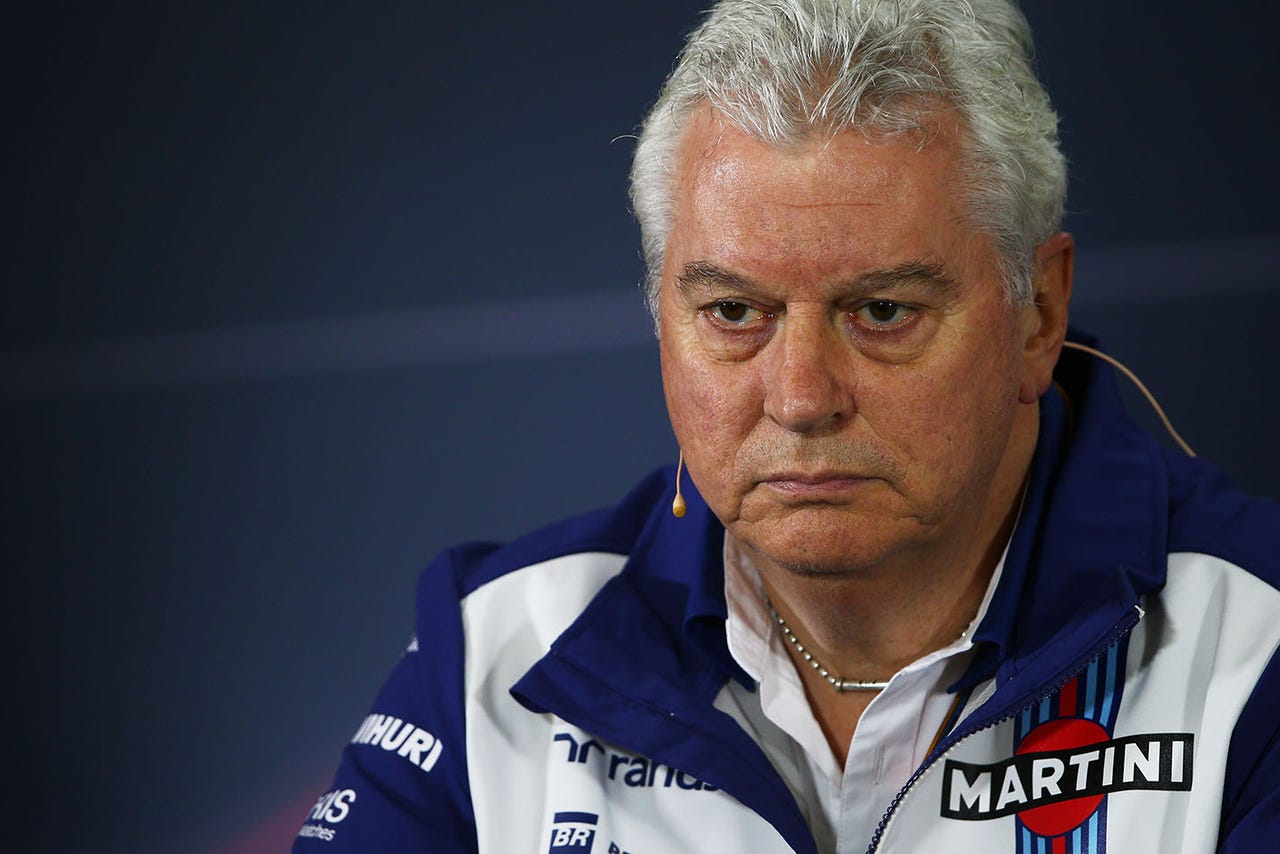 Pat Symonds, Chief Technical Officer of Williams F1, looks on in a press conference after practice for the Formula One Grand Prix of China at Shanghai International Circuit on April 10, 2015 in Shanghai, China.
Pat Symonds: "The real fundamental change in the last couple of TDs [Technical Directives] is that previously there was a list of things that we weren't allowed to talk about. Now there is a list of things which we are allowed to talk about, which of course is a lot more exacting, because if you're told you can't talk about this and can't talk about that, by implication you can talk about everything else – politics, religion, everything! Whereas now we have a very specific list of things we can talk about. Last week that was tightened up a bit more, with a few more things taken off it. It's not a problem from our point of view. It does rely on the drivers having to remember a bit more, it does rely on us having to put a bit more automation into things, so it increases the workload. I guess the thinking behind it is that it's more likely that things will go wrong, it's more likely that there will be mistakes made, and what have you. I think it's all part of this process of just trying to make the outcome of a race a little less predictable. We don't quite understand why we can't ask the driver does he want a front wing change at a pit stop? I don't really see what that's sort of thing is doing."
---