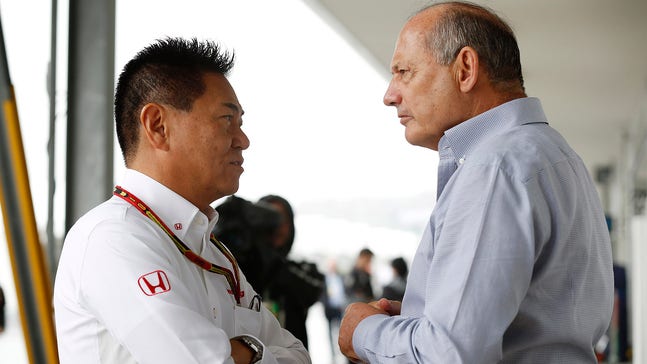 F1: Honda promises results as McLaren pressure mounts
Published
Jul. 8, 2015 3:57 p.m. EDT

Yasuhisa Arai has played down the huge pressure being applied on Honda by its works F1 partner McLaren.
The words expressed by boss Eric Boullier are increasingly exasperated, as the McLaren-Honda collaboration that promised so much is still badly stuttering at the halfway point of the 2015 season.
Referring to Honda's F1 chief Arai, Boullier said at Silverstone: "I tell him twice every day and three times for jet-lag - we need to succeed as soon as possible."
It is believed McLaren's obviously mounting frustration is because Honda and McLaren see their mutual project vastly differently.
While McLaren needs results quickly, for instance, Honda may be happily chipping away at a five-year plan.
So the Japanese carmaker is reportedly refusing McLaren's advice to speed up the process by hiring engineers from outside of Honda, because it regards the project as an 'HR' exercise rather than an urgent need for instant results.
But in a rare interview, Arai told Brazil's Globo Esporte that the relationship between McLaren and Honda is not breaking down.
"We had great success together in the 80s," he said. "There is mutual trust.
"Of course there is pressure to improve, but we are discussing everything together. It sometimes happens that we have one solution and the team another, but that is normal in this type of relationship," Arai added.
It is rumored that McLaren's frustration with Honda has grown because the carmaker is even resisting an offer to utilize the resources of the entire and vast McLaren Group.
But Arai responded: "We already work with McLaren Applied Technologies from the start of the project. They have developed software for our power unit, according to our requests. And they did a great job."
When told, however, that the cooperation could be extended even further, he insisted: "We do not need help with technology issues.
"Good advice, of course, is always welcome, but we do not need technology solutions (from elsewhere) for our project."
Globo correspondent Livio Oricchio, however, said the tension between Arai and Ron Dennis in particular is growing, as the McLaren supremo presses for Arai to be stepped down.
But Arai said he feels the pressure most from the "directors of our company" (Honda) and "the Japanese media."
"I do not think that with another director, the results would be different. Both the management of Honda and McLaren trust me," he insists.
"Every director thinks about how to make it better, and I'm no different. I think about it every day. It is a huge challenge."
Asked, however, when Honda will finally break through and begin to perform adequately, Arai answered: "Soon, I promise.
"In the second half of the season. I hope from Spa-Francorchamps.
"I would say that we have built a good foundation for development. It is in line with our planning and we advance step by step. The goals are being met.
"Okay," Arai continued, "I know that the results are not in line with the expectations of the fans, but we know what we are doing. Please give us some time.
"The second half of the season will be better, believe me," he concluded.
Click HERE for more F1 news and features.
---