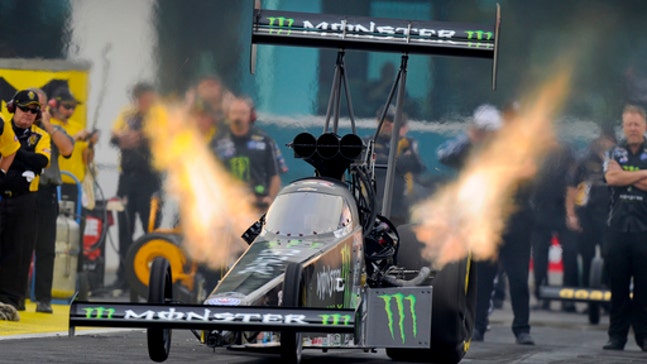 A Force family first: Brittany Force gets Top Fuel victory
Published
Mar. 21, 2016 3:27 a.m. ET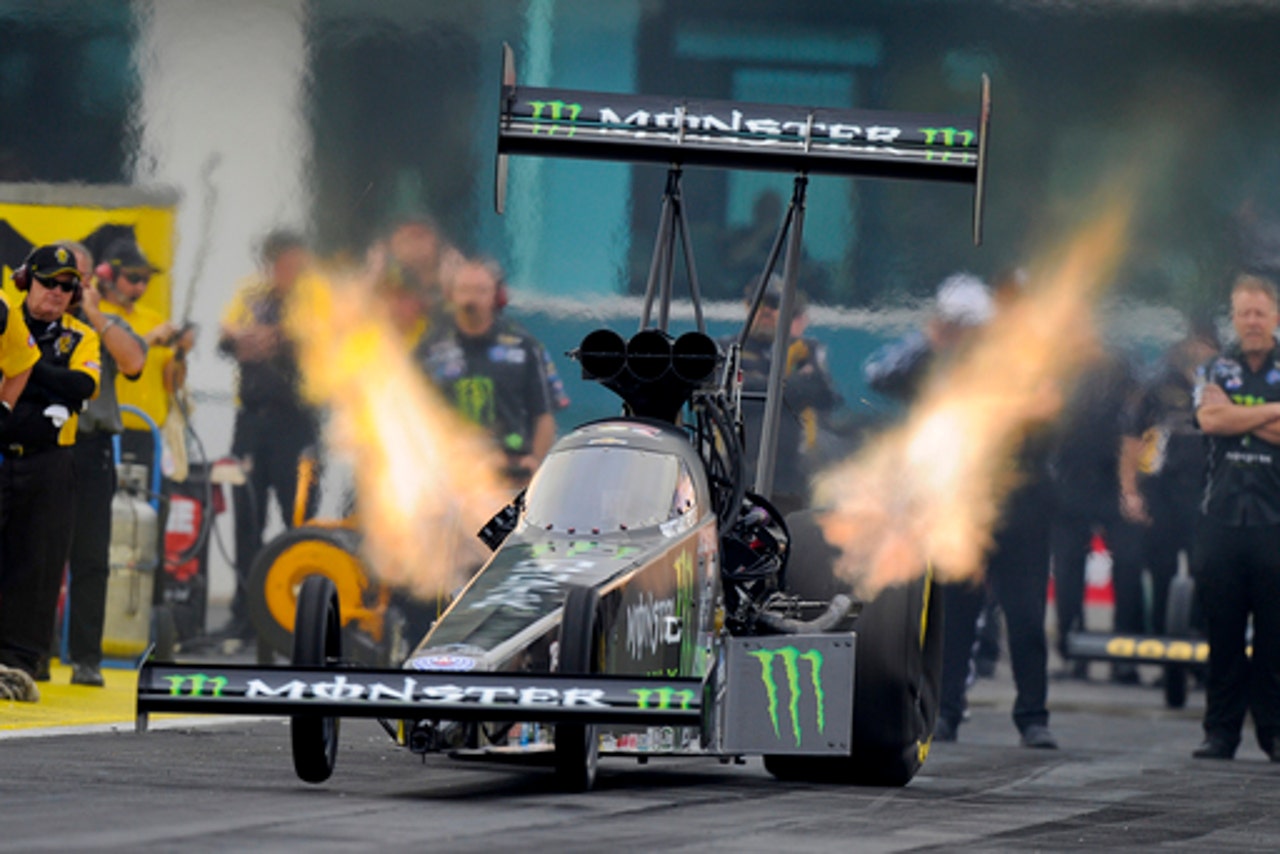 GAINESVILLE, Fla. (AP) John Force hugged and high-fived everyone at the starting line as daughter Brittany raced to her first professional victory 1,000 feet away.
A 16-time world champion, John then hopped on his scooter, put his wife and youngest daughter on the back and headed toward the other end of the drag strip. He steered with one hand and waved at cheering fans with the other.
When the three finally arrived, Brittany was waiting with the trophy in hand.
It was a Force family first.
Brittany earned her first Top Fuel win Sunday - the first in that class for ultra-successful John Force Racing - by beating Terry McMillen in the final at the prestigious Gatornationals.
''I've been chasing this for quite a few years,'' the 29-year-old Brittany said. ''I've been wanting it since Day 1. It took a lot of work and a lot of time to get here. It's not as easy as you think it is.''
The Forces have made it look easy over the years.
John has 143 career victories, all in Funny Car. His youngest daughter, Courtney, has seven. And his oldest of three racing daughters, Ashley, had four before stepping away and becoming a mother.
Now, Brittany is on the board.
Throw in a few other drivers, and JFR has nearly 250 NHRA trophies back at the race shop in Yorba Linda, California. But Brittany is bringing home the first in Top Fuel, a class she never expected to be in growing up in drag racing's first family.
''I thought every single one of them was insane,'' she said. ''It surprises me more than anything that I'm driving a Top Fuel car. ... But the opportunity came along to jump in a Top Fuel car and I'll try anything once.
''When it came down to it, I was like, `Oh man, what did I get myself into?' It took a few months, working my way down the race track, and when I made my first full pass, I knew that everything I had gone to school for, all my plans, had completely changed and were out the window and I was starting my career in Top Fuel.''
As the only Top Fuel entry in Force's four-car team, it wasn't an easy transition.
Brittany was winless in her previous seven Top Fuel finals spanning 74 events.
''There are doubts,'' Brittany said. ''I think anybody faces that in any career, in work, in school, whatever. You doubt yourself. You ask yourself, `Am I in the right place? Am I doing the right thing? Is this for me?' There were so many times that I completely screwed up and cost the team a round win or an entire win. You have to put it behind you and learn from it.''
She erased those fears and ended the skid at one of the NHRA's premier events, putting down the fastest run of each elimination round. The No. 5 qualifier, she beat Morgan Lucas (12th), Tripp Tatum (13th), Dave Connolly (ninth) and McMillen (14th) en route to the winner's circle.
Teammate Robert Hight joined her there. Hight won the Funny Car class for his third victory at Gainesville Raceway, giving JFR its first double in four years of fielding cars in NHRA's two premier categories.
''As an owner, you can't expect much more than this today,'' John Force said.
Or as a father.
Force felt like he failed Brittany by not giving her the best support during her first three years as a pro. He decided to overhaul the Top Fuel team after last season, hiring iconic car tuner Alan Johnson. Johnson has 15 NHRA national championships, including 11 in Top Fuel, and is considered one of the most innovative and successful crew chiefs in professional drag-racing history.
Together, they already made consecutive finals.
Brittany lost to Leah Pritchett three weeks ago in Phoenix in the first all-female Top Fuel final since 1982. Coming up short in that one only fueled Brittany to be better this time out.
And her breakthrough victory left her dad speechless, a rarity for the outspoken owner/driver who has been the face of the series since 1990.
''He seemed a little emotional down at the other end,'' Brittany said. ''He came down and gave me a big hug. He's just proud. He's wanted this for me and he's wanted it for all of John Force Racing and our team, and he's known how bad I've wanted it.
''It was a proud moment for him and a proud moment for me.''
---