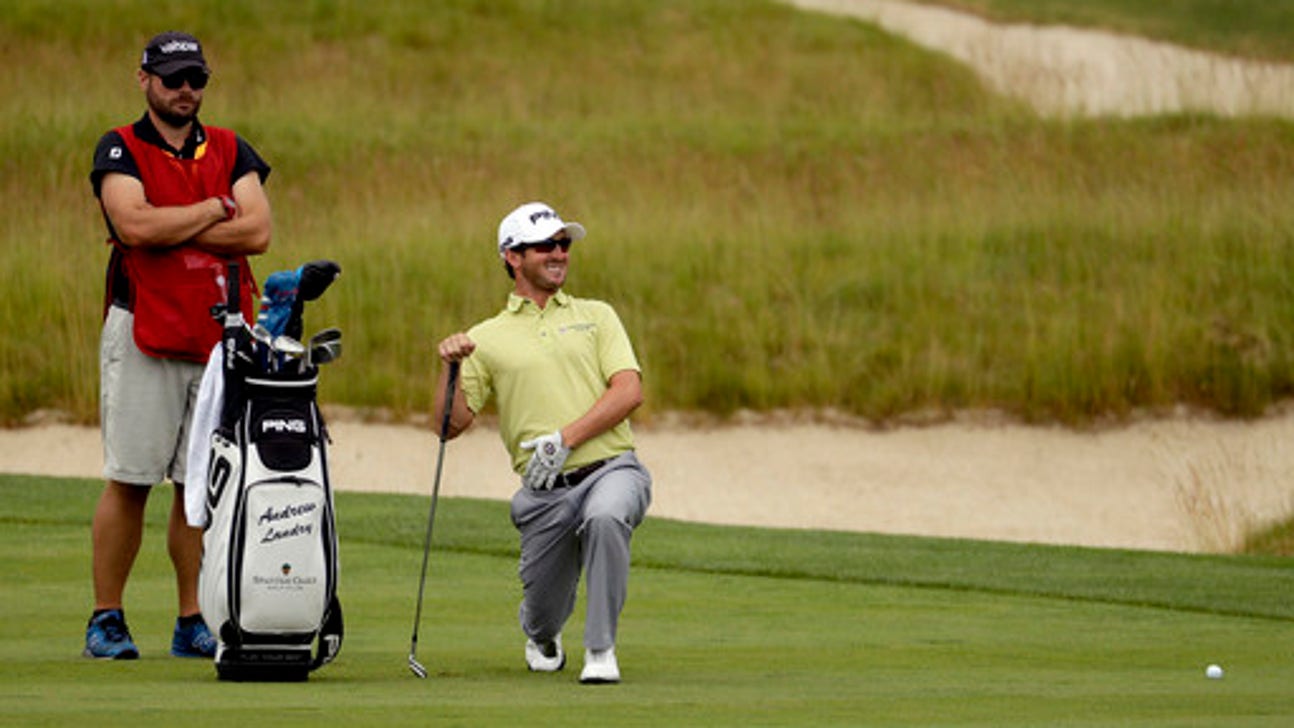 Unknown Andrew Landry reaches top of US Open leaderboard
Published
Jun. 16, 2016 10:30 p.m. ET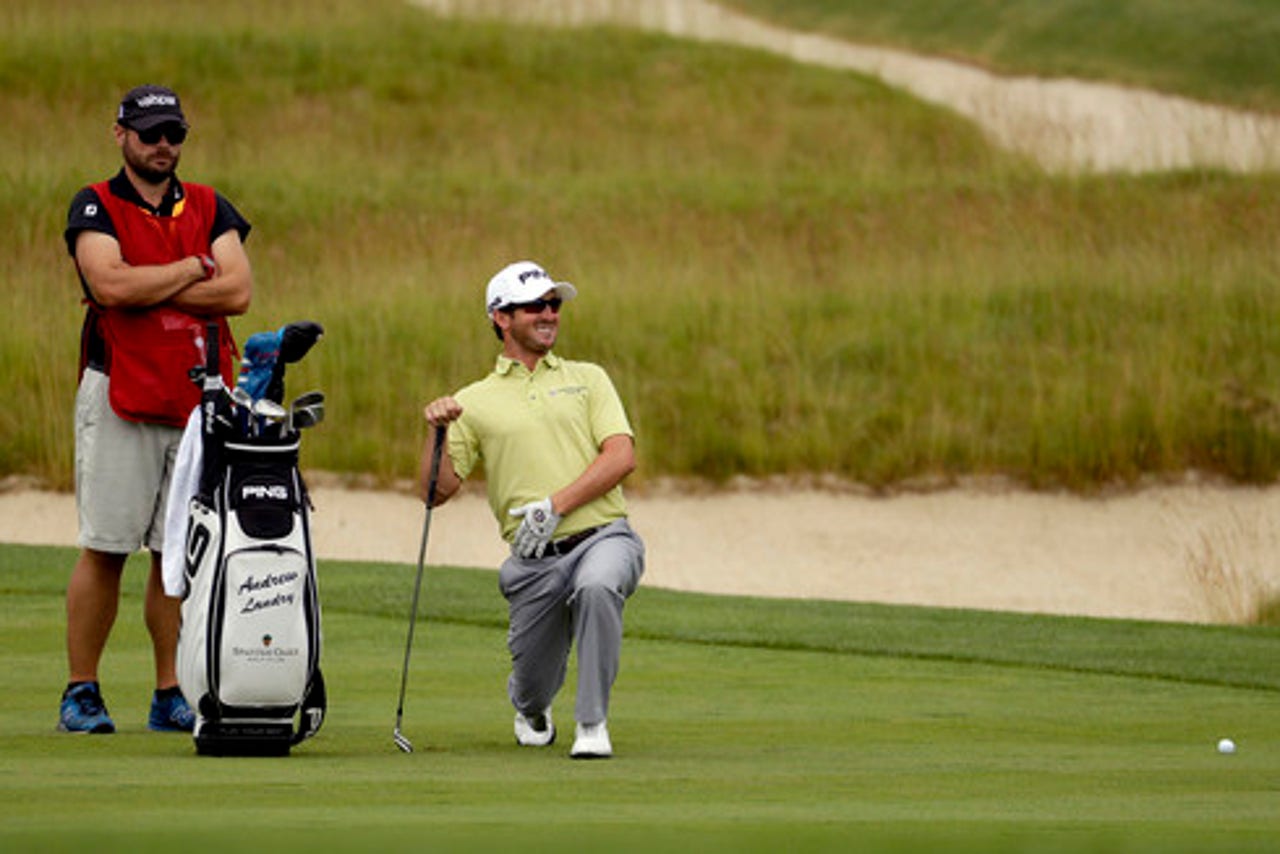 OAKMONT, Pa. (AP) Andrew Landry shook his head when the horn sounded signaling yet another delay at drenched Oakmont.
Ten feet away from completing the round of his professional life, the world's 624th ranked golfer had to settle for going to bed with his name atop the leaderboard Thursday at the stop-start U.S. Open.
When play was halted for a third and final time just before 4 p.m., Landry glanced at his caddie, picked up his ball mark and shrugged his shoulders.
Sure he would have liked a shot at that birdie putt he set up with a mid-iron from 183 yards on the par-4 ninth - his last hole of the day - before the storms rolled through again. For now ending his first day ever in a major tournament at 3 under with the rest of the 156-player field looking up at him will have to do.
''I've hit the ball really well today and just made a bunch of putts and just kept it going,'' said Landry, who earned a spot by surviving sectional qualifying in Tennessee last week.
And going. And going. Heady territory for three-time All-American at Arkansas who has struggled generating any kind of momentum since turning pro in 2009. Landry arrived at Oakmont making the cut just five times in 11 events during his rookie year on the PGA Tour, including a career-best tie for 41st last week in Memphis.
Yet on a course that seemed to befuddle fellow 20-somethings Jordan Spieth, Rory McIlroy and Rickie Fowler, the 28-year-old Landry spent the better part of nine hours getting the better of an Oakmont made vulnerable by a series of downpours that softened its notoriously slick greens.
He teed off at 6:56 a.m. and promptly birdied the 10th hole. Six straight pars followed before a birdie at the short par-4 17th gave him the outright lead, one that he maintained despite weather stoppages that sent him back to the clubhouse twice and threatened to disrupt his rhythm.
Landry tried his best to stay in the moment. He kept his phone buried in his bag and made small talk with his caddie.
''It was good to just kind of be by myself and just take it all in,'' he said.
Hard to blame him. Before Thursday, the most notable day of his career came in his victory in a Web.com Tour event in Colombia last year, a continent away from his hometown in Nederland, Texas. He honed his game along the Texas coast, once shooting a 58 while doing two loops around a nine-hole track not far from his childhood home affectionately known by the locals as ''the Pea Patch.''
The ''Pea Patch'' is no longer, having been sold to make way for a gated community. For a time it seemed as if Landry's career may go the same as he kicked around mini-tours searching for consistency. He began to find it in 2014, finishing second in the Web.com qualifying school and making enough money there in 2015 to earn his PGA Tour card.
The transition to the big time has been difficult. He didn't make it to the weekend in his first five events this season and his best round of the year is a 2-under 68 he shot in the third round of the Byron Nelson.
If he gets down in two from 10 feet on Friday morning, he'll somehow surpass that. Wearing a green shirt - one bare of any major sponsors - Landry's got all the way to 5 under after draining three straight birdies on Nos. 2, 3 and 4.
A wayward tee shot led to his first bogey at No. 7 and he three-putted the massive green on No. 8. There would be no collapse, however. He steadied himself on the difficult 477-yard par-4 ninth by splitting the fairway off the tee and landing his approach within makeable birdie distance.
The crowd swelled around his group made its way back toward the clubhouse, with television cameras following Landry has he walked up to mark his ball on the ninth. In the gallery nearby a spectator - perhaps speaking for the thousands wondering about the unfamiliar name with the red number next to it - said ''I never heard of the guy, but he conquered Oakmont. At least for one day.''
One that Landry didn't want to end with work left to do. Not that he was complaining as playing partners Matthew Baldwin and D.J. Trahan took their time while trying to salvage the final hole of a difficult round. Landry has been there. Many times. Thursday, for once, was not one of them.
''I was trying to get it in,'' he said. ''We were trying really hard, but it's hard, you know, when you've got a couple 60-footers out here, and it's the U.S. Open.''
One Landry, remarkably, is leading.
---