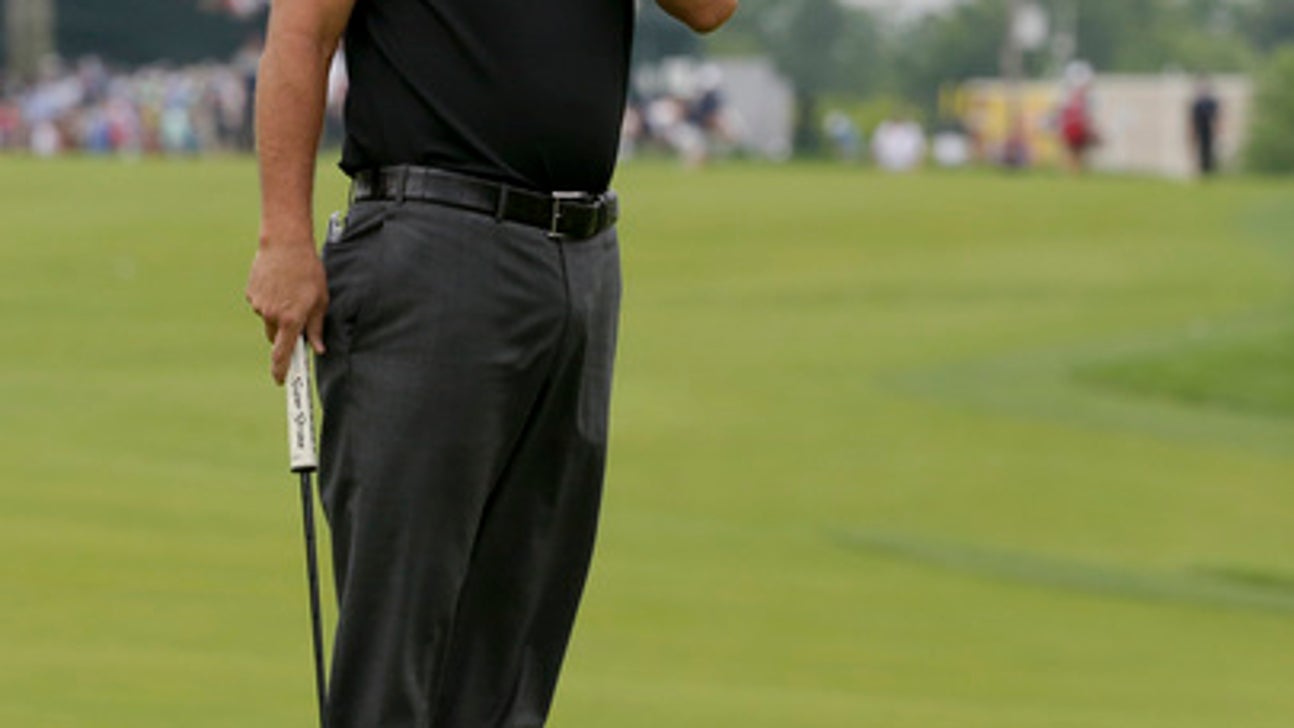 The Latest: Red numbers disappearing as Oakmont dries out
Published
Jun. 18, 2016 9:14 p.m. ET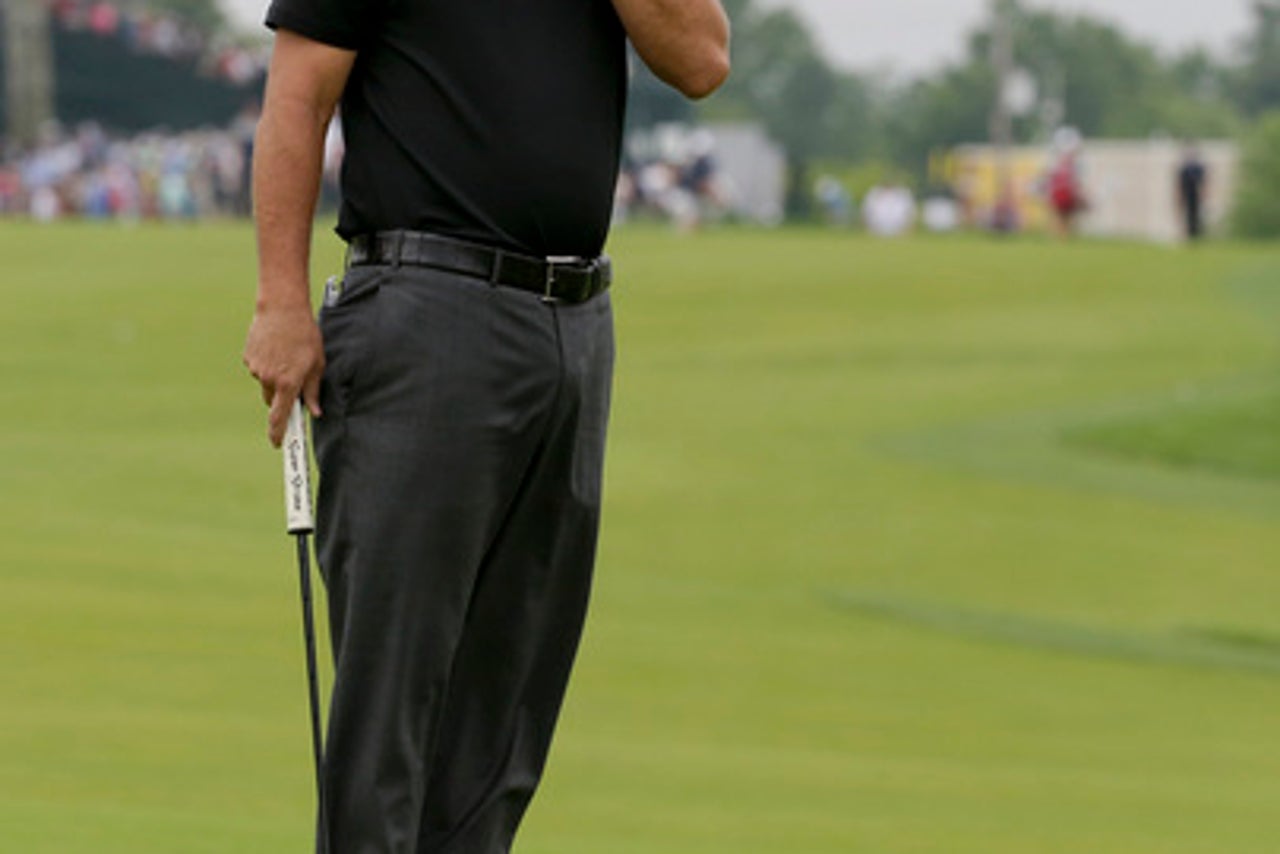 OAKMONT, Pa. (AP) The latest from the U.S. Open golf championship (all times local):
8 p.m.
Shane Lowry, who climbed into contention and fell back, is back on top again at Oakmont. The Irishman sandwiched three birdies around a bogey to close out his front nine at 33 and 4 under.
The footing at the top of the leaderboard is getting slippery as Oakmont dries out. Both Dustin Johnson and playing partner Andrew Landry held the lead at one point in Round 3, but both have fallen back. Landry is at 3 under, with Johnson a stroke back after a bogey at No. 10.
Staying below par has become trickier as well. The number of players under par has been halved - from 10 at the start of the round to just five.
---
7 p.m.
Four players were tied for the lead at Oakmont after a new twosome pulled up alongside Dustin Johnson and playing partner Andrew Landry.
The two Americans were joined at 3 under midway through the front nine by Europeans Sergio Garcia and Shane Lowry. Both are 1 under for the day, while Johnson is 1 over and Landry continues to plug away with a string of six straight pars.
Lee Westwood, who moved into a tie for the lead earlier, fell back after a bogey at 7.
---
6:15 p.m.
Dustin Johnson, Lee Westwood and Andrew Landry arrived in different ways, yet they're sharing the perch atop the leaderboard at Oakmont at 3 under.
Johnson made a double-bogey 6 at the third hole after a flubbed chip. Westwood made eagle at No. 5 by holing a short iron from 130 yards out. Landry, meanwhile, chugged along with three straight pars. Close behind Shane Lowry at 2 under and another handful at 1 under.
The biggest move of the day continues to be made by world No. 1 Jason Day, who played the front nine in 4-under 31.
---
5:45 p.m.
Dustin Johnson wasted little time extending his lead at the U.S. Open.
Johnson boomed his opening tee shot of the third round 314 yards down the fairway and made a 6-foot birdie putt to move to 5 under, two shots ahead of playing partner Andrew Landry.
Johnson, in search of his first major title, then scrambled for par on the par-4 second hole. His tee shot caromed off a fan and toward a concession stand. His recovery shot landed in the rough around the green. A feathery chip left him a tap-in.
Landry, ranked 624th in the world - 618 spots behind Johnson - began the third round with a pair of pars. Landry topped the first round with 66 and he recovered from a bumpy stretch in the middle of his second round to shoot a 71 and earn a spot in the final group.
Scott Piercy, who joined Johnson and Landry in the last threesome, had a double bogey on No. 1 and a bogey on No. 2 to fall five shots behind Johnson.
It's unlikely the leaders will complete the third round before darkness falls. Sunset is at 8:53 p.m.
---
5 p.m.
The world's top-ranked golfer is finally starting to look like it at the U.S. Open.
Jason Day reeled off four birdies in his first five holes during the third round on Saturday afternoon, moving him to 1 over for the tournament and within shouting distance of the leaderboard.
Day slogged through a 6-over 76 in the opening round and bounced back to shoot a 1-under 69 in the second round to make the cut by a stroke but started the third round a full nine shots behind leader Dustin Johnson.
Starting on the back nine, Day rolled in a 27-foot birdie putt on No. 10, a 4-footer for birdie on No. 12, a 7-footer on No. 13 and a 20-footer on No. 14. Day has finished in the Top 10 in four of his previous five starts at the U.S. Open, including coming in as a runner-up in 2011 and 2013.
---
4:30 p.m.
Jordan Spieth is on a roll at the U.S. Open early in the third round.
The defending champion stuck irons close on three of his first four holes in the late-afternoon round at Oakmont. The best of the trio was an 8-iron to 4 feet on the 183-yard, par-3 13th. The Texan coolly sank all three birdie attempts to get to 1 over.
Leader Dustin Johnson, whose meltdown at Chambers Bay last year opened to door for Spieth, was at 4 under and still on the practice range for a 5:10 p.m. tee time.
---
3:25 p.m.
In a bid to get back on schedule, golfers began the third round playing as threesomes off both the first and 10th tees.
A rain-suspended first round meant golfers in each half of the 156-man field had to play 36 holes either Friday or Saturday. The second round and the cut were complete by late afternoon.
But even with threesomes using both tees at the start of the third round, the U.S. Golf Association's plan for a traditional final round - golfers going off in pairs and all off the first tee - could prove a stretch.
Leader Dustin Johnson, who's at 4 under - a shot better than little-known U.S. Open rookie Andrew Landry - is set to tee off at 5:10 p.m. Sunset is at 8:53 p.m.
The most prominent names to miss the cut were Phil Mickelson and Rory McIlroy.
---
2:45 p.m.
The second round of the U.S. Open finally ends, and so do the chances of some big players.
Rory McIlroy botched his final hole to miss the cut, and Phil Mickelson didn't play well enough to advance. Oakmont also took its toll on a number of former champions, including Justin Rose, Ernie Els and Retief Goosen.
Rickie Fowler will not play the final two rounds, either, after finishing 11-over-par for his first two rounds. The cut was 6-over 146.
McIlroy's departure was probably the most surprising. The 2011 Open champion, who owns four major titles, seemed to be on his way to making it to the last two rounds after making birdies on four of his first seven holes Saturday.
But it all fell apart with a fat 40 on his back nine that included a double bogey on his last hole that left him a stroke off the cut line. McIlroy left a shot in a fairway bunker on his final hole, and the double bogey moved him to 8 over for the tournament.
Mickelson, meanwhile, had two holes to play Saturday to finish his second round and needed to make at least one birdie. He didn't, and was out of the only major championship he has never won.
Fowler may have had the most disappointing performance among the top players, shooting 76-75 and not coming close to making the cut.
--
1:45 p.m.
Gregory Bourdy's lead at the U.S. Open melted away with a double-bogey to close his second round.
The Frenchman, a four-time winner on the European Tour, got as low as 5 under with back-to-back birdies on his inward nine. But a bogey at No. 16 and a double-bogey at 18 knocked him back to 2 under and a tie for third heading into the third round.
But a bogey at No. 16 and a double-bogey at 18 - thanks to a flubbed greenside chip - knocked him back to 2 under and a four-way tie for third heading into the third round. Leader Dustin Johnson, at 4 under, has yet to tee off and unheralded Andrew Landry is a stroke back.
---
12:35 p.m.
Andrew Landry's roller-coaster ride at the U.S. Open is cresting at the top of the hill again.
The little-known PGA Tour and U.S. Open rookie - who began the week at No. 624 in the world rankings - dazzled with an opening round of 66. But he dropped four shots on the front nine as he began the second round, then played steadily starting the back nine and closed with a flurry. Two birdies at the final two holes left him at 3 under and within a shot of co-leaders Gregory Bourdy and Dustin Johnson.
---
11:55 a.m.
Frenchman Gregory Bourdy grabbed the U.S. Open lead at 5 under late in his second round with a run of three birdies in four holes.
He's a stroke better than Dustin Johnson, who completed his second round a day earlier. Johnson played 36 holes Friday as the U.S. Golf Association seeks to catch up after a rain-suspended first round.
The 34-year-old Bourdy came through a qualifying tournament in England. He's won four times on the European Tour, but failed to make the cut in his only previous U.S. Open, at the Olympic Club in 2012.
---
11:15 a.m.
Phil Mickelson's quest for that elusive U.S. Open championship may have to wait another year.
The five-time major winner is at 7 over through two rounds at Oakmont and in danger of missing the cut at the Open for the first time since 2007, which is also the last time the national championship visited the course. With dozens of players still on the course finishing up their rounds late Saturday morning, the projected cut is expected to be around 6 over.
Mickelson finished up a 3-over 73 on Saturday morning, a round that included a gamble on the par-4 17th when he pulled a driver out of the bag - something he said during the run-up to the tournament that he wouldn't attempt. He ended up hitting his tee shot into a front left bunker and settling for par.
Mickelson isn't the only familiar name in trouble. Former Open champions Justin Rose and Ernie Els are likely heading home early. Henrik Stenson, who shot a 1-under 69 in the first round, beat all of them out the door. The world's seventh-ranked player withdrew Saturday morning for unspecified reasons with two holes left in his round with his score at 9 over for the tournament and 10 over through 16 holes.
Dustin Johnson remains in first with a 36-hole total of 4-under 136 as the second round draws to a close.
---
10:15 a.m.
Lee Westwood said jokingly this week that at 43, he remains ''a finely tuned athlete.''
The Englishman is in pretty good shape at the U.S. Open. A 25-time winner as a professional but 0-fer at the majors, Westwood surged to a tie for the lead during the second round at Oakmont on Saturday morning.
Westwood opened the tournament with a 3-under 67 and after taking most of Friday off, opened play Saturday with a beautiful approach on the par-4 1st. He rolled in the ensuing 5-footer for birdie tie Dustin Johnson at 4 under moved in front with another birdie at the par-5 5th before falling back to 4 under with a bogey at the par-3 6th.
Westwood has a series of near misses in majors and has three top-five finishes at the U.S. Open, including a tie for third in 2011. He was second at the Masters in April, shooting 3-under 69 in the final round, a performance he says gave him a major boost.
Elsewhere on the course, Romain Wattel of France blasted out of the bunker for eagle on the par-4 17th and Japan's Yusaku Miyazato holed out from the fairway on the difficult par-4, 472-yard 18th.
---
9:15 a.m.
Andrew Landry's storybook run at the top of the U.S. Open leaderboard is over.
Landry, who arrived at Oakmont ranked 624th in the world, stunned the 156-player field by shooting a 4-under 66 during a weather-delayed first round that took him nearly 24 hours to complete. Landry needed only one putt on Friday to finish off the best-ever opening round in a major at Oakmont and his name stayed on top the rest of the day.
On Saturday morning, Landry made par on the first five holes but consecutive bogeys at the par-3 6th and par-4 7th dropped him out of the lead held by Dustin Johnson and Lee Westwood. Things only got worse for Landry at the 281-yard par-3 8th. His tee shot went in a greenside bunker and his recovery sailed over the green and into the rough. Two putts left him with a double-bogey and at even-par for the tournament.
Westwood is still searching for his first victory in a major. He dropped a 5-footer for birdie on the opening hole to pull into a tie with Johnson, who has the morning off after grinding through 36 holes on Friday.
---
8:15 a.m.
Jim Furyk is back in the mix at the U.S. Open. The 2003 champion and two-time runner up finished off a 2-under 68 early Saturday morning and 1 under for the tournament to pull within three shots of leaders Dustin Johnson and Andrew Landry.
The 46-year-old Furyk underwent wrist surgery in February and arrived at Oakmont still searching for his form since his return at the Wells Fargo Championship in May, making the cut twice in his first four events. Paired with former champions Ernie Els and Angel Cabrera, Furyk avoided major trouble at the venerable course in the western Pennsylvania hills.
Furyk posted five birdies against three bogeys in his second round and should be well positioned as the tournament scrambles to get back on schedule following heavy rains on Thursday that created a logjam.
Louis Oosthuizen, the 2010 British Open champion, shot a 31 over his final nine holes of the second round on his way to posting a 5-under 65. That's the best of the tournament so far. Eight birdies and three bogeys left Oosthuizen at even par.
Jason Day, the world's top-ranked golfer, completed a 1-under 69 and is at 5 over through two rounds.
Landry, whose 4-under 66 put him in the lead after the soggy first round, remained tied with Johnson atop the leaderboard early in his second round at rapidly drying out Oakmont.
---