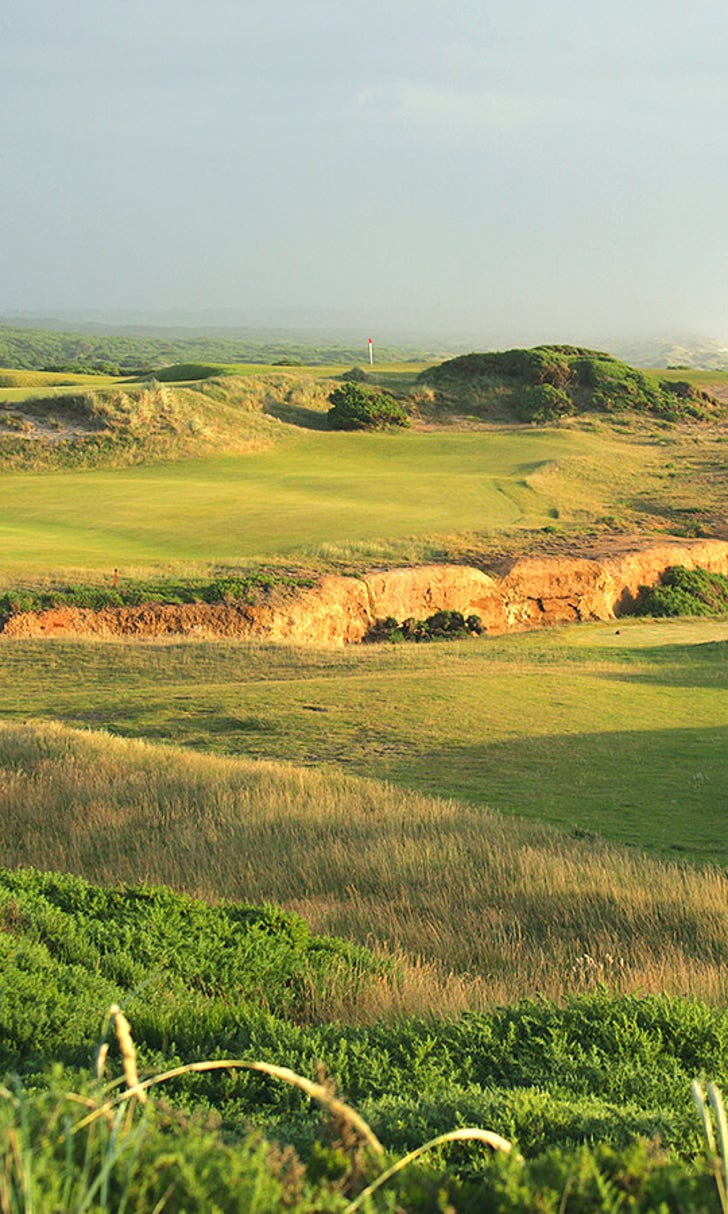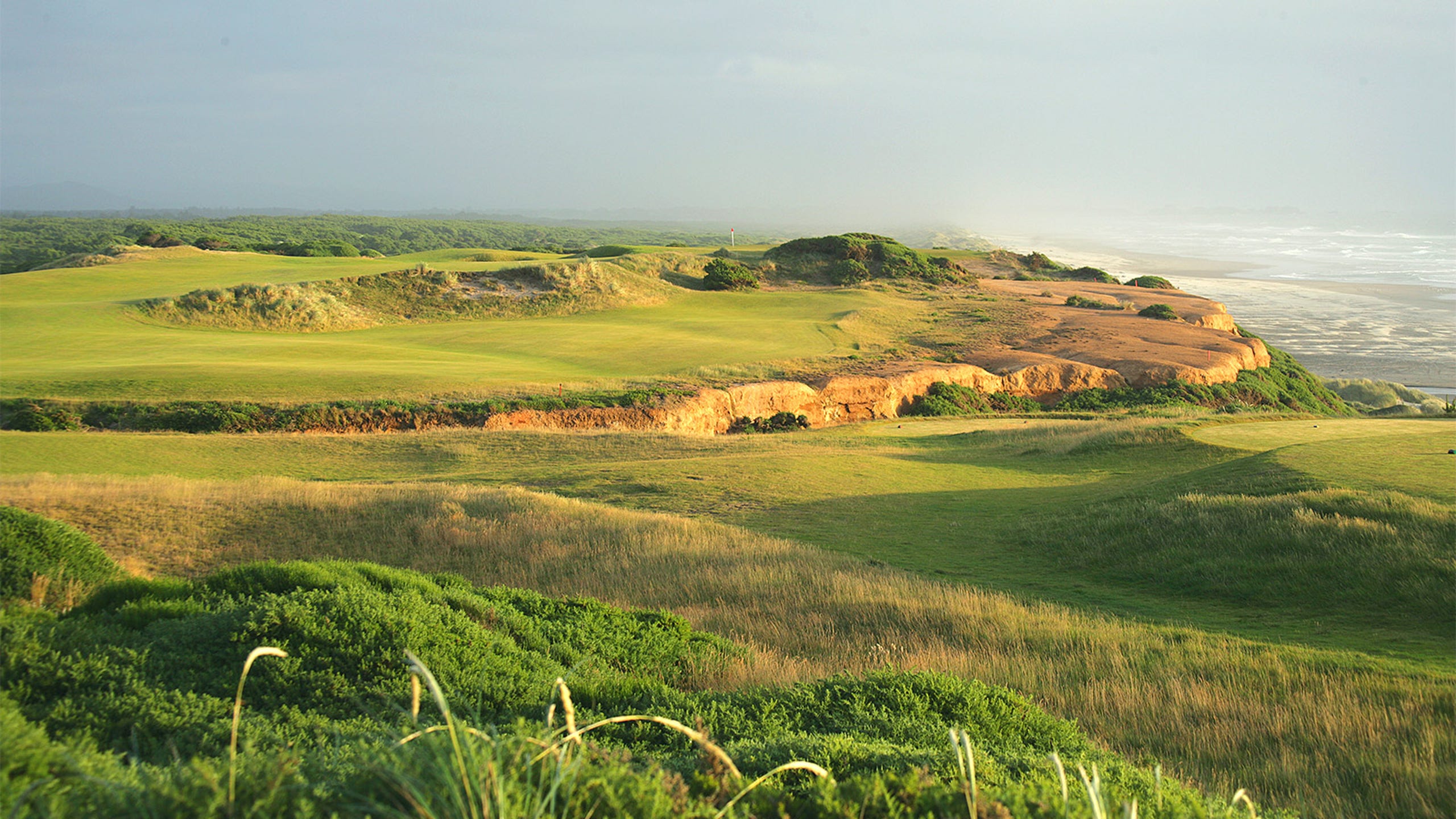 Shane Bacon mailbag: Tips for the perfect golf vacation
BY Shane Bacon • November 19, 2015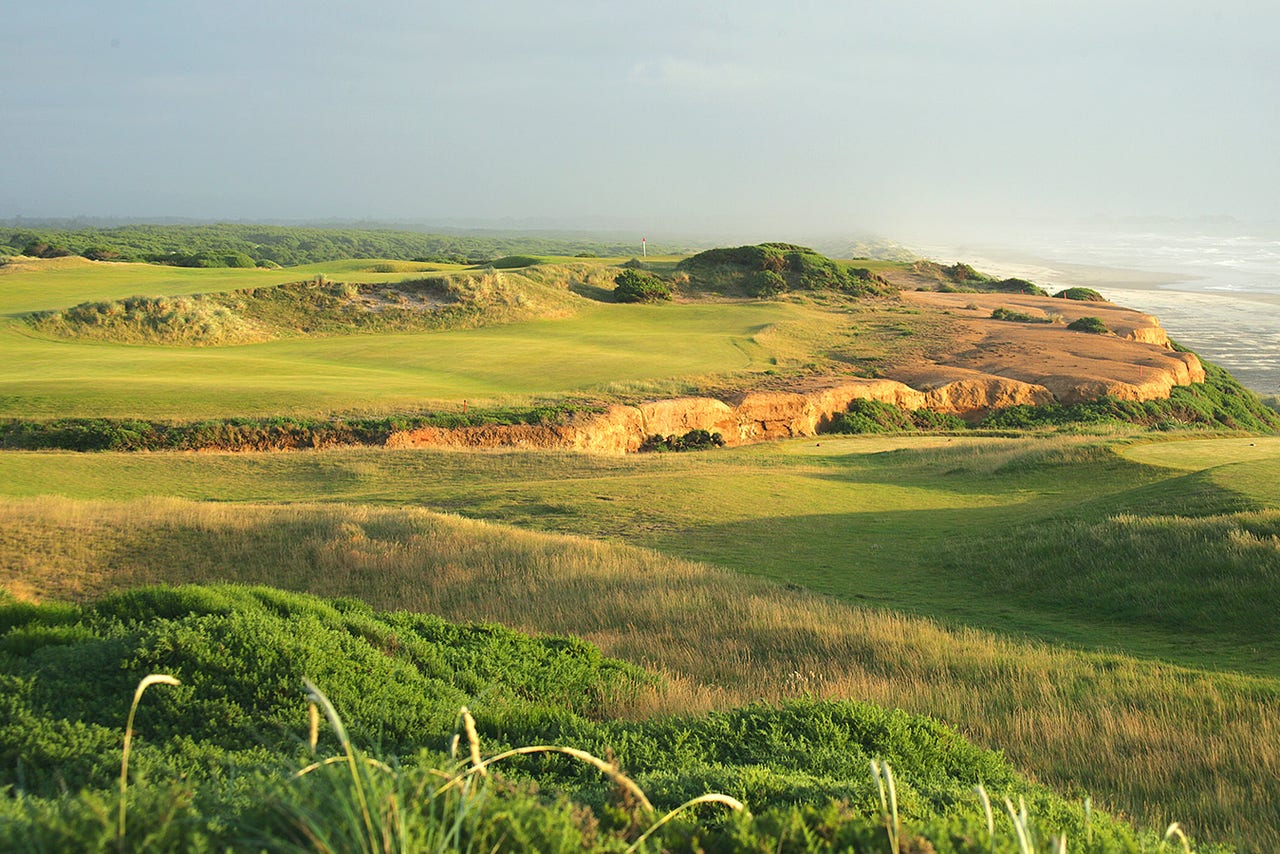 We are exactly a week from Thanksgiving, the day of the year where family is emphasized, football is on TV and overeating is encouraged. It's weird, considering all of those things fit perfectly with a day out on the golf course, but it seems nobody really takes that Thursday to get in a quick 18. (My dad and I have a few times, but we usually get a look when we walk in the door after golf that hints, "We may have put something in your turkey, you jerks.")
The Friday after Thanksgiving is a golf-heavy day, maybe one of the most popular of the year to tee it up, so we do get that, but it seems much like professional golf around this time of year, the game is in the back of most minds. But it isn't here. It never is here! Golf is a yearlong endeavor in more ways than one, and we will continue to make it such as long as Rory and Jordan are still boarding flights and making appearances.
What's in store as we approach Thanksgiving and the inevitable holiday buzz? Let's check some mailbag questions and find out.
Bacon: Really, do people go on vacation and only play 18 a day? What in the world do you do with the rest of your day, memorize your hotel channels?
If I'm going on a golf trip with my buddies who like to golf, we are going to play 36 a day (at least), but my suggestion for most people, especially if the group isn't as obsessed with the game, is to do a four-day golf trip and break it up like this:
Four days is probably enough for a golf trip. It gives people a chance to find their games a bit (or lose whatever you had heading into the trip if your game doesn't travel well), you have a night or so to get beers or actually go out if you're in an area with a town around, and by Day 4 you're probably ready to get away from your friends and back home to life.
Golf trips are either four-day endeavors or seven days, unless you're headed abroad.
Also, let me throw this out for people planning golf trips for their friends: one hotel change max. That's it. Nobody likes taking all their clothes out of their bags only to pack up two days later and move. If you have to do that more than once, it starts to overwhelm the group and take away from the experience. This is exactly why places like Bandon, Streamsong and Cabot are so popular (well, that and the fantastic golf). You travel, you arrive and you hunker down for the week. That's what golfers want to do. Nobody wants to be worrying about leaving chargers, repacking their golf bags and re-folding golf shirts they haven't worn. That's the worst.
More golf and less travel makes for a happy group.
Bacon: Already going to nominate this question for the mailbag Hall of Fame for 2015, and let me just say, golfing in Tucson is better than most places, so it's really a win-win for this guy.
@shanebacon at highest level, where would u rank these in ability to win: Talent, confidence, peace off the course, form, guts, perseverance

— GolfBetterTucson.com (@GolfBetter2son) November 16, 2015
I've always said confidence is the biggest difference when you get to the highest level of anything. Look at Steph Curry right now; he has worked hard, he's incredibly talented, obviously he has pushed through the tough times earlier in his NBA career to get to this point and now he has the form and the guts to attempt and (most of the time) pull off the shot he needs. But to me it's the confidence he has right now on the basketball court that's the x-factor. He just believes every ball he puts up is going in. When he misses, he looks shocked (as do most of us, no matter where he's shooting from).
When Tiger Woods was in his prime, his talent was counties ahead of the rest of the PGA Tour, but he always got on that first tee and knew he wasn't going to lose. He knew nobody could beat him, and he knew whomever he was playing with didn't believe they were going to end up victorious either.
So my ranking, at the highest level, goes like this:
The reason I have form above talent is simple; we've seen mediocre professional golfers find a form to make a run, just like we've seen extremely talented golfers completely lose their form and fall off the face of the Earth.
Also, guts is important in moments, but look at the way Zach Johnson plays; he understands every component of his golf game, embraces what he's capable of doing and what he isn't and relies on that. It isn't about "guts" more than it is being confident in his game plan and executing it.
People always said, "Beware the injured golfer," but to me it's about the confident golfer. Jordan Spieth had it for most of 2015, Jason Day took it from him when he won in Canada and Spieth got it back right as the season wrapped. Do you think Rickie Fowler wins as many times as he did this year without the confidence he gained from his major performances in '14? I don't think so.
And if you watched Sergio Garcia and Padraig Harrington hit range balls side by side for 30 minutes, which one would you think had three major wins? Exactly. Some guys have the belief upstairs in themselves, and most don't.
Jordan Spieth (left) and Jason Day each showed the power of confidence in 2015.

Bacon: The white belt. And probably the flat-bill cap. Oh, and anything Kevin Na wears.
Bacon: A fun question that forced me to spend two days debating, and eventually changing, my list.
@shanebacon We look back at golf fashion and cringe - pleats, saddle shoes, the '99 Ryder Cup. What will we cringe about from today?

— Chad Buchanan (@_chadbuchanan) November 16, 2015
I've decided to do 10 historical golfers whom I would put on my list and 10 current players who would be on my list if the PGA Tour one day did this. (Also: PGA Tour, do this. Thanks!)
Current players (in no particular order)
Historical (also in no particular order)
Did I omit some extremely sexy names like Walter Hagen, Gary Player and Gene Sarazen? Yes I did. Don't punch me in the stomach, Gary!
Some quick justifications for some on that list: Trevino/Tiger/Jack/Hogan/Palmer are no-brainers to me. They were incredible talents who were entertaining to watch for a multitude of reasons.
Phil is on the list because he's Phil. I'd watch Phil Mickelson do just about anything. A 30-minute cooking show called "Feeling Phil's Grill"? I'm in. A weekly sports pick 'em show where Phil gives us his best bets of the weekend called "Lefty's Lines"? What golf fan isn't recording that?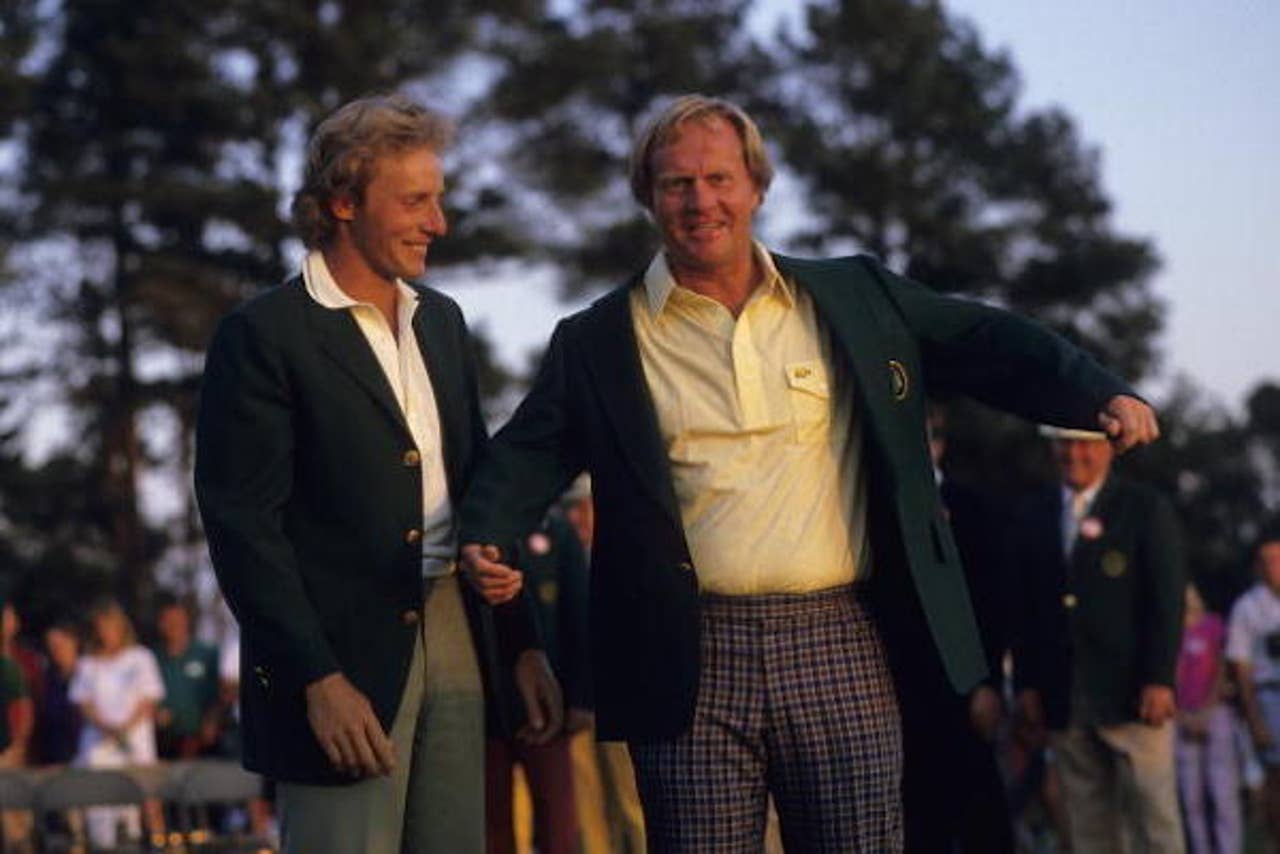 Oh, for the days of Jack Nicklaus at the Masters.

Kim, during his prime, was one of most fearless guys I've ever watched play golf. His second-round 65 at the '09 Masters was the stuff of legends (11 birdies!), and the way he played down the stretch was the most exhilarating golf since Tiger burst on the scene. When Kim was playing an event, I wanted to see where he was on the leaderboard at all times, so that's why he makes the list.
The rest are pretty simple.
Weiskopf because his golf swing is something you can just watch on a loop and be both entertained by and jealous of all at the same time. I played with Tom at the grand re-opening of the TPC Scottsdale Stadium course last November, and our cameras missed him hitting his opening tee shot. He kindly teed up another, and when we got to the fairway both balls were within about 18 inches of each other. That's the type of tempo and move I'd want access to at all times during my hypothetical golf viewing channel.
The same goes for Watson. Just an amazing move at the ball and a swing that is trying like hell to beat Father Time.
And finally, Seve. Shouldn't we just name this channel The Seve Network? Has there ever been a golfer you'd rather have a camera follow around for an entire four-day tournament? The guy nearly hit the green from his knees from under a tree!
Seriously. If he did this in 2015, Vine would have just closed down shop. Just amazing.
I always tell my dad that the two athletes I am sad I missed live are Seve and Larry Bird. I wish I had grown up getting to see those two play their respective sports in real time. Nobody has ever played golf like Seve, and nobody ever will. The channel should have his silhouette in the corner.
Bacon: So basically you're asking me if I'd rather eat a hamburger or quit golf? I think I'm going McDonald's. You can work off the added calories of a Morgan Spurlock diet, but nothing is going to help you on greens that are impossible to putt.
Also, since we are talking McDonald's, a couple of years ago my buddies and I had a chicken nuggets dipping sauce challenge (CNDSC for short).
My rankings went as follows:
My sister used to put honey on her chicken nuggets, and it was always so confusing to me. Like those people who dipped their french fries in a Wendy's frosty. I never got it.
@shanebacon McDonalds every day for the rest of your life, or playing the local dried up muni with temp greens for the rest of your life.

— Dalton Johnson (@SmoochJohnson) November 16, 2015
Bacon: When I first read this one I thought, "Easy, Jack on 16th tee, let's get to 17 three up," but then I thought more about it. That would mean I'd have to play the last two holes alone, with a green jacket on the line. Considering A) I'm not a professional golfer and B) I think winning the Masters ranks up there as high as any other accomplishment in all of sports, the nerves would diminish that lead to zilch in about three swings.
So let's think about this. The Sunday pin on the 16th isn't really that hard. Sure, long is dead (unless you're a golfing robot), but middle of the green leaves you that 30-footer uphill, and if you happen to flush it, it could come off that backstop and get fairly close (we've seen aces come in bunches with this hole location in the past).
So I'm not taking anyone on 16. I think I could somehow get a ball somewhere on the putting surface and even with a three-putt make a bogey and maintain my three-shot lead. (OK, fine, I'd probably hit it in the lake, but this is my fantasy so play along.)
The 17th doesn't really have a ton of trouble off the tee considering the Eisenhower Tree is long gone, so I'm playing 17 all alone as well.
Where I'm calling in the reliever? The tee shot on the 18th. And who am I calling in to hit it? Tiger in his prime.
@shanebacon You're up 2 Sunday @ Augusta. 16 tee. You can call on anyone (incl. pros) to take 1 shot for you coming in. Who and which one

— Robbie Vogel (@RobbieVogel14) November 16, 2015
I was watching the '97 Masters last night because I live a really fulfilling life and couldn't believe where that guy was on the 18th each day. It was like the runway of trees weren't even there. I'm taking Woods in his prime, pulling off that tee shot to get me in the fairway and hopefully I can handle the rest. (It's just a mid-iron to a Sunday pin that has a backstop, so there are definitely areas to miss that shot and still end up OK.)
Of all the shots coming down the stretch at Augusta National, that tee shot on the 18th, for a lefty that likes to hit a cut, seems like the most stressful.
I'm going with Woods to make that swing and hopefully get me in the short stuff to claim the first ever Masters helped by a reliever.
Bacon: So basically the question is, will Tiger Woods play in more than one event? I think so, so I'm going with Woods.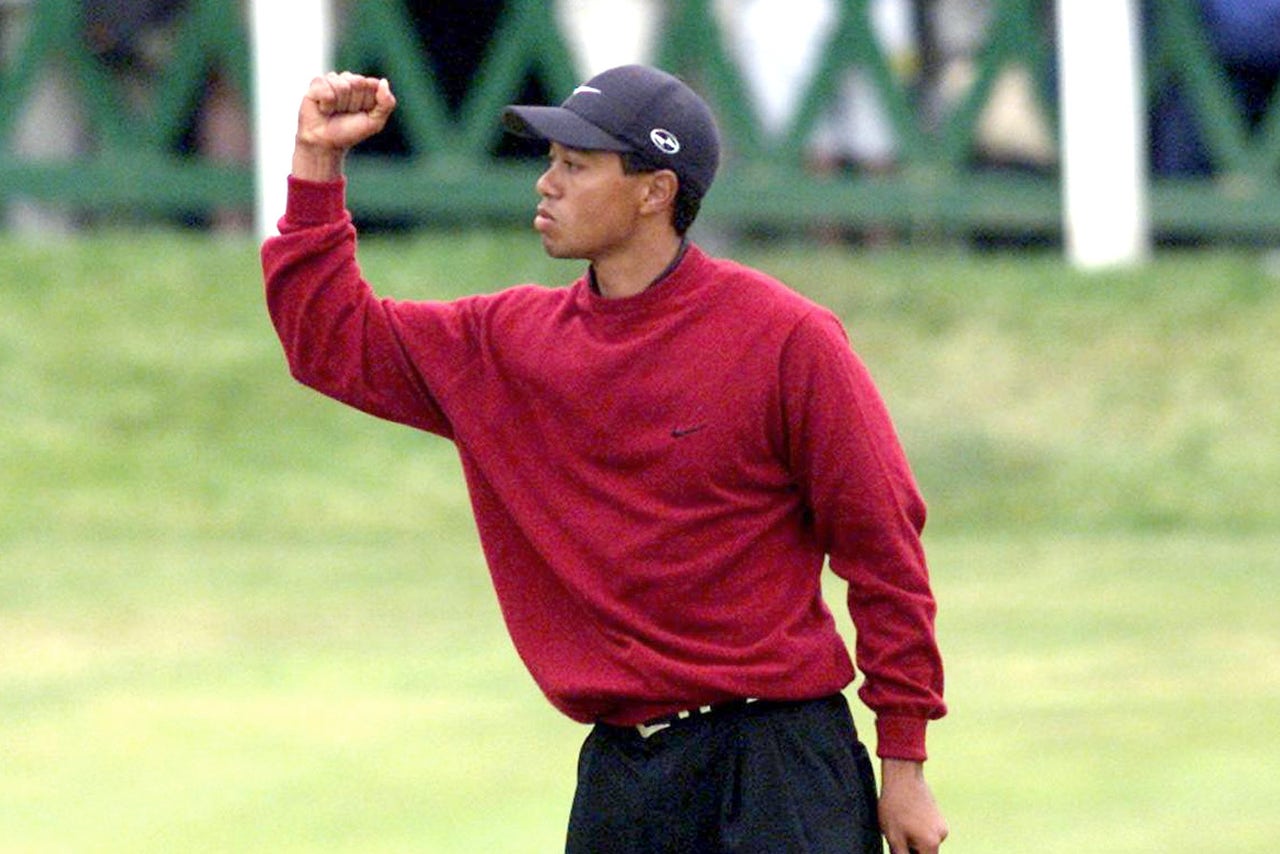 Let's face it: Tiger Woods was the right man for the toughest shots back in his prime.

I have absolutely no idea what is really going on with Tiger at this point, with the back and the multiple surgeries, but considering he has always seemed to rush back to golf even if he isn't totally healthy, I think he's going to at least play a little bit of golf starting in the summer.
A healthy Rory wins one major this year, but I just don't foresee a scenario where Woods skips the entire '16 season. That said, I also didn't foresee a scenario where Woods wouldn't win another major after Torrey Pines in '08, so shows how much I know about reading Tiger in future situations.
Bacon: Well, I had two. The first is something that probably happens more than you'd think. On the loop at the Old Course (where the 7th and 11th cross in amazingly chaotic fashion), I had a player hit a big snap hook second shot into the seventh green that smoked a guy in the back on the fly as he was putting on the 11th. The best part? The dude didn't flinch, got set over his putt and made the damn thing. I'm pretty sure that guy needs to think about a UFC career.
The second is a somewhat legendary story among the Americans who were looping in Scotland at the time. My buddy, Will, one of the better guys you'll ever meet, was the polite type that would stuff his tips immediately in his pocket without looking, as one should do with manners.
After a delightful 18 holes with one gentleman, Will was handed his money and we went up the street to grab lunch at Subway, our daily trek between loops. Will went to his pocket, pulled out his money to pay (which would be somewhere in the $115 range after conversions at the time) only to realize the guy paid him in Russian rubles. That 50-ruble note that Will had in his hand? It was worth somewhere around 50 cents at the time.
The good news was that Will found the guy, who apologized and confessed he had just traveled from Russia and that it was an honest mistake. The bad news? Will will forever be known as Rubles to a good amount of guys who were caddying that summer.
Bacon: He isn't necessarily unheralded, but I think Danny Willett is going to have a huge 2016 and win a major. He's my early pick to break out this coming season on the PGA Tour and go insane.
@shanebacon funniest moment while caddying at St. Andrews? Could be something player did or mistake you made

— Nick Shoulta (@NickShoulta) November 16, 2015
Beyond that, I have Matthew Fitzpatrick and Russell Knox both making the Ryder Cup team in '16, so I guess that would be a breakout type of situation for the both of them as well.
Bacon: That changes by the minute, but currently my swing thought is to slow down my takeaway and make sure to get everything to the top. When I do that, I've been making a good pass.
Check back next week when my swing thought could be, "Find lake, throw clubs in it."
Shane Bacon is a regular contributor to FOXSports.com's golf coverage. Follow him on Twitter at @shanebacon.
---
---