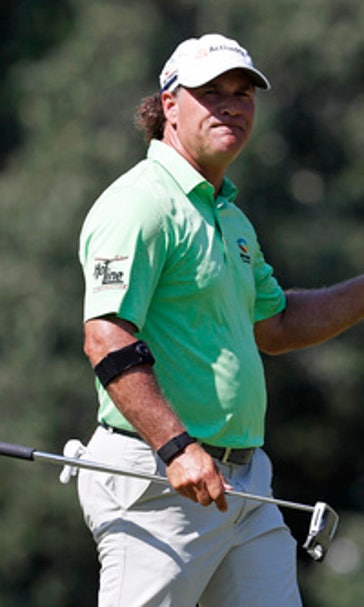 McCarron tied with Petrovic after 3 rounds of Senior PGA
May 26, 2018
BENTON HARBOR, Mich. (AP) Scott McCarron has been in the final group on Sunday six times in the last two years with four wins, including a major championship.
For Tim Petrovic, it will be something new in his first full year as a senior.
McCarron made his only bogey of the third round on the final hole to shoot a 5-under 66 and slip into a tie for the lead Saturday with Petrovic in the Senior PGA Championship. They were at 13 under par after Petrovic, seeking his first win as a senior and first major championship, shot 6-under 65.
''Well, I certainly feel comfortable being in the hunt, being in the last groups,'' said McCarron, who shot 66 and has shared the lead after each round this week at Harbor Shores. ''I've learned a lot over the last couple of years playing with Bernhard Langer. I've been fortunate enough to play with him in a lot of final groups and second-to-last groups, and battled it out with him and watched him. So I don't really let that kind of big moment get to me too much.''
Petrovic, a one-time winner in 2005 on the PGA Tour, will be in the final group for the first time since 2010 in The Memorial.
''That's where you want to be,'' Petrovic said. ''Some guys say they don't want the lead, they would rather chase, but I would rather be in the lead. I would rather be in the last group, that's where you want to be when you show up here on Tuesday, Wednesday, you want to be in that last group because you have a better chance to win if you're in that group.''
McCarron, who has hit all 13 fairways in the third round and 24 in a row in the tournament, lamented two missed 4-foot putts in the last four holes. The first was a birdie chance at the par-5 15th and the second at 18 for par after he missed the green.
''I have to putt a little better tomorrow,'' he said. ''I missed a couple putts today coming in, but all in all it was a good, solid day. I hit the ball right where I was looking most of the time.''
Petrovic also had trouble at 15 when his 5-wood shot glanced off a mound in the fairway and ended up in the river that crosses in front of the green. He scrambled for a bogey.
''I kind of gave a shot back there, but Scott missed his birdie putt there and that kind of gave us a little life,'' he said. ''We finished strong. I made a putt (at 17) to kind of let him know we were still there.''
Petrovic played in the third-to-last group last week in the Regions Tradition, the first of consecutive majors on the PGA Tour Champions. He said it gave him a taste of being in the mix among the seniors and he has continued to play well.
''I felt really calm all week for some reason,'' he said. ''I'm just hitting the shots that I know I can hit and I'm driving the ball really well.''
McCarron said Sunday's are different when it gets to the final four or five holes and there is a chance to win.
''Especially in a major championship it's different,'' he said. ''It kind of gets your adrenaline going. You have to make sure you take a lot of deep breaths, and like I said, control your emotions. This is a big deal. And have fun. That's one of the things.''
England's Paul Broadhurst, the 2016 British Senior Open winner, matched the best third-round score in tournament history with a 64. He was two shots back at 11 under.
Miguel Angel Jimenez, coming off his first major championship last week, shot 65 and was 9 under.
Tom Byrum, who made a hole-in-one at the 17th in shooting a 67, was in a group at 8 under with Bob Estes, Jerry Kelly and Kevin Sutherland.
---
---