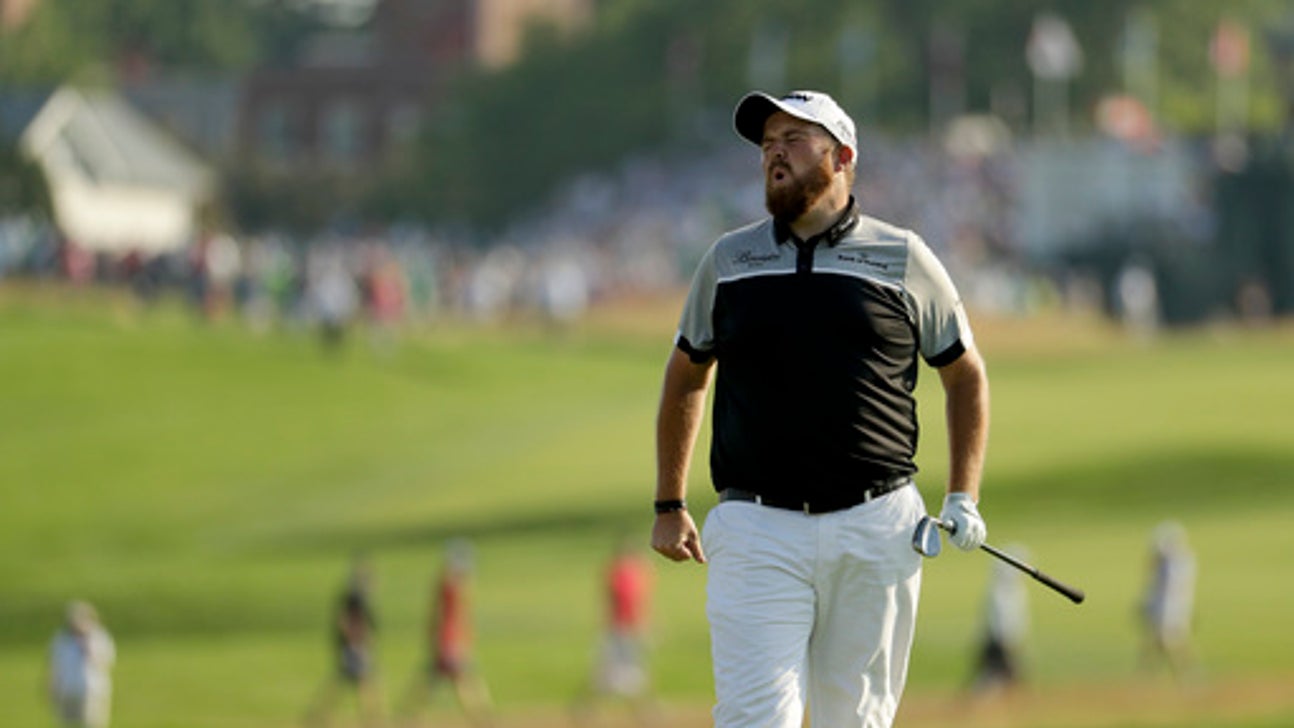 Lowry "bitterly disappointed" after late US Open collapse
Published
Jun. 19, 2016 10:52 p.m. ET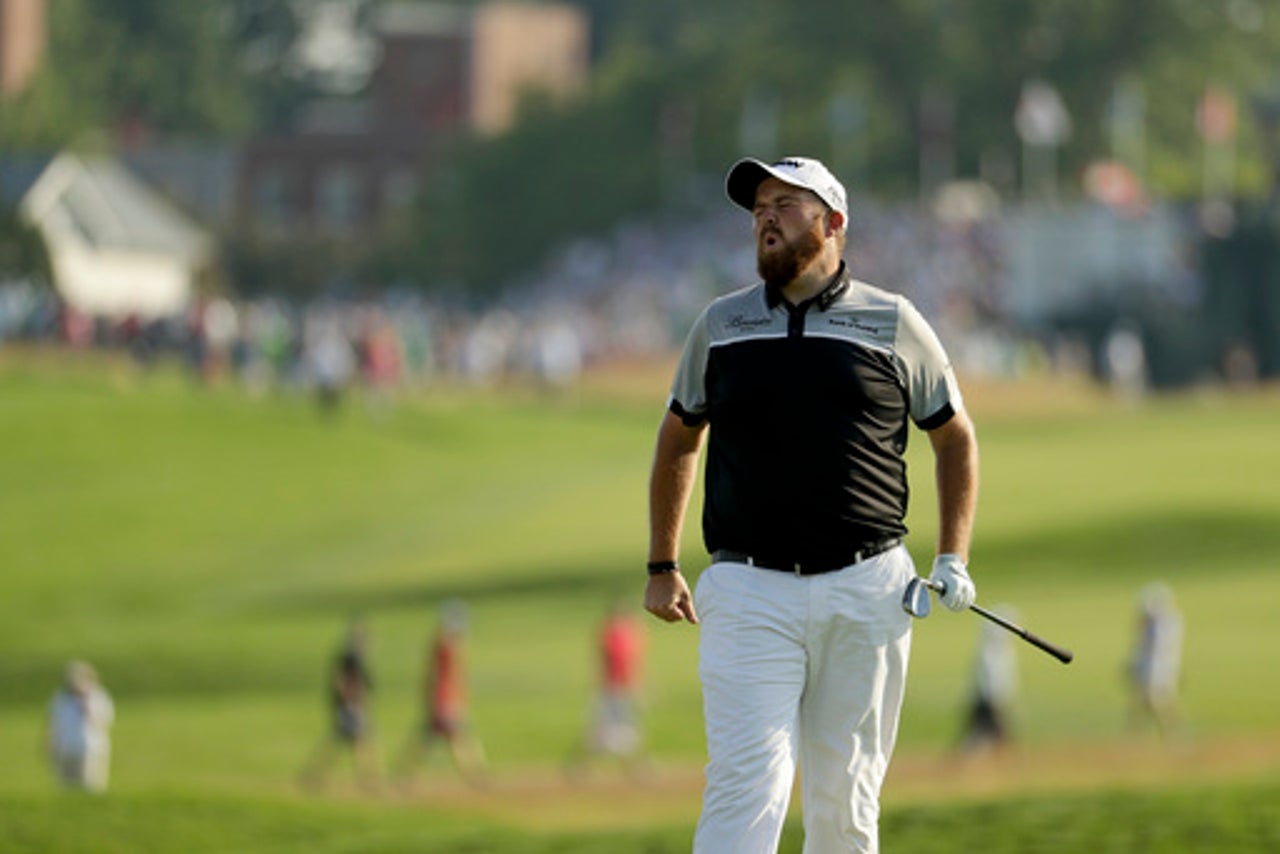 OAKMONT, Pa. (AP) Shane Lowry stood on the 18th green for an awards presentation at the U.S. Open, just how he planned.
It's where Lowry stood, however, that will stick with the affable Irishman for a while. Maybe a long while.
While Dustin Johnson donned the gold medal, held the trophy and got the kiss from the girl after exorcising some very real major championship meltdowns of his own while conquering Oakmont in the final round Sunday, Lowry rubbed his beard and tried to smile through the anguish.
It wasn't easy. Not even close. Up by four when he stepped onto the first tee, Lowry settled for a share of second after a 6-over 76 and a four-round total of 1-under 279, three shots back of the beaming Johnson. The 29-year-old's best finish at a major was little consolation.
''Bitterly disappointed, standing here,'' Lowry said. ''And, you know, it's not easy to get yourself in a position I got myself in today. It was there for the taking and I didn't take it.''
There was no singular moment where things went wrong, just 18 holes of average to mediocre golf when something far better was required. His round included seven bogeys against just one birdie and a string of three-putts on the back nine that gave Johnson all the breathing room he needed despite a one-stroke penalty when the ball moved as he was getting ready to address it on the fifth green.
''I just kept on hitting, you know, OK shots,'' Lowry said. ''It wasn't even great shots, it wasn't even bad shots. Kept hitting it 25, 30, 35 feet. On these greens, it's tricky. Kept leaving myself a lot of work to do.''
Too much, far too much, to keep pace with Johnson. Lowry's struggled played in stark contrast to his near flawless Saturday, when he cruised through 32 holes in 3 under during a marathon day that sent him soaring up the leaderboard. When he finished the third round off early Sunday morning with birdies on the 15th and 17th, he had a four-shot lead and unknown Andrew Landry as his playing partner.
Lowry described his dreamlike tour of Oakmont on Saturday as the most comfortable he's ever felt on a golf course. That comfort disappeared in the late Sunday heat. By the turn he was trailing Johnson by a shot, well aware of how the towering American was doing thanks to the reaction from a solidly pro-Johnson crowd shouting ''USA! USA!'' at nearly every turn.
Still, Lowry was in it and had a wedge in his hands on No. 14 when he failed to get it close. Three putts later the deficit had grown.
''It just kind of spiraled out of control from there,'' Lowry said. ''It was one of those where I'd give anything to have that wide shot on 14 back again.''
It grew another shot several minutes later when his comeback putt on the 15th slid by. The championship slipped out of reach on the 16th, when he couldn't get down in two from 49 feet on the par-3.
''Everything happened quickly,'' Lowry said. ''But, you know, that's the way -- that's what happens when you play a few bad holes. They're kind of over before you know it. You'd like to have them back again.''
By the time Lowry reached the 18th green, the winner's welcome he anticipated felt decidedly anticlimactic. Johnson was already in the scorer's tent signing his card and getting his ultimately inconsequential penalty sorted out while celebrating with wife Paulina.
Lowry endured the closing ceremony gracefully, clasping hands with Johnson and examining the silver medal for joining Scott Piercy and Jim Furyk in the tie for second before going over to give Johnson's fiancee, Paulina Gretzky, a hug.
It's what gentlemen are supposed to do in a gentlemen's game. And Lowry made it a point to praise Johnson's near flawless play on a day when only seven players finished under par.
''He's a deserving champion, he played the best golf,'' Lowry said.
Yet Lowry became the first player since Payne Stewart in 1998 to lose after leading by at least four shots going into the final round. A year later Stewart did come through following a Sunday duel at Pinehurst with Phil Mickelson. It's a fact that may provide solace later, but not now.
Lowry left Oakmont quickly for the airport, where a long flight to Ireland - and a long time to analyze what happened on Sunday - awaits.
''The more I think about it, the more upset I get,'' he said. ''So that's the way golf is.''
---