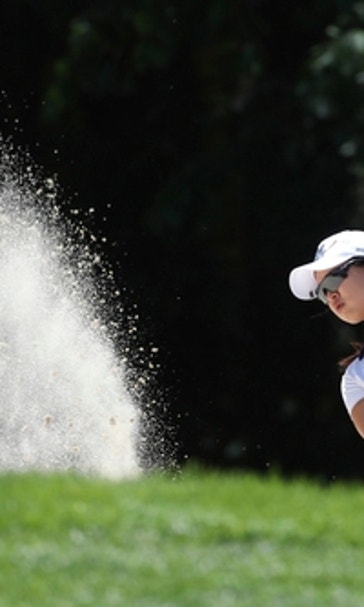 Kim shoots course-record 61 to take 2nd round LPGA lead
June 10, 2018
GALLOWAY, N.J. (AP) Annie Park won the ShopRite LPGA Classic for her first LPGA Tour victory, closing with an 8-under 63 on Sunday for a one-stroke victory over Sakura Yokomine.
The 23-year-old Park, from Levittown, New York, had an eagle and six birdies on a cloudy day over the Bay Course at Stockton Seaview to complete 54 holes at 16-under 197, a stroke off the tournament record.
''I can't describe in words how I feel,'' Park said. ''It's my first win out on tour. I mean, every win is very special, but just having my family out here, my friends supporting me, it's just - all the fans, my friends back home, I would like to thank all of them. Without them and having that support, I probably wouldn't have been here today.''
Park began the year with conditional status on the LPGA Tour, but her season came around in April at the LPGA Mediheal Championship in San Francisco. She qualified on Monday, tied for 18th and won more than $17,000 to improve her status on the priority list.
''It's been a crazy first half of the year,'' she said. ''Came into the year with having partial status and juggling between the Symetra Tour and the LPGA Tour. I think that Mediheal tournament really got it going, Mondayed in, had a great first two rounds, got reshuffled into the mix. And having this first win, it's been crazy.''
Park used a long putter.
''I switched to it this January, and it's actually helped me out a lot,'' Park said. ''I've always struggled with putting. I like it, but it's also kind of hard because it's longer and heavier. It took a while for me to get used to the putter, but I really like it.''
Yokomine, the winner of 23 events on the Japan LPGA Tour, flirted with a 59 but parred the par-5 18th for a 61 to tie the course record.
New Jersey native Marina Alex was third at 14 under after a 64. She made a hole-in-one at the par-3 17th.
''It was just kind of surreal,'' Alex said. ''I finally hit a nice wedge. I hit some wedges earlier in the day and I didn't feel like they were super solid. That one was pure.''
Sei Young Kim, who broke the course record Sunday morning when she finished her second round with back-to-back birdies for a 61, had a 70 to finish fourth at 13 under.
Park earned $262,500, topping her total of $261,096 for her first 46 LPGA Tour events.
''I think that makes it more special just being so close to home, having an LPGA event close to New York,'' Park said. ''It's going to definitely be one of the memorable events that I had. Definitely having the family out it's very special.''
She won the 2013 NCAA individual title as a freshman at Southern California and helped the Trojans take the team crown.
---