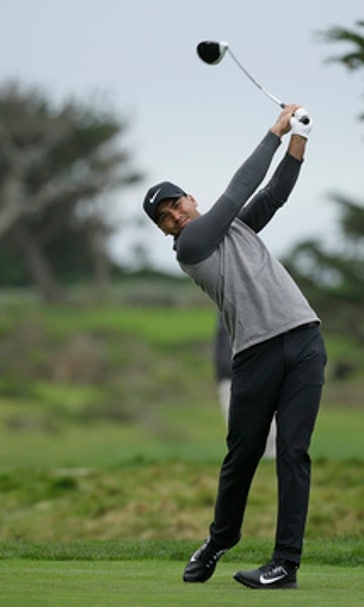 Jordan Spieth builds a big lead at Pebble Beach
February 11, 2017

PEBBLE BEACH, Calif. (AP) Jordan Spieth had a performance that matched the magnificent views - finally - at Pebble Beach on Saturday.
Spieth took only 10 putts on the back nine, closed with a pitch that checked up inches from the cup for another birdie and shot a 7-under 65 to open up a six-shot lead going in the final round of the AT&T Pebble Beach Pro-Am.
Starting out the weather-delayed event tied with Jason Day and Derek Fathauer, Spieth never gave anyone a chance.
Following his only bogey of the round - a 7-iron over the cliffs on No. 8 that narrowly stayed up in the rough above the putting surface - he ran off three straight birdies, made a tough, curling 6-foot par putt on the 12th and then closed with three birdies and another tough par save on his last four holes.
He was at 17-under 197 and had his largest 54-hole lead on the PGA Tour.
Brandt Snedeker did his part with a 30 on the front nine - he started on No. 10 - for a 67 to pull within two shots when he finished. Spieth was up the hill on the 14th, doing what Spieth does - a 6-foot par save.
''Those putts scare me,'' Spieth said after making a downhill 3-footer for par on No. 4.
But he made them all, except for the 8-foot par putt on No. 8 that he missed immediately, pausing when a heel print nearly kicked the ball left and into the cup.
Snedeker, trying to win at Pebble Beach for the third time in five years, was at 11-under 204 and will be in the final group with Spieth, along with their amateur partners. Spieth is playing with country singer Jake Owen, while Snedeker's partner is Nashville businessman Toby Wilt.
''Jordan is going to be out outnumbered,'' Snedeker said. ''We got three Tennesseans in that group, so it will be a lot of fun to get in there. But the front nine will be huge tomorrow, the first seven holes. I've got to go out there and make some birdies and put some pressure on him.''
Dustin Johnson spent three days with Spieth and couldn't keep up, at least not on the greens. The U.S. Open champion made three birdies over his last six holes and saved par from a shot into the Pacific Ocean on No. 18 for a 66. He was seven shots behind.
There were questions whether Johnson's second shot ever cleared the hazard along the ocean wall. A television replay was not entirely conclusive.
---
---