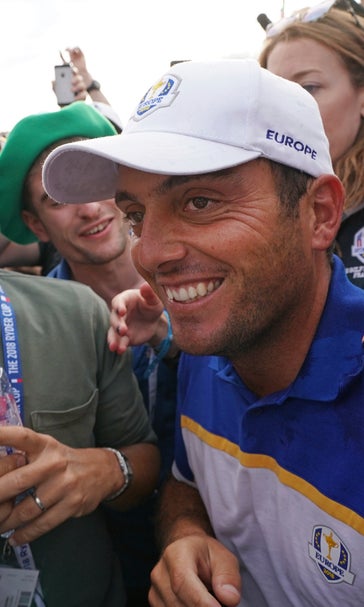 Francesco Molinari: British Open champ, now Ryder Cup hero
September 30, 2018
SAINT-QUENTIN-EN-YVELINES, France (AP) — Francesco Molinari walked straight into the heart of a throng of rowdy European fans beside the 16th tee and was soon covered with beer from plastic pint pots.
He finally managed to yank himself free, only for his teammates to lift him off his feet. His captain, Thomas Bjorn, emerged through a mass of cameras and grabbed his star player by both cheeks.
"MOLI! MOLI, MOLI! MOLI MOLI! MOLI MOLINARI!" the jubilant spectators roared in a chant that swept across Le Golf National.
British Open champion. Now Europe's record-breaking Ryder Cup hero. It's been quite a few months for the little Italian with a big heart.
"I couldn't dream," Molinari said, "of a summer like this."
How fitting that it fell to Molinari to clinch the winning point for Europe at the Ryder Cup on Sunday. His 4-and-2 win over Phil Mickelson, sealed when the American conceded the match after dumping a tee shot into the water at No. 16, gave Molinari a fifth point of the week.
Molinari is the first European, and second player overall in the competition's current format, to go 5-0 at a Ryder Cup. He had teamed with close friend Tommy Fleetwood to win four points in fourballs and foursomes matches over Friday and Saturday.
He finished the Ryder Cup without playing the 18th hole. He only made it to No. 17 once.
"You know this golf course has 18 holes, right?" Sergio Garcia asked Molinari at a news conference held by all members of the European team.
This is a very different Molinari to the one that played in Europe's winning teams in 2010 and '12, claiming just half a point in each of them. He halved his singles match with Tiger Woods at Medinah to ensure Europe didn't just retain the cup but won it outright, yet he didn't feel he really contributed.
"My record was pretty shocking coming into this week," he said.
Molinari has been transformed since he started working with Dave Alred , an elite performance coach who helps players improve the mental side of their game. He was taken out of his comfort zone in practice sessions, which became more intense so they resembled the strains of competition.
The rewards arrived this year. In May, he won the BMW PGA Championship — the European Tour's flagship event at Wentworth. In July, he won the Quicken Loans National on the PGA Tour and then lifted the claret jug at Carnoustie following a nerveless final round of 69 playing in the last group with Woods. He became the first Italian to win a major.
Molinari is now ranked No. 5 and, according to Padraig Harrington, a "world-class player."
"He has always been a great ball-striker ... Now he has consistency," said Harrington, one of Europe's vice captains.
"There's probably no better character to be able to play five tournament rounds like he has. He is very level-headed. He doesn't get emotionally up and down. There's a lot about Frankie that made players believe and trust in him. It's nice to have a player of his quality and he has delivered, fair play to him."
The Ryder Cup is headed to Rome in 2022 and, in Molinari, Italy has its perfect poster boy.
Yet, despite becoming more comfortable in the spotlight, Molinari still prefers to retreat into the shadows and lead by his actions rather than his words. He downplayed his impact on the European team on a number of occasions Sunday, saying: "It's not about the individual but the group."
It's that mentality that has served the Europeans so well in their two decades of dominance in the event.
"I think anyone of us would have deserved to clinch the winning point," Molinari said, "and I was almost hoping Sergio was going to do it because I knew he was going to become the guy with most points (in Ryder Cups).
"This team has been incredible from the start. We were determined to do the job and nothing was going to stop us."
---
---