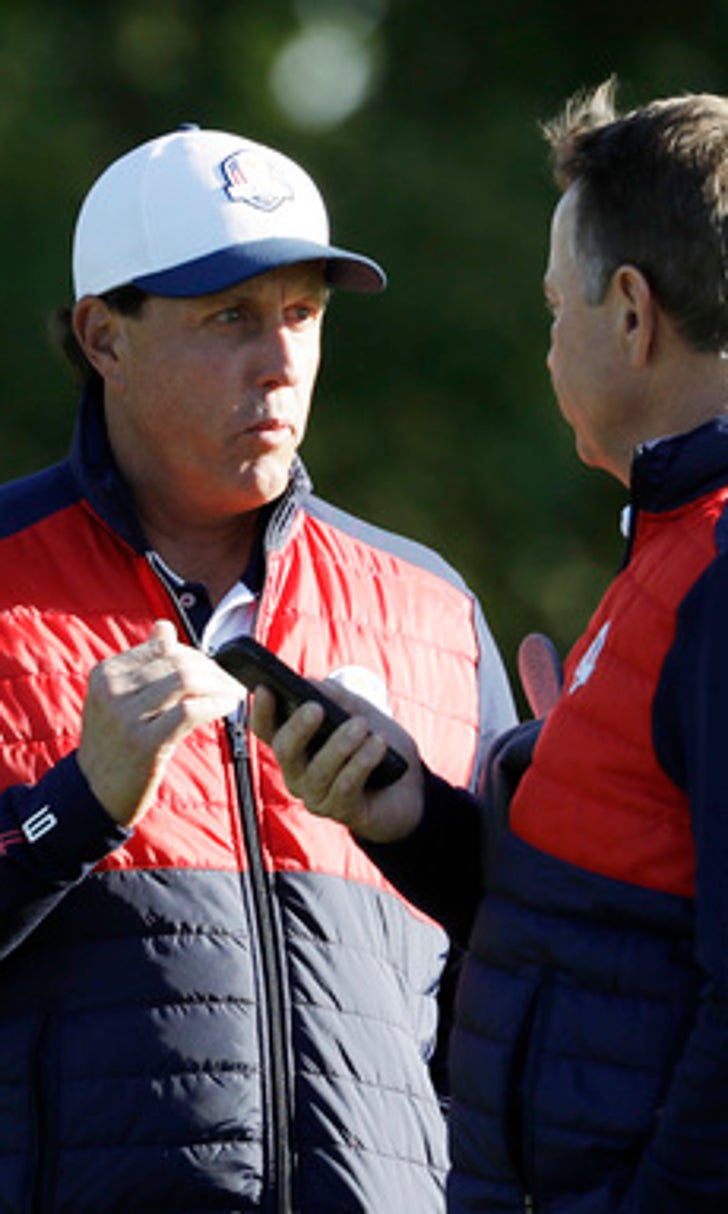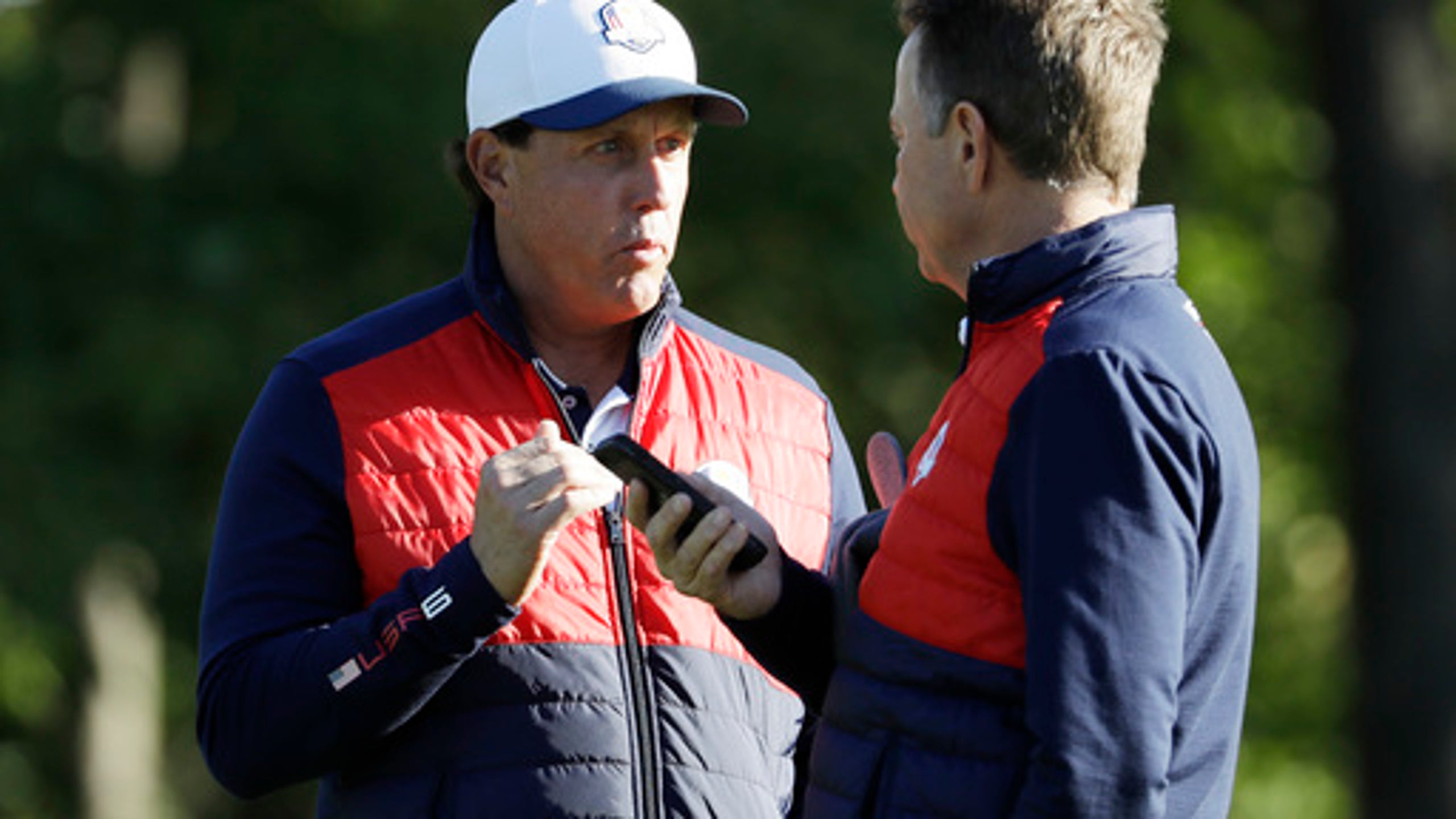 Column: Mickelson just can't help himself with trash talk
BY foxsports • September 29, 2016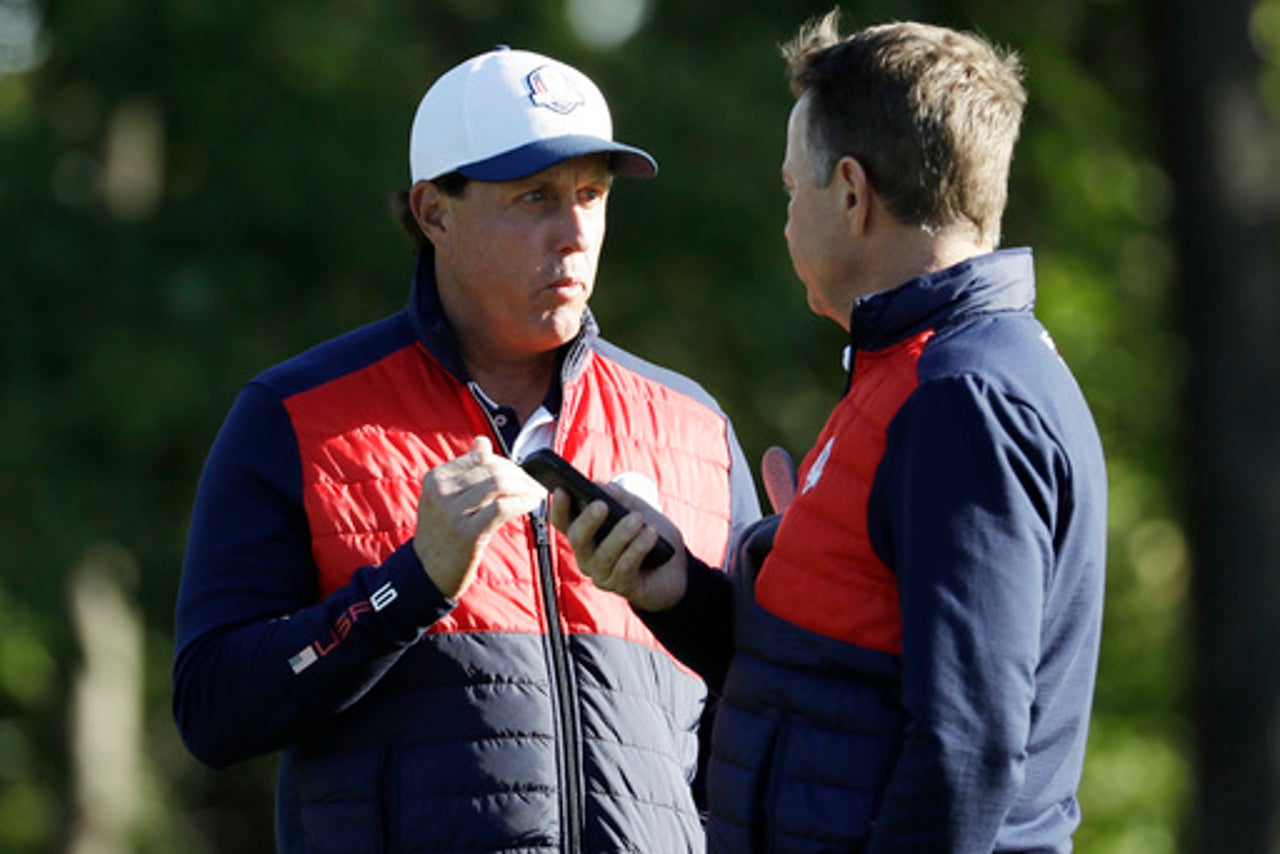 CHASKA, Minn. (AP) Give Phil Mickelson credit for being prepared for a Ryder Cup that has his fingerprints all over it.
He tees off Friday morning secure in the knowledge that this is his team, even if the official title of captain belongs to Davis Love III. He's paired with his choice of partners, and doesn't have to worry about Tiger Woods stealing any of the credit for what he surely believes will be the biggest U.S. win ever.
Just to make sure he hasn't forgotten anything, Mickelson went over his list of things to do while waiting for play to actually begin:
- Welcome rookies with tales of Ryder Cup failures of the past. Check.
- Give out gift of dog tags to teammates to signify just how important this is. Check.
- Make sure the pingpong table in the team room has extra balls. Check.
- Publicly trash former captain Hal Sutton for a Ryder Cup debacle from 12 years ago. Double check.
It's been a busy week for Mickelson, who shoulders the burden of being both the leader of the Ryder Cup team and the smartest guy in golf. With all that's been going on, it's amazing he's even had time to practice.
Still, everything finally seems to be like Phil wants it as he tees off in his 11th Ryder Cup.
He's playing a ball he likes. He's playing clubs he likes. He's playing with whom he likes.
Not having to answer to any captain? Well, that he really likes.
That wasn't the case two years ago when Mickelson publicly grumbled about how bad a captain Tom Watson was. It certainly wasn't the case 12 years ago when Mickelson and Woods were put together in a dramatic pairing by Sutton.
Mickelson took it upon himself Wednesday to dredge up the past failure, complaining that Sutton didn't give him enough time to get used to Woods and a different golf ball in the alternate-shot foursomes format. For reasons unknown to anyone but Lefty, he tossed Sutton under the bus without being prompted.
''It all starts with the captain. I mean, that's the guy that has to bring together 12 strong individuals and bring out their best and allow them on a platform to play their best,'' Mickelson said. ''That's the whole foundation of the team. I understand and I hear, `Well, guys just need to play better or they just need to putt better.' Absolutely you do. But you play how you prepare.''
Mickelson's preparations apparently haven't been that great during much of his Ryder Cup career. He's played on only two winning teams since 1995, and has an overall record of 16-19-6.
He's the leader of this Ryder Cup team only through longevity and the force of his own personality. Still, he seems sure that only he understands the key to getting 12 players to work together over three days to win back the Ryder Cup.
''When you look back on what the difference is, when players are put in a position to succeed, more often than not they tend to succeed,'' Mickelson said. ''And when they are put in positions to fail, most of the time they tend to fail.''
Mickelson backed off a bit Thursday, saying he didn't mean to disparage Sutton like he did. But words hurt, and Sutton was taken aback when told what Mickelson said.
Making it worse was that Sutton is here as part of a U.S. plan to bring former Ryder Cup captains together to foster some camaraderie for a team that has won only two of the last 10 Ryder Cups.
''My God, somebody's got to be the fall guy,'' Sutton told Golfweek magazine. ''If it needs to be me, I can be that. I don't have anything to say to that. My God. The world saw what happened. They saw it. I didn't have to cover it up.''
The world did see what happened, and on the U.S. side it wasn't pretty. Mickelson and Woods lost both their matches, and the Europeans ended up trouncing the American squad.
What Mickelson failed to mention this week, though, was that he had just switched equipment companies right before the Ryder Cup, something that may have been as much to blame for his bad play as having to play an unfamiliar ball.
No reason to let the facts get in the way of his revised narrative.
Sutton said he's surprised Mickelson isn't focusing more on what he has in front of him.
''I think Phil better get his mind on what he needs to have it on this week instead of on something that happened 10 years ago,'' he said.
That's the kind of advice that should come from a captain.
But it's hard to imagine Mickelson giving it to himself.
----
Tim Dahlberg is a national sports columnist for The Associated Press. Write to him at tdahlberg(at)ap.org or http://twitter.com/timdahlberg
---