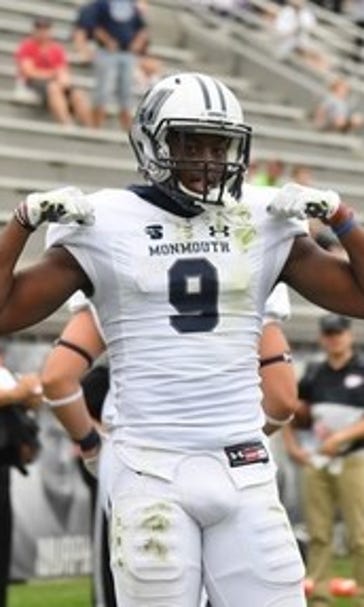 WR White has Monmouth making leap in wide-open Big South
October 25, 2017

(STATS) - It's impossible to predict what type of career Reggie White Jr. may go on to have in the NFL, but he'll have his work cut out for him to be the best pro receiver who played at Monmouth.
Just like anyone who follows White will likely find it difficult to surpass what he did with the Hawks.
Monmouth counts former Cowboys two-time Pro Bowler Miles Austin and current Tom Brady favorite Chris Hogan among its receiving alums, yet White - son of former Chargers defensive tackle Reggie, not the Hall of Fame pass rusher - should wind up as the best wideout to lace 'em up for the Hawks.
He's a big reason the Hawks (6-1, 1-0 Big South) are headed for their best record since going 10-2 in 2006 - one season after Austin left campus with a school-record 2,867 receiving yards. The junior has 49 receptions for 619 yards and six touchdowns, and he's put up a whopping line of 19-324-4 during the second half of Monmouth's first four-game winning streak since 2008.
Kevin Callahan, the only coach in the Hawks' 25-year football history, is happy to see his team taking full advantage of White's 6-foot-3 frame.
"We like to take what we call 'the money ball' and throw it up to him," the coach said on his weekly "Kevin Callahan Show." "A lot of people say those are 50-50 balls, but when you have a dynamic receiver like Reggie, it's not a 50-50 ball. It's maybe a 75 or 80 percent ball. So, we're going to continue to do that."
White arrived at the West Long Branch, New Jersey, campus in 2014 at a scrawny 175 pounds, and didn't play as a freshman. He says he's put on 35 pounds of muscle since.
"You don't add that muscle and add that strength just by walking in the weight room. You have to work," Callahan said of White, who needs 883 yards to surpass Austin's school record - and has at least 15 games to do so. "He has made himself into the player that he is today."
Hogan only had one season of eligibility at Monmouth after a lacrosse career at Penn State, and for all Austin's outstanding work across four years, he never caught more than 49 passes in a season. White will hit the half-century mark for the second time with his first reception Saturday at Charleston Southern (4-3, 1-0) in one of the biggest games the Hawks have played in years.
The six-team Big South didn't figure to be particularly strong with Liberty transitioning to the FBS and the two-time defending champion Buccaneers breaking in a new coaching staff. But Kennesaw State has won six straight as it emerges as a legitimate program in its third season, and the Monmouth-Charleston Southern winner will join the Owls as the frontrunners for the conference's automatic playoff bid.
The Hawks have nowhere to go but up from their first three encounters with the Bucs. Charleston Southern has outscored Monmouth 99-14 in those games, outrushing the Hawks by 792 yards.
"Charleston Southern has had our number. There's no secret about that," Callahan said. "We haven't been able to put points up on the board, we've had trouble keeping them from putting points up on the board. We're committing this week to changing that."
The ground game should be a bit more even this time. Monmouth is one of only three FCS teams - along with Yale and No. 2 North Dakota State - averaging more than 6 yards per carry and surrendering fewer than 3. It's a four-headed monster in the Hawks' backfield: underclassmen Peter Guerriero and Eric Zokouri have six touchdowns apiece with the bulk of the carries; junior Devell Jones has scored eight TDs on just 30 attempts; and senior Michael Jolly is averaging 9.8 yards per pop on 26 touches.
"We can certainly score in a lot of ways," Callahan said. "The fans are seeing the variety of weapons we have. We have a number of different running backs and they've all been able to find the end zone and have big days."
The need for opponents to keep so many eyes in the backfield has made life much easier for White, who caught 69 passes for 934 yards last season but has been seeing more single coverage in 2017.
"When we're running the ball like we are right now, it's great to have 1-on-1 matchups, because I don't get them that often," White said. "When I see it, my eyes definitely get opened."
The rest of the FCS is starting to take a look as well.
---
---