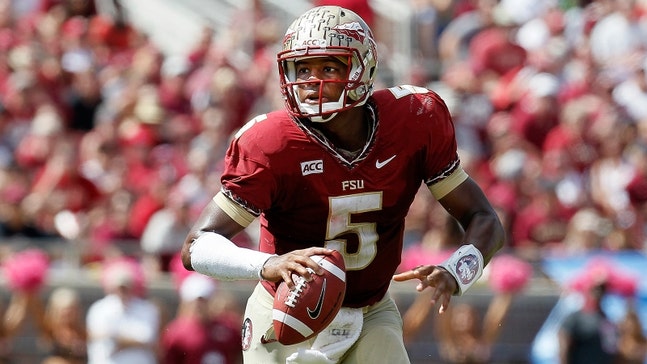 Wire: How Clemson's defense can halt the 'Famous Jameis' legend
Updated
Mar. 4, 2020 1:25 p.m. ET

Florida State first-year signal caller Jameis Winston has been one of the most dynamic quarterbacks in college football this season. His package of physical tools and intangible traits set him apart from a deep field of impressive quarterbacks, and he has justifiably earned his position in the middle of the Heisman race.
This week, Winston and No. 5 FSU travel to Death Valley with a fleet of speedy receivers to face No. 3 Clemson and try to do what no other Florida State team has since 2001: beat the Tigers in Memorial Stadium.
It won't be easy, as Clemson's defense has been hunting offenses like a pride of lions on the prairie. The Tigers rank 10th in the nation in scoring defense and 20th in yards allowed per game. They were in a slug-fest last week with Boston College and its battering ram Andre Williams, so we'll see if that has any subsequent effect on Clemson's defense against Famous Jameis and the Seminoles, who should be well-rested coming off a bye.
The winner of this game takes a significant step forward in its pursuit of a national championship, while the loser is likely eliminated from that discussion. Will Winston get Florida State, which is favored in this game, out of Death Valley with its BCS title hopes still intact?
He's dynamic enough to do so, but I think Clemson's defense is more than capable of stunting Winston's rapid growth – at least for one weekend – and beating Florida State. Here's how the Tigers can do that.
Clemson's defense must disguise
After studying tape of Winston, I was blown away by his apparent knowledge of the game. It's easy to see he has a genius football IQ. Usually it takes time for young quarterbacks to learn their own offensive playbooks and then even more time to learn the strengths and weaknesses of different coverages they'll see from opposing defenses. Winston is way ahead of the game. He seems to have a firm understanding of his own offensive scheme and where he should throw the ball depending on the coverage.
If there he has one Achilles heel, it would be his ability to read through disguises. Boston College defensive coordinator Bill McGovern had a good formula for Winston in Week 5. The Eagles sacked Winston four times and hurried him several additional times. McGovern didn't simply dial up a lot of pressures; he used a lot of pre-snap movement and disguises that ultimately confused Winston.
Watch this clip for an example:
BC put seven defenders on the line of scrimmage, and all of them appeared to be preparing to rush Winston. When two of those defenders dropped back into coverage after the snap, it caught Winston off guard. When his first receiving option was suddenly taken away from him, he panicked just long enough for the pass rushers to hit home.
McGovern saw on film that if defenses stood still like statues prior to the snap, Winston picked them apart. If Clemson DC Brent Venables learned anything from watching FSU's game against Boston College, it's the secret to getting pressure on Winston is to disguise and show a lot of pre-snap movement to confuse him.
The Tigers must "plaster" when Winston scrambles
Clemson safeties Robert Smith and Travis Blanks and cornerbacks Bashaud Breeland and Darius Robinson will have their biggest challenge of the year. Not only will they have to cover the most explosive, athletic wide receivers they've faced thus far, they'll have to cover them longer than they usually have to cover receivers.
One of their biggest challenges will be to "plaster" when Winston starts to scramble. "Plaster" is a term used in the NFL to describe how defensive backs must stick to their receiver when the quarterback starts to run around and extend the play. When a QB scrambles, the receivers scramble too. Chaos ensues. The original route is discarded and it becomes playground football.
Watch the following clip of Winston against Maryland where he appears to be sacked but then pulls his best David Copperfield imitation and gets out of the Terps' grasps, finding Nick O'Leary wide open in the end zone after the defender failed to plaster to him while the play was extended.
This is how Winston utilizes his mobility to hurt defenses. He's not a dual-threat quarterback in the same way as Oregon's Marcus Mariota, who operates in a system that has designed run plays for the QB. Winston is, however, athletic and elusive enough to buy extra time when the pocket breaks down. He has great "escape-ability." I'd compare him to Andrew Luck, Ben Roethlisberger or Tony Romo in that regard.
Most of the time dual-threat quarterbacks will take off running when they are forced out of the pocket. That isn't the case with Winston -- he's still looking to throw the rock. Winston has made 15 pass attempts this season outside the pocket and completed 11 of them for 252 yards (16.80 per attempt) and four touchdowns. It's only 15 throws, but the completion percentage is almost identical to Winston's percentage inside the pocket and the yards per attempt increases by almost six yards on those out-of-pocket throws.
There's nothing more frustrating for a defense than having an elusive QB in your grasp for what appears to be a big sack FOR your team only to have the play miraculously turned into a big gain AGAINST your team. Winston's Hail Mary TD at the end of the first half against BC is another example of how, even under pressure, he doesn't concede the big play. He basically Doug-Flutied (yes, that's a verb) Doug Flutie's old team.
If Clemson's DBs plaster the FSU receivers, they'll limit the likelihood of Winston breaking off one of these spontaneous plays.
Clemson's secondary must prevent the deep ball
While studying film of the Seminoles' offense, I was blown away by the accuracy of Winston's deep passes. The young prodigy doesn't settle for jabs. He throws haymakers. Most offensive coordinators dealing with a young quarterback are handcuffed in their play calling and are forced to call mostly short routes under 10 yards. You'll see a lot of slants, hitches, curls, out-routes and even wide receiver screens.
This isn't the case with Winston. Fifty-two percent of his pass attempts and 49 percent of his completions this season are longer than 10 yards. It's more than Winston's incredible talent that allows FSU to connect downfield. There are two other primary reasons:
1. Good protection
FSU's O-line protects Winston long enough to allow deeper routes to develop, which in return makes Winston dangerous. Clemson does a good job getting after the quarterback, ranking second in the nation with 24 sacks. Defensive end Vic Beasley, who has nine sacks on his own, and his boys up front will play a big role in the secondary's success against the 'Noles. If the FSU O-line keeps Winston clean, he'll likely have success on the deep ball.
2. Talented receivers in an unusual scheme
As talented as Winston is, his wide receivers are equally underappreciated and overlooked. These guys can fly, run great routes and have uncanny body control. In Kenny Shaw, Rashad Greene and Kelvin Benjamin, FSU has three receivers averaging more than 17 yards per catch. They're nearly impossible to shut down one-on-one, especially when all three are on the field at the same time, because few teams have three DBs capable of lining up toe-to-toe across the board. We still haven't accounted for O'Leary, the tight end who's an underrated route-runner and a sneaky red zone threat.
All of these weapons at Winston's disposal have outstanding speed, agility and explosiveness, but they're made more dangerous by FSU's unconventional offensive scheme. Seminoles receivers often feature double moves, which are among the toughest to defend for corners and safeties. They'll align tight to the formation -- near the offensive tackle -- in either a three-receiver "bunch" set on one side or two receivers will line up on each side of the formation mere feet from the OTs. Offenses typically run out of these formations or throw shallow crossing patterns or curl routes. Not FSU.
The Seminoles give defensive backs problems because they have a tendency to throw deep out of these formations. Check out this video of an FSU "bunch" set with three WRs to one side before motioning to a tight, two-by-two formation. Green ran a wicked triple-move – a post-corner-post – that spun the safety around like a whirling dervish before he caught the strike from Winston for six. 
To stop FSU from dropping bombs, Clemson's safeties must be good with their eyes.
If defensive backs get caught peeking at Winston after they see a Seminole receiver break off a route, they're going to get burned.
This will be a great test for Venables' defense. I think Clemson will have success against Winston and win in Death Valley, but only if the defense disguises, plasters the FSU receivers and is disciplined in coverage to prevent the deep ball.
If the Tigers fail to do that, the 'Famous Jameis' legend will grow a little more. 
---